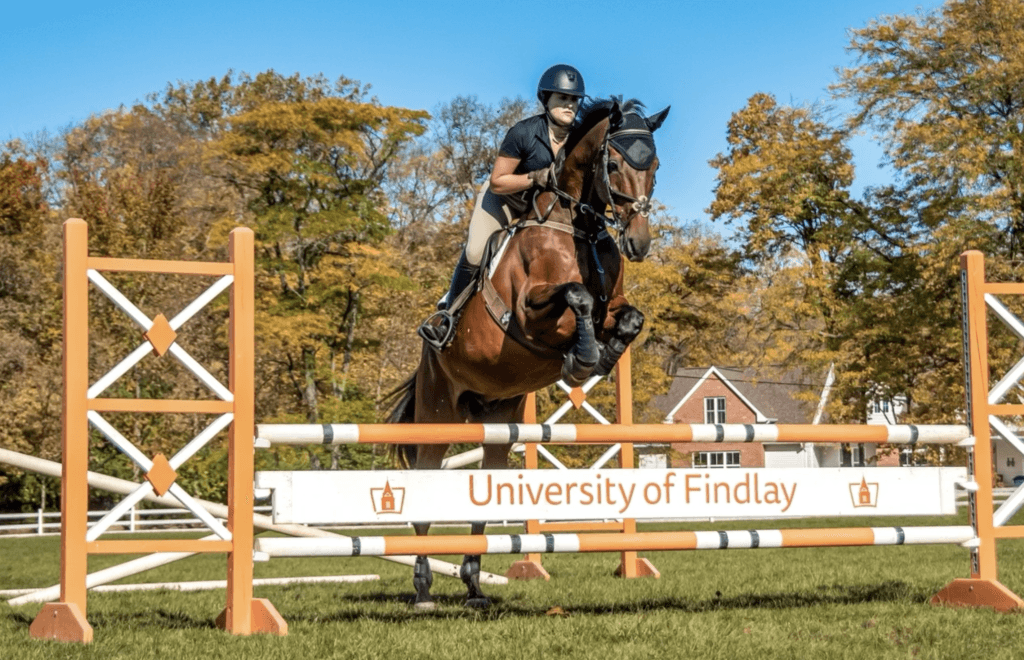 This week's Sunday Spotlight lands on Liz McKenzie, a talented hunter/jumper rider from upstate New York who is a passionate horse lover, social media guru and determined Findlay University student who loves nothing more than spending time in the barn or being at horse shows. At just twenty-one years old, Liz balances a busy equine studies and business schedule at Findlay University in Findlay, Ohio, riding almost everyday of the week, all while taking care of horses at the University of Findlay's English barn, riding and practicing for their IHSA team and being a full time student on campus.
Tell us a little about yourself
I grew up riding horses and I have been riding with my trainer back home for nearly fourteen years. I worked as a working student through highschool and did CCP classes so I could be at the barn as much as possible from noon until late at night. I have leased ponies, hunters and jumpers to try and get experience in many different realms of the English world. I made the decision to go to Findlay because of my passion for horses. My parents never had horses but I fell in love at a young age. I found a passion for social media and marketing around my junior year of high school.
At Findlay, I am an individualized major, which means that I created my own major. I decided that I wanted to incorporate horses into my marketing studies which has been great! I technically am an Equestrian Studies major with an emphasis on Social Media Marketing. When I graduate I will be a triple major in Social Media Marketing, English Equestrian Studies and Equine Business Management.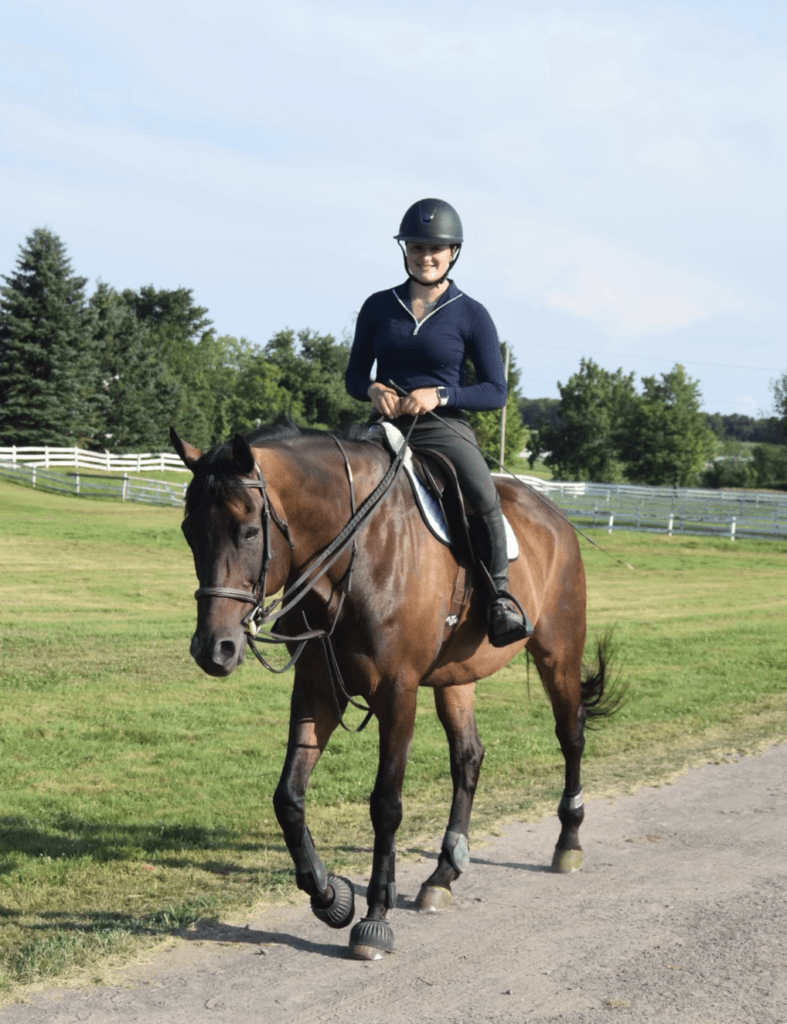 How is the English Equestrian Studies major broken down year-by-year?
We ride five days a week at Findlay and we have at least one lesson a day. Starting your freshman year you have one lesson. During your sophomore year you focus on green horses and colt breaking. You learn to break horses that come from our clients. Findlay's slogan is "Send your horse to college." We also work with different thoroughbred farms and we will get those in for a few semesters as well. During your junior and senior year you really start to focus on the hunters and jumpers and you work directly with the head coach. You work everyday in the barn and usually have two horses that you oversee. It is really fun to work with younger horses and see the progression that is made throughout the semester or time that they are with you. It is also great because we get the chance to ride more been-there-done-that type of horses that build our confidence and show us how it is done.
Right now I am assigned to Waffle, who is a great jumper and the other horse I am assigned to is a wonderful 3' derby horse! I wanted to focus on the jumpers this week, so Waffle came with me to WEC. Findlay is great because you get the opportunity to do everything.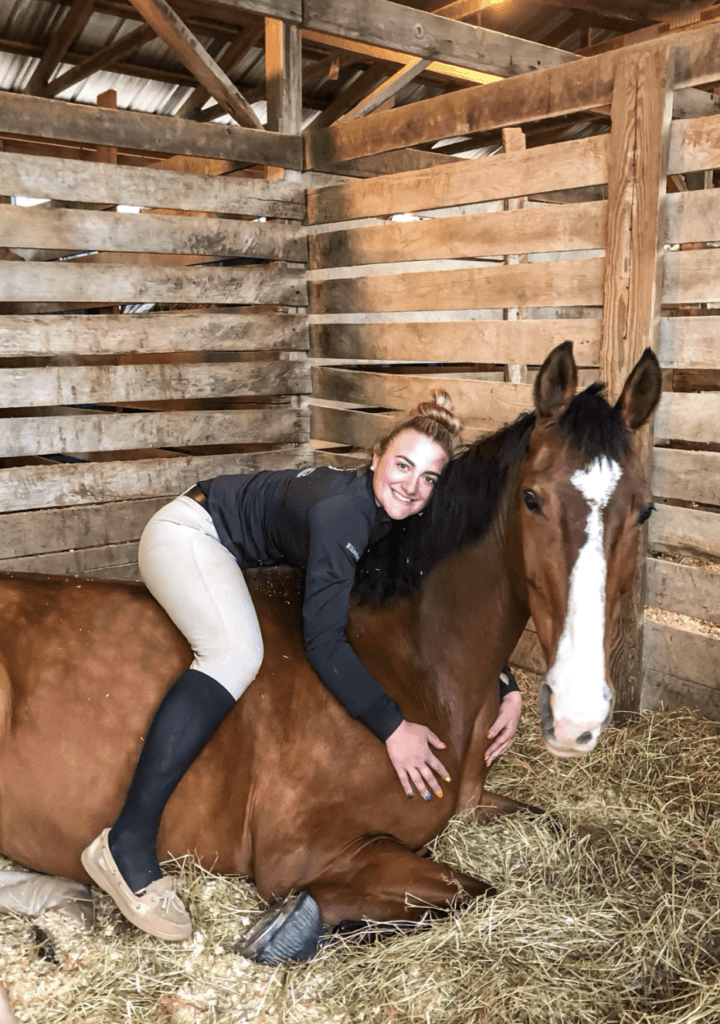 Tell us about your IHSA team
I am the social media manager on our team. I manage our social media pages and all of the behind the scenes stuff for Findlay's english team. We travel within our region and within our zone all the way up to the national level. Sometimes we will bring horses to other schools for our shows. At Findlay we typically host two weeks of IHSA horse showing a semester. We use 50-80 horses per show when we host an event.
Have you had any internships during your studies at Findlay?
I had an internship which led to a job at Ezure Ridge Farm in Michigan. I met Chris and Kayla Schenk through a friend at Findlay. I ended up interning with them for six weeks during Christmas break and I loved it so much there that I ended up taking a break from school and worked for them for a little over a year. They have given me so many opportunities and really helped me improve as a rider and overall horseman. They have an absolutely phenomenal group of clients and horses that I miss so much when I am away at school. Even though I am at WEC with Findlay this week, the Schenk's are my greatest supporters. This summer I was lucky enough to show one of their clients horses in the high child/adult jumpers. It was such a great experience.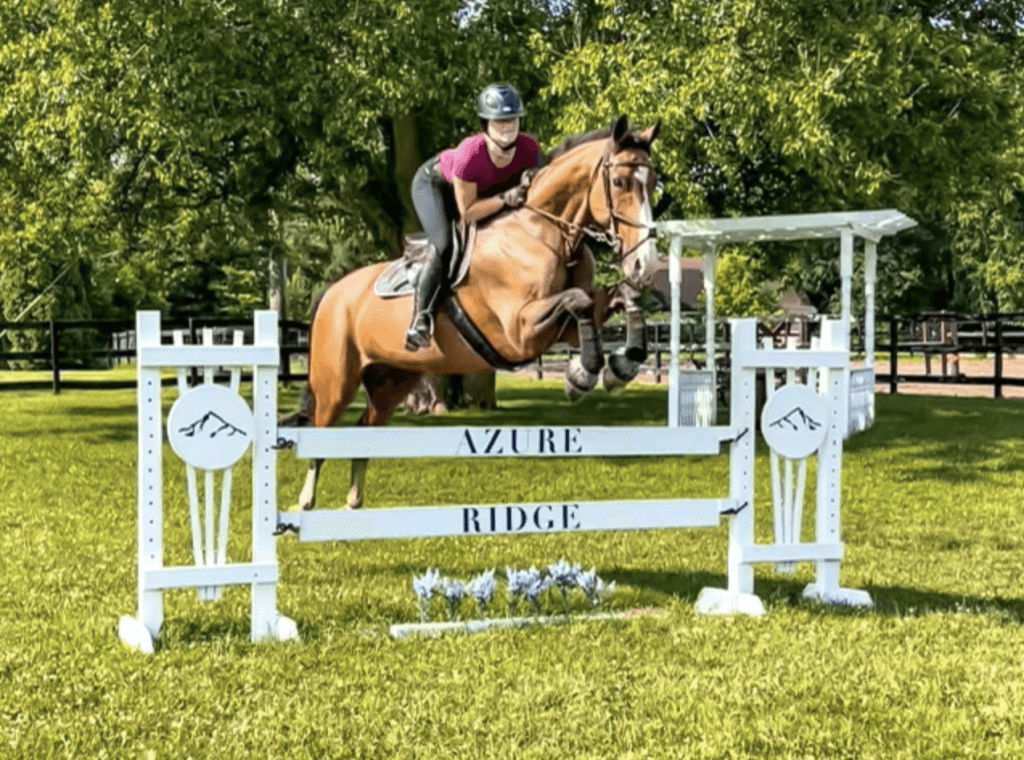 What does a 'day in the life' look like for you at your University?
I have IHSA practice bright and early on Tuesdays and I have to be there by 4:45 in the morning. Our horses are ready and tacked up by 5:45am and that lesson goes for about an hour. It is tough work and will really wake you up!
After IHSA practice we have to care for our horse and then I have class on campus from 8:00-9:30am. I rush back to the barn from town and I have a jumping lesson on Waffle at 10:00am. Next, I have a 45 minute window to get him un-tacked and get my next horse ready to ride. I have a lesson on her and groom her down quickly for a noon zoom class, which I usually watch in our barn student lounge. My next lesson is at 1:45PM for another jumping lesson. For the rest of the day until 5:30 I take care of my horses by wrapping their legs, applying liniment, ice boots, and sometimes they get on the thereplate. Once they're ready for bed and their post-workout care is completed, I go home and cook dinner for myself and knock out homework. I return back to the barn from 8:00pm until 10:00pm to watch the horses for night shift until our nighttime security arrives. It is definitely a long day!
Thank you for chatting with us! We can't wait to see you back at WEC and we wish you the best of luck during your senior year at Findlay University.