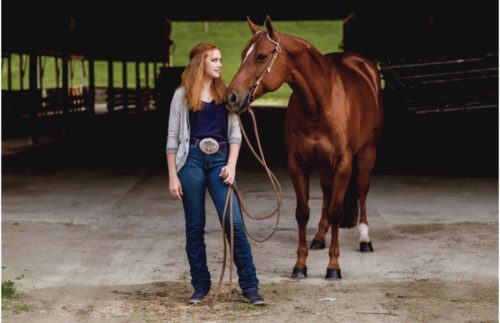 This week's Sunday Spotlight lands on Lyla Bellar. Lyla showed at World Equestrian Center this week during The Madness presented by the Southern Ohio Quarter Horse Association (SOQHA). Held annually at WEC, The Madness is recognized as one of the American Quarter Horse Association's (AQHA) top ten horse shows. Lyla took the time this week to chat with us about the two horses she currently shows, the various classes she shows in and her favorite horse show memories.
WEC: How did you get into riding?
Lyla: My mom rode horses and did some trail riding. I started at a local lesson barn when I was about five years old.
WEC: Did you show when you were young?
Lyla: Yes, I used to show hunters. I had a great mare that took me around the courses.
WEC: What do you show in now?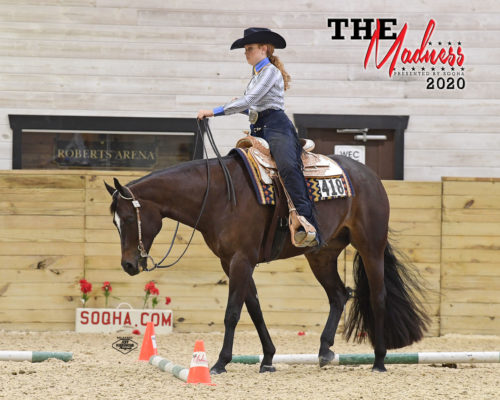 Now I show in the western All-Around. The western All-Around is kind of like the equitation in the hunter world, but we do it with a western saddle. It's a lot slower, too! This weekend I'm showing in the Horsemanship, Showmanship and Trail.
WEC: Can you explain the Trail, Horsemanship and Showmanship classes?
The Trail is kind of like the hunters in the sense that you had a specific course, but all of the rails are on the ground. They're all set at a certain distance to walk, jog, lope or maneuver around them. It's also important not to hit any of the rails. A mandatory obstacle included in every Trail course is a closed gate that a rider must open, pass through and close again. There must also be at least one backing obstacle and at least four logs or poles to ride over.
The Horsemanship is done in two sections. First, entries perform a prescribed pattern that consists of a walk, jog or lope. It can also include simple changes, flying changes, extended gaits, collected gaits, stopping and backing. After all entries have completed the pattern, finalists are invited into the arena to be tested on the rail. The judge's main focus is on the rider's body position, seat in the saddle and ability to control the horse.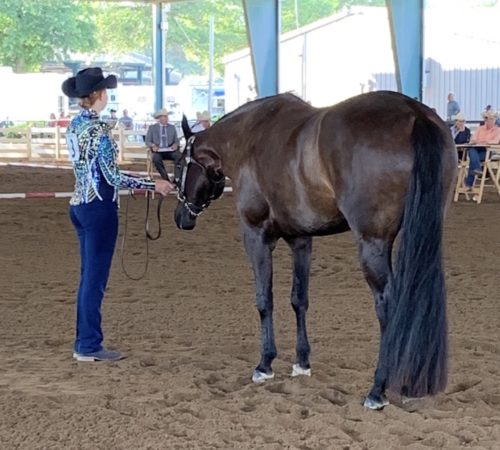 Showmanship is an in-hand class for youth and amateur exhibitors. Exhibitors perform a pattern while leading their horse, and judging is based on grooming and fitness of the horse, expertise of the exhibitor in presenting the horse, pattern precision and degree of confidence. The goal with Showmanship is for the horse to stay right with you. You have to have a good connection with your horse.
WEC: How does the All-Around award work?
Lyla: The All-Around award is given to the exhibitor and horse that earn the most combined points from the classes that they showed in at that horse show. At each show, All-Around awards are given to the highest-point-earning open, amateur, select amateur and youth exhibitors. It's kind of like being Champion of a division in the hunters, but it's Champion of an entire age group rather than just a division.
WEC: Tell us about the horses that you're showing this week.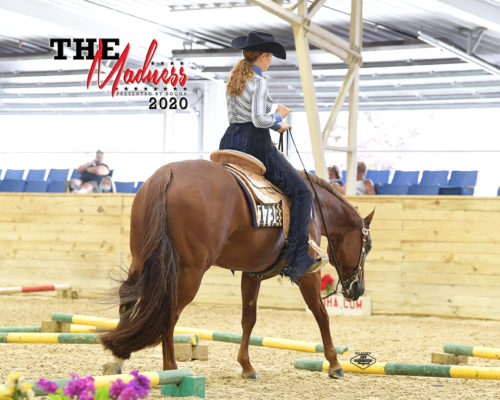 Lyla: I'm showing Good Evanescence, or Gretchen, in the Trail. She's a good mare. She's something else, she'll eat anything. She likes Fruit Loops and she loves to drink sweet tea. She only likes a certain amount of people, my dad is actually scared of her because she'll bite him.
I'm also showing a horse named KM Certified Best, or Dillon. I show him in the Horsemanship, Showmanship and Trail. I just started showing him a couple of months ago. He loves to be loved on.
WEC: Have you had any particularly memorable wins or horse show experiences?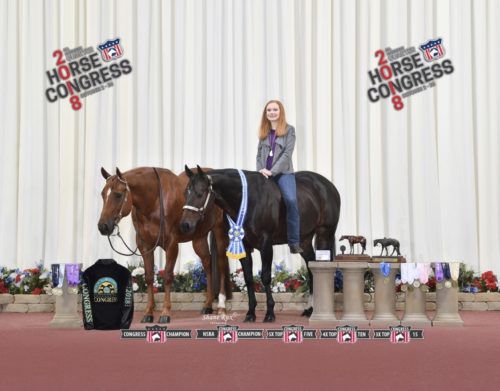 Lyla: Yes, the All American Quarter Horse Congress in 2018 was really successful for Good Evanescence (Gretchen) and Potentially Money (Penny). The annual AQHA Congress is held in Columbus, Ohio, and it's run by the Ohio Quarter Horse Association (OQHA), and is known as the world's largest single-breed horse show with more than 23,000 entries annually over the course of 3 weeks. Gretchen and I had great ribbons including 10th in the NYATT Western Pleasure and 7th in the Youth Western Pleasure. Penny was fantastic. We earned 1st in the Novice Level 1 Youth Western Riding, 4th in the Novice Youth Ranch Riding and Youth Western Riding 13 & under, 5th in the Youth Showmanship 112-14, 10th in the Youth Ranch Riding and 11th in the NYATT Youth Showmanship.
WEC: What are your riding goals?
Lyla: I want to keep getting progressing with the horses I'm riding right now.
We hope you had an amazing week at WEC, Lyla!