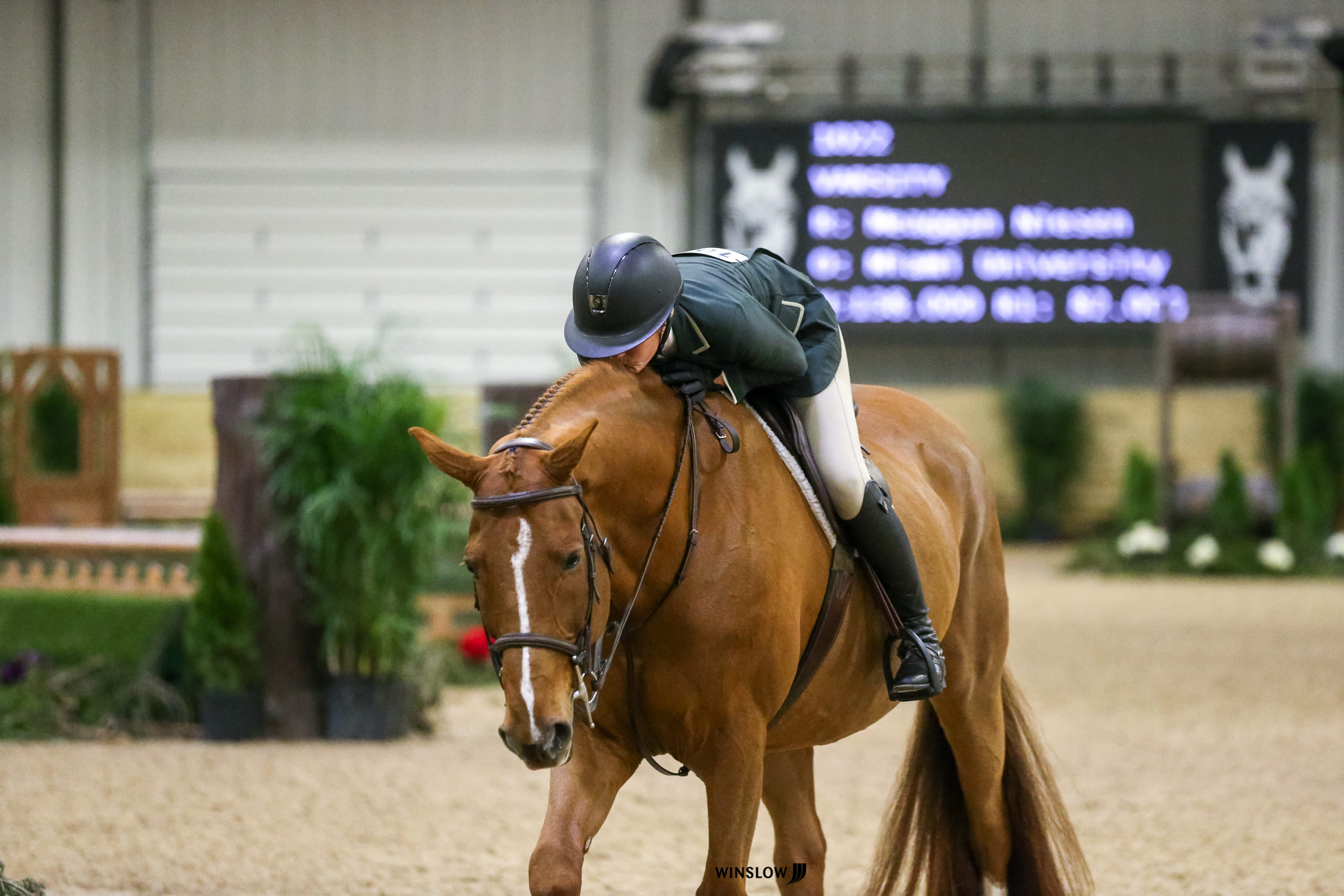 This week's Sunday Spotlight lands on Meagaan Niesen and Miami University's Varsity. Meaggan is a soon-to-be senior at Miami University and a very active member of the school's IHSA equestrian team. Through the school's equestrian team, Meaggan has acquired a love for the team aspect of riding. She has also fallen for a handsome chestnut gelding named Varsity, or Charlie. Meagaan took the time this week to chat with us about riding on Miami University's Equestrian Team and the opportunities that it has afforded her with Charlie.
WEC: Tell us a little about yourself.
Meaggan: I've been riding for about 11 years. I always had ponies growing up, but I never had my own horse. Now, I go to Miami University and ride on their IHSA team. I'm so happy to be a part of the team because I always dreamed of having my own horse, but it was never a reality. Having access to the Miami barn and all of these different horses who are sort of like my teammates, I get to care for them as if they're my own. I'm going to be a senior this year at Miami Univeristy and I'm going to serve as the Hunt Seat Co-Captain, so I'm really excited for that. I also lease a horse through Miami University, whom I adore, named Varsity, or Charlie.
WEC: Tell us about the IHSA team and riding program at Miami University.
Meaggan: We are an IHSA team and it is phenomenal. I grew up doing IEA, and I was never really sure about whether I loved it or not. Then I got to Miami University and it was one huge family with amazing teammates, awesome coaches and the best horses. I used to think of riding as such an individual sport. Riding in college, it's much more of a team sport. Even though you're always a team with your horse, it's good to have people around you that are all supportive of each other and all friends. It's fun, friendly competition every time you go to the barn. You want to have as much fun as possible because, while riding is a competitive sport, it's also a passion. You want it to be as fun as possible. Our coach and head trainer Heather Pinnick is very passionate and is a very well-educated horsewoman. She really loves her job and teaching, and she has helped me so much these past three years in both riding and in my horsemanship education.
WEC: Tell us about Charlie.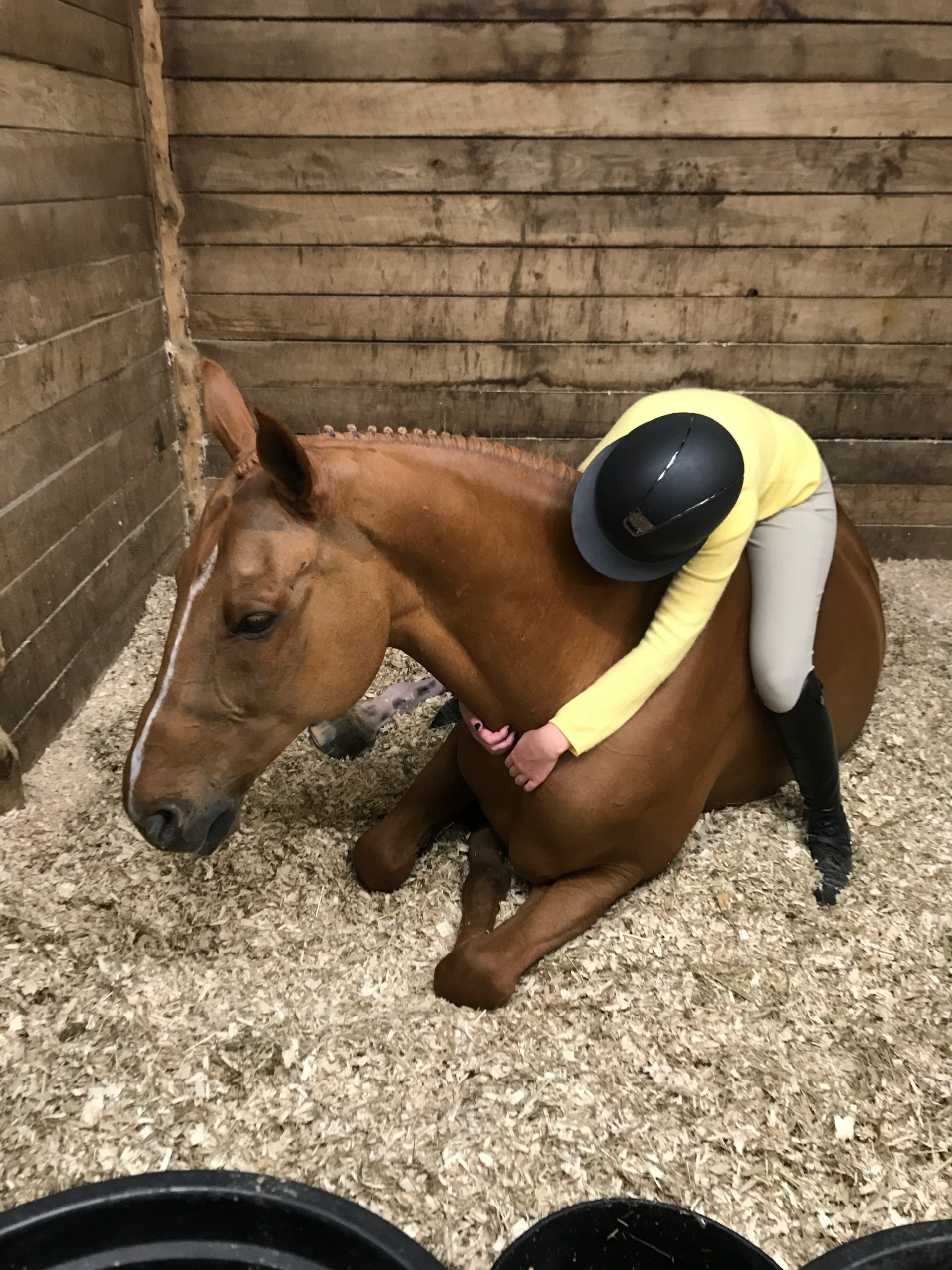 Meaggan: Charlie is owned by Miami University. He was donated to Miami University by Heather Irvine of Hillside Farm a year or two before I started there. She and my trainer are very good friends. Charlie is an IHSA horse at Miami University and I get the opportunity to lease him for shows like WEC. I've been showing Charlie for the past three years, and I am really fortunate that Miami lets me lease him. I've gotten really close with him.
WEC: Tell us about his personality.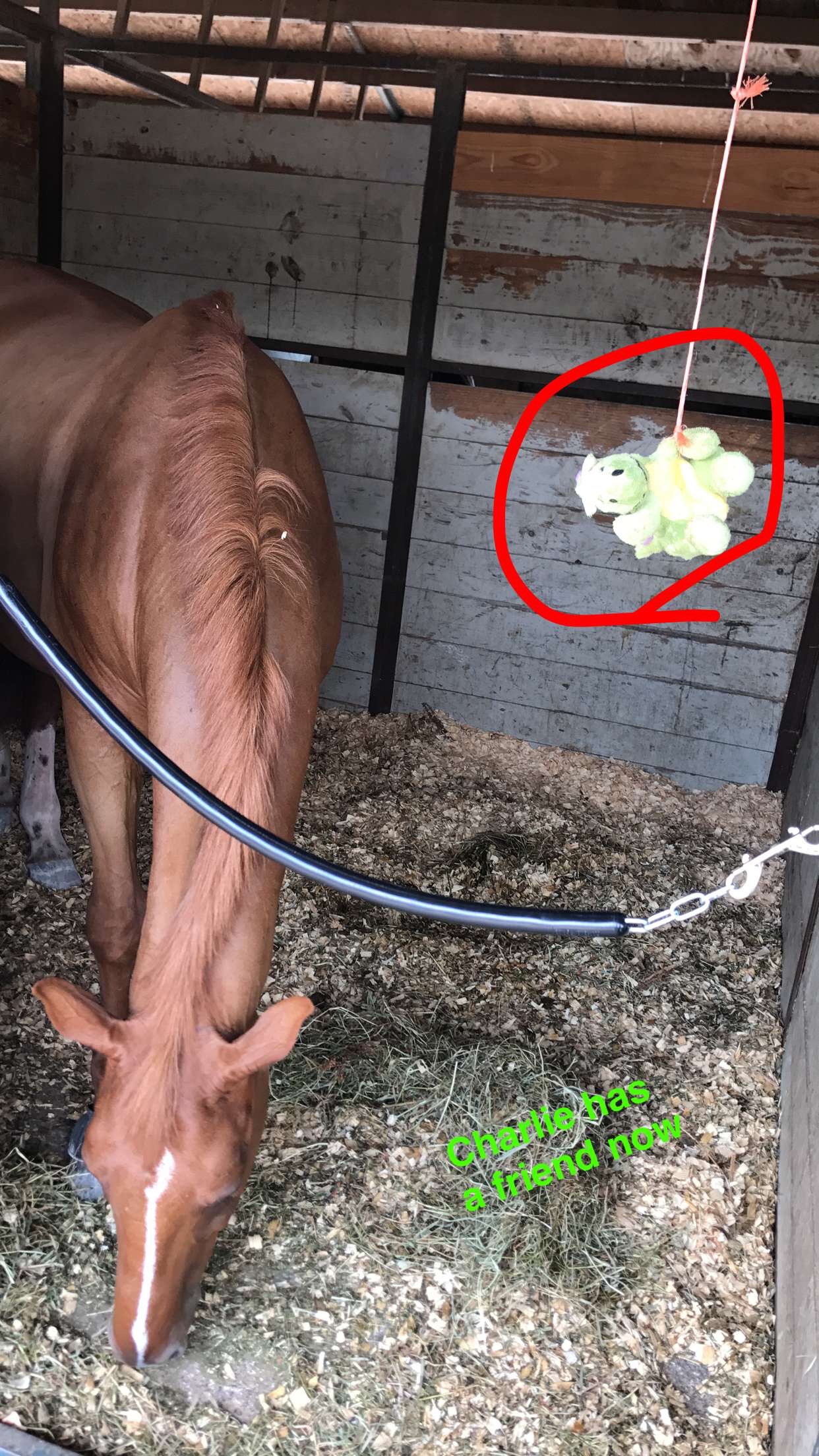 Meaggan: Charlie is 13 this year, but he doesn't act 13. He thinks he's still really young. He mainly does the Open and Intermediate levels in IHSA, but anyone can ride him. He's super adjustable and fun to ride. He's really just a caring animal and a great teacher. He loves to learn with his rider.
However, with Charlie, there's never a dull moment. He can be a little bit spunky and he gets extra excited when he jumps the jumps well. He loves showing off. I hang up a stuffed dragon with wings in his stall at every horse show, because that would be his spirit animal. My teammates and I also always joke that he would be the high school jock that plays lacrosse, which is fitting since his show name is Varsity.
Charlie wouldn't like me to forget to mention that he loves food. If anyone sees him, he would love a snack. His favorite treat is a strawberry banana smoothie. He licks it up, it's hilarious. I also can't forget to mention his nicknames: The Great Pumpkin and Char Star.
He's the best horse in the world. I think that he's so great. One of my favorite things about him is that we just complement each other so well, and he gives me so much confidence in the ring. I love him so much and he knows that I do, so he does his best to try to make me happy, which I think is his way of him saying that he loves me too. Charlie adds so much happiness and joy to my life. Just going to the barn and seeing his little head poke out of his window makes me smile. He's pretty much the light of my life.
WEC: What do you and Charlie show in?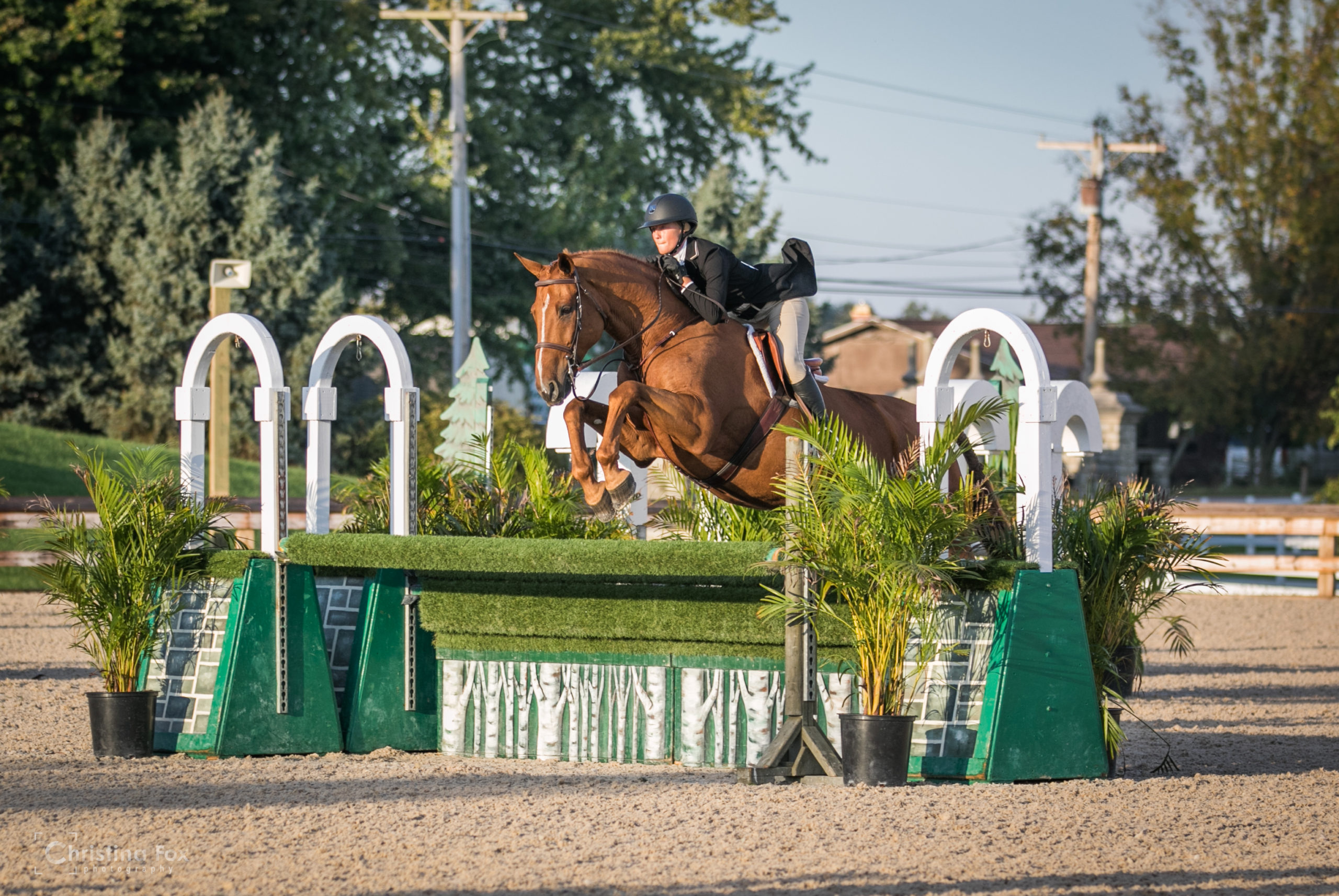 Meaggan: We do the Adult Hunters and Adult Equitation, and our favorite class is definitely the derby. I will have leased him for three years in the fall.
WEC: Tell us about leasing through Miami University.
Meaggan: It's an amazing program. A lot of people can't afford to have their own horse or sometimes someone's horse is hurt and they need to borrow one. The university will let you lease a horse for just one show, or even for a whole summer. Heather will pair you with a horse that she thinks is fit for you and your goals.
WEC: What are some of your biggest accomplishments with Charlie?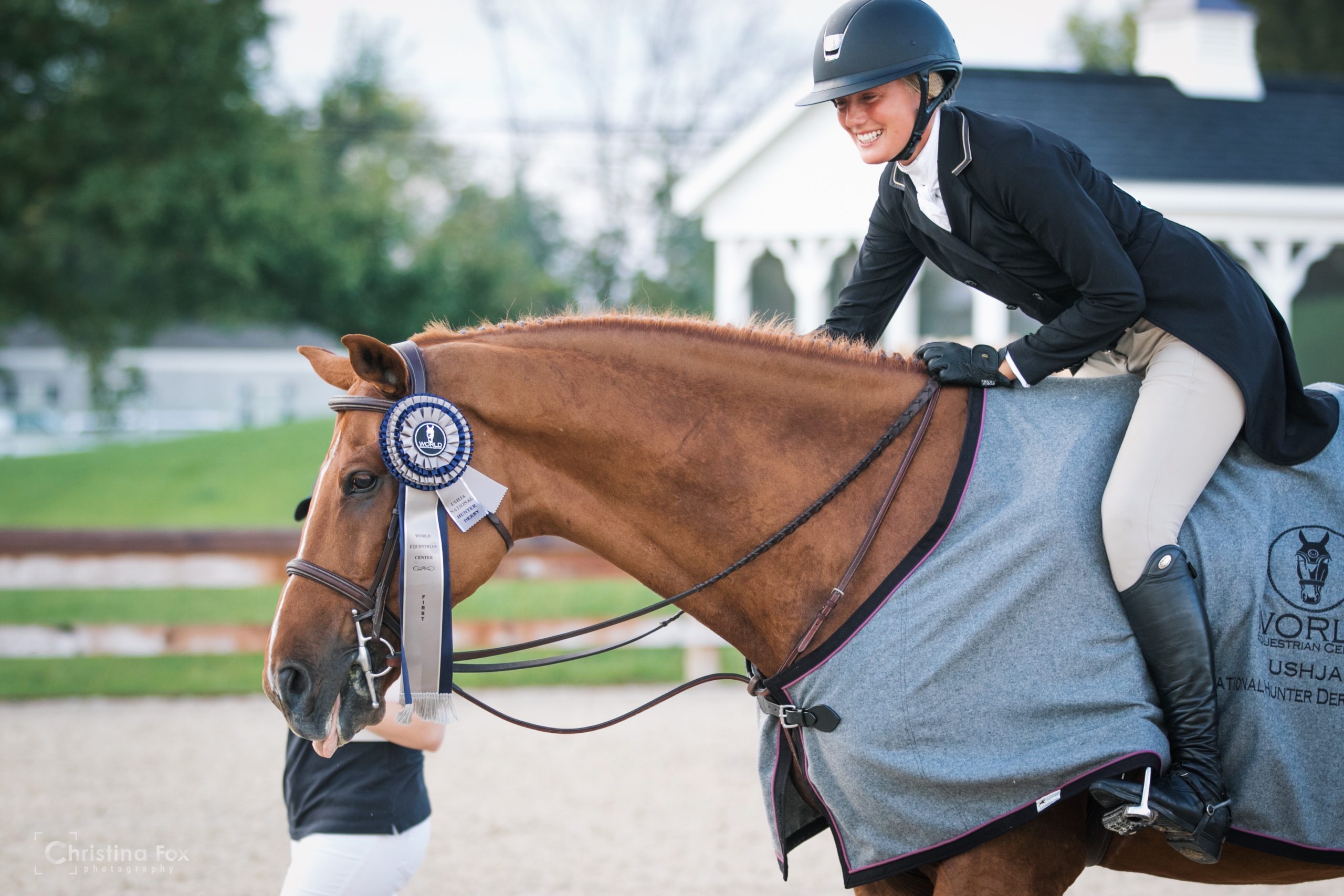 We won one of the USHJA National Hunter Derbies at World Equestrian Center in the fall of 2018. That was my first time winning a class like that, so I was floored. This past year, we qualified for the Taylor Harris Adult Equitation Finals. He was really good and took me around even though I was a little bit nervous. I had a great first experience there.
Every time we go to a show, he tries his best. If we get a tricolor, that's always an accomplishment. Being competitive and winning is great, because it shows all of the practice and hard work is paying off, but the bond you have with your horse and the joy of riding is worth more than the ribbons. It's about learning riding techniques, learning the horses, meeting great people and just the general love of horses. It's truly my passion in life.
WEC: Do you want to have a career in the horse industry?
Meaggan: I'll probably stay an Amateur. I don't think that I want to be a professional when it comes to riding, but I am hoping that my job relates to horses in some way. I'm studying Family Science and I want to do something with sports therapy. It would be amazing to incorporate horses into that.
WEC: What are your riding goals?
Meaggan: On Charlie, I would like to have a successful senior year to top off our time together. We've had a great relationship over the past three years, so if I could just go in the ring and make him happy every time, that would be the goal. I would also love to go to some different finals at the end of this year. Winning another derby would be really fun, too.
In the future, I do want to stay an Amateur, but I do want to go to Derby Finals. That would be a big goal of mine to qualify for that.
Congratulations on all of your success with Charlie, Meaggan, and we can't wait to see you two back in a derby soon!