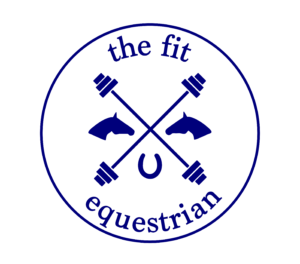 We understand the struggle of trying to stay fit to ride while staying at home, so we turned to Lauren Mahr, creator of The Fit Equestrian, for some tips on staying in riding shape. With an extensive knowledge of both riding and fitness, Lauren has created a range of workout and nutrition guides designed specifically for equestrians. Lauren tells us about The Fit Equestrian, why cross-training is important for riders and even shares one of her favorite at-home workouts.
WEC: Tell us about The Fit Equestrian.
Lauren: The Fit Equestrian is an online fitness resource. Our goal is to provide exercise and nutrition guidance for equestrian athletes to help release their full potential in the saddle, and inspire a healthy and happy lifestyle. We believe in cross-training and eating whole foods, but we also believe in maintaining a balance and eating dessert.
WEC: Tell us about you. How did you get into fitness and riding?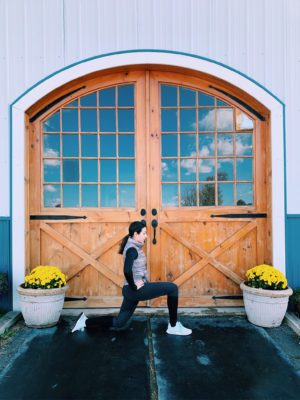 Lauren: I started riding at a young age, but rode for fun and only competed a couple times a year. My older sister showed competitively, and my mom, aunt and cousin all rode too. We are definitely a "horsey" family! When I was about 10, my older sister went to college and I slowly stopped riding as our barn was far away, and I started to find other interested like ballet and art.
I had missed riding for a really long time, but never had the time to get back in the saddle. I was a busy high school student balancing friends, schoolwork and commuting into NYC to attend a renowned ballet school. After quitting ballet, my interest in riding returned and the desire to start a healthy lifestyle sparked around the same time. At the time, the two didn't seem related to me, but I later came to realize how intertwined they were. I started learning to ride again during my freshman year of college at University of Delaware on their club equestrian team. Making improvements in my riding with only one lesson per week on different lesson horses I wasn't familiar with was a challenge. While I couldn't ride every day, I could definitely get to the gym 3-4 times per week. I learned that I could target specific muscle groups and jump-start my riding so that I could make the most of my time in the saddle.
I started The Fit Equestrian about a year later as a way to not only combine my two passions, but also to help riders of all levels and disciplines improve their riding outside the saddle!
WEC: What are some of the fitness and nutrition plans you offer?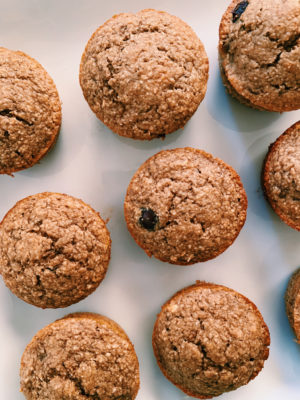 Lauren: We offer a variety of different fitness and nutrition plans to fit the needs of each rider. Our most popular fitness programs are the Equitation Bootcamp Program and the Equipment Free Core Strength Program. The programs are easily adjusted to fit any level of rider with some simple modifications. The Grocery Guide and Show Day Meal Plans are two of our bestselling nutrition guides, as they offer a range of options for those who follow vegetarian, vegan, gluten-free and/or dairy-free diets.
WEC: Tell us about the products you offer.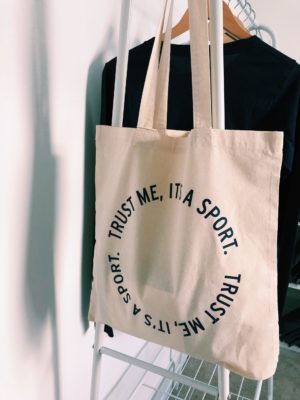 Lauren: In addition to our digital fitness and nutrition programs, we also have a collection of merchandise items! Many of the items feature our popular "Trust Me, It's a Sport." slogan that a lot of equestrians can relate to. We're working on adding some exciting items this spring/summer that will double as gym and barn wear!
WEC: What are the benefits of 1-on-1 counseling?
Lauren: 1-on-1 Counseling can be extremely beneficial for any equestrian. We all have very specific needs, goals, restrictions, preferences, etc. that can't always be addressed by a one-size-fits-all program. Our 1-on-1 Counseling sessions are highly individualized to focus on whatever topic you need help with the most, whether it is workouts, healthy eating or sports performance.
WEC: Why is it important for equestrians to cross-train?
Lauren: This is a great question! I believe it is a MUST-do for certain groups of riders, but not for others. Cross-training can be extremely beneficial for the adult amateur with an office job who can only get out to ride once or twice a week, a college student trying to stay in shape for riding or a beginner just learning to ride. On the other hand, it may not be realistic for a professional rider who rides 5 or more horses per day and teaches lessons all afternoon to get to the gym. So, if you have the time and energy, it's a must-do. If finding time to cross-train adds excessive stress to your life and puts you at risk for an injury, it's not a must-do! We typically recommend that riders who have very busy schedules and/or ride multiple horses per day focus on a balanced diet and a daily stretching routine instead of an intense strength training program. Everyone is very different, so figure out what works best for you!
Right now is a great time to start a cross-training routine to stay in shape for your return to riding. Who knows, maybe you'll be even stronger when you get back in the saddle!
WEC: What are some things that you would recommend for equestrians that are currently staying at home?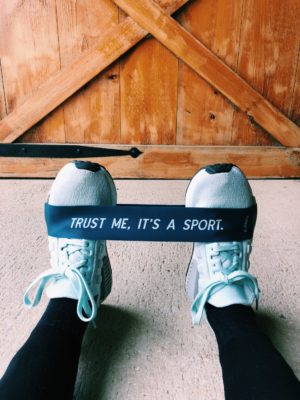 Lauren: If you are currently unable to ride and want to stay in shape, there are plenty of at-home workouts that you can do! Our two TFE favorites are the Equipment Free Core Strength Program and Resistance Band Program. If you have weights at home, you can even do our Equitation Bootcamp Program. Getting outside for a walk or a jog is another great way to stay active and get some fresh air!
WEC: Can you give us some tips on staying healthy while staying at home (and trying not to eat all of our snacks in one sitting)?
Lauren: My most important tip for staying healthy while at home is to create a rough meal plan for the week. This doesn't need to be strict and should just serve as a rough guideline. Plan out everything down to the snacks, desserts, etc., and be realistic! Base the plan on what you typically would eat and enjoy eating. The plan will not only be helpful for making your grocery list, but will also help you stay on track throughout the week!
WEC: What is one workout for equestrians to do at home?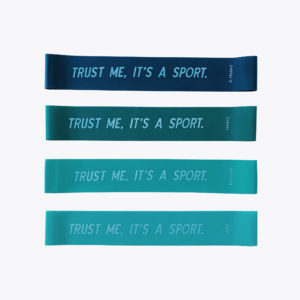 Lauren: One of my favorite at-home workouts is a resistance band exercise called a banded shoulder blade squeeze. This is really helpful for posture and will keep your shoulders back in the saddle.
Instructions: stand tall or sit on the edge of a chair with your core engaged and shoulders back. Loop a resistance bands around your wrists and hold your arms just like you would in the saddle with your elbows at your sides, hands out in front of you, and thumbs up. Draw your hands outward, keeping your elbows close to your sides and squeezing your shoulder blades together. Make sure to keep your shoulders down and neck in its natural position throughout the movements. Hold the squeeze for 2-3 seconds and repeat 10-15 times.
We would like to thank Lauren for all of her helpful advice on staying fit and active while remaining socially distant. Check out all of The Fit Equestrian's workout guides, nutrition guides and stylish barn-to-gym merchandise on their website.