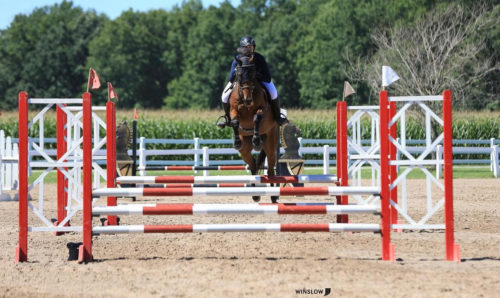 This week's Sunday Spotlight lands on junior Meaghan Kursman. Meaghan is lucky enough to have her mom as her trainer, making every day "eq day." She has a liking for green horses, particularly Thoroughbreds, and finds herself constantly starting new horses. Meaghan took time to chat with us this week about the many green horses she works with, what it's like training with her mom and her love for her own horse, Henry.
WEC: Tell us about yourself.
Meaghan: I'm from the Cincinnati area. I'm only about 40 minutes away from World Equestrian Center, which makes it easy to just head up for a horse show. I ride with Magna Carta Equestrian, based out of Cross Creek Equestrian in Hamilton, Ohio. My mom, Laura Kursman, actually runs Magna Carta Equestrian. I've had my mom as my trainer for quite some time now. I'm a junior in high school, but I do online school to make riding a bit easier, because I have a lot of horses to ride every day.
WEC: How did you get into riding?
Meaghan: My mom has always ridden, so when I was young she would bring me out to the barn. I was basically sitting on her horse since the time I was born. It went on from there. I didn't have much of a pony career. I leased a few ponies, but I've always been the one on the green horses that are just starting out. I did lease a pony when I was six years old who was a Haflinger, which is an interesting breed. I got bucked off and broke my arm, so I stopped riding for about two years.
It took a while, but I finally got back on. I had a couple of different lease horses that brought me back into riding, some of which were naughty ponies. I got a pony named Learjet Lilly when I was 10 years old. I started showing her in the Walk/Trot Poles, then moved into Crossrails, then eventually into the jumpers.
WEC: What do you do now?
Meaghan: We moved barns twice over time, and now we're at Magna Carta Equestrian and my mom is my trainer. I help start a lot of horses and I have my personal jumper who I show. I'm probably starting a new horse every week.
WEC: Tell us about your horse.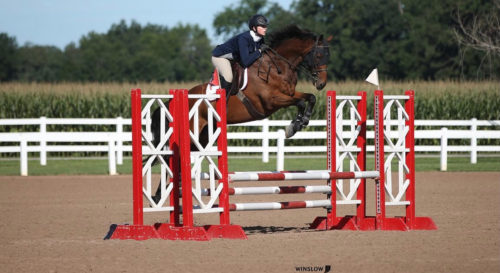 Meaghan: His name is Henwen, or Henry in the barn. We are currently moving up to the Novice Jumpers at our next show, but he's still pretty green and he's very quirky. Now that we've worked out most of the quirks and figured out how to ride him, we'll be moving up a lot faster. He's a 10-year-old Thoroughbred. He had previously steeplechased, so he was already pretty used to jumping when we got him. He has a really big personality. if you aren't doing something right he's going to tell you. We started this year in the Crossrails just to get him out and moved into the Intermediate Jumpers a couple of months ago. Now we're doing the 3′ jumpers, so he's come pretty far. We've just been taking things slowly with him to build up everything correctly.
WEC: Tell us about some of the horses you work with.
Meaghan: It really depends on the day. Some days I'm starting a horse, some days I'm on derby horses, some days I'm on Quarter Horses, some days I'm on ponies. I really like the Thoroughbreds, so I'm riding those a lot. Really, every day is a different group of horses to ride. I typically just show Henry, but I do sometimes show some of the ponies.
WEC: What is it like having your mom as your trainer?
Meaghan: It's been fun. I've ridden with a few different trainers here and there because I feel that you can learn something new from every trainer you ride with. That, combined with riding with my mom, has helped me learn a lot. Riding with my mom definitely means that I'm always being watched. There's no slacking, it's like I'm always in a lesson. It really helps me constantly work on my equitation.
WEC: What is a memorable riding experience that you've had?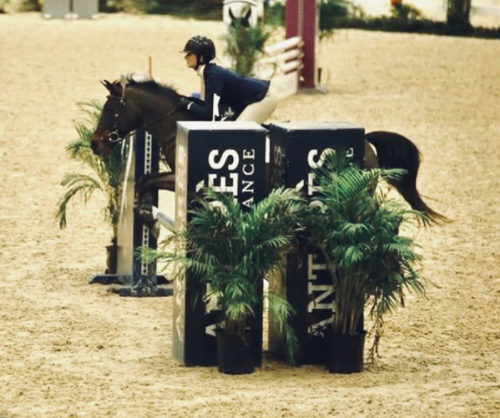 Meaghan: My favorite show was when I brought Lilly to World Equestrian Center for two weeks. We got to go around the Sanctuary Arena and it was a lot of fun.
WEC: Do you have any hobbies outside of riding?
Meaghan: I really just enjoy spending time with the horses and the dogs. I just got a new puppy named Truffle and she's taken up most of my free time.
WEC: What are your riding goals?
Meaghan: I would like to do the meter jumpers this upcoming season when we go down to World Equestrian Center — Ocala. It will all depend on how my horse is doing, but that would be fun. By the end of next year, I would like to start in the High Children's Jumpers, then spend my last junior year doing that and maybe trying to qualify for the Washington International Horse Show.
See you in Ocala, Meaghan!