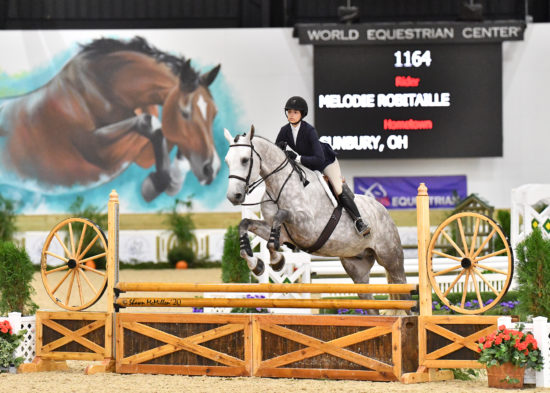 Equitation Weekend at the Capital Challenge Horse Show has brought fantastic success for riders across the country. We love seeing new (and familiar) smiling faces as each rider takes on the competition. This week's Sunday Spotlight lands on Melodie Robitaille, an equitation rider from Columbus, Ohio. We've gotten to know Melodie throughout the past year, even featuring her in the Junior Rider Focus in the World Equestrian Center Magazine. We were thrilled when Melodie agreed to let us tag along this weekend through her journey at her very first Capital Challenge Horse Show.
WEC: Where are you from?
Melodie: I was born and raised in Columbus, Ohio, but family originates from Montreal, Canada.
WEC: Who do you ride with?
Melodie: Sarah Ash and Michaella Gerlacher at Duncan Run Farm.
WEC: Tell us about your horse.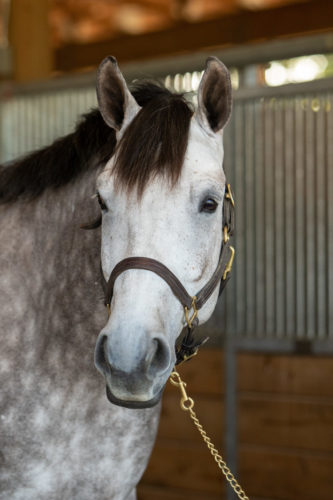 Melodie: His name is Coveted (Kasper). We call him Kasper the friendly ghost, because he's so sweet. He's eight and pretty green, but he's calm and in your pocket. He loves to cuddle and does whatever you ask him to. He's super forgiving, but also a little fresh and spooky at times, as with all of the young ones. When I first got him we did the 3' hunters, but now we do the 3′-3'6" Equitation and a little bit of the hunters, more for experience.
WEC: Is this your first time showing at the Capital Challenge Horse Show?
Melodie: Yes, it is. I really haven't been to any other finals besides NHS, so this is my first year at Capital Challenge. It is a little weird that it's not at Prince George Equestrian Center, but it's almost a little more special because I've been showing at WEC for so many years. To come to WEC for a final makes it that much more special.
WEC: What did you show in this week?
Melodie: I showed in the Open Equitation 3′, the THIS Warm Up and the THIS Finals.
WEC: What kind of work did you to do to qualify for the Capital Challenge over the past year?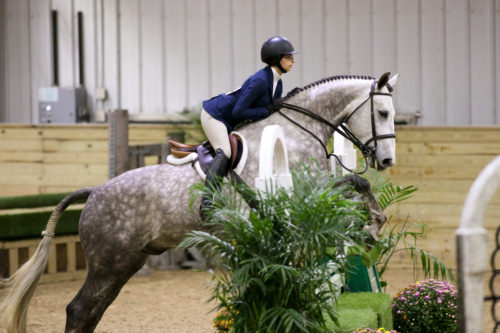 Melodie: For the THIS Finals they allowed 45 finalists. This year they took the top two riders in each region or zone, then as those spots filled they made their way down that national list to take the top 40. Out of about 200-300 riders, I ended up 5th nationally. We were also 1st in our region.
WEC: What prep work have you done in the weeks leading up to the Capital Challenge?
Melodie: I've been doing a lot of technical courses and focusing on things that I have a hard time with in general. We had a local medal finals about two or three weeks ago where there was an oxer that I ran at and missed. I just didn't get Kasper off of my leg. In the weeks leading up to today, we worked really hard to make that smoother and shape him around the turns. He kind of dives around the corners, so we call him "motorcycle" sometimes because of how sharply he turns, so that is the biggest thing we've been working on.
WEC: You're juggling being a working student and showing this week, tell us about that.
Melodie: I've been a working student for a little over a year at every show I've been to, so I've kind of gotten into a groove. Before I show I do a lot of the morning chores and I might lunge a few horses and tack up some horses for my trainer. When I get done showing I have things that I need to do and help the other groom with. I try to get anything pressing done before I show so there isn't a lot left after I show.
WEC: Do you have any good luck charms for this week?
Melodie: I always wear my two necklaces, and today I have on my lucky shirt, lucky breeches and lucky belt.
WEC: Tell us about the Open Equitation 3′ on Thursday.
Melodie: Kasper was really good. I was a little nervous because we just started getting him comfortable in the jumper ring, and those jumps were jumper-type jumps with some filler. I wasn't sure how he was going to like that. He ended up being really good. I had a few mistakes, but he was perfect and it was a really good start to the week.
WEC: How did you do in the Taylor Harris Insurance Services National Children's Medal Finals (THIS NCM) warm ups yesterday?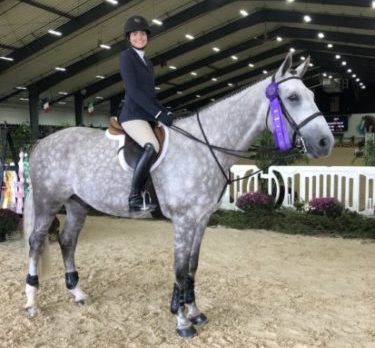 Melodie: Kasper was perfect yesterday. We only flatted in the Sanctuary and the R+L, and if he's going to look at anything, it's going to be the jumps. We had no clue how he was going to react with the jumps, because the jumps are a bit different than what he's used to. He walked right in and was perfect. Also, ironically, we had the same jump off of the same lead in the same position that I had missed at in the local medal finals. We nailed it, and it was like conquering a giant feat. We finished 7th in the warm up in the Sanctuary.
He was great in the warm up in the R+L, too. We finished 8th in that warm up. The course in the R+L was a bit more technical, so the first class was good practice for the second class. The combination of the two courses showed me what I needed to work on for today's final. I really took into account anything that happened in both rings, so that I could work on that today. We hadn't shown over tough courses like that in about a year, so it was great to go put down two confident rounds.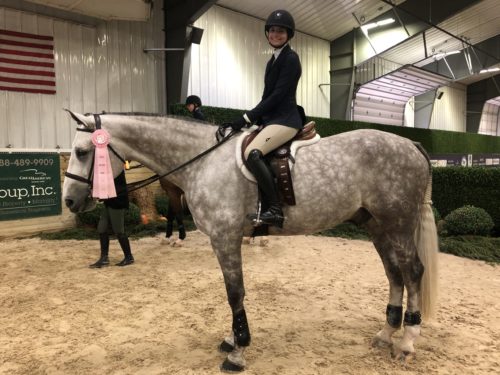 The flat warm up went well yesterday, too. It was a long class, but there were a lot of us in there. I think we cantered for about five minutes total and trotted for about 10 minutes total, so it felt pretty long. Kasper got a little mad at one point because of all of the traffic in the ring, but he held it together really nicely and we ended up 5th.
WEC: How did you do in the THIS NCM Finals today?
Melodie: Kasper and I had one of our best rounds yet to finish 14th overall at finals. He went around like a pro and scored an 83.66. I'm so proud of him and how far he has come along. He's my project horse that my trainers have been helping me with, and to have him perform this well under all this pressure is so rewarding.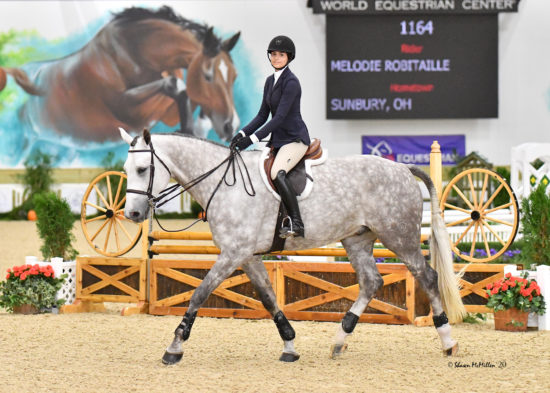 WEC: How would you describe your overall experience at Capital Challenge?
Melodie: My experience at Capital Challenge is one I'll never forget. It's my first time here, but I hope it's not my last. They've put on an incredible show. And WEC has also done an incredible job making everything beautiful and functional, which has made it even better. I've learned a lot this week at Capital Challenge, and am so thankful to be here with my family, friends and my trainers who got me to this point.
Congratulations on a great weekend, Mel!