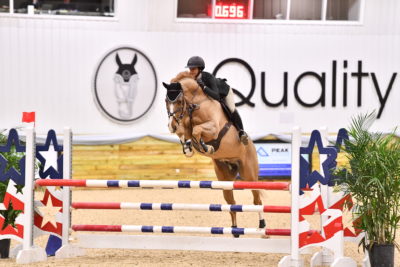 This week's Sunday Spotlight lands on 17-year-old Olivia Saldivar. Olivia comes from a horse-centric family, sharing her passion with both her mom and her sister. Her days at their home farm in Indiana are filled with stall cleaning and riding from sun up to sun down. With lofty goals in the jumper ring, Olivia sought the help of Ohio-based trainer Charlotte Clark, and now serves as a working student for Charlotte at every opportunity. Olivia took time out of her busy barn schedule this week to chat with us about her history in the saddle and her Grand Prix dreams.
WEC: How did you get into riding?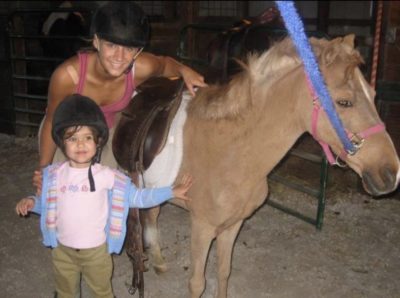 Olivia: I've always had horses growing up. My mom started riding horses when she was 12 years old, so we've always had horses in the family. We own a small barn in Fort Wayne, Indiana, called Orchard Creek Stables. I got my first pony, a mini named Ginger, and started riding when I was about three years old. I got my first show pony, Patches, when I was six-years-old. We did the Crossrails. We still have patches in our barn, he's 26 years old now.
WEC: Tell us about some other horses that you have owned.
Olivia: In 2015 I started showing my mom's 2'6″ project horse. I showed him for about two years, and now my sister shows him. I love watching them show together. In 2017, I showed a mare that we bred at our farm in the Novice Jumpers. That same year, I got my first Children's Hunter named Simply Simon. We got him from Maggie Boyle at Black Dog Farms. At first he was just a lease, but I loved him so much that we decided to buy him. He was the easiest horse to ride, you could point him at the jump and he would just go.
WEC: Tell us about the horses that you have now.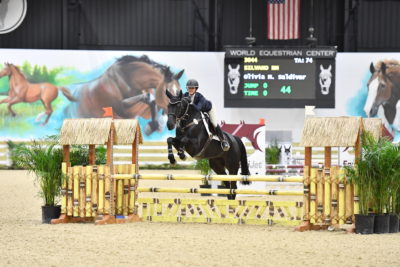 Olivia: I have my Big Eq horse named Capable, or Sully. He has a heart of gold, but he can be very bossy when he wants to be. I also have a Children's Jumper named Silvano RM, or Vinnie. He's the sweetest horse, all he wants to do is please. He's always trying his best. I have a second Children's Jumper named Cordeiro RM, or Charlie. We got him this past October from Ten Sixty Stables. He's the goofiest horse and the best part about him is that he loves his job more than anything in the world.
WEC: What's your favorite class to compete in?
Olivia: I've done the Equitation and the Hunters for a while, and I started doing the jumpers when I started training with Charlotte Clark of Kendalwood Farm in Sunbury, Ohio. I just love the jumpers so much, I think it's the adrenaline of it. I have a blast doing it. Watching Charlotte has really made me want to keep moving up in the jumpers.
WEC: When did you start training with Charlotte Clark?
Olivia: I started training with Charlotte in the summer of 2018. I loved training with my mom, but she really only went up to the 3'6″, so we decided that it was time to find someone with experience at a higher level to further my riding. Charlotte's farm is about three hours away, so we try to go there for lessons whenever we can, but we mostly meet up at shows. I get to show about once per month, sometimes twice if the schedule works out. The shows at WEC are great every time I go there. I look forward to it every single month.
When we're at shows, I'm a working student for Charlotte, which I love. She walks me through everything so that I can learn from her. I love to watch her show, I learn a lot from just watching.
WEC: What does your day look like at your farm in Indiana?
Olivia: I'm working at the barn all day. I'm always cleaning stalls or riding.
WEC: What does your show day look like as a working student?
Olivia: We start the day by cleaning stalls and lunging the horses that need to be lunged. Charlotte typically has a few to ride in the morning as well. We have a schedule that Charlotte keeps on the board at the stalls, so we know when to have each horse tacked up and ready to show. She works it out really well.
WEC: Tell us about some of your biggest riding accomplishments.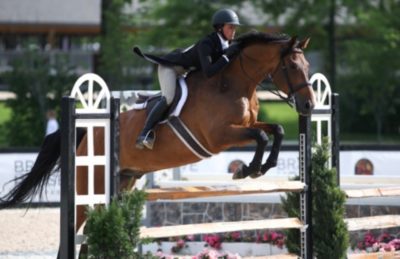 Olivia: During my first show with Charlotte at Brave Horse in summer 2018, I won the Ohio Cup Derby on Sully. We've had good placings in the 15-17 Equitation, too. I feel like I'm just now starting to get competitive in the jumpers. It took me a while to get used to going fast. It's a big change, but it's a blast!
WEC: What are some of your riding goals?
Olivia: This summer I hope to be doing the 1.25m, that's my biggest goal right now. We'll see from there, but I would like to do a Futures Prix in a couple of years and a Grand Prix down the road.
We can't wait to see you in a Futures Prix and Grand Prix one day, Olivia!