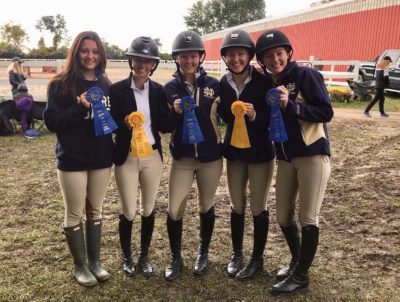 This week's Sunday Spotlight lands on upcoming President and Co-Captain of the Notre Dame Equestrian Team Emily Moll. Emily is a dedicated life-long equestrian who values barn work as much as time spent in the saddle. She is excited to spend the summer at home in Ohio with her new lease, Calvin. We caught up with Emily this week to chat about her summer plans and her excitement for another year with her beloved team.
WEC: How did you get into riding?
Emily: My mom signed me up for lessons when I was about six years old. She gave me a pack of six lessons and thought it would just be a little summer hobby, but I ended up getting hooked, and I haven't stopped riding since. I never showed ponies or anything, I mostly did lessons on school horses when I was young. I didn't really start showing until I was about 12. I moved to Childress Rodgers Stables and joined thier IEA team. I trained with Erin Wherry Washburn and Gretchen Dye, and was on their IEA team for through 12th grade, so a total of seven years. The IEA team was great, and it was kind of how I got started showing.
WEC: Tell us about some horses that you've had.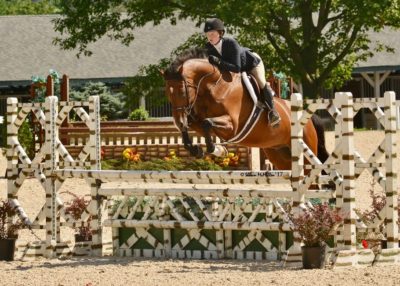 Emily: I got my first horse in 2014 when I was 15. His name was Maximus, or Max. He was a big Warmblood Sport Horse Draft-cross pinto. He was a really cool looking horse. We did some 1.00m jumpers and Junior Hunters. After a while, I wanted a little bit more horse as I advanced in my junior career, so we sold him and I bought I Do, or Danny.
I had Danny for four years. We did the Junior Hunters, Equitation, and derbies. He was awesome, he took me around anything and any show we went to. He was just the love of my life. He was a super big lover. He was a little reserved when I first got him, I'm not sure if he had ever had his own "person" before I got him. Once he got to know me, he was always in my pocket and would love on me. He always wanted to be the center of attention, so if you were holding him and talking to someone, he would make his way into your conversation. He was a big ham.
Danny and I did Ohio Hunter Jumper Association (OHJA) Medal Finals a couple of times and we were in the top ten one of the years, so that was really cool. We also qualified for Junior Hunter Finals in 2017, which was also really exciting. We won a lot of Champion and Reserve Champions at fun shows that year at the Kentucky Horse Park and at World Equestrian Center. We ended up third in OHJA that year in the Junior Hunters. I took Danny to the Lindsay Maxwell Charitable Fund/USHJA Emerging Athletes Program (EAP) a few times, too. He was the horse that I did everything with. He was more of a hunter, but I could cross over to the Equitation and even the jumpers.
Danny strained his suspensory two years ago. We did all of the rehab with him, but he just didn't respond to it. We decided to re-home him to a friend, so he's living a great life grazing in fields and getting loved. I do still get to see him, which is really great. His new "person" sends me pictures of him regularly, so it's great that he's happy and has someone to love on.
WEC: What other horses have you ridden and shown?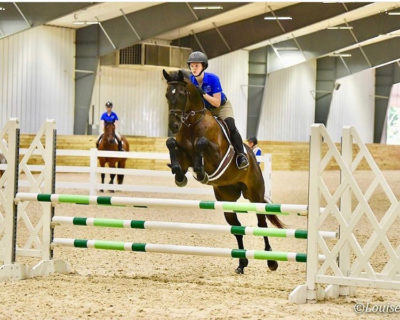 Emily: In 2018, I worked with my trainer Laurie Storey's horse, Sunday Hat, for the summer. He is a young OTTB. We went to the EAP clinic at World Equestrian Center that year and he trucked around like a champ (read about Emily's EAP experience here).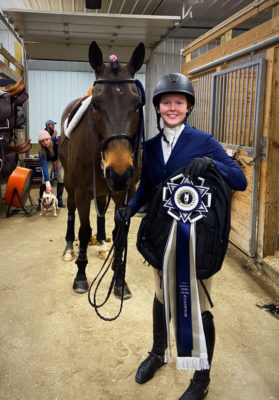 I also did a lot of Adult Hunter and Equitation classes on my friend Rachel Kolar's horse, Like Clockwork, or Woody. We even won Champion in the Adult Equitation at World Equestrian Center in January on my 21st birthday!
WEC: Tell us about riding for the Notre Dame Equestrian Team.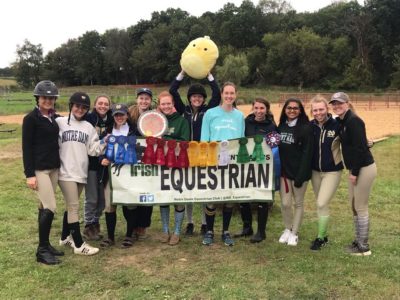 Emily: Riding for Notre Dame is awesome. I'm going to be a senior this year. I've been on the team since I was a freshman, so this will be my fourth year. We're an IHSA team, so we have to do all of the paperwork, funding and everything else ourselves to keep the club running. It's a lot of work, but I love any work that comes with horses. I've done barn work at almost every barn I've ridden at, and I love working around the horses just as much as I love riding.
When I started as a freshman on the Notre Dame Equestrian Team, I was put into the open division right away, so I've been showing consistently with the team since then. It's super fun. I love bonding with the girls on the team and making new friends. When we travel to horse shows, it's a true bonding experience because you're living with your teammates for a few days and you're working toward a common goal.
I was Regional High Point Rider this past year, and we won our region for the first time this year. We've accomplished a lot of things that we had set goals for this year. I think it helps that we're such a tight-kit group and we work hard toward our common goals. We were supposed to go to Zone Finals and hopefully Nationals, but that was sadly canceled due to coronavirus.
Our barn is the Lucky Horse Equestrian Center in Niles, Michigan, about 20 minutes from the Notre Dame campus. There are a lot of great school horses that we lease to ride and use at our horse shows. Our horses tend to be regional favorites. Everyone loves our horses, they're all very well cared for, well-broke and very fun to ride.
WEC: Tell us about the roles you play on Notre Dame's Equestrian Team.
Emily: I'm the new club president this year, and I'm co-captain of the team as well. I was elected to the president position by my teammates, so it's really an honor and it makes me happy to think that my teammates hold me in that regard. It is a big responsibility and a lot of work, but I love doing the work and rising to the challenge. I want to bring the team to another successful year.
WEC: What are you studying at Notre Dame?
Emily: I'm a Neuroscience major with an Anthropology minor. I'm actually pre-vet, and that is the major that I love and am striving for. I hope to go into equine veterinary medicine in the future. I would love to get into Ohio State's Veterinary school, that would be a dream come true.
WEC: What are you riding plans for this summer?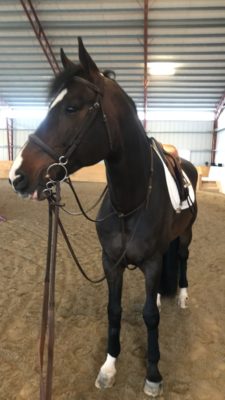 Emily: I'm home in Ohio this summer, so I am riding at Kensley Farm with Laurie Storey and leasing a horse named Triskell Ar Park, or Calvin, from Raquel Mazur (read about Calvin and Raquel in a previous Sunday Spotlight interview here). Calvin is the coolest horse I have ever sat on. He's so scopey. He seems like he is going to be great in the Equitation, jumpers, hunters, or whatever we put him in. I think we will mostly do the Adult Equitation classes and a little bit of the Adult Hunters. I definitely want to do some derbies, too, because he's really handy, will jump from anywhere and has a big stride.
I've been training with Laurie for a little over three years. She's amazing, I love her very much. She's really helped me grow into the rider that I am today and she's really made my equitation strong, which has helped me in IHSA. She's helped me learn to ride almost any horse I sit on. She's one of my biggest support systems as well, I can't say enough good things about her. She's like my second mom.
WEC: What are your riding goals?
Emily: I would love to win a hunter derby, that would be really fun. It's something I've always wanted to do. I would also love to pin well at Indoors in the fall. I'm qualified for the Taylor Harris Adult Medal Finals at the National in November this year, so that would be fun if I could take Calvin there, if my schedule permits. I would also love to go to Devon at some point, I love Devon.
We wish you, and the rest of the Notre Dame Equestrian Team, the best of luck in the coming year!