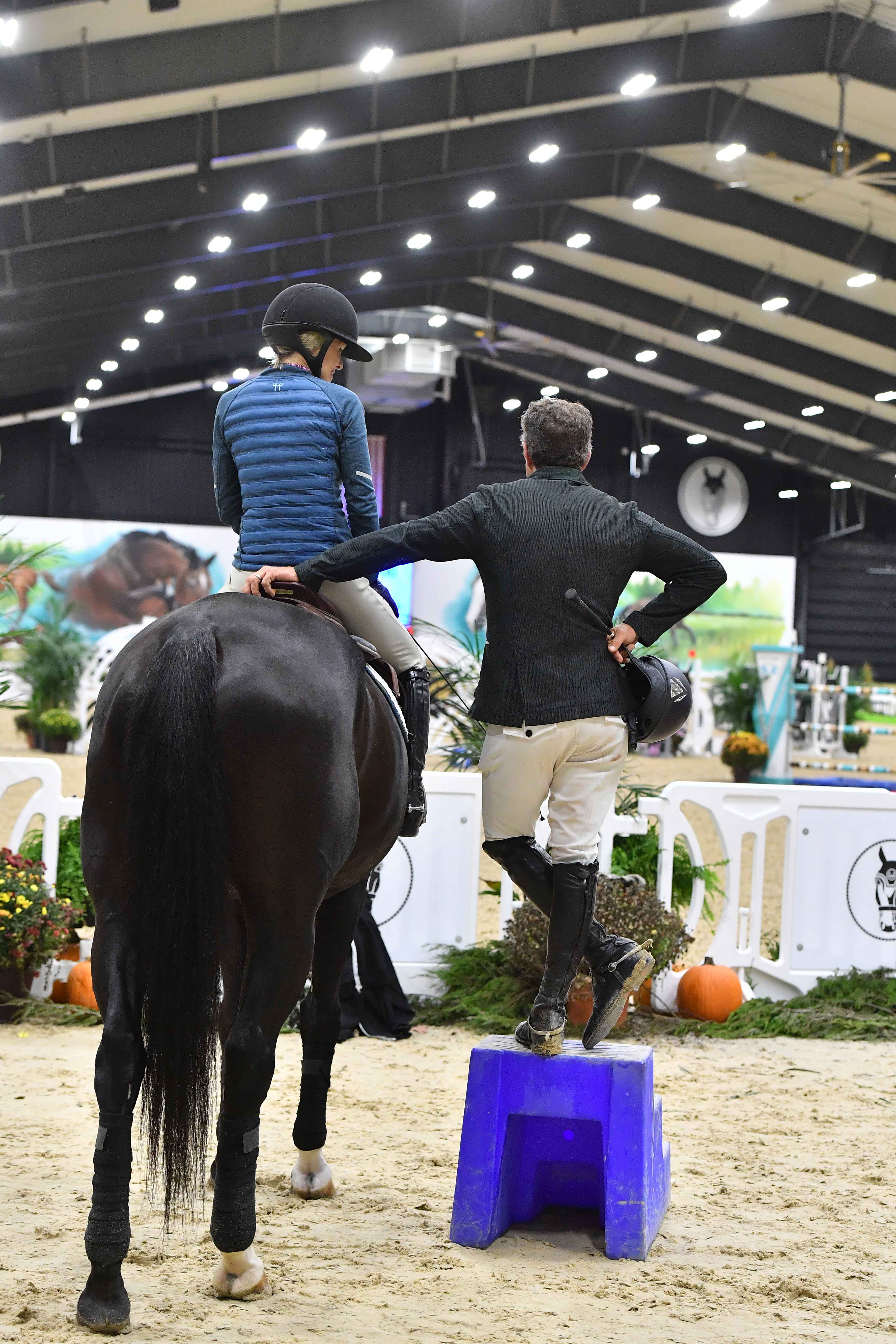 This Sunday's spotlight shines on a dear friend of World Equestrian Center, Paige Beisel. Paige and her husband David own and operate David Beisel Stables out of Goshen, Ohio and have attended shows at World Equestrian Center for many years. Paige's passion for horses began early in life and she loves that she gets to share that passion with her family on a daily basis. Paige and her stunning twelve year old Oldenburg gelding The Boy Friend compete regularly in the Amateur Owner Hunters and took top placings at World Equestrian Center this week. Paige took a moment to chat with us between classes about life, riding and her Boy Friend.
WEC: How did you get into riding?
Paige: I got into riding because our neighbors had horses. When I was five years old, they wandered into our yard and my oldest sister, who was more daring than I was, got on one of them. Then, I got on one of them and we rode them back over to the neighbor's house. I think the horses must have been twenty years old. It turned out that our neighbor taught riding lessons, so she gave us some lessons.
Growing up, I did fox hunting with the Camargo Hunt. I also did Pony Club. I rode with Chile Rogers, Anne Thornbury, and Tom Wright when I was really young. Then I rode with Lori Story and did most of my riding when I was a teenager with Mindy Darst, who was an awesome trainer. She had Lochmoor Stables and my husband David worked for her, so that's how I met David. We just celebrated our twentieth anniversary on December 23rd!
WEC: Tell us about some horses you rode growing up.
Paige: The first horse I had was a large pony named Romeo. He was twenty two years old when we bought him and he was perfect to go on trails and do Pony Club. My sister also rode, so I had some of her show horses. After she was finished, she would pass them along to me. My horse that I loved the most was named Leave It To Dexter. He did the Children's Hunters and we pretty much just left it to Dexter. He was my favorite.
WEC: Tell us about your Amateur riding career.
Paige: Since I've been married, I've been a school teacher. I taught seventh grade Honors English and History at Indian Hill Middle School, which is neat because I graduated from that high school. Some of the teachers were there when I was in high school. The horses slowly got better through the years because we were funding it ourselves. I don't teach anymore since our business got so big. It's hard to leave and go out of town while teaching. After we had our kids Cooper and Izzy, it got to be too much. So, I gave up teaching, even though I did love it.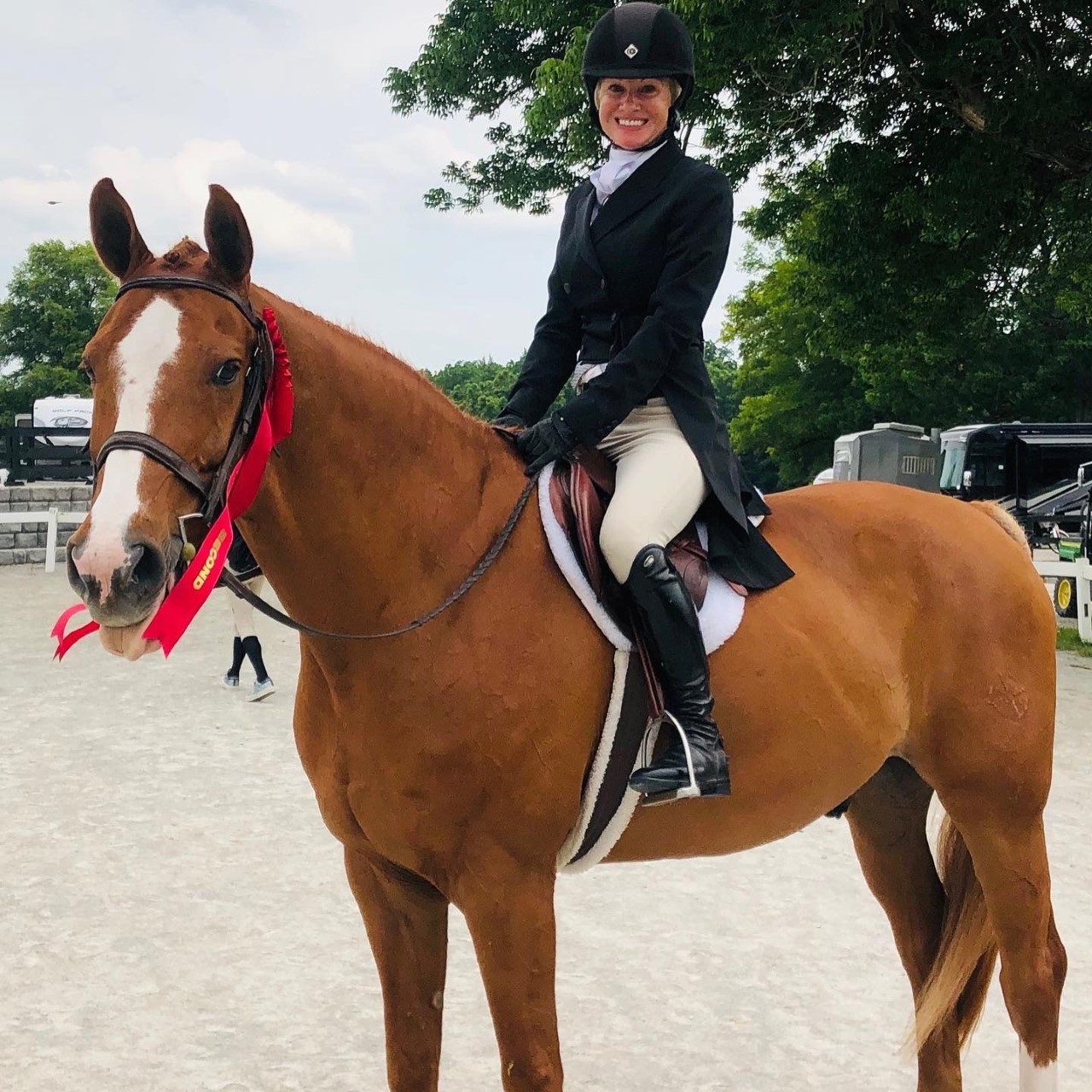 The horse that I showed the most in the past five years is named Salem. He does the Amateur Owner Hunters. He had an eye transplant this Summer due to a terrible eye infection. So, he has had six months off and he's just getting back underway. He's doing courses again, so I'm thinking that I'll show him in a couple of weeks.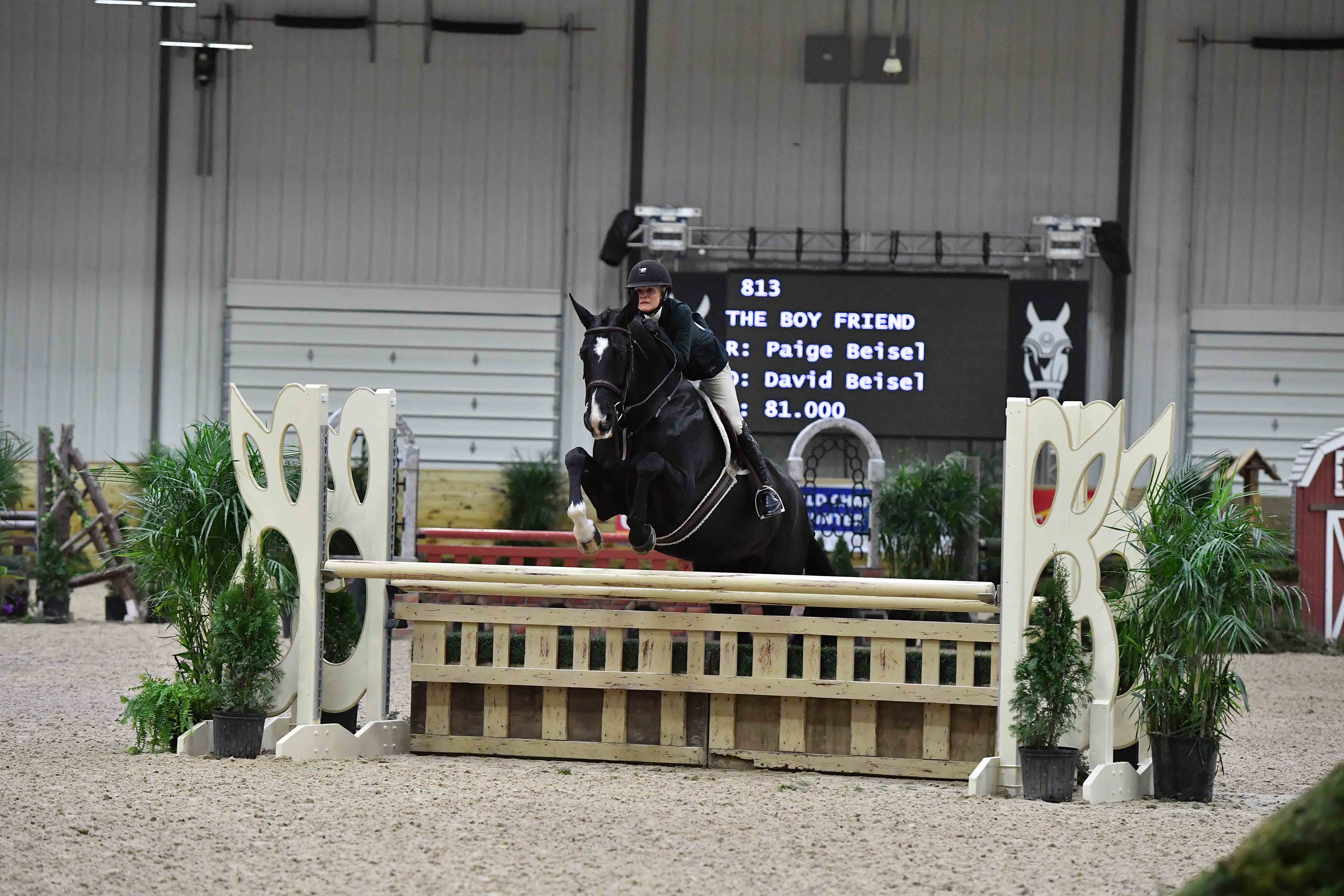 In the meantime, our good friend Lesley Richmond was nice enough to let us buy The Boy Friend, the horse that I have now. I've watched that horse show for the past couple of years with her and I just loved him. She mentioned that she was thinking that she'd like to focus on the jumpers, so we caught her at the right place at the right time and it worked out. David bought The Boy Friend for me for my birthday and Christmas, and my next birthday and Christmas, and the next…
WEC: Tell us about The Boy Friend.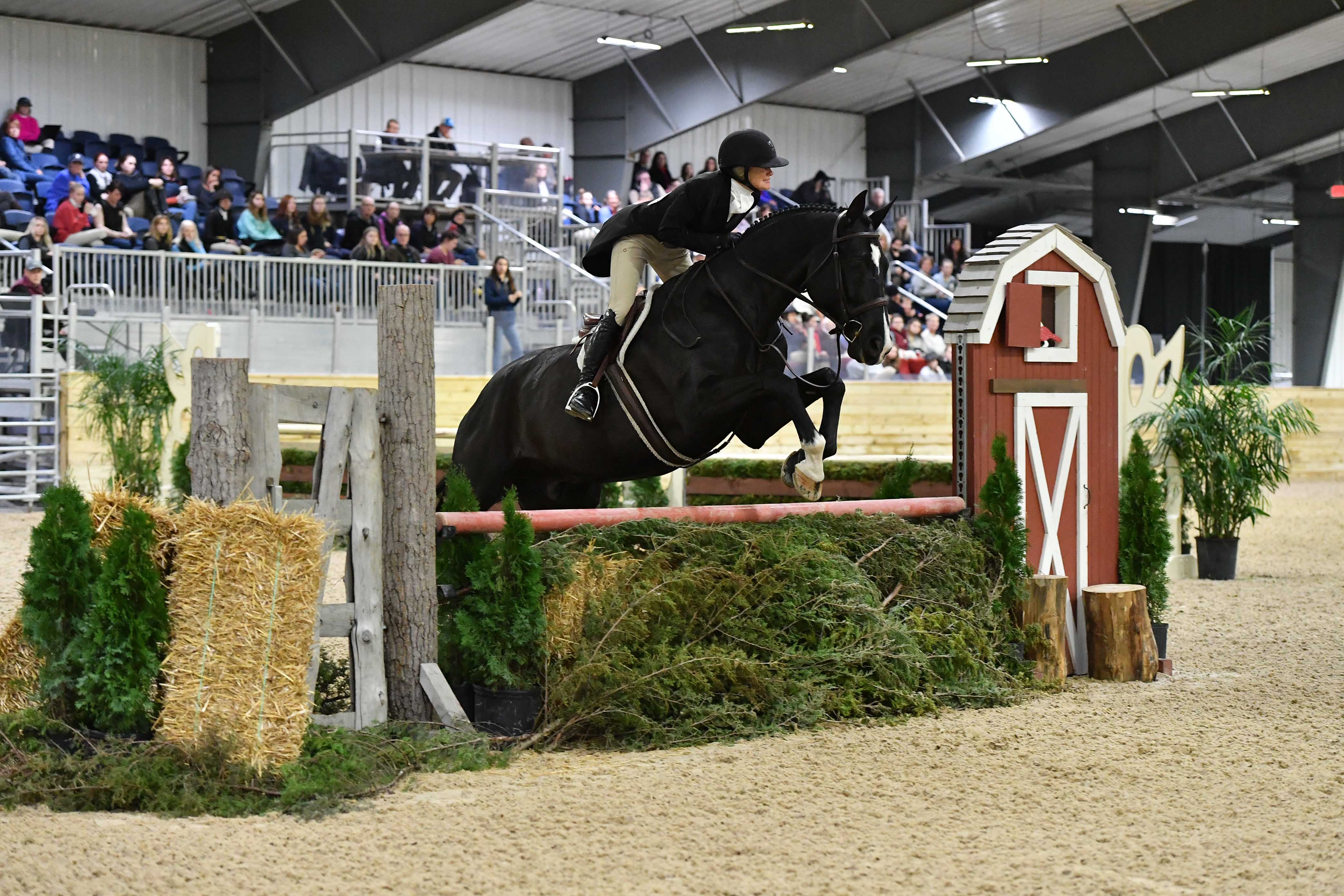 Paige: The Boy Friend, or just Boy Friend in the barn, and I are getting to know each other. I love riding him so much. It's so fun that his name is Boy Friend, especially because David and I have been married for so long – it brings a lot of jokes. He's the nicest horse I've ever had the opportunity to ride. He whinnies to me when I walk in the barn now. He's super sweet with a great, big personality. He licks me, he's really kind, he loves treats. It's funny, Salem loves to eat marshmallows, so I offered that to Boy Friend and at first he didn't want those. Now, that's all he wants. So, he's into the marshmallows.
He doesn't like too much turnout. At our farm, we like to let our horses go out and be horses. He likes a little of that, but he's really happy showing. He's a show horse. He knows what to do. I just feel so lucky. He's so brave to the jumps. He just looks right through them. That's how Salem is, also, which is so nice. I have to have one that wants to do it. I don't want to have to talk anybody into it. If they don't want to do it, then that's not the horse for me. The Boy Friend is just super sweet like that. I'm really excited about him.
WEC: What are some of your riding goals for 2020?
Paige: This year I would love to get Salem back into the show ring again and let him have a little bit more time. He gets so bored at home. He really isn't finished and would like to do some more things still. He gets so excited when we bring him to just practice the little courses. He's really eager to please. I'd like to do some of the small derbies with him. That's definitely a goal.
I'm getting to know The Boy Friend and we're doing the 3'6″ Amateurs. I'd like to just be really consistent with him as much as I can and just build on not making the same mistake. I'd like to do better each time. I'm working on my flatwork a lot with him, which is something that is different for me. So, just being consistent and trying to be right up at the top each time I show him.
WEC: What are your long-term riding goals?
Paige: They have some really nice hunter derbies in Saugerties at the end of the year. Salem was qualified to go to those classes, but since he hurt his eye we weren't able to do that. I would like to do that this year with Boy Friend.
WEC: Tell us about showing with your family.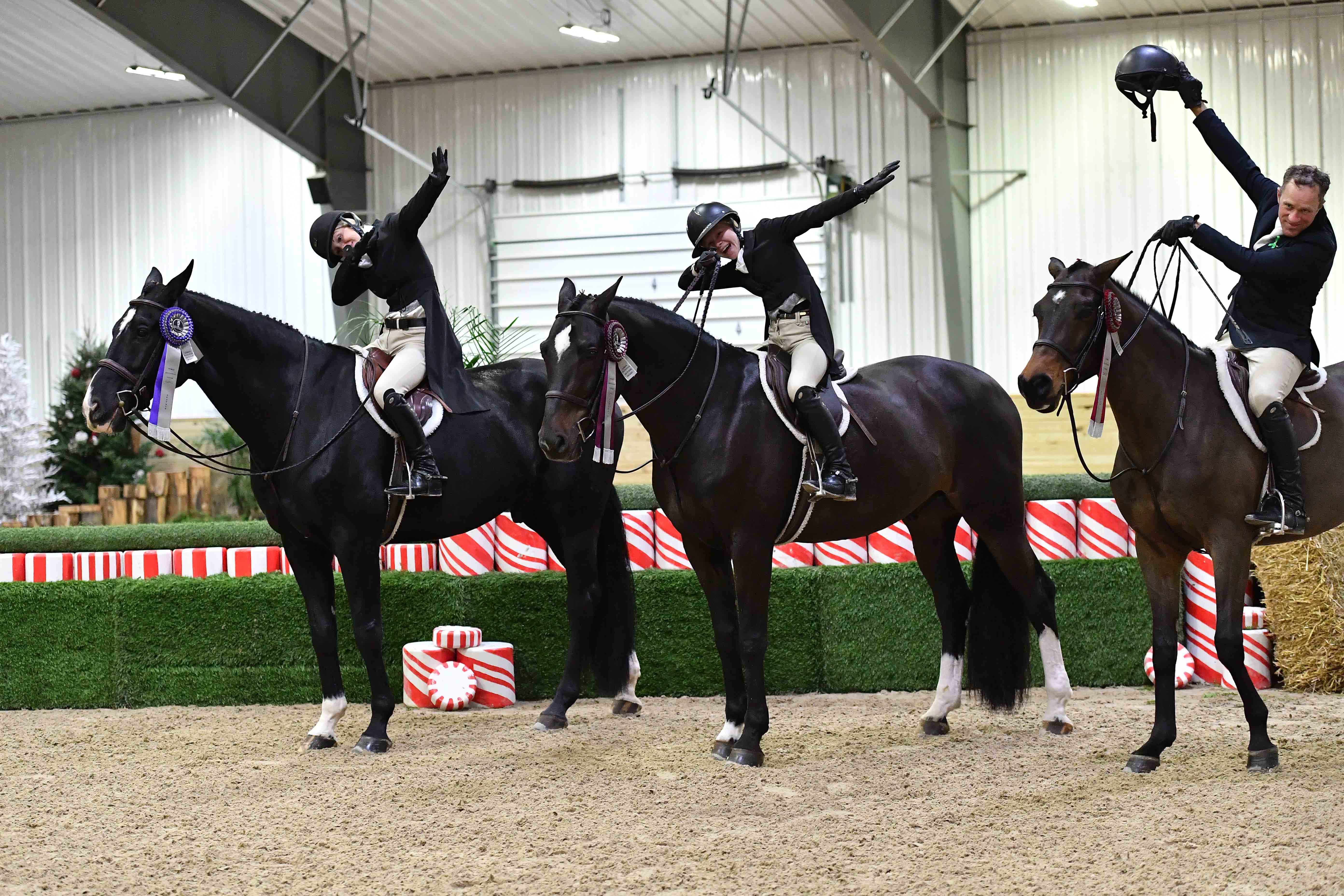 Paige: I want to thank my family. I want to thank David for being such a great trainer. He always finds the best things to talk about, he's so positive. He's so good at riding that it's easy to take his advice, because he's way better than I am. We switch from husband and wife mode to trainer and student mode. He's so good about that.
It's so fun to have my whole family showing, including my kids. They come and watch me and cheer for me. Sometimes they're hard on me, but they clap and it makes my heart smile. It makes me so happy. It's neat that we get to stick together and do it as a family.
Paige also added:
We love coming to World Equestrian Center. The perfect footing, the perfect courses, the people are second to none…plus it's twenty minutes from our farm. Everyone from our farm wants to come show. There's really no one at home if there's a show even though it's such a big business. Most people want to come to the horse show. We love showing here.
Thank you Paige and the entire Beisel family for your passion for horses and continued support of World Equestrian Center. We love having you here and we can't wait to see what this year holds for all of you!
Photos courtesy of Andrew Ryback Photography.