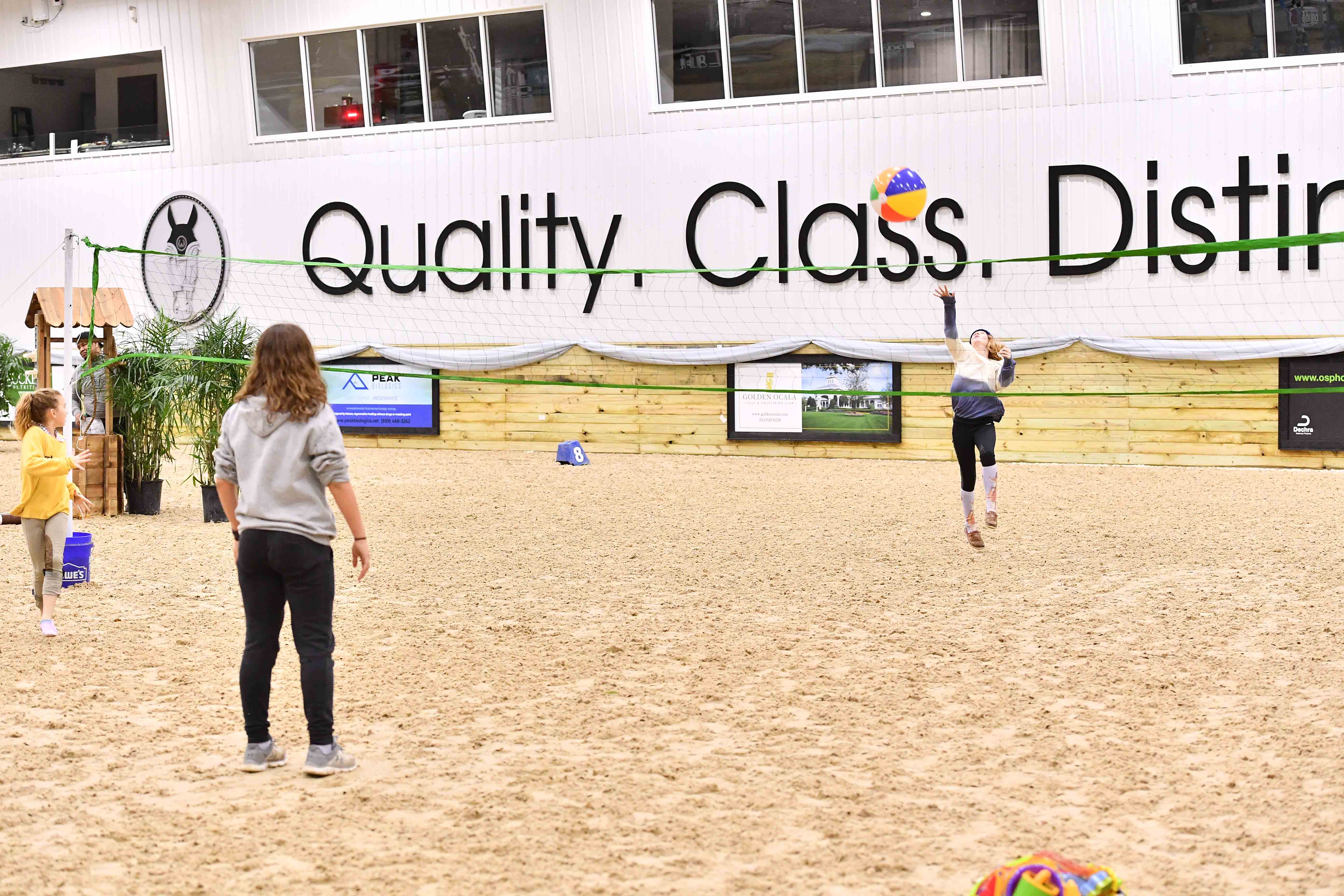 Week five of 'Winter in the Midwest' at World Equestrian Center featured plenty of fun both in and out of the show ring. Spectators enjoyed a ringside exhibitor party during Friday's $10,000 USHJA International Hunter Derby and Saturday's $25,000 World Equestrian Center Grand Prix. All gathered in the Sanctuary Arena after Saturday's Grand Prix for a game of beach volleyball. Featured class action was aplenty with several hunter, jumper and World Champion Hunter Rider (WCHR) classes to fill the week.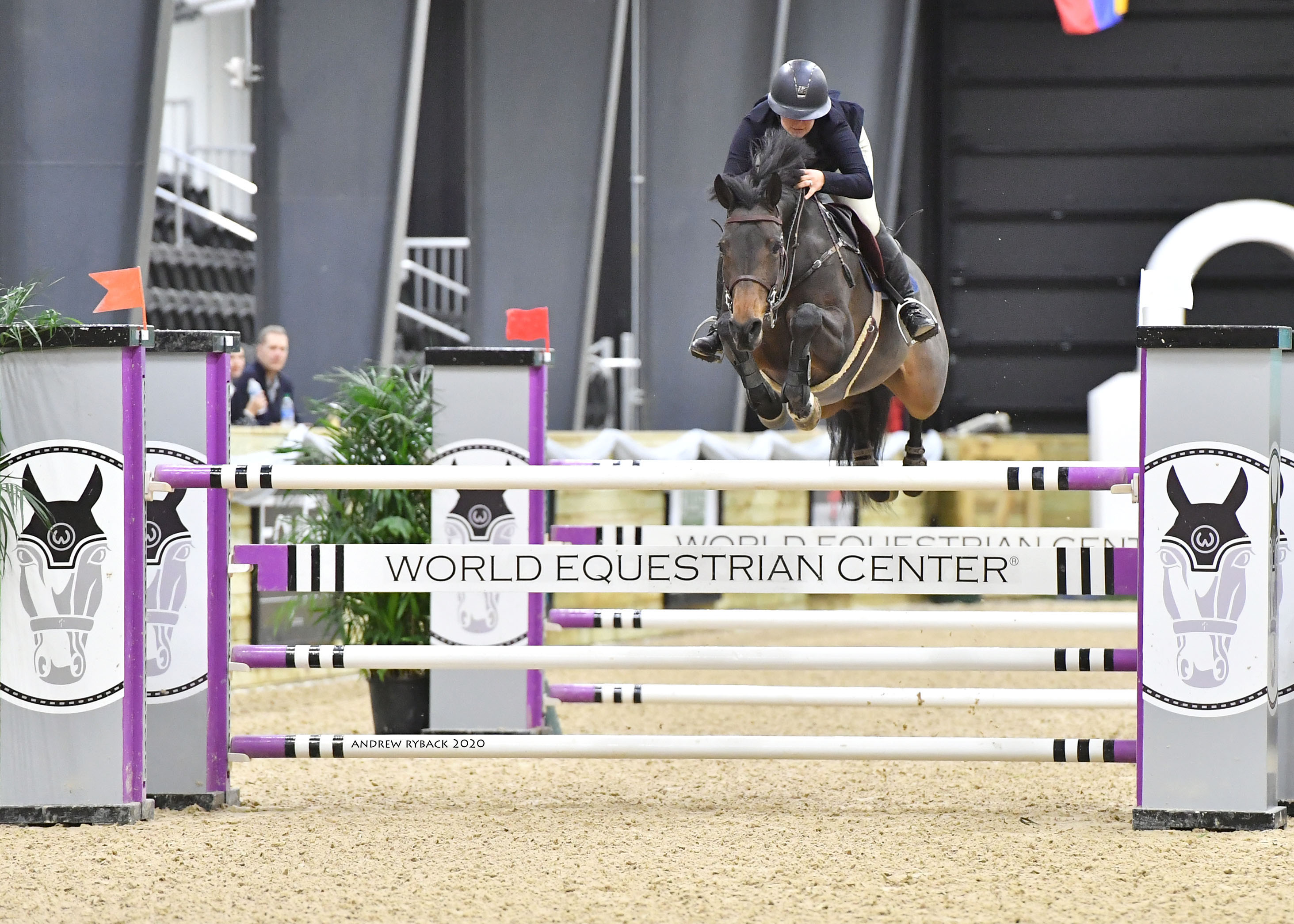 Thursday kicked off featured class action with the $5,000 Welcome Stake 1.35m sponsored by CWD Sellier. Lisa Goldman-Smolen and her own Nike (Lasino x Wanda XII) took home the blue and Goldman-Smolen's other mounts, Hindsight (Vision x Rhiannon), As Di Sogrand (As Di Villagana x Grand Soso 2) and Sovereign (Frontal x Galledent), earned fourth, fifth and sixth place, respectively. Goldman-Smolen and Nike were first in the order, holding their lead throughout the entire class with an unbeatable jump off time of 34.916 seconds. When asked about first place finisher Nike, Goldman-Smolen replied, "My little mare that I can never go fast on was finally fast, so that was really exciting! It feels great!"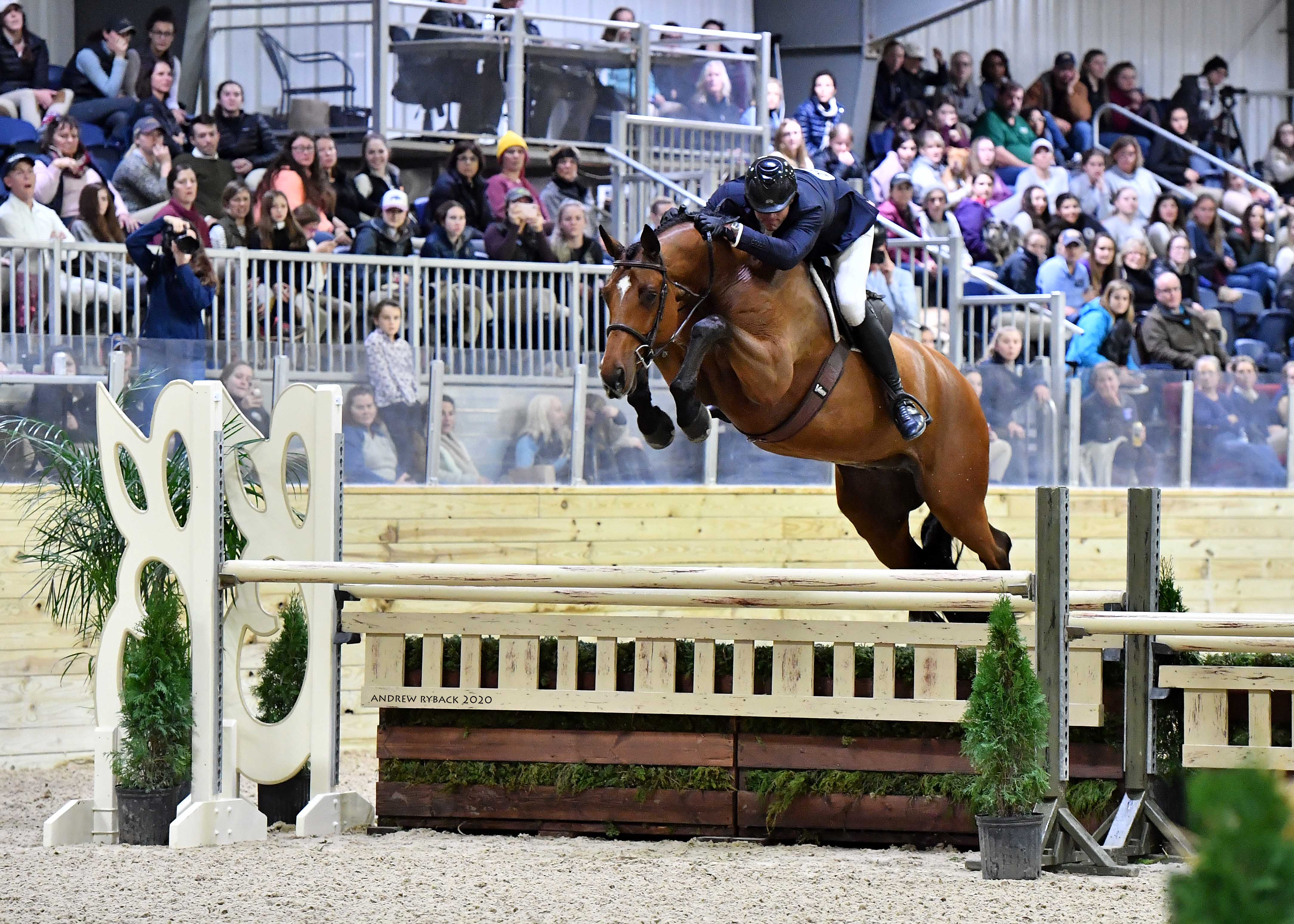 Friday was filled with fantastic hunter action for both the $10,000 USHJA International Hunter Derby and the $5,000 USHJA National Hunter Derby. Brandon Gibson and Select Sport Horses' Spectrum Z (Hos D'O x Anemone Granette) the took first place in the $10,000 USHJA International Hunter Derby with a flawless performance. The pair earned scores of 88 and 92 in the first round, then returned for the handy round earning scores of 85.5 and 88.5 bringing their overall total to 358 and winning the class by eleven points. Gibson was trilled with his "flying Hippo" as he calls Spectrum Z, saying, "He's really special. This is my first personal horse in a long time. He's very exciting. He won the International Derby at the Bill Russell Memorial show in August, won a National Derby here in December, then won this International Derby today. I'm super happy with him. He's an incredible horse. I still can't believe he's mine."
The $5,000 USHJA National Hunter Derby on Friday saw thirty entries vying for the win, but it was Michael Britt-Leon who dominated the class for the second week in a row, taking first, second and fifth place aboard Kelly Sims' Downtown (Dollar x Kornett), Kelly Sims' True Enough (Catoki x Hauptstutbuch Chardas Fürstin) and Jami O'Shea-Johnson's Hearts Forever, respectively. Britt-Leon and Downtown, a six year old Mecklenburg gelding, earned scores of 87 and 88.5 for a total score of 175.5. Britt-Leon commented, "It's an exciting moment to be able to win on such a green horse. We bought him a year and a half ago when he was just green-broke and I brought him along myself. This is his second Derby."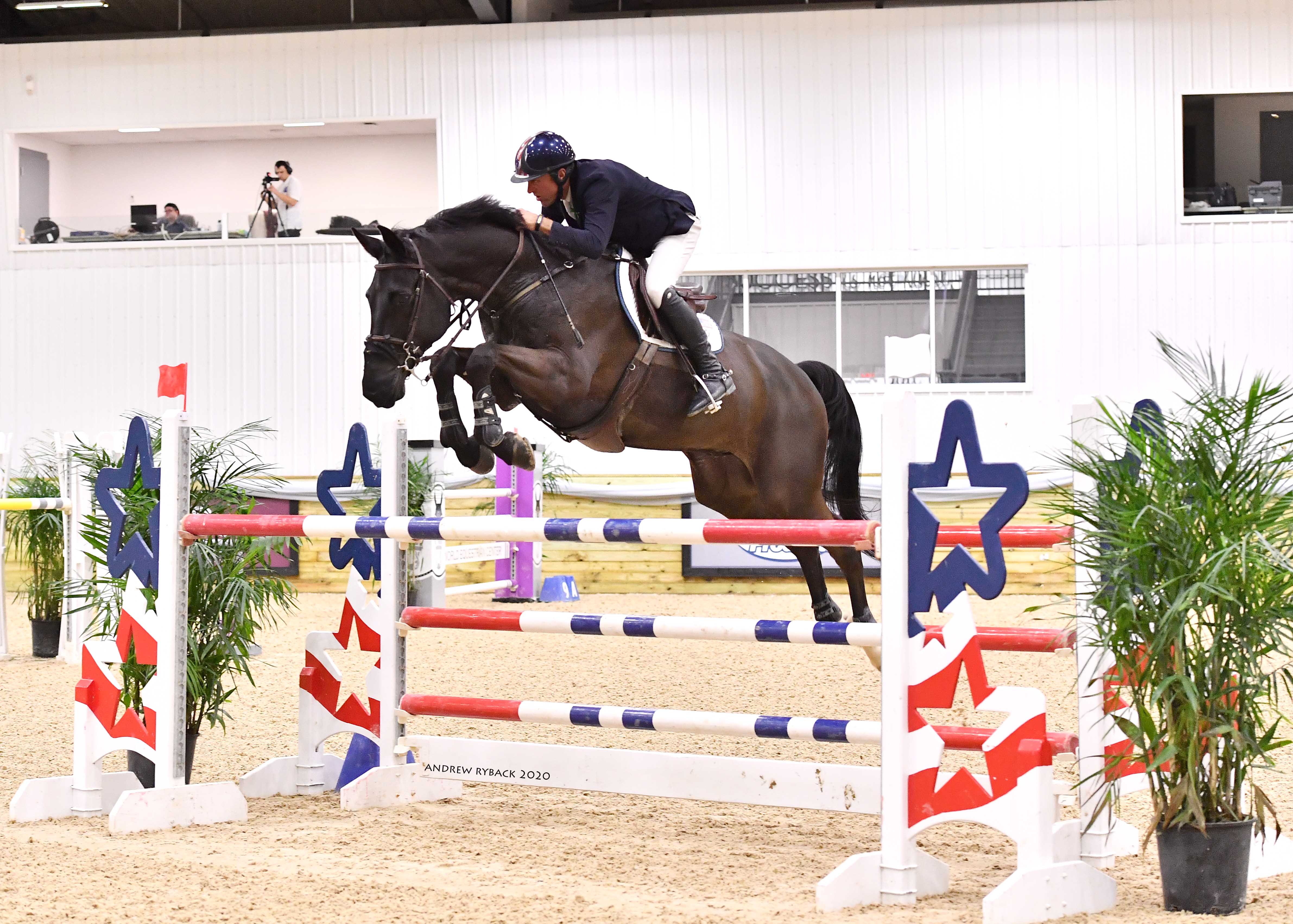 Saturday's $25,000 World Equestrian Center Grand Prix saw a win for David Beisel and his own Essince W (Chacco Blue x Rossan) for the second week in a row. The pair were last to contest the course in the first round and returned last in the jump off. Beisel and the ten year old KWPN gelding flew through the timers at 35.767 seconds, easily moving into first place. Beisel explained, "Last week he jumped clear and gave me a really good effort, but it felt a little rough. Today, he started out a little nervous getting going, then as he went I felt like he got more and more relaxed. He was jumping higher and nicer."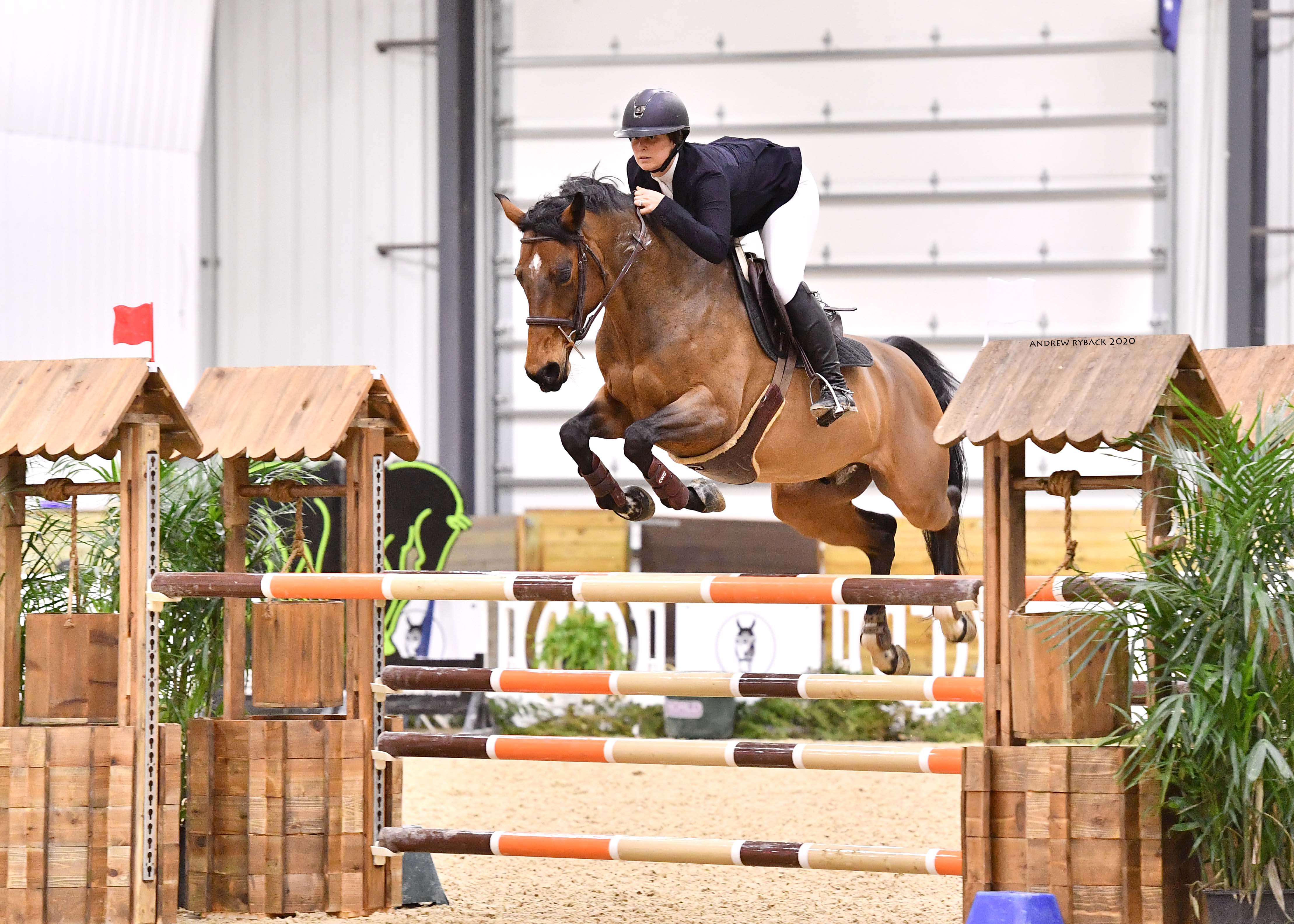 Lisa Goldman-Smolen piloted her own Bengtsson VDL (Buballu VDL x Uzmakieka VDL) to the win in the $7,500 Futures Prix 1.30m sponsored by Voltaire Design on Saturday. Goldman-Smolen and the eight year old KWPN gelding managed the quickest first round time of the class at 64.185 seconds and continued straight to the jump off. Goldman-Smolen and the fiery bay gelding picked up even more pace, leaving a stride out in a line and stopping the clock at 29.439 seconds for the win. Goldman-Smolen took a moment to chat with us about her mount, "He's such a character at the barn. He's kind of a barn favorite. He's fast, he's feisty, he likes to eat almost anything you put in front of him. He's just a sweetheart. He's a little hot potato."
Join us at World Equestrian Center for the remainder of the 'Winter in the Midwest' horse show circuit, encompassing 19 weeks of AA rated horse shows from December 4, 2019 to April 26, 2020. Highlights include the new WEC Premier Equitation Cup Qualifier Classes, two $10,000 USHJA National Hunter Derbies and a weekly $25,000 WEC Grand Prix. The WEC Winter in the Midwest prize list is available now online at www.wec.net with entries being accepted via www.horseshowing.com. Print prize lists are available at our horse show office or by emailing info@wec.net. Reservations for stalls, hay and bedding as well as RV spaces may all be made online as well at www.horseshowing.com. Once again in 2020 we are pleased to offer stalls for showing horses at $100.00.
Watch all of the action from the Sanctuary and the R+L arena online via ShowNet.biz. Tune in to WEC.net for the livestream link.
Photos courtesy of Andrew Ryback Photography.