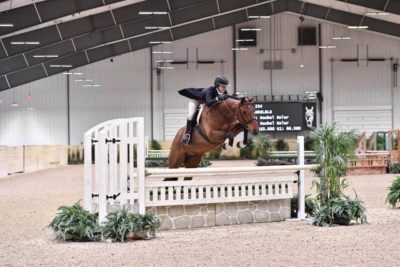 This week's Sunday Spotlight shines on amateur Rachel Kolar. We have seen Rachel and her handsome bay gelding, Lukelele (Lucas), wow the crowd in hunter derbies at World Equestrian Center with their signature style, and we had to get the scoop on the pair. Rachel took time this week to chat with us about her adoration for Lucas, her budding equine businesses and her aspirations for the future.
WEC: How did you get into riding?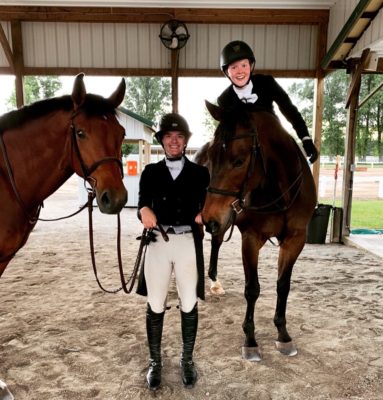 Rachel: My mom grew up riding, but sold her horse when I was born. When I was eight or nine years old, my mom decided to get back into riding. She bought a Off-the-Track Thoroughbred that we boarded at a local barn, and the rest was history. I was hooked on riding from then, on.
We leased a couple of school horses before we bought again. I've always been too big for ponies, so I never had a pony career. Higgins was my first horse, and he took me from the Crossrails to the 2′. He was an awesome paint horse. Then, we had a horse named Louie who took me through the 2′. The next was Limo, who took me from the 2′ to the 2'6″. Then, we had Tiny who was an Off-the-Track Thoroughbred that we took on as an investment horse, but we ended up not selling him because we liked him too much.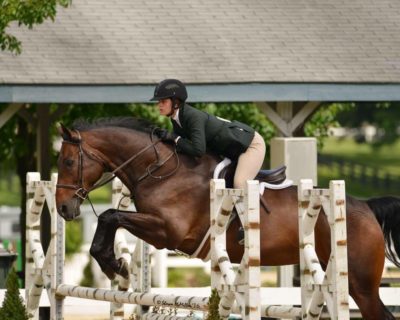 The next horse we got was Woody, who was my first real competition horse. I started showing him when I was 14 years old, and he did everything for me and was a great horse. We went from the 2'6″ to the 3'6″ together, and he saved my butt a few too many times to count.
WEC: Tell us about the horse you have now.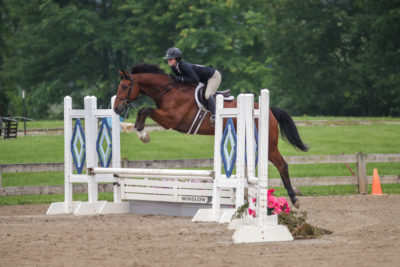 Rachel: We bought Lukelele, or Lucas, two years ago, and he's my pride and joy and the love of my life. Yesterday actually marked two years of having him. He's the best. He's like an over-sized dog. He was made for me. We imported him through our trainer Amy Rosell and our agent Rex Marquette of Marquette Sport Horses in Germany. Lucas has been the best young horse to train. I got him just after he turned five years old, and he's been awesome and solid ever since then.
We started out in the Baby Greens, and we did that for two local shows, then we moved him up to the 3′ right after. He took it with such grace. This past July we moved him up to the 3'3″, and he's been great. We ended up Champion in the Ohio Hunter Jumper Association (OHJA) in the Green Hunters last year. We also came in second in the $20,000 USHJA National Hunter Derby – Non Pro last year at one of the WEC fall shows. We were even 10th in the OHJA Medal Finals this past year. He's been everything for me, he's totally awesome.
WEC: We love seeing you and Lucas in the derbies at WEC. How does Lucas like competing in derbies?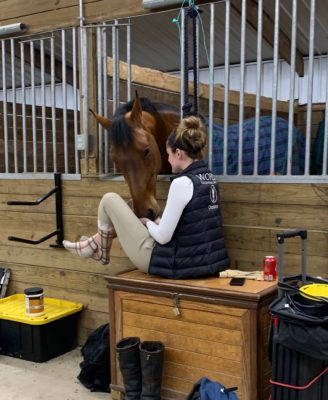 Rachel: He's funny because he's super lazy, but if you point him at something that's interesting, he jumps the heck out of it every single time. The derbies are awesome because they get his attention, then he jumps so well. He doesn't want to refuse, he only wants to please his rider, so if he peeks a little a jump it just makes him jump better.
WEC: What do you see in the future for Lucas?
Rachel: My goal is to win an International Derby on him in the future. I would love to go down to Ocala next Spring to groom and bring Lucas with me. We want to start showing in International Derbies this coming year and try to win one within the next five years.
WEC: Tell us about all of the jobs you do involving horses.
Rachel: I work as a groom, braider, Magna Wave practitioner and farm sitter. I got into braiding when we went to a show and our braiding bill was about $500. My mom told me that I would either have to start paying for that myself or learn how to braid, so I learned how to braid. I really fell in love with the quietness of braiding. I love being alone with the horses at odd hours of the night. As for grooming, I've always loved grooming for different people and learning the different ways that people do things. That's the same reason that I love farm sitting. I enjoy being around other peoples' horses and learning the way that they do things.
As for Magna Wave, I've always had a love for holistic therapies, because I know they have worked on me, and I had always wanted to try it for the horses. We ended up buying a Magna Wave machine about a year and a half ago due to an injury and it has worked so well that we started a business with it. I do it at shows and I also travel to barns. Our pricing and information is all listed at kolarequinetherapy.com.
WEC: What are your overall riding goals?
Rachel: Lucas has really inspired my goals. My eventual goal is to hopefully go professional. Since Lucas is the one who really inspired this dream, I want to name my farm Lukelele Farm or Made for You Farm, because it's like he was made for me.
We can't wait to see you and Lucas in an International Derby, Rachel – Good luck!