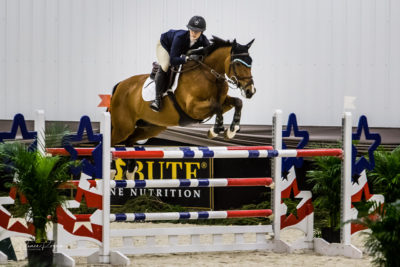 This week's Sunday Spotlight lands on newly-turned Canadian professional, Taylor Avann. Taylor is a self-proclaimed "horse collector" from of Sutton, Ontario who has turned her fleet into a business of leasing and selling horses. She made the switch to professional in March and while she has yet to have the opportunity to show as a professional, she has a plan in place to start taking on more clients in the near future. Taylor took the time this week to chat with us about her horse-centric background and her plans for the future.
WEC: How did you get into riding?
Taylor: I started riding before I could walk. My mom started riding when she was 17 years old, so as soon as she had my sister and me she got us into it. My mom mostly rode dressage, but she did a little bit of the hunters as well. I started riding in a Welsh Pony circuit in breeders' classes, and the majority of those are held at fairs. There was a little bit of hunter stuff like a Crossrails class, so that's how I got started in the hunters. From there, I moved into doing local hunter circuits.
The majority of the ponies we started with were just good safe ponies. We had a Quarter Horse pony and a Thoroughbred and both were really safe, which was what my parents wanted for my sister and me. I was around seven or eight years old when we started showing more competitively, and at age 13 I decided that was what I really wanted to take it more seriously.
WEC: Tell us about some ponies and horses you had through the years.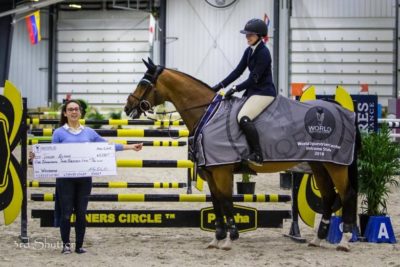 Taylor: I like to collect horses. The Quarter Horse pony that we had, Just A Dream, really did everything in the beginning. I started in the hunters with her in the Crossrails and went up from there. I showed her up to the Large Pony division, which is 2'9″ in Canada.
We went to a breeder's auction and purchased what was my Junior Hunter. I did him through the Children's Hunters and the Junior Hunters. I still own him, he's 15 years old now and does 2'6″ up to 3′.
I imported a stallion that was meant to be a Grand Prix prospect, but he was more of a three-ring-type horse. I showed him up to 1.30m, but he started to get a little nervous, so I eventually moved him to the hunters and he's a solid 3'6″/1.20m horse. He's just doing that now.
After that, I bought my Grand Prix horse, Charlie Brown, who I bring to WEC a fair bit. I started in the lower level jumpers with him to figure him out, and we've shown up to the Grand Prix level.
I also have a 6-year-old mare, Visenya, who I have been developing. I've had her since she was a foal. We just started showing her this winter at WEC in the .90m jumpers. I have a couple more babies at home and a few lease horses that I purchased as an investment.
WEC: Tell us about Charlie Brown's personality.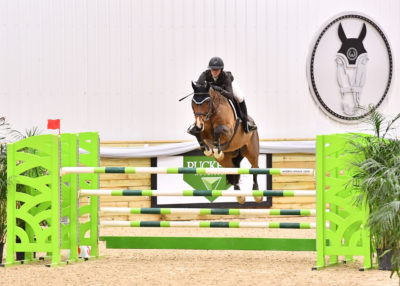 Taylor: Charlie Brown is a handful. He has a ton of personality, he's very cheeky. He's a really cool horse because he's very loyal and the forgiving type. He was gelded late, so he can get a little nippy. During classes, he knows when he's done well and he gets cocky. He's very entertaining to be around. When he's having a good day, he's very friendly. I wouldn't say that he's cuddly, because he's just trying to bite you if he's doing that. If he's having a bad day, you'll know. He will throw tantrums. He's a full-on character, you just kind of have to go with it.
WEC: Tell us about Visenya's personality.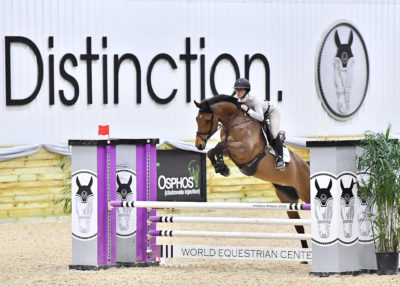 Taylor: Visenya is super sweet, but I feel like she's taking on a lot of Charlie Brown's personality. It's funny, I think they're in love. They travel together to the shows and spend a lot of time together, and she has picked up on a lot of his traits. For example, he drinks out of the hose and she's seen him do that, so now she does it. She's started nipping, too. She's turning out to be very similar to Charlie Brown, which I guess I can't complain about because I love him so much. She's very sweet, but also opinionated and sassy.
WEC: When did you turn professional?
Taylor: I just decided to go professional a couple of months ago. I had been competing as an amateur up until this past March. My farm name is Avantaventure Stables. I've started accepting clients and sale horses. I haven't gotten to show as a professional yet due to the coronavirus, but once restrictions are lifted I am excited to get back into the ring.
WEC: What made you decide to go professional?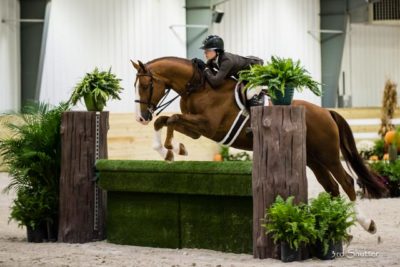 Taylor: Before I made the switch I was still doing a little bit of grooming. I was leasing out some of my horses and competing with the others. I really enjoy working with the young horses and I was able to help a friend at WEC when her catch rider wasn't available. I really enjoyed it and had a lot of fun. I also helped one of her clients that was leasing one of my horses. It was great seeing the improvements that the client was able to make, it was really rewarding. I decided shortly after that to make the switch.
WEC: What are some of your personal and professional riding goals?
Taylor: I would love to start showing in international Grands Prix. Charlie Brown is older, so I want to give him the best care possible and probably retire him to a different job, so I'll be trying to find a new Grand Prix horse that I can hopefully do international stuff with.
I really want to grow my business. I would love to get more sale horses in and get more lease horses for my personal investment and see how large I can make it.