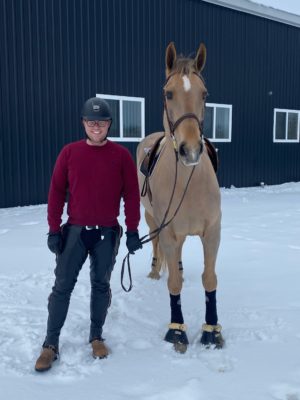 This week's Sunday Spotlight lands on amateur Reilly Reed of Canada. Reilly and his talented draft cross jumper, Gryffindor, showed at World Equestrian Center in February taking Champion in the Intermediate Jumpers. Owned by Bay Belle Stables and known throughout Canada for his countless wins in the 1.00m jumpers, "Gryff" – as Reilly calls him – did not have the start of a typical jumper. Reilly took time this week to share both his and Gryff's inspiring stories.
WEC: How did you get into riding?
Reilly: I basically just jumped right into riding at a barn just east of Toronto. I was super young when I had my first lesson – probably around eight years old. I was riding at a local riding school, bouncing around on every pony I could. I grew up on a cattle farm, so I was always into farming. We had gone and seen one of our friends that had a cattle business and he had a riding school as well. From summer camps to March break camps, anything that I could do that was horse related, I would do, even books and how-to videos.
I started showing when I was 12, so in about 2004. That was just on our local circuit, a level below the A rated circuit, called the Trillium circuit. The first time we leased a horse was probably the year that I started showing. Her name was Savannah and I leased her for a couple of years. She was a Draft cross and an old jumper, but she really took me from doing the Crossrails up to doing 2′. We won a couple of classes and I had a great time on her. I rode her from the time I was 12 to the time I was 16 with a local trainer named Karen Reid. I kind of was there from the beginning with her.
WEC: Tell us about some other horses you've had or leased.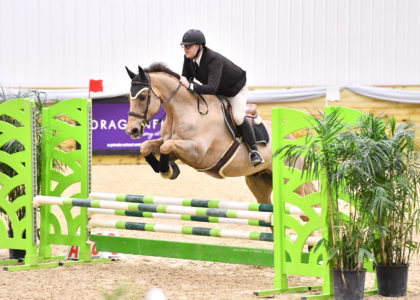 Reilly: My current horse is probably my favorite. His name is Gryffindor. I had stepped back from the riding world for a while – I got my business degree at university, then I moved back home, and I wanted to get back into the passion that I had growing up. My current trainer Amelia Gartner at Bay Belle Stables had a horse named Gryffindor. His story is kind of sad. He's a draft cross. He came from the stockyard in Kitchener, Waterloo. He was a cart horse and then they turned him into a jumper. He did up to the 1.15m here in Ontario and in South Carolina, then he came back to Canada and did a ton of 1.00m classes. He has a huge record of winning in the 1.00m. He had won everything. Gryff is kind of famous. I go to the horse show and people are like, "Oh my gosh, it's Gryff!"
He championed in the 1.00m every time out for three years in a row. I was able to lease him last year when I came back from university. I'm an account manager in Toranto, so I'm now working full time, and I get to lesson on the weekends and ride during the week. Gryff was an amazing stepping stone to moving home, getting back into a hobby and learning the responsibility of taking care of a horse. He showed me what it means to win and what you have to do to win. He's been amazing.
We showed all summer here in Ontario and had an amazing season. We did the 0.90m jumpers. It was the first time back in the show ring for me in six years, and it was great. I brought him down to WEC in February and showed in the Intermediate Jumpers and he won Champion. He's amazing.
WEC: Tell us about Gryff's personality.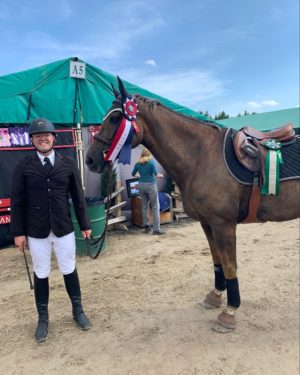 Reilly: Gryff is smarter than me. He is definitely a one in a million horse. We will never find a horse like him again. My trainer Amelia has done a fantastic job developing him and she's won so many classes with him.
He always had trouble with men, so he was never a fan of men. He was kind of scared of them. I was the first male to lease him, so we've really developed a relationship. If I memorize the track, he tries to get me there. He knows what he's doing. He knows his job and takes care of me.
WEC: Tell us about your riding goals.
Reilly: Goal-wise, I would love to get a 1.10m jumper and keep learning, jumping a lot of jumps and taking a lot of lessons. My goals are to learn and get better. I want to stay a budding amateur, I don't want to be a professional, so I want to continue my work career and continue riding and showing. I'd like to work my way up the levels in the jumpers. Getting up to the 1.20m or 1.30m is a huge goal of mine.
Congratulations to you and Gryff! We can't wait to see how far you go in the jumper ring, Reilly!
Photos courtesy of Reilly Reed.