Quarantine got you down? How about a little retail therapy! Now is a great time to go through your closet and spruce up your schooling and showing collection. We turn to owner of Chagrin Saddlery, Dana Miller, for advice on the latest trends heading into the spring season. Dana and her Chagrin Saddlery team are known for merging the latest fashion with classic equestrian style. They're experts on outfitting riders in trendy, yet traditional looks that are tailored to their specific taste. Dana curates some fantastic, on-trend outfit options to transition your barn wardrobe from winter to spring. Even though you can't shop Chagrin Saddlery's incredible spring sale in person, you can can shop online, or through Skype or FaceTime for a personalized shopping experience. Dana is even throwing in an added bonus just for WEC followers – share this blog on Facebook or Instagram for a chance to win a Chagrin Saddlery saddle pad! Don't forget to tag both Chagrin Saddlery and World Equestrian Center.
Spring Schooling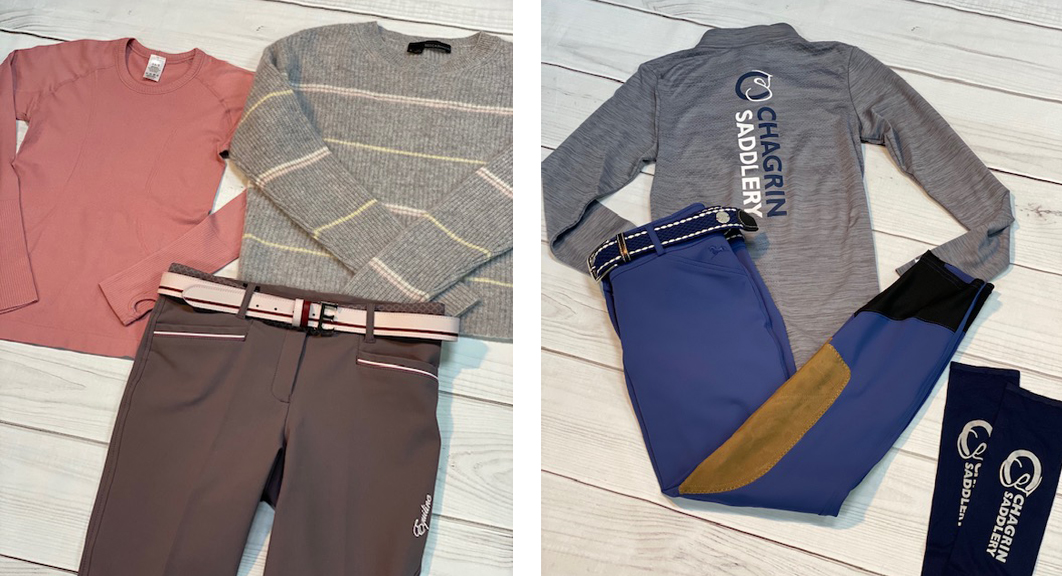 Left: TKEQ Kennedy Long Sleeve in bubblegum ($75.00), 360 Cashmere Ladies Bronte Sweater in h. grey/honey pink multi ($181.30), Equiline Ladies Esmeralda Knee Patch Breech in sparrow ($390.00), Women's True Leather Very Feminine Orchid Ice Belt. Right: Chagrin Saddlery Ladies CS Logo 1/4 Zip in gray ($45.00), RJ Classics Ladies Gulf Low Rise Knee Patch Breech in deep blue with tan patch ($165.00), Chagrin Saddlery Logo Socks in navy blue ($9.99), Hunt Club The Derby Belt in classic day with black leather ($27.20).
Dana selects two options for the perfect spring schooling outfit – one high-end and one budget-friendly. The first outfit brings a luxurious feel with a beautiful, soft chocolate-colored Equiline Esmeralda Breech and a moisture-wicking TKEQ top, layered with a cozy sweater from 360 Cashmere. The dusty rose color of the TKEQ top is THE color of the season and complements all ages and complexions. The comfortable 360 Cashmere is the perfect layering piece for chilly spring mornings, and is currently available for a steal during Chagrin Saddlery's 30% off of sweaters sale. The light-colored Equiline belt adds the perfect contrast to the outfit. The best part? All of the pieces included in this outfit are street-to-stable chic.
The second outfit offers more budget-friendly pieces while keeping style at the forefront. The Chagrin Saddlery branded 1/4 zip is flying off of the shelves. With a soft technical fabric and a subtle "CS" on the sleeve for a feminine touch, this shirt is a must have for the schooling ring. The RJ Classics Gulf Breech is consistently gaining popularity for its comfortable, stretchy material, euro seat and sock bottom. With an array of fun colors and a contrasting suede knee patch, there's no limit to stylish outfit combinations. The navy Hunt Club Derby belt adds the perfect finishing touch to this outfit, and all Hunt Club is on sale right now. Finish the look with navy Chagrin Saddlery branded socks.
Kids Corner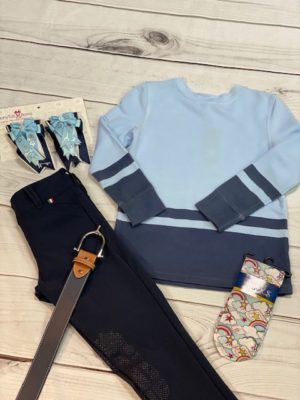 Ponytail Bows Eloise Horse Show Bows ($40.00), Splendid Blue Ribbon Weekend Pullover in slipstream ($44.00), For Horses Girls Elsa Knee Patch Breech in navy blue ($170.00), Lilo Collection Inglesa Grande Spur 1.5 in Leather Belt in navy/camel/silver ($178.00), Ovation Childrens Zocks Boot Socks ($9.95).
In the market for the perfect kid's schooling outfit? This outfit screams pony fabulous style. Statement schooling sweaters are all the rage, but the prices sometimes scare us away from allowing a single pony hair to touch the sleeve. However, this Splendid Blue Ribbon Weekend Pullover offers the high-end look for under $50. This stunning sweater is paired with the For Horses Elsa Breech, bringing a chich Italian edge to the outfit. These breeches are a crowd favorite for their legging-like fit and feel. Top it off with a Lilo Collection Inglesa Grande Spur Belt, rainbow Ovation Zocks and color-coordinated Ponytail Bows.
Show Stoppers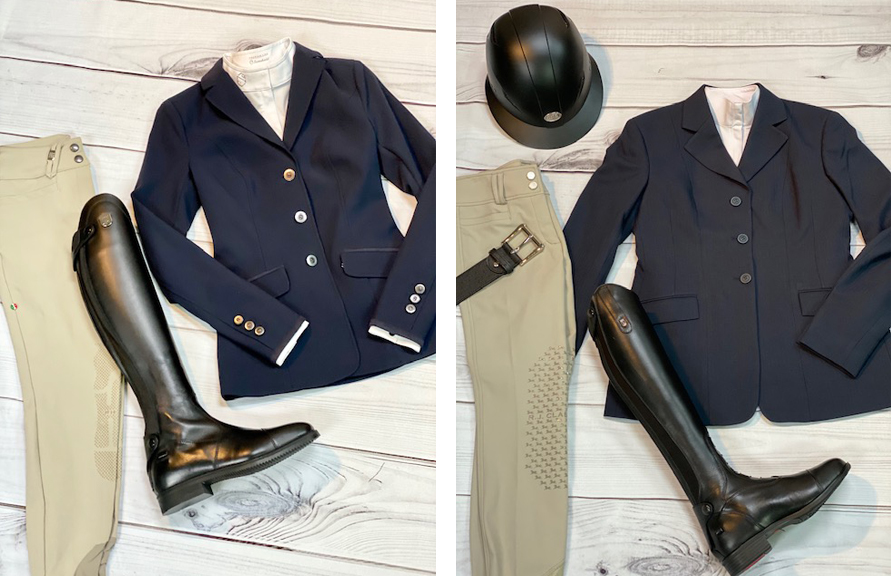 Left: For Horses Ladies Remie Knee Patch Breech in beige ($298.00), Samshield Ladies Alix Hunt Coat in navy blue ($689.00), Samshield Long Sleeve Show Shirt, Tucci Sofia Dress Boot ($1,050.00). Right: GPA Little Lady Helmet, RJ Classics Ladies Harper Low Rise Knee Patch Breech in sand ($199.00), RJ Classics Ladies Devon Show Coat in navy blue ($110.00), Hunt Club Ladies Sterling Competition Shirt in white ($78.40), Tredstep Ireland Donatell0 III Field Boot ($299.99).
Dana is always up on the latest show ring trends. This season, she predicts a surge of European textiles in the form of coats and breeches, due to their ever-evolving technical fabrics. Dana first shows us an example of top-of-the-line European design. The For Horses Remie Breech is the epitome of perfection with classic styling, a legging-like feel and a fit that flatters all body types. The silicone knee patch is quickly gaining popularity, providing a little extra grip. Samshield is the name of the game in this outfit for a luxury hunt coat and show shirt. The subtle details like ultrasuede piping on the sleeves of the coat allow a rider to express their individuality while maintaining the classic show ring look. Meticulously shined Tucci boots finish the outfit off with Italian flair.
Want the look without the cost? Dana shows us a budget-friendly way to achieve a polished show ring look without breaking the bank. RJ Classics is the benchmark for a traditional-style hunt coat. Each style is offered in a wide variety of sizes and lengths, ensuring a flattering fit for every body type. RJ Classics also offers a silicone knee patch breech for more grip in the tack and a trendier look. The Hunt Club Competition Shirt is a steal with Chagrin Saddlery's current sale, and ensures an elegant look. The look is finished with affordable Tredstep field boots and a GPA Little Lady helmet.
Technical Touches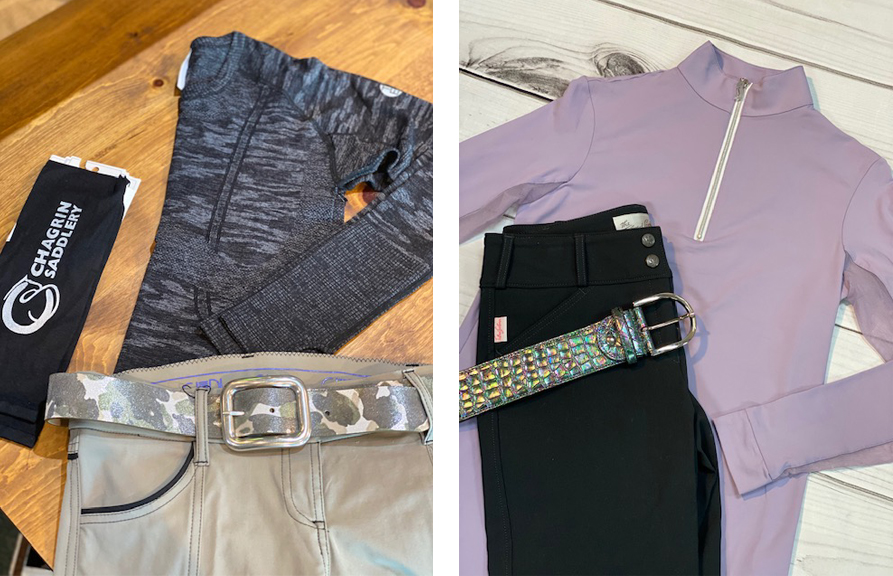 Left: TKEQ Kennedy Long Sleeve ($75.00), Ghodho Ladies Elara Knee Patch Breech in pistachio ($150.00), Chagrin Saddlery Logo Socks in black ($9.99), Streets Ahead Shimmer Camo Belt ($154.00). Right: The Tailored Sportsman Ladies Long Sleeve Sunshirt in soft purple/white ($69.99), The Tailored Sportsman Ladies Low Rise Front Zip Breech in charcoal? ($189.90), The Tailored Sportsman Iridescent Belt ($120.00).
Dana notes that riders are steering away from the traditional schooling polo and turning to Lulu Lemon-type brands for functional, fashionable, sporty tops. TKEQ offers the perfect technical schooling shirt with moisture wicking fabric and subtle, figure-flattering details. The Tailored Sportsman also offers a stylish technical shirt in the form of a protective sunshirt. The mesh vents and icefill fabric give the shirts a cool feel – literally.
The TKEQ shirt is paired with Ghodho Elara Breeches that feature a contrast piping for a little extra flair. The Tailored Sportsman Sunshirt is paired, appropriately, with traditional Tailored Sportsman Breeches. Statement belts are utilized in both outfits to show off some personality.
Staple Sweaters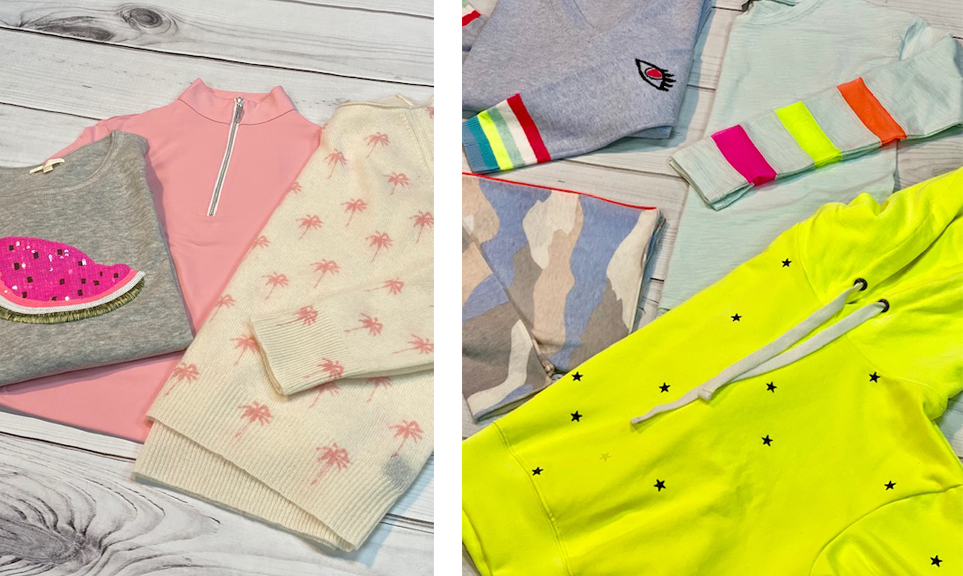 Left: Lisa Todd Whata-Melon Sweater in marble ($125.99), The Tailored Sportsman Ladies Icefill Long Sleeve Sunshirt in flamingo/silver ($69.99), 360 Cashmere Ladies Zane Sweater in white/honey pink ($230.30). Right: Lisa Todd Just Sayin' in blue foam ($111.30), Lisa Todd Summer Camo Sweater ($125.99), Lisa Todd Mesh Fest Sweater in surf ($83.29), CHRLDR Glitter Star Pullover Hoodie ($123.20).
Chilly spring morning rides call for layers in the form of statement sweaters. From soft pinks to neon yellows, Chagrin Saddlery is stocked with all of the latest and greatest when it comes to luxurious layers. Popular mainstream brands like CHRLDR, Lisa Todd and 360 Cashmere can be found in Chagrin's collection, ensuring your stable style can go straight from schooling to dinner – no outfit change necessary. Now is the time to stock up – all sweater at Chagrin Saddlery are currently 30% off!
Awe-Worthy Accents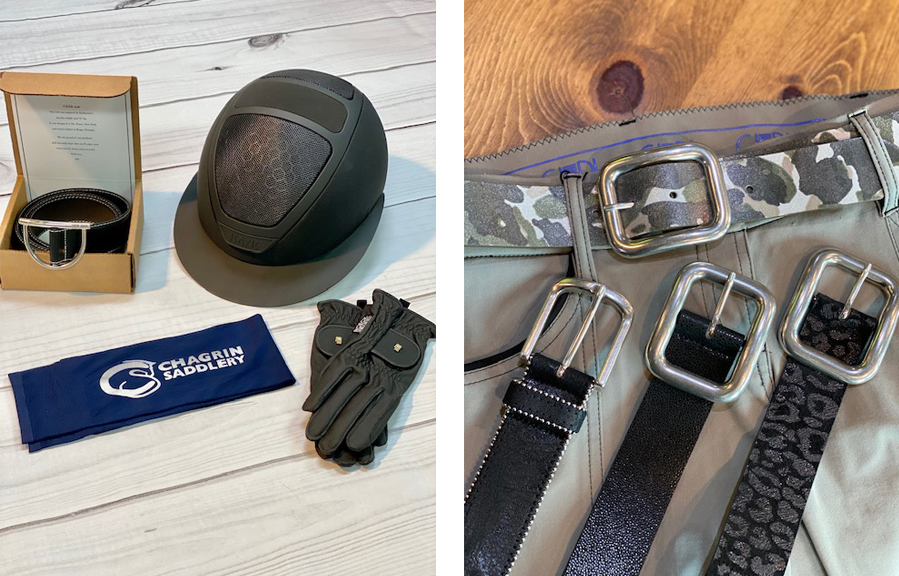 Left: Katherine Page Oxer Belt in jet black/silver ($225.00), KASK Dogma Star Lady Shadow Helmet in black ($640.00), Chagrin Saddlery Logo Socks in navy blue ($9.99), Roeckl Roeck-Grip Glove in black ($49.99). Right: Ghodho Ladies Elara Knee Patch Breech in pistachio ($150.00), Streets Ahead Shimmer Camo Belt ($154.00). Streets Ahead Stud Belt ($189.00), Streets Ahead Snake Skin Belt ($173.00), Streets Ahead Leopard Belt ($154.00).
You're never fully dressed without some style! Dana is an expert at pairing an outfit with the perfect accessories to create a look that is unique to each rider. Helmets are certainly a safety necessity, but a little style never hurt. The KASK Dogma Helmet offers just that, with a flattering wide brim, matte black finish and plenty of vents to keep riders cool. Roeckl Gloves are a staple piece, with hand-hugging synthetic fabric that is machine washable. Don't forget a pair of Chagrin Saddlery branded socks that are ultra comfortable, and have been said to bring a little luck.
Belts are a must-have for any self-respecting equestrian. Known for their extraordinarily constructed, finely detailed, equestrian-inspired shoes, Katherine Page has released a stunning Oxer Belt with the same craftsmanship and attention to detail. Streets Ahead collaborated with Chagrin Saddlery on four belts, exclusively made for the store. The edgy designs of the soft leather belts add flair to any outfit.
Coveted Carryalls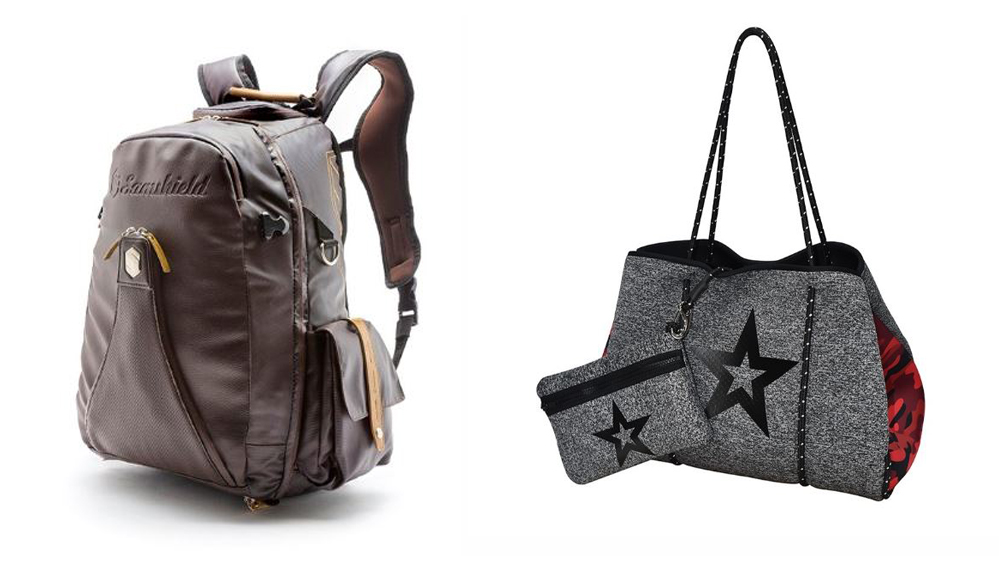 Left: Samshield Icon Pack in brown ($299.00), Right: Haute Shore Greyson Tote in brave ($64.99).
Ring bags are a necessity at horse shows. Having something stylish to carry boot polish, snacks and pony mints to the show ring is a must. The Samshield Icon Pack is the ultimate ring-side backpack with a stunning design and a place for everything. Want something a little different? Chagrin Saddlery carries an array of Haute Shore Totes that are sure to earn you some style points. The neoprene fabric can be easily cleaned and the totes are large enough to fit all of the essentials. As an added bonus, Haute Shore is currently 20% off at Chagrin Saddlery.
Ready to update your spring style? Chagrin Saddlery offers a virtual personal shopping experience through Skype or FaceTime, and is always available through email and live chat on their website. They are also offering free shipping on orders over $50 and a free gift with purchase on orders over $75. Don't forget to share this blog on Facebook or Instagram, tagging both Chagrin Saddlery and World Equestrian Center, for a chance to win a Chagrin Saddlery saddle pad!