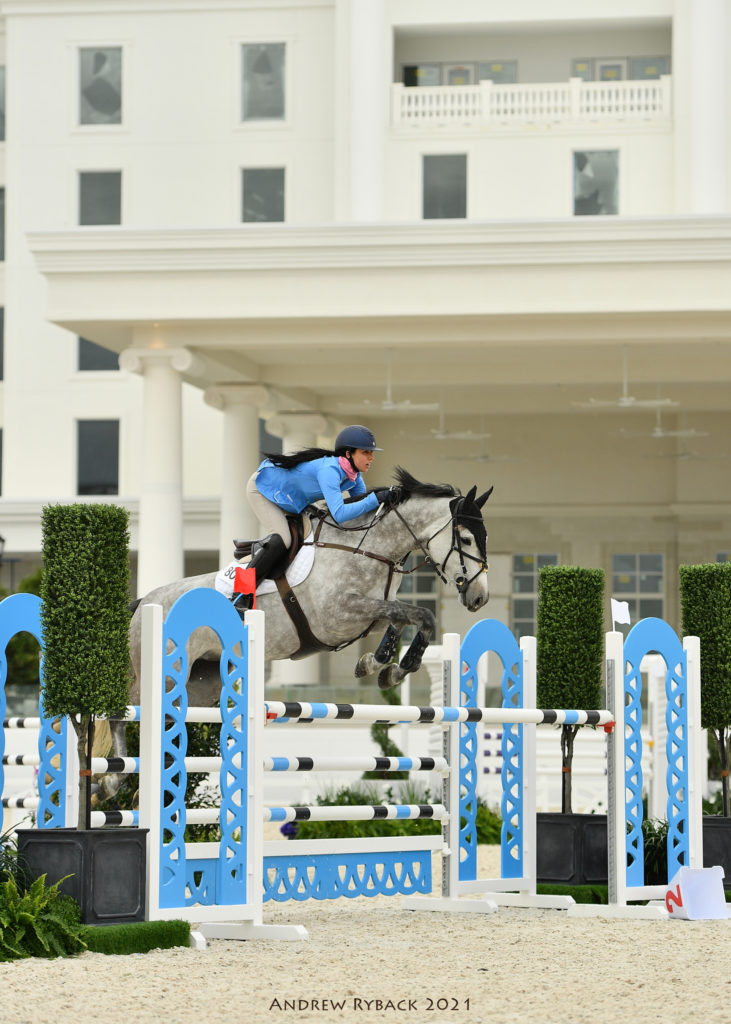 This week's Sunday Spotlight falls on the Savannah Show Stables, LLC team. Three generations of horsemen and women make up the team at Savannah Show Stables, LLC including amateur Savannah Unger, Savannah's mother and trainer, Monique Kent, and Savannah's grandfather, Donald Kent. The trio have dedicated their lives to equestrian sports, building their business on the principles of love and support. Savannah and Monique took time to chat with us today about their business and their first experience at World Equestrian Center — Ocala.
WEC: Tell us about your farm.
Monique: We have a farm in Ocala called Savannah Show Stables, LLC. We moved to Ocala from Raleigh, North Carolina, four years ago and the farm belongs to my father. We are really excited because this amazing facility has opened up so close to us, so we'll be able to really enjoy it.
We travel and show together as a family. My father has been the backbone behind everything. He trained me, and now I train Savannah. It's truly a family affair.
Savannah: My grandfather comes to all of my shows and is very supportive of the horses. My brother, Austin, helps out sometimes at the shows, too. We bought our farm before we knew that World Equestrian Center was going to be built in Ocala, so we feel very blessed and lucky that we moved to a farm that is so close to a horse show facility like this.
WEC: How did you get into riding?
Monique: I've been riding my whole life. I actually lived outside of the United States for some time. My dad was working in Paraguay, South America and I got into the jumpers there. I was actually fortunate enough to represent Paraguay internationally and qualified for the Olympics as a young adult. I came back to the States to go to college and, after I graduated, I wanted to pursue the horses as a career. I taught in Raleigh, North Carolina, and had a large training facility and lesson program.
Savannah grew up in the barn. She got a little bit older and decided she wanted to pursue horses as a career, but didn't want to do lessons and training. We had the opportunity to move to Florida.
Savannah: When we moved to Florida we could focus on going on the road and being on the show circuit. It's cool to be a mother-daughter team. She has her mom side that gets really nervous, then she has trainer mode. She does a very good job of balancing mom and trainer mode.
WEC: What is it like having your mom as your trainer?
Savannah: She always has my best interest at heart. I've learned over the years that when I listen to her, it works. When I don't listen to her, it doesn't work. That has been a big part of our relationship. I think that the older that I've gotten, the more I am understanding to take criticism. The teenage years were much harder. My mom has put me with a few different trainers here and there, but now it's just us.
Monique: I'm a firm believer that you can learn a lot of things from a lot of different people. I always tell Savannah to listen to everybody and draw from that, then use what works for you. I think that everyone has something good and interesting to offer.
WEC: Tell us about your horses.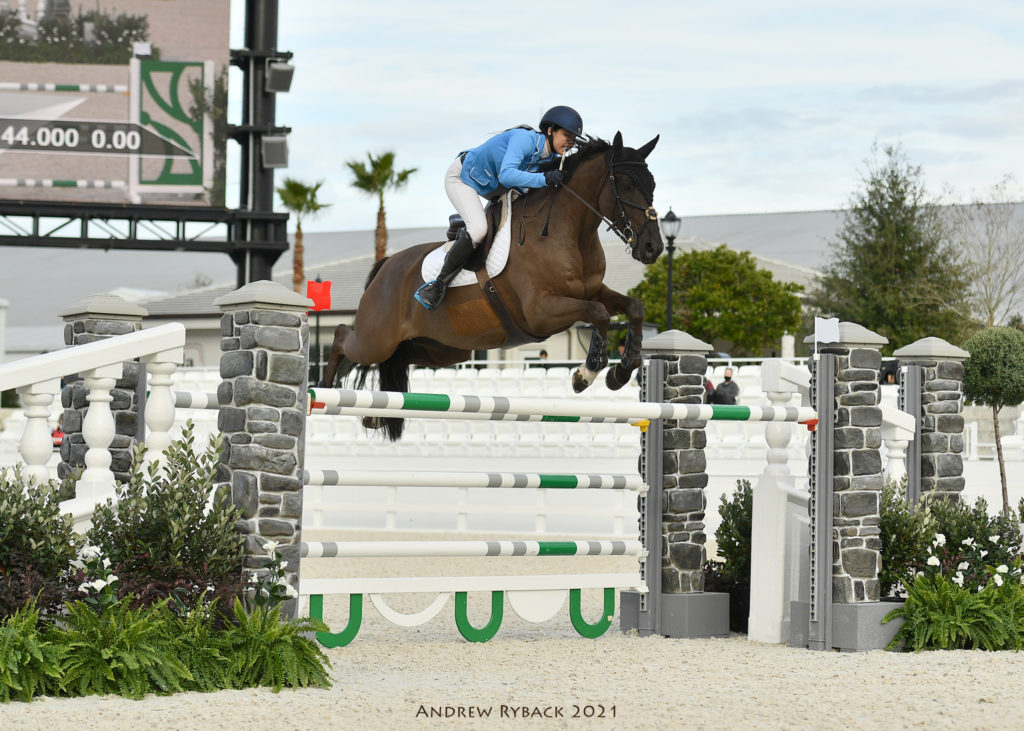 Savannah: I have Fabio TN who is my high amateur and grand prix horse. He is secretly my favorite. He's coming 11 years old. My mom found him and we imported him from Europe as a sale horse. We was mostly doing 1.20m classes and had just debuted in the 1.30m, so we thought he would come over and we would sell him as an amateur horse. We started jumping him bigger and he just kept jumping everything that we pointed him at, so he became my high junior horse, then my high amateur horse and my grand prix horse. We've always moved up together. We've had him for almost four years now. He's extremely scopey and careful, and he's one that you have to ride a bit more accurately than other horses because he wants you to put him in the right places. He is one that we're very excited about because he has all of the scope in the world. He won his first 1.50m grand prix last season and I think that he is going to be a solid competitor.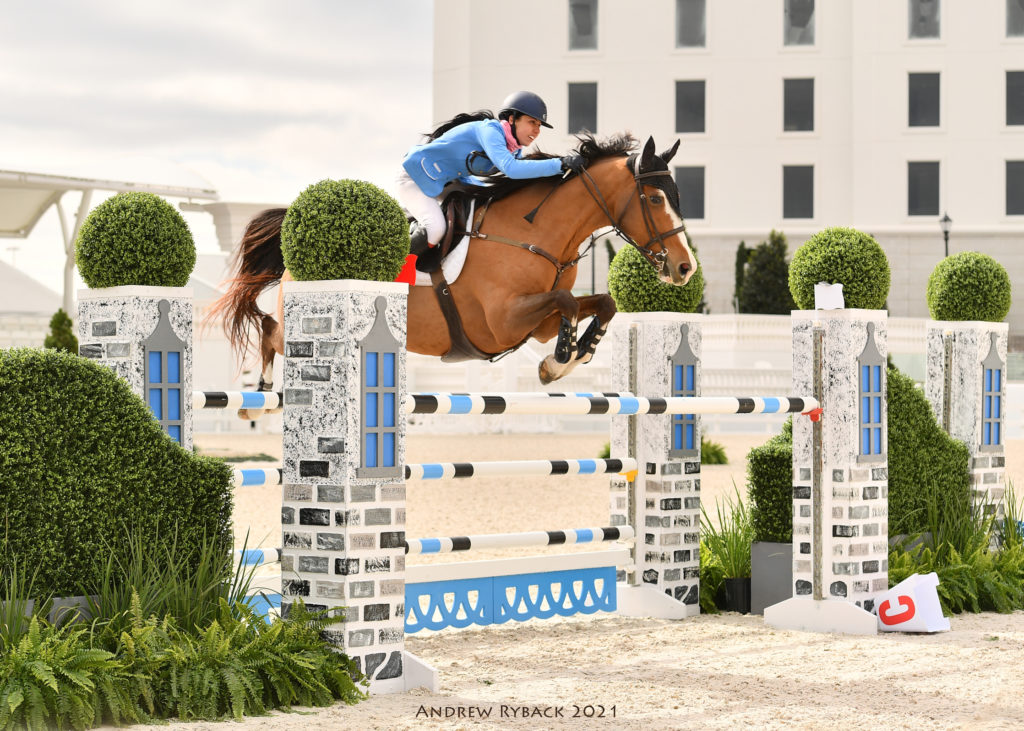 Fundament E is my other horse. I did him in the $7,500 Futures Prix 1.40m this week and he was 5th. I did him in the medium amateurs as well and he was 2nd today. He was Horse of the Year in 2019 for the 1.35m medium amateurs. He's a really cool horse. He and Fabio could not be more different. Fabio is methodical and easy while Fundament is bouncy and hot. You wouldn't think he has any scope by looking at him, but he's one that is going to jump a clean round nine times out of ten. He may not have the most scope in the world, but he has the biggest heart and that takes over. I think a horse with a big heart takes you farther than one that has the scope, but doesn't have the heart. We moved him up to the 1.45m grand prix last year and he won the first one that he did. We want to put him back in the mediums the first few weeks since we haven't shown for a bit with COVID, but we're hoping to move him back up.
S Jasmine Power is a coming 7-year-old. We just debuted her in her first 7-year-old 1.30m class and she was double clear the first day. We got her in March of 2020. She was doing the 5-year-old 1.10m and we did her in the 6-year-old classes as well. She's gone from the 1.10m to the 1.30m in just under a year, so we're really excited about her. It has finally hit me that I have another horse coming up the ranks.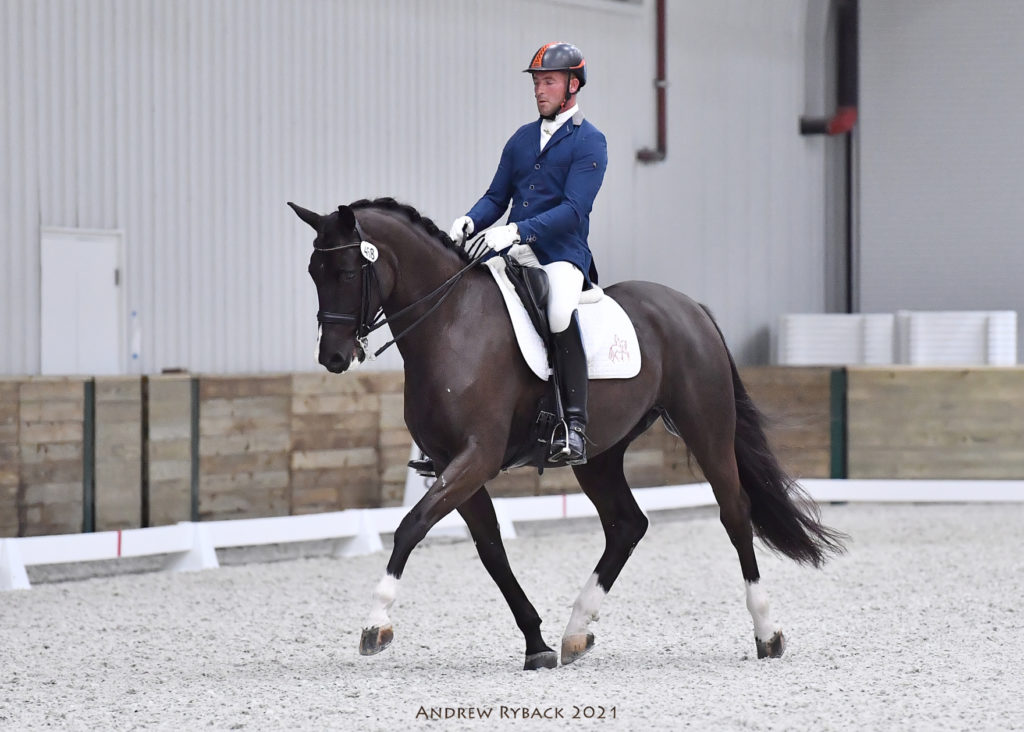 Monique: We have another horse at World Equestrian Center — Ocala this weekend participating in the dressage show called Black Diamond. We imported him as a 3-year-old unbroke stallion. He had unbelievable movement. He was barely halter broke when we got him. We initially showed him in the jumpers and he was doing great, but the more I watched him, the more I decided that he needed to be a dressage horse. Ivo Juhrend trains him and he's just stunning. He's been in training for dressage for five months and he did his third show here this week. He moved up to Third Level Test 3 and placed 2nd both days. He is really coming along. We're excited because there are two more dressage shows coming up at World Equestrian Center — Ocala in the next two months, so we're planning on being here with him for those.
WEC: How did you juggle showing at both the hunter/jumper and dressage show at World Equestrian Center — Ocala this week?
Monique: It is pretty amazing to have the ability to do both at this venue. I'm able to watch my horse in the dressage and watch Savannah in the jumpers. To have the ability to participate in both events is fantastic.
WEC: How was your first horse show experience at World Equestrian Center — Ocala?
Monique: I was really excited, I've been looking forward to this for years, now. I was even happier than I expected to be. It surpassed anything I could have dreamed about.
Savannah: It's more than what we expected it to be. The footing was perfect, the jumps were beautiful. The horses loved it. For a ring that has so much filler and things going on like the WEC Grand Arena, the horses come in and are quite confident, even the young horses. I think that's really important. I think that has a lot to do with the footing and the jumps.
Monique: The staff here has been amazing. Everyone is helpful and nice. We showed at the Ohio facility and the friendliness stood out to us there, too. It's the same way here. I'm not sure what the magic potion is, but it works!
Savannah: We weren't able to make it this morning, but we love that they have church service on-site on Sundays. I don't know any other horse show that offers that. Everything here is above and beyond. No matter what arena you're in, there is a restaurant close by. Filo's Mexican Cantina has become my favorite. The stalls are big, the horses are happy, there's bathrooms, there's wash stalls…there's nothing to complain about. It's nicer than anything we had even dreamed about. I'm still a little star struck.
We're just very thankful, happy and blessed to have the opportunity to show at a facility like this. All of the extras for visitors that aren't "horse people" are a huge plus. We have some family members that aren't "horse people" and they can come here and have a good time. This facility offers so much for the rest of the family.
Monique: My father has always been Savannah's number-one supporter and fan. He has progressively lost his eyesight over the past few years and is legally blind. I requested to have stalls close to the ring so that it would be easier for my dad to get around and WEC followed through on that, which was so nice. My dad loves the jumbotrons because, while it's hard for him to see anything, he can see a lot better with the help of those. There's plenty of shade for him to sit in, which offers him the ability to watch a lot more of the shows than he would have, otherwise, because of the way that this horse show is set up. We're thankful that he's in our lives and a part of the horses, and that he can participate easily here.
Savannah also added:
I am extremely thankful and blessed to be able to horse show with my family. I know it's difficult. The days are long, it's cold or hot and it's sometimes never-ending. They put their lives on hold so that I can pursue my dream and I could not be more thankful. I hope they know that it does not go unnoticed.
Photos courtesy of Andrew Ryback Photography.