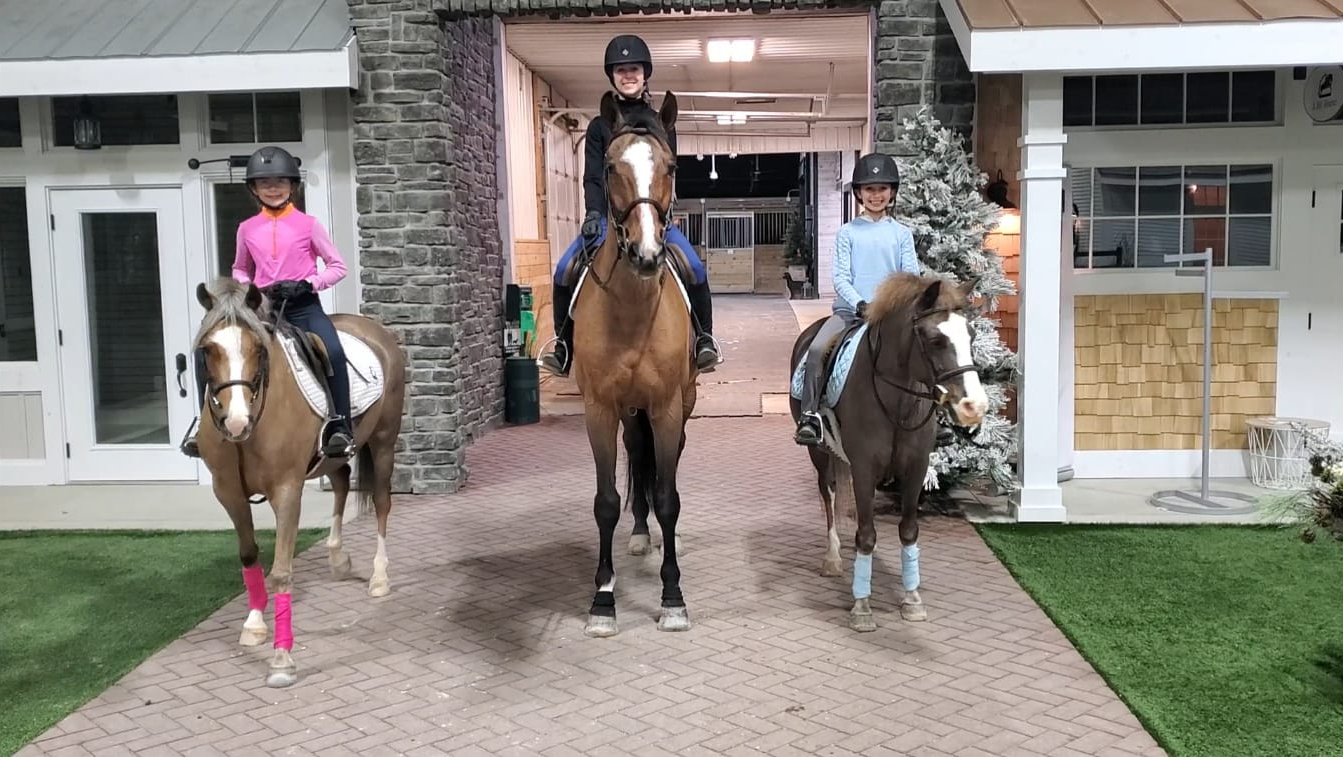 Some say riding is in the blood, and that could not be any more true when it comes to this week's Sunday Spotlight: the Clement family. Sisters Finley and Campbell Clement are regulars in the pony ring at World Equestrian Center and are working hard to accomplish the big goals they have set for themselves. The girls' love for horses is no coincidence. Their mom, Lauren Clement, caught the horse bug early on and still rides and shows. Finley, Campbell and their mom took time this week to chat with us about their how they started riding, their adorable ponies and the high hopes they have for their riding careers.
Campbell was eager to go first.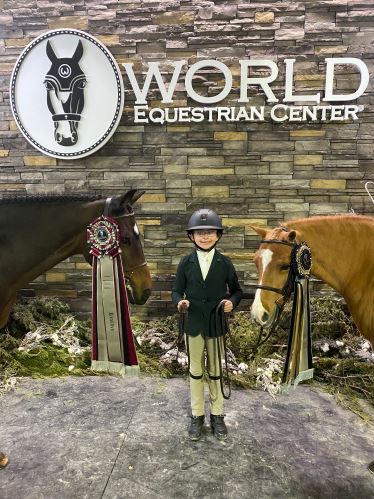 WEC: How old are you?
Campbell: I'm eight years old.
WEC: How did you get into riding?
Campbell: My first show was Leadline at Blowing Rock when I was two years old. I did that when I was three as well. I've done the Walk/Trot, Walk/Trot Poles, Crossrails, Short Stirrup and Children's Ponies. Now I do the Medium Ponies. This week at World Equestrian Center, I did the Medium Ponies and the 2'6″ Non Pro Derby. It was really good; I got eighth out of 20! We love showing at WEC in the winter because it's warm inside even though it's freezing outside.
WEC: Tell us about your pony.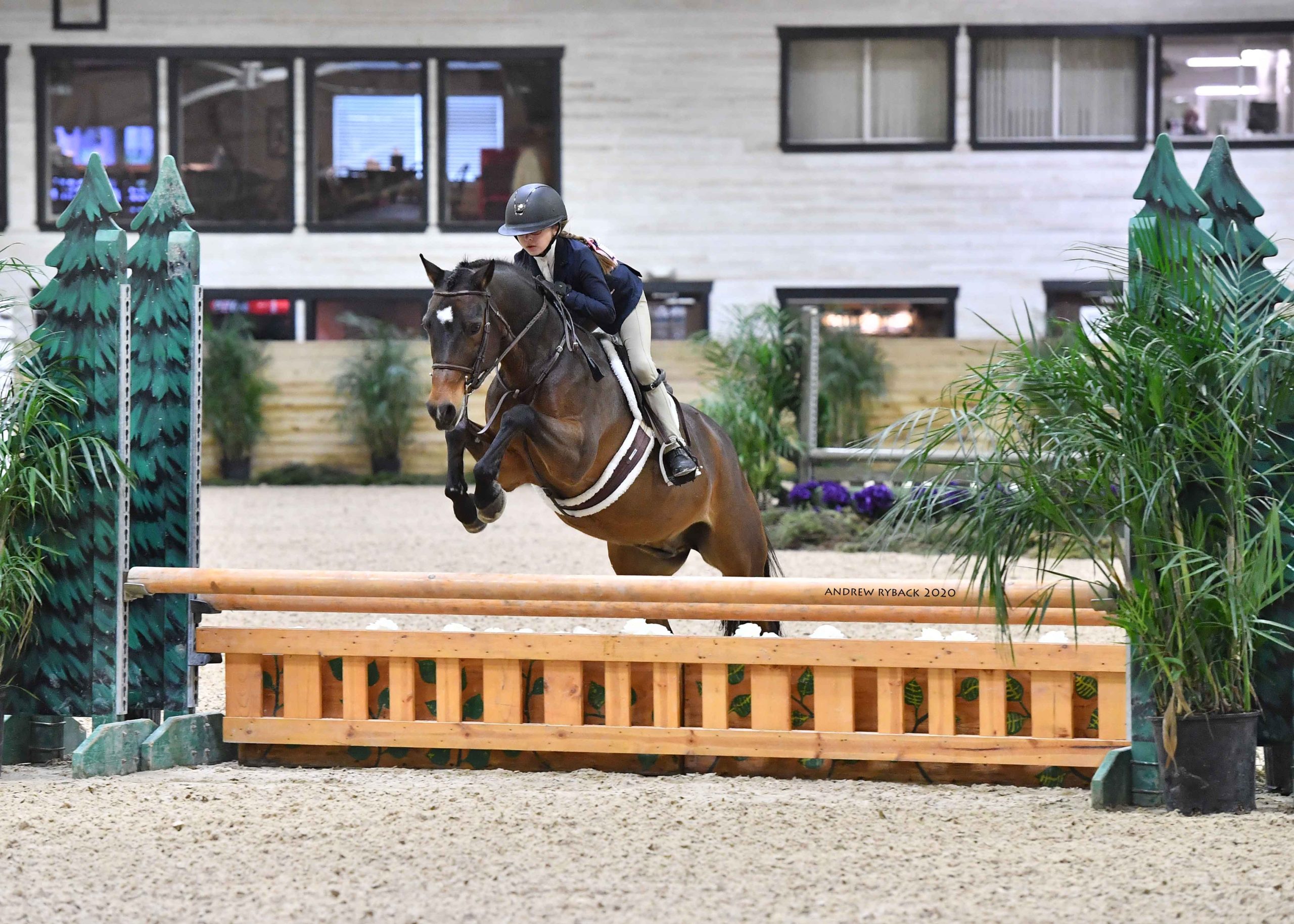 Campbell: I have one pony. His name is My Boy, or Buddy, and he's 18 years old. We've had him for a little over a year. I started on him in the Short Stirrup and did one or two shows, then did a year in the Children's Ponies and now we do the Mediums. He's kind of grumpy; we call him "Buddy Shark", like baby shark, because he kind of bites. He's perfect when you ride him, though.
WEC: What do you want to do later in your riding career?
Campbell: I probably want to do the big derbies.
Finley was next.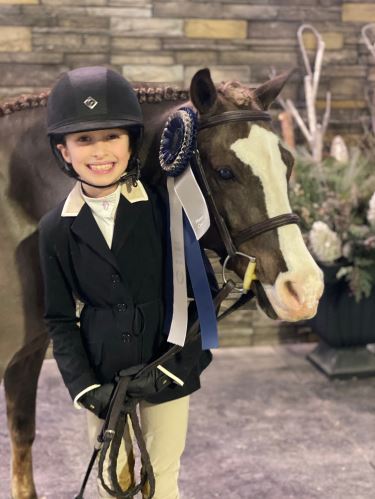 WEC: How old are you?
Finley: I'm nine and a half, one month and eight days. I turn ten in June.
WEC: How did you get into riding?
Finley: I was actually doing dance, but I saw Campbell riding and I wanted to ride. I did Leadline while she was doing Walk/Trot, then we both started doing Walk/Trot. We normally don't show against each other, but we did this week in the 2'6″ Derby because I was trying a pony. We were eighth and ninth!
WEC: Tell us about your pony.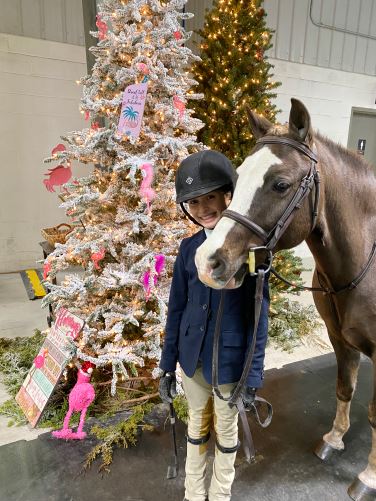 Finley: I have a small pony named Farnley Crown Prince, or Prince. We did the Smalls this week. He's really sweet and he likes to lick because his tongue is really long. He's kind of chubby.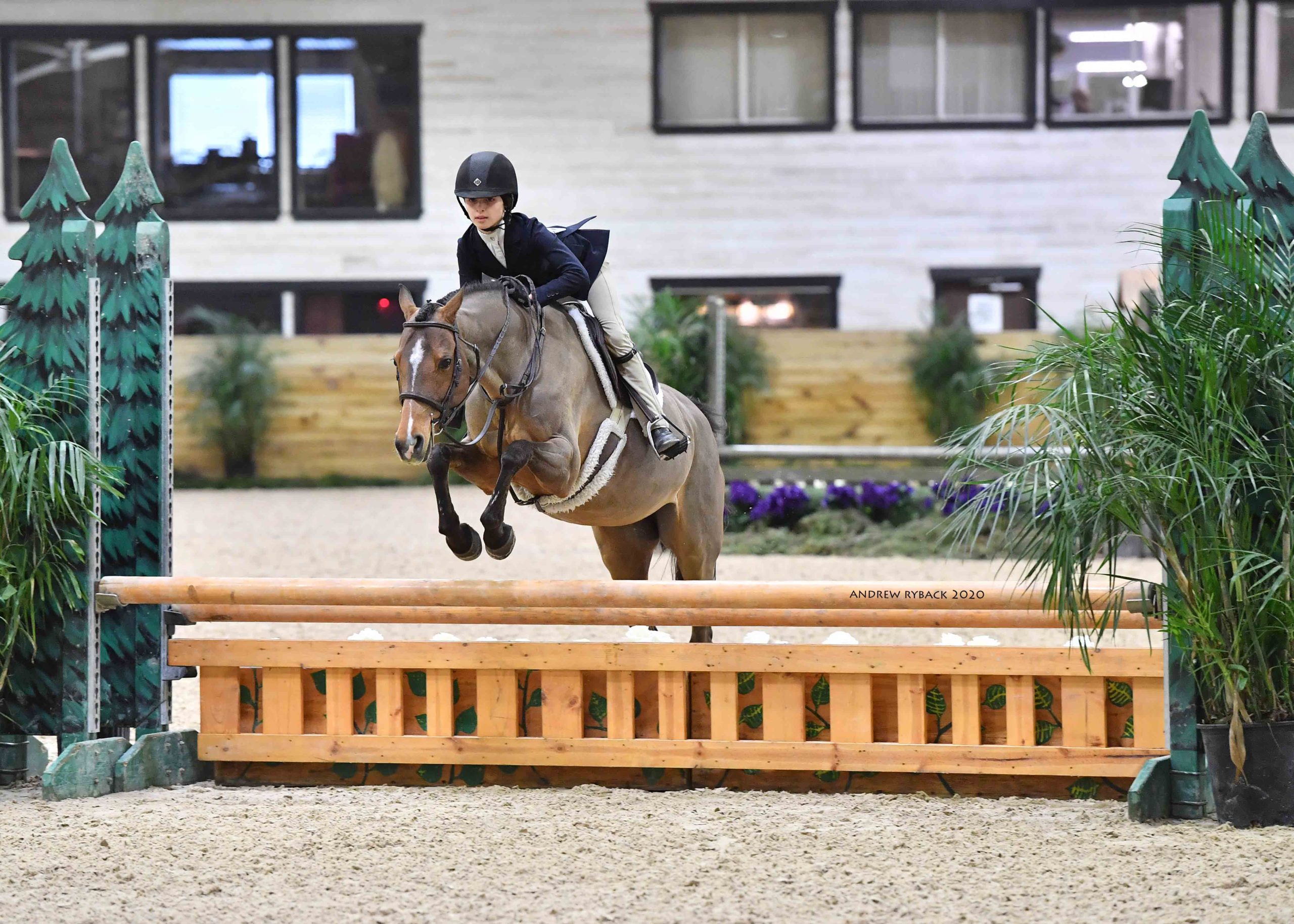 This weekend we tried a pony named Balsham Meadow Artemis and I did the Mediums on her. It was really fun.
WEC: What do you want to do later in your riding career?
Finley: I might do the jumpers! I also want to do the higher hunters.
Finley and Campbell's mom, Lauren Clement, gave us a few more details on how her girls found their way into the saddle: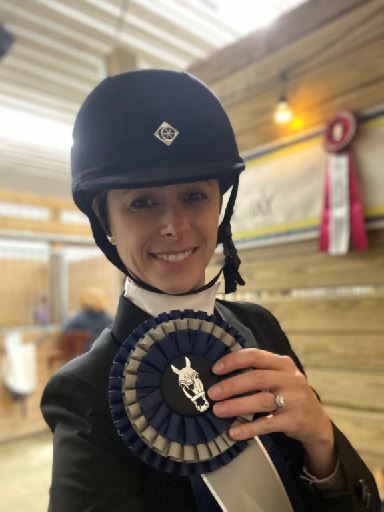 Lauren: I've ridden since I was young. I was six years old when a little girl came into school with her riding pants on and she told me all about her pony. I decided I wanted to do that. My mom was nervous to let me ride, but she let me take lessons and that was it. I tried every sport with a ball and I tried dance, but none of that worked. Riding was what stuck and I just lived in the barn every day.
We still have my Junior Hunter who became my Amateur horse. He's retired, so we would take the girls to go see him and love on him. I couldn't get Campbell out of the barn when she was two years old, while Finley leaned toward just waiting in the car.
Campbell did Leadline at two, but started taking lessons when she was five years old. When Finley saw everyone having fun, she decided she wanted to do it, too. Finley was more nervous than Campbell, but she picked it right up. A few months later they were both riding and taking lessons. They didn't want to do anything else or be anywhere else. They had really caught the bug. I truly had no idea that they would be into horses; I let them cultivate that all on their own.
The girls work really hard. They have a great work ethic and are very determined. A big part of what they do is not on the horse, but in the barn. Their trainer, Emily Jay, is fantastic about making them into good horse people, not just good riders. They're young and I think it's important for them to understand everything that goes into it. Emily has done a great job with that. They have big goals and it's fun to see them set those goals and make a plan to get there.
WEC: You show as well, correct?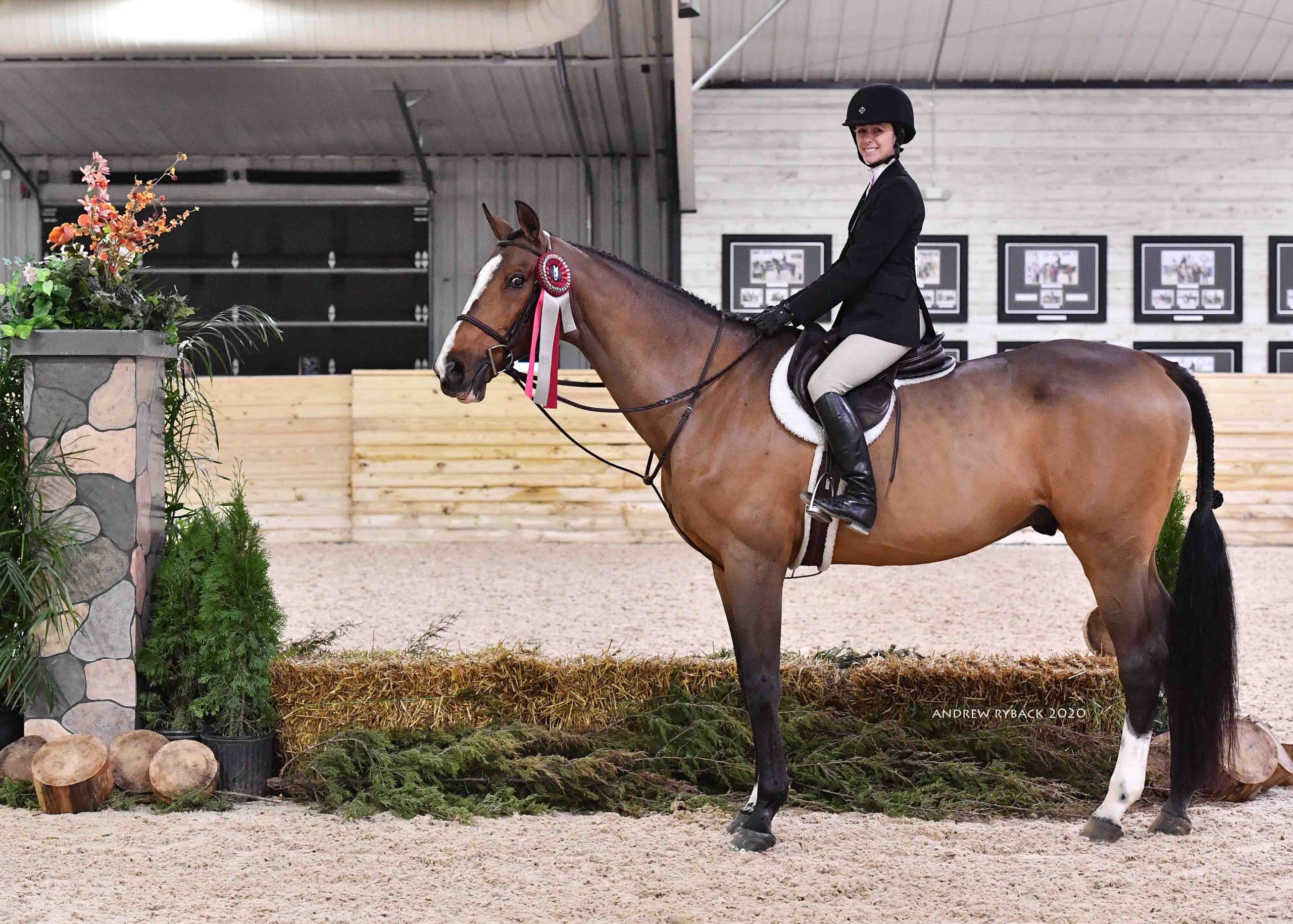 Lauren: I showed a sale horse from our barn in early January. We won a class and were second in the 2'6″ Non Pro Derby, which was my first derby ever! It was truly the most fun and having my kids cheer for me in the stands was one of the most special moments of my life.
Lauren also added:
We love coming to WEC. This year, we came November, December, January and February, so we're big WEC supporters. It's nice that it's consistent (the temperature, the footing, etc). Everyone works so hard and it's a big deal to come horse show. It's nice to know that you're going to have good conditions to show in. Also, everyone at WEC is so hospitable and the girls have met friends from all over the place, which is so fun.
Thank you for all of your love and support! We can't wait to see what the future holds for the talented Clement girls (and their mom)!