Week 9 of 'Winter in the Midwest' at World Equestrian Center saw another fantastic week of hyper-competitive equestrian sport. Feature jumping classes filled the afternoons on Thursday, Friday and Saturday, all boasting stunning courses designed by Tucker Williams of Ocala, Florida. In-ring action was bolstered by plenty of fun after-hours events including a Sip & Shop in Vendor Village sponsored by Mona's Monograms, ringside exhibitor parties and an exciting dog race after the Grand Prix on Saturday.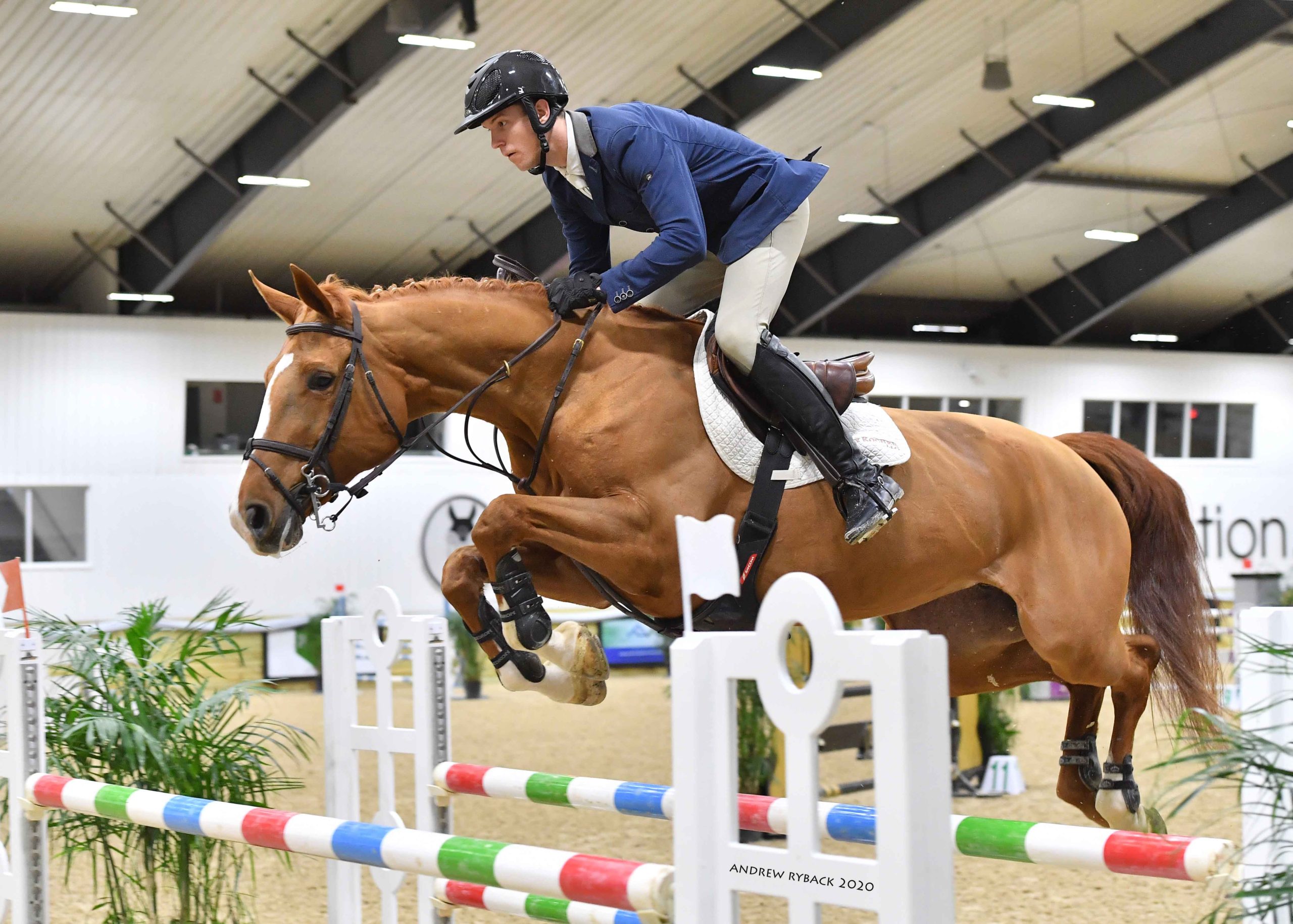 The week kicked off on Thursday with a field of 21 entries contesting the course in the $5,000 Welcome Stake 1.35m sponsored by CWD Sellier. Four entries managed double clear rounds, but it was Michael Kocher and Andrew Kocher's Honfleur that stole the win at the end of the class. Although the pair had collected top placings in 1.25-1.35m jumpers at World Equestrian Center throughout the Winter circuit, they had yet to snag a feature class win. Kocher and the 12-year-old Belgian Warmblood mare were on form Thursday afternoon, jumping a clear first round in a time of 70.684 seconds and continuing straight to the jump-off. The duo opted for the inside track to fences 3, 7 and 8 and picked up a forward gallop on the long approach to the remaining fences. Kocher and Honfleur blazed through the timers at 30.301 seconds for the win. Kocher was in awe at how well the chestnut mare performed, "Honfleur really stepped up this week. I was kind of counting on my other two mounts! She's really game and tries hard for you; she's a really great mare. She's really fast, so when she keeps the jumps up, we do well. She's all chestnut mare on the course, but on the ground she's really nice. She's easy to flat and really a sweet mare."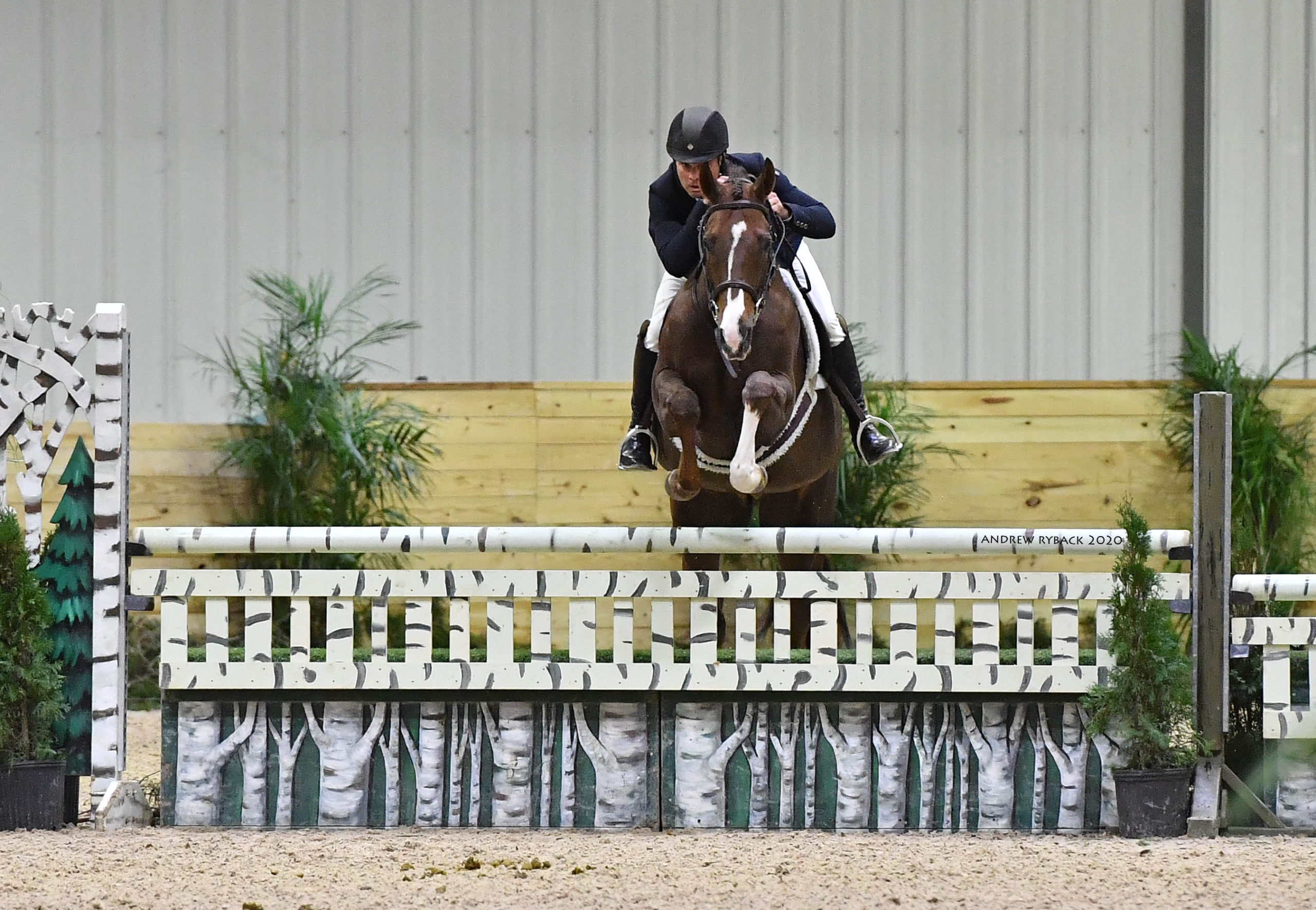 A feeling of déjà vu swept through the R+L Arena during Friday's $5,000 USHJA National Hunter Derby as Jason Berry and Kalanov Equestrian's Abudabi captured the win for the second week in a row with an identical overall score to the week prior. The pair took to the course near the end of the order, showing off their brilliant style and taking all four high options for a score of 93, the highest score of the first round. Berry and the flashy liver chestnut gelding returned for the handy round, expertly navigating the inside turns to fences 2 and 3 along with a tidy rollback turn inside of the island after the trot fence. The pair took all four high options, earning a score of 91 and bringing their overall total to 184, matching last week's score and winning the derby for the second week in a row. It was celebrations all around for Berry, trainer Kosta Kalanov and owner Traci Ribeiro. Berry commented on Abudabi's adjustability, "This week's course was very different from last week's course. Last week it was more of a regular hunter course in the first round while this week's first round was all bending lines and related distances. Also, in this week's handy round, you could be a little handier and take more inside turns. We didn't do the inside turns last week, but they came up easily this week. Even the tight rollback after the trot jump was easy for Abudabi. He rides perfectly no matter what the course asks of him."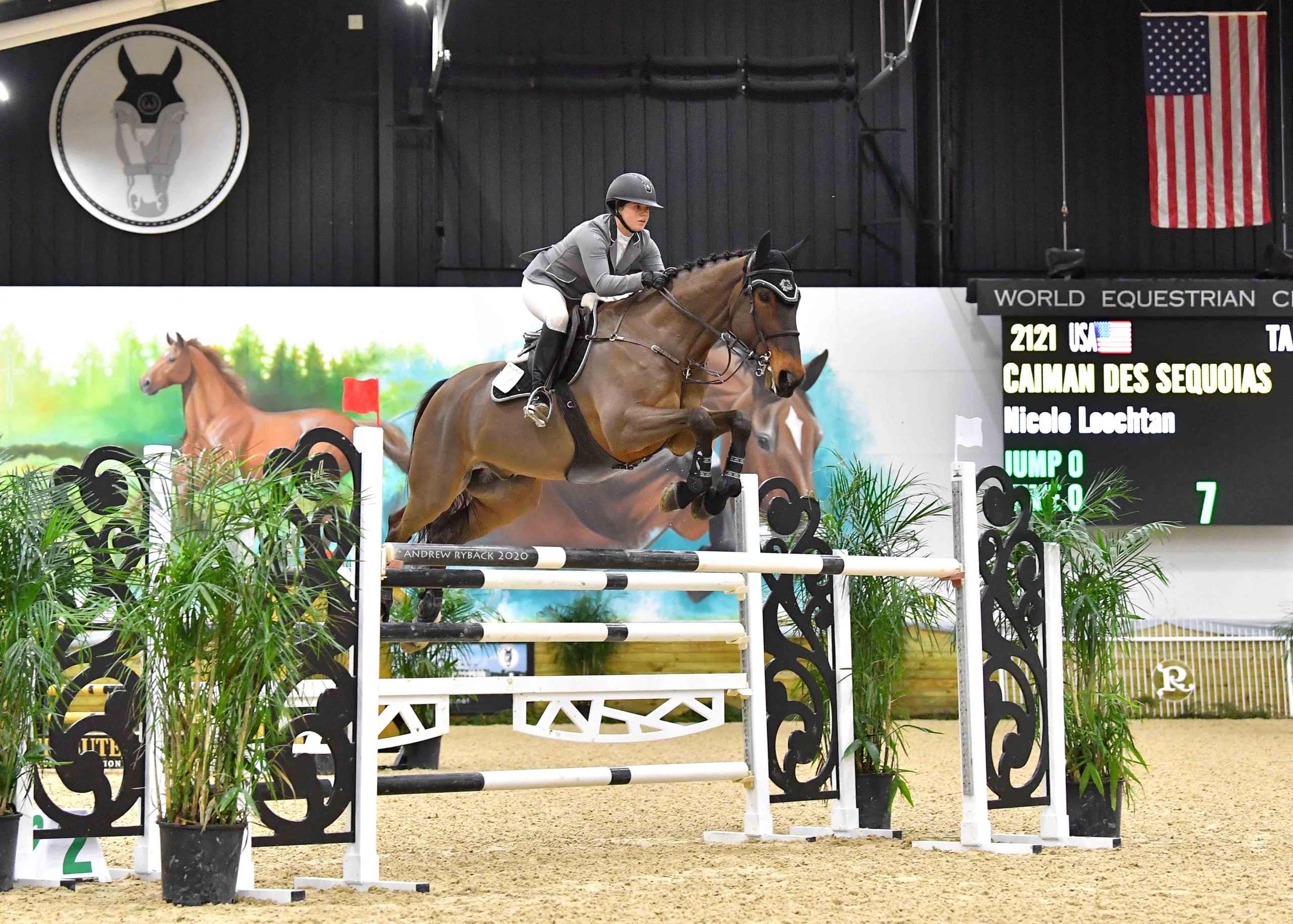 The ladies stole the show in Saturday's $25,000 World Equestrian Center Grand Prix claiming the top seven spots out of 18 entries. Nicole Loochtan and her own Caiman des Sequoias (Radco d' Houtveld x Sublime de la Cour) were first in the order and held their lead throughout the entire class. The pair was quiet and careful in the first round, making sure to leave all rails up in a time of 80.108 seconds. Loochtan and the 12-year-old Belgian Warmblood gelding returned first for the jump-off, increasing their speed from the first round and taking inside turns to fences 5, 8, 9 and 3a. Loochtan and her bay gelding galloped through the timers with all rails up at 45.714 seconds, ultimately winning the class. Loochtan could not have been more excited, "This is my first ever Grand Prix win! I thought the course was really good. I was first to go, which is sometimes good so you don't watch anyone and you stick to your plan. My horse jumped incredibly well. This is only his second Grand Prix since July."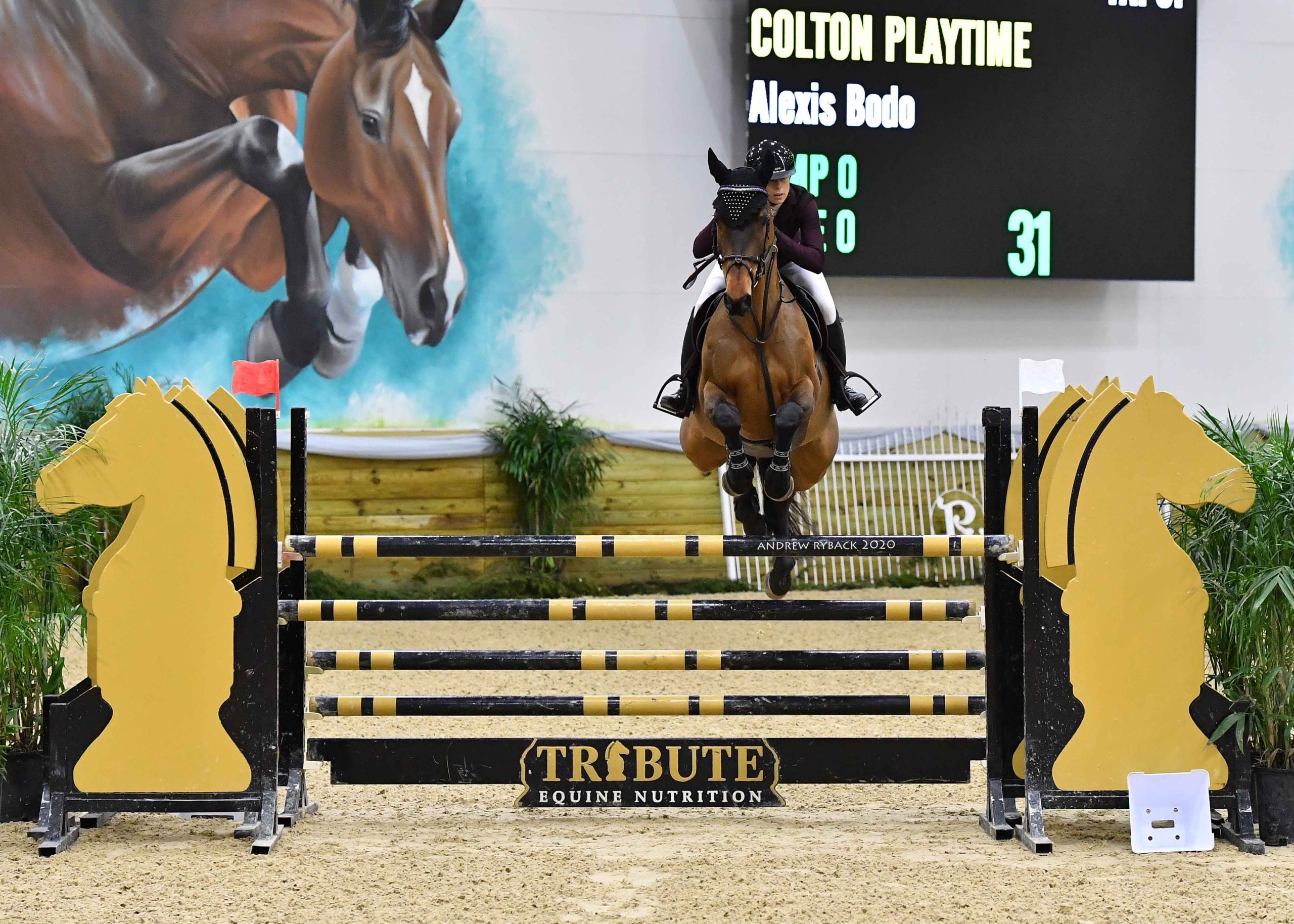 Women also owned the class in Saturday's $7,500 Futures Prix 1.30m sponsored by Voltaire Design, taking the top four placings out of 16 entries. Competition was tough with seven entries making it to the jump-off, but it was Alexis Bodo and Eye Candy Jumpers' Colton Playtime (Dokkum de Rialfo x Colton Maelstrom) who took the win. The pair were first in the order of go, blazing through the first round clear in 75.101 seconds. Bodo and the nine-year-old Warmblood gelding continued straight to the jump-off, keeping their pace and hugging the inside turns to fences 3, 6, 9 and 10 and galloping through the timers at 39.439 second. Their time would prove unbeatable for the remainder of the class. Bodo was all smiles as she commented on her ride, "The course was long and set pretty technical with a lot of square oxers out of the turns and a couple of places that presented options, but I thought it rode nicely. The last jump caught a few people because the line was set between a seven or an eight. My horse happens to be little, so I have a little bit of an advantage. He was super careful. We actually call him the flying squirrel!"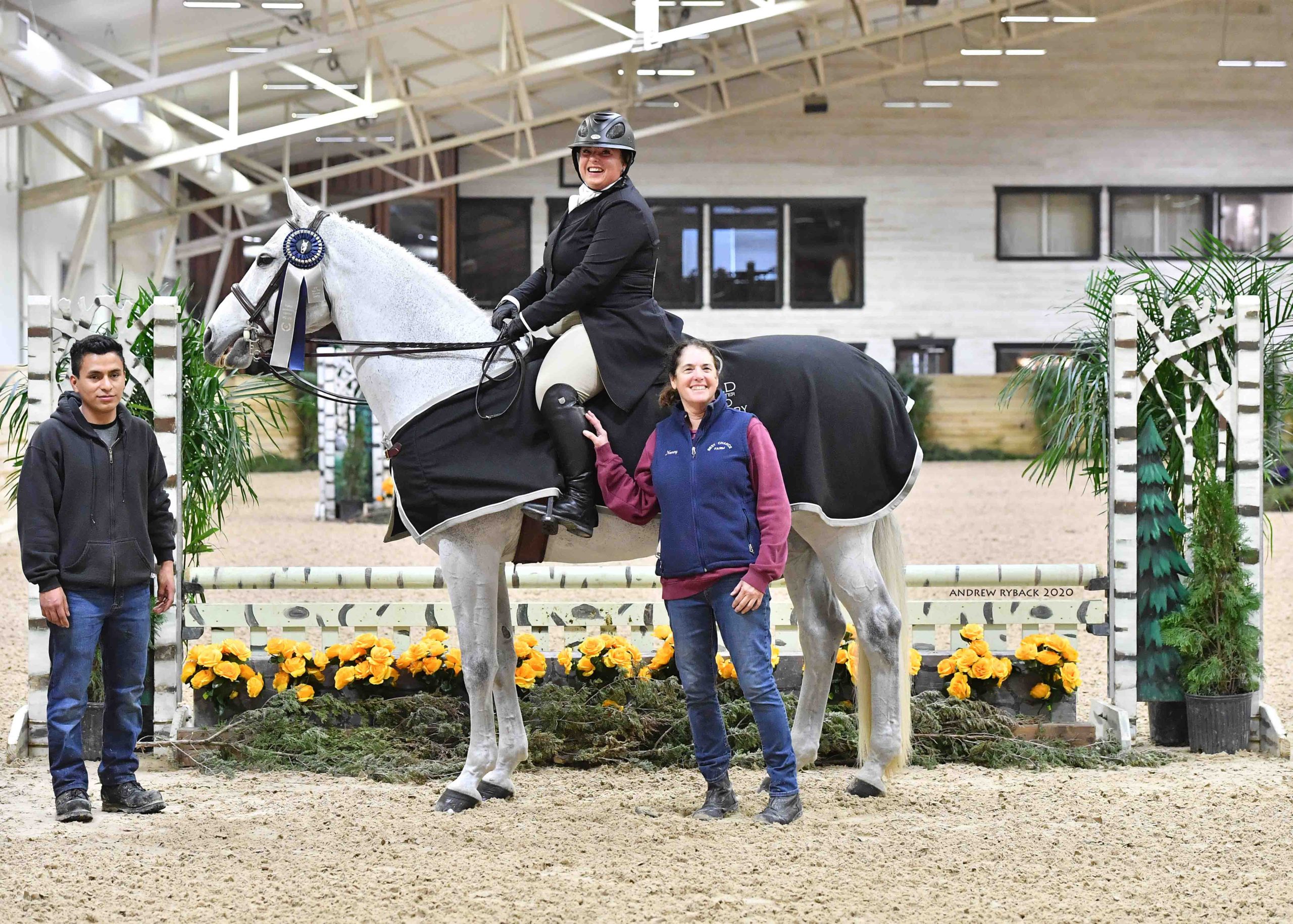 The Roberts Arena was the site of the $2,000 Non Pro Derby 2'6″ on Saturday. Twenty stunning entries contested the course, but it was Rachael Dalfonzo and her own Kamea Kai (Abenteuer x Hauptstutbuch Anuschka) that took top honors. The pair also earned top ribbons throughout the week in the Intermediate Adult Hunters and the Non Professional Hunter 2'6″.
World Equestrian Center is excited for the opening events of our long-awaited Ocala facility with an inaugural schedule that includes 12 weeks of World Equestrian Center hunter / jumper horse shows beginning January 5, 2021 and ending March 28, 2021. Prize money for the weekly events is proposed to top $400,000 per week with overall circuit money and prizes projected to reach nearly $5 million dollars. World Equestrian Center is committed to offering top quality horse shows for our competitors, owners and sponsors.
Exhibitors are encouraged to make their stall reservations in advance of the January 2021 opening. Reservations made now will hold stalls with payment due in October 2020 in advance of the twelve-week horse show circuit. Stall reservations can be made via www.horseshowing.com, in the 'Ocala World Equestrian Center' section.
The World Equestrian Center Ocala prize list is vast, with more than 100 divisions from opportunity classes all the way up to Grand Prix. A draft prize list is available on horseshowing.com.
Photos courtesy of Andrew Ryback Photography.