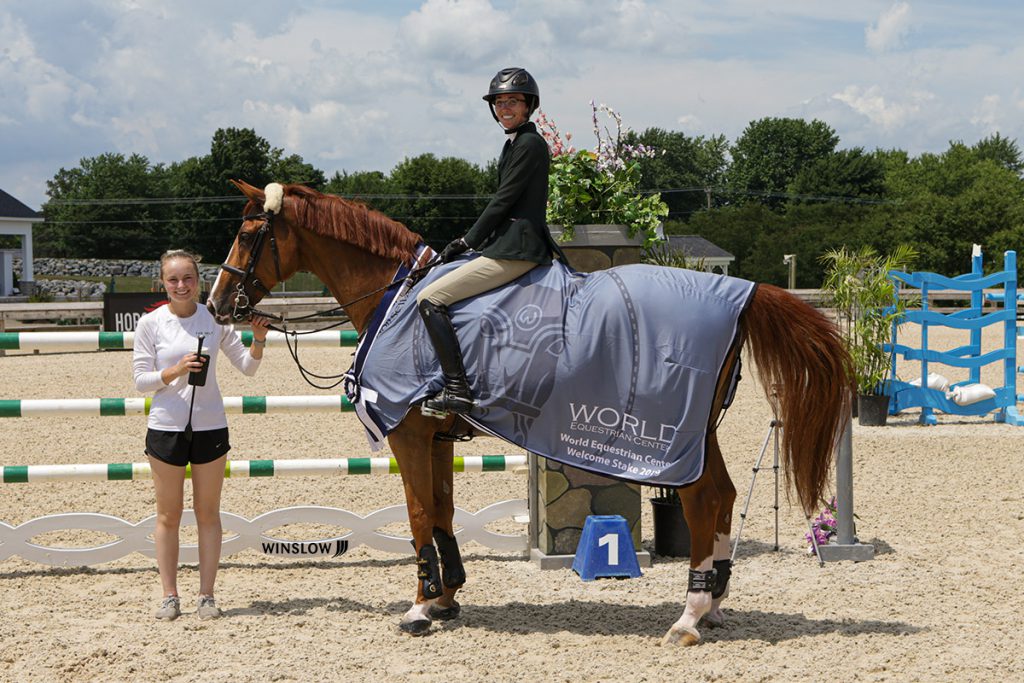 Another day of sunshine and blue skies welcomed in the WEC July II horse show, the fourth horse show of the 5-show-long WEC Spring and Summer Shows. Today's $5,000 Welcome Stake 1.35 m sponsored by CWD Sellier saw fierce competition to kick off the week's feature classes with just seconds separating the top two finishers. Though an early time to beat was set by Jennifer Strickland and her own Kroner Z (Kannan x Lucinda Jo), it was Taylor Kain and The Gelt Group's Shuttergold (Silvio I x Famose) that stole the win.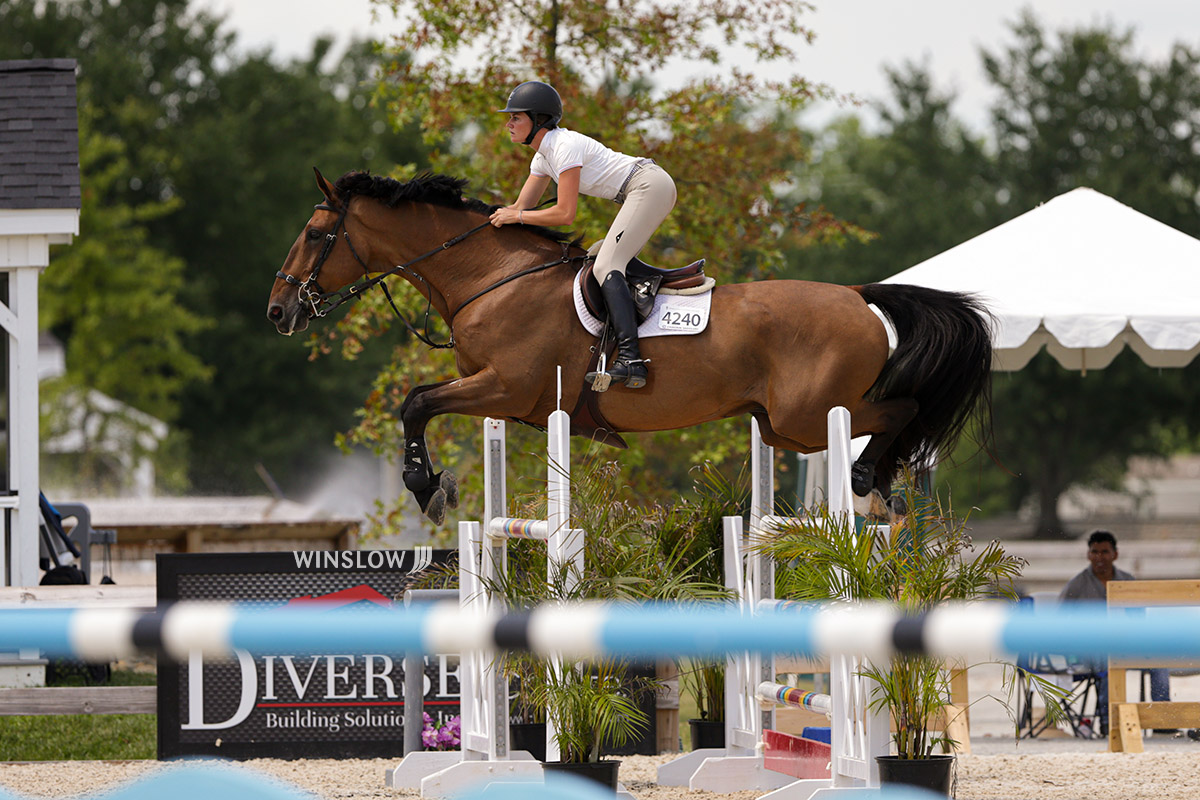 The course for the $5,000 Welcome Stake 1.35 m sponsored by CWD Sellier, designed by Bobby Murphy of Lexington, Kentucky, featured two one-stride combinations, several bending lines and many opportunities for inside turns. Near the top of the order of go and first to jump clear was Jennifer Strickland and her own Kroner Z, a fourteen year old Zangersheide gelding. The pair regularly compete in the 1.30 m – 1.40 m Jumpers and took third place in the Welcome Stake at WEC just last week. This afternoon, the pair were rhythmic and careful throughout their first round, making sure to leave all rails up in a time of 75.112, about three seconds under the time allowed of 78 seconds. The pair continued straight to the jump off of the Table II 2b event, remaining steady to tighten their turns. Strickland and Kroner Z crossed the timers with a second clear round, setting the time to beat at 45.923 seconds.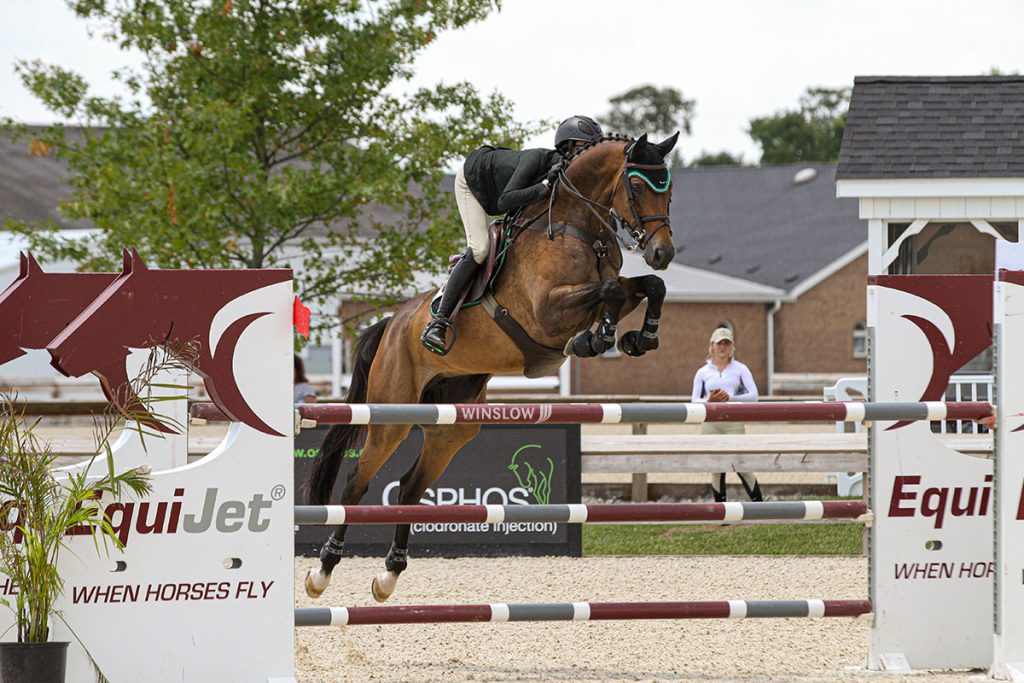 Strickland and Kroner Z remained the only pair to jump double clear until the bottom of the order when Taylor Kain and Shuttergold entered the ring. Kain and the nine year old Hanoverian mare regularly take top placings in 1.35 m – 1.45 m Jumper classes and were well-schooled for today's event. The pair were also steady in the first round, leaving all rails up in a time of 75.422 seconds, but picked up pace for the jump off. Kain and Shuttergold blazed through the short course, executing tidy inside turns and shaving crucial seconds off of the clock. The duo raced through the timers at 40.968 seconds, securing the win in the class.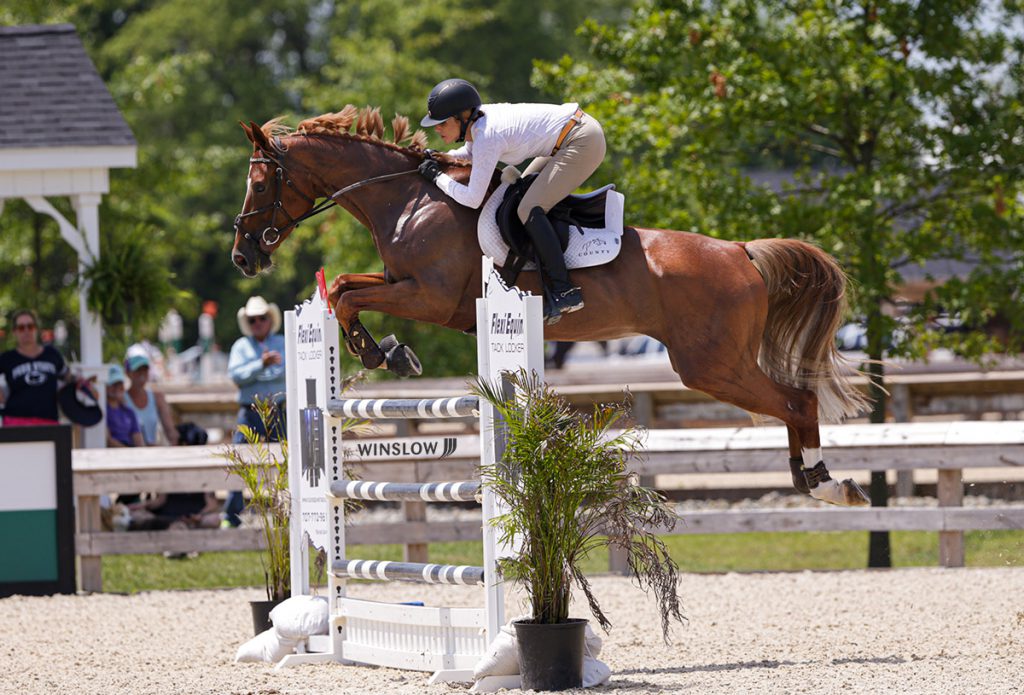 Kain also took fourth place aboard The Gelt Group's Gilded (Comme Il Faut). The pair were quick in the first round and into the jump off, taking one unfortunate rail but navigating the short course in 42.253 seconds. Third place finishers Molly Kindness and her own Strawberry (Hobby De La Cense x Aphrodite) bested Kain and Gilded by just under a second, also pulling an unlucky rail on the short course but stopping the clock at 41.539 seconds.
Kain stuck around after the awards presentation to chat with us ringside about her win. "This was Shuttergold's first time winning a Welcome. She jumped super, she was second last week and won it this week. She did the Two Star and the Three Star in Tryon as well, so this was a nice way to follow that up. This was a nice thing for her." Kain went on to describe the mare's personality, "Golda (as she is called in the barn) is more of the delicate type, she's sensitive. She has her routine. I love her because she's a lot like me. People even say we're built alike. She is super sweet. She and Gipsy are the best mares…I've never had mares before but they're amazing. I'll have mares forever now. Golda is really growing up into herself. She's fun."
Kain also commented on her fourth place mount, "We just got Gilded toward the end of the Winter. This is probably our fifth show together. Last week was his first Grand Prix and this week was his second Welcome. He's nine, but hasn't done a lot. He's really cool. We call him Lumpi in the barn. He came with that name and it kind of stuck. He is a mush. We'll go into his stall and he'll nuzzle up to you. Since he got off the plane, he was the biggest, most cuddly thing. He's really easy and laid back; he doesn't care about much. He's awesome. He's really stepped up into himself and developed quickly. He's going to make somebody a great horse whether it's the Junior Jumpers or the Grand Prix. I think he has a wide variety of what he can do. He's very universal."
Though Kain and her third mount of the day, Eirecon Equine Sale's Gipsy 1134 (Corlensky G x Landina), incurred an unlucky eight faults, Kain was still extremely proud of the eight year old Oldenburg mare, "Gipsy was amazing. She was jumping really good, I just made two little mistakes. She just came off of the Two Star in Tryon, this was our first class back. She was great at the Two Star, it was her first FEI show and we were seventh in the ranking class on Sunday. She jumped it easy, it was great, so she almost jumped me a little lose today. I think she was thinking the jumps were bigger. She was super, though. I think she'll be ready for the Grand Prix on Saturday. Gipsy's a little fighter, I call her Killer Queen because she is all about it. She is a little fighter,she wins. This was not really like her to have two down, usually she's always clear. She's consistent, she wants to go out there and she fights. She's super relaxed in the barn, almost lazy like a pony. But, when she walks into the ring, she's on it."
Kain was on her own today, missing fiancé Geoff Case who is usually ringside with her. "I'm on my own this week, so it's been great figuring things out and not depending on Geoff as much. I'm figuring out my own mistakes and developing as a rider and also as a human being. I'm learning quickly because I don't have him to ask the questions to, so when I come out of the rings I kind of have to reflect. Instead of being in the moment of 'I can't believe I did that' or 'what was that' and being quick to blame, you look back and on each round today, I did different things on each horse. I changed the numbers and did different tracks to suit each horse. I learned as I went. It's a learning experience, we're always learning. Haley Kane is here this week too, and I wouldn't be up here without her. She's the glue to it."
Kain also raved about her sponsor, Discount Dirtworks, and their amazing job on the footing in the rings at World Equestrian Center, "The footing was fantastic!"
$5,000 Welcome Stake 1.35 m
Shuttergold, Taylor Kain – 0 | 0 | 40.968
Kroner Z, Jennifer Strickland – 0 | 0 | 45.923
Strawberry, Molly Kindness – 0 | 4 | 41.539
Gilded, Taylor Kain – 0 | 4 42.253
Metro Lass, Patricio Rodriguez – 4 | 70.119
Inne Van De Plataan, Keely McIntosh – 4 | 72.913
Chanel, Sarah Meier – 4 | 73.376
Elation, Michael Grinyer – 4 | 74.088
Viva's Dolce W, Elyse Batista – 6 | 79.987
Kinsella, Charlotte Clark – 8 | 70.804
Photos courtesy of Winslow Photography.


Join us for our Upcoming Shows
Be sure to get your entries in now for our August 7-11 horse show – the last show of the Spring / Summer Series which features a $5,000 USHJA National Hunter Derby. An added plus: there is no braiding required! Reserve your stalls and submit your entries at www.horseshowing.com.
Get your entries in for the WEC Fall horse shows featuring 5 back-to-back shows with nearly $1 Million in money and prizes offered. Feature classes include two $20,000 USHJA National Hunter Derbies (Open and Non-Pro) weekly. Entries are open now and stall reservations can be made online at www.horseshowing.com