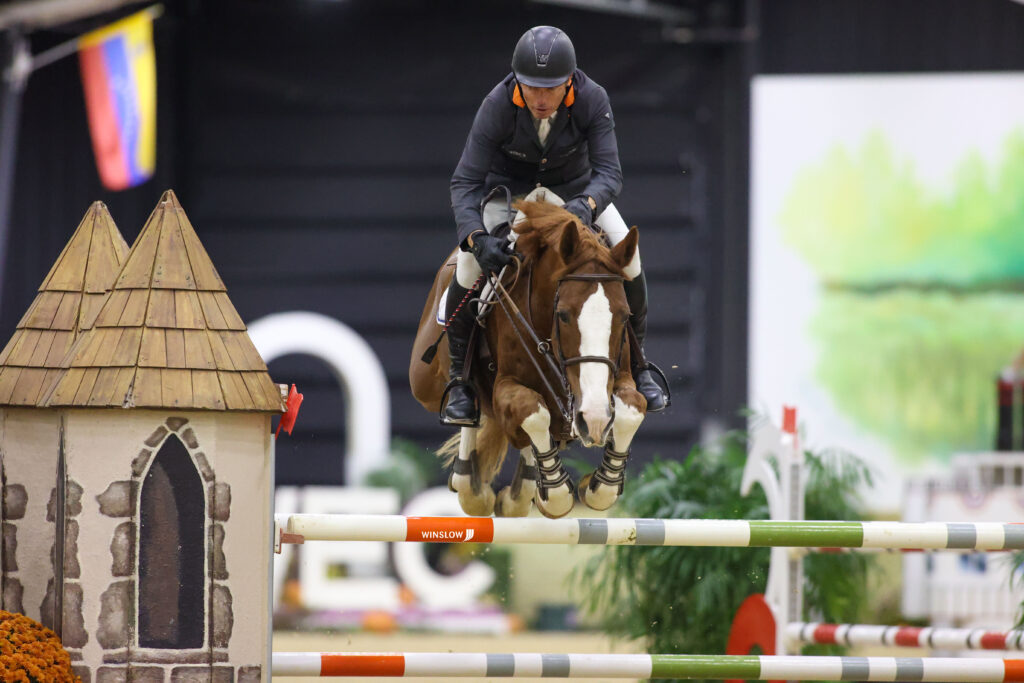 Another week of top-notch equestrian sport commenced at World Equestrian Center for week three of the 2021 Fall Classic series. Today saw a field of over 40 competitors and their horses contest the $10,000 Futures Prix and the $50,000 Grand Prix in World Equestrian Center – Wilmington's Sanctuary arena. A crowd filled the stands for each feature event and cheered on the speedy exhibitors as they negotiated tracks designed by Bobby Murphy of Lexington, Kentucky. Grand Prix action saw twenty-four horse-and-rider combinations contest the course, with sixteen riders jumping clear in the first round and eight putting in double clear efforts.
It was another great week for the Genn's of Rheinland Farm in Lebanon, Ohio. Wilhelm Genn and longtime partner, Bugatti (Heartbreaker x Nona Bella) owned by Eduardo Leon, took the big win in the $50,000 Grand Prix 1.40m-1.45m. The seasoned competitors have worn many blue ribbons and are crowd favorites. On tonight's track, they had two great rounds – Genn and the fifteen-year-old KWPN gelding crossed the finish line at 75.018 seconds during their first go. Bugatti and Genn returned to the jump-off where they finished in only 36.871 seconds with no faults, taking them straight to the top of the leaderboard.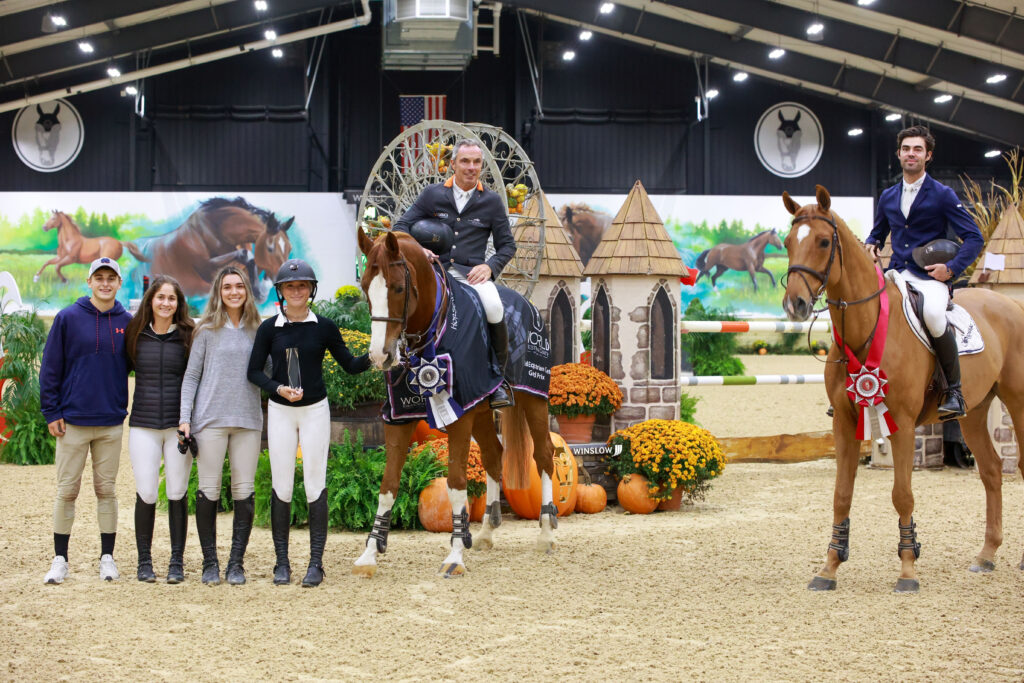 We caught up with Genn after his big win. "This was my first Grand Prix win as an Opa (grandpa in German). How exciting is that? I can't wait to tell Felix when he gets older, that I beat his dad when he was just three weeks old! As for Bugatti, he jumped great. I want to make sure this horse has fun! He's won a lot and we know that he is capable. I want to keep the competition interesting for him. We didn't do any other classes this week. We were third in the Grand Prix last week and our strategy coming back is that I don't run him in the jump-off, I just make sure he turns tight and stays relaxed. The key to riding him is staying smooth and in return, we will be faster. "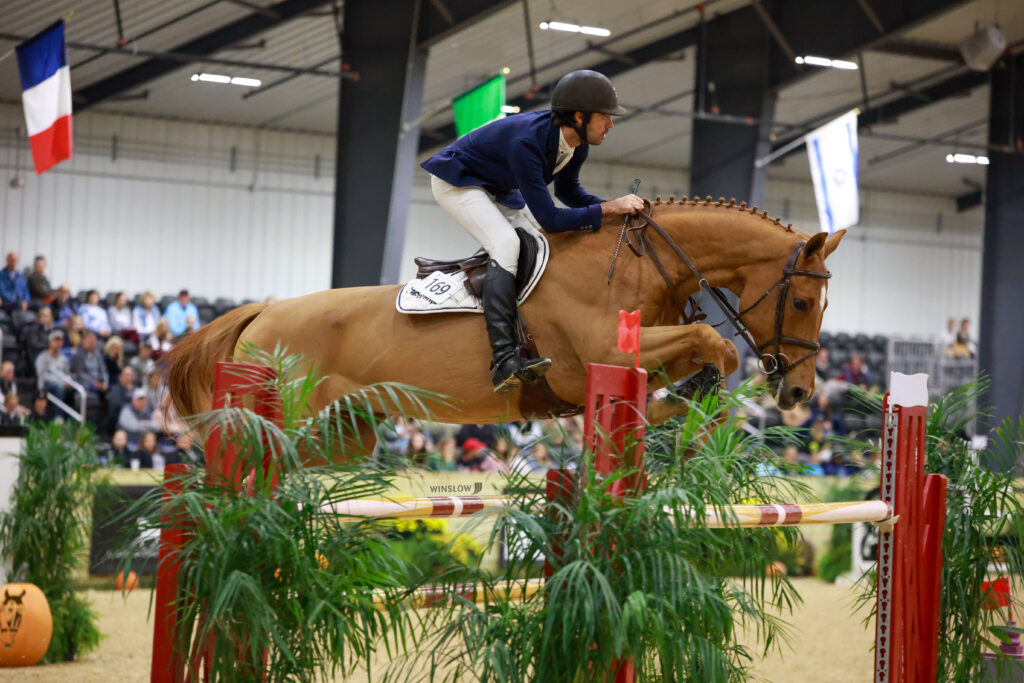 Coming in one spot behind his father is Ryan Genn and VDL Gerinus T (Arezzo VDL x Rosalina). This pair earned first in last week's $50,000 Grand Prix and returned tonight looking for a repeat. This time they earned second place with a first-round time of 71.667 seconds, followed by a quick 37.434 second jump-off.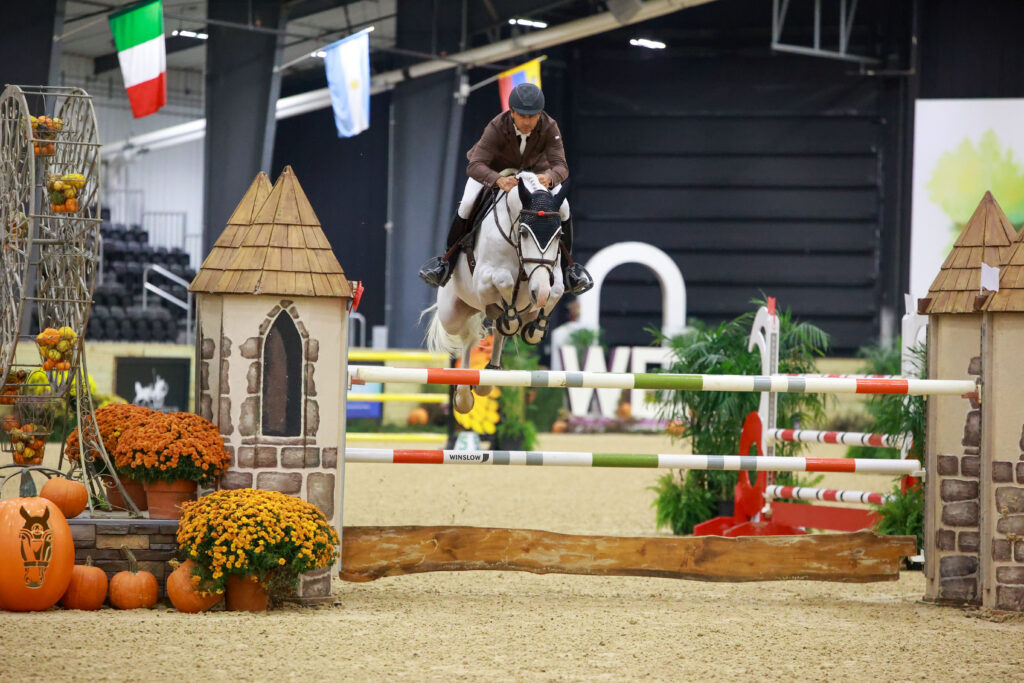 Third place was captured by Gustavo Prato of Wellington, FL, and Luke Skywalker 70 (Levisonn x Carthaga Z). Prato and the ten-year-old HANN gelding finished a strong first round in 77.471 seconds and then proceeded to stop the jump-off timers in 37.81 seconds, remaining fault-free.
$50,000 Futures Prix 1.40m-1.45m Results
Bugatti, Wilhelm Genn – 0 | 0 | 36.871
VDL Gerinus T, Ryan Michael Genn – 0 | 0 | 37.434
Luke Skywalker 70, Gustavo Prato – 0 | 0 | 37.81
Nike, Lisa Goldman-Smolen – 0 | 0 | 38.29
Colourful S, Morgan Ward – 0 | 0 | 39.526
G – Star, Harry Harding – 0 | 0 | 40.235
Nazarine Van De Axelhoeve, Sabine Cooper – 0 | 0 | 41.274
Helios VD Nosahoeve, Gustavo Prato – 0 | 0 | 41.488
Sovereign , Lisa Goldman-Smolen – 0 | 4 | 37.085
FF Blade Runner, Jill M. Gaffney – 0 | 4 | 43.422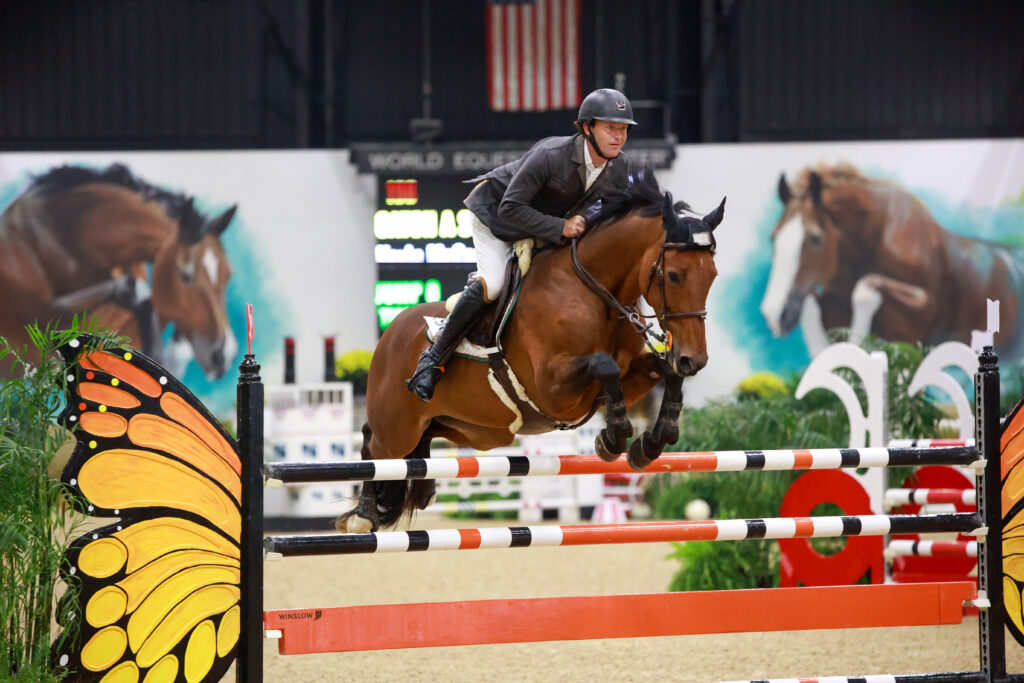 Ireland's Kevin McCarthy and his own Catch a Star HSS (Sheraton x Tolinda) bested the class of eighteen entries to win the $10,000 Futures Prix 1.30m. This duo has received top Futures Prix honors now two weeks in a row. We welcomed them back tonight for the $10,000 Futures Prix 1.30 m. McCarthy was first in the order of go, where they set the pace for the class. This course saw a time allowed of 78 seconds, which McCarthy and Catch a Star HSS were well under with just 73 seconds in the first round. The Swedish Warmblood mare jumped clear and returned for the jump-off, which they finished in a lightning-fast 29.356 seconds.
We caught up with Kevin after the class and here's what he had to say about his winning ride: "My mare has been jumping very consistent, so I am happy with that. Being first to go is sometimes the worst spot to be in, but I gave it my all because I knew I had many competitive riders to go after me. I was delighted when they told me to get my horse for the win picture! All and all it was an excellent evening and love the shows here at WEC! "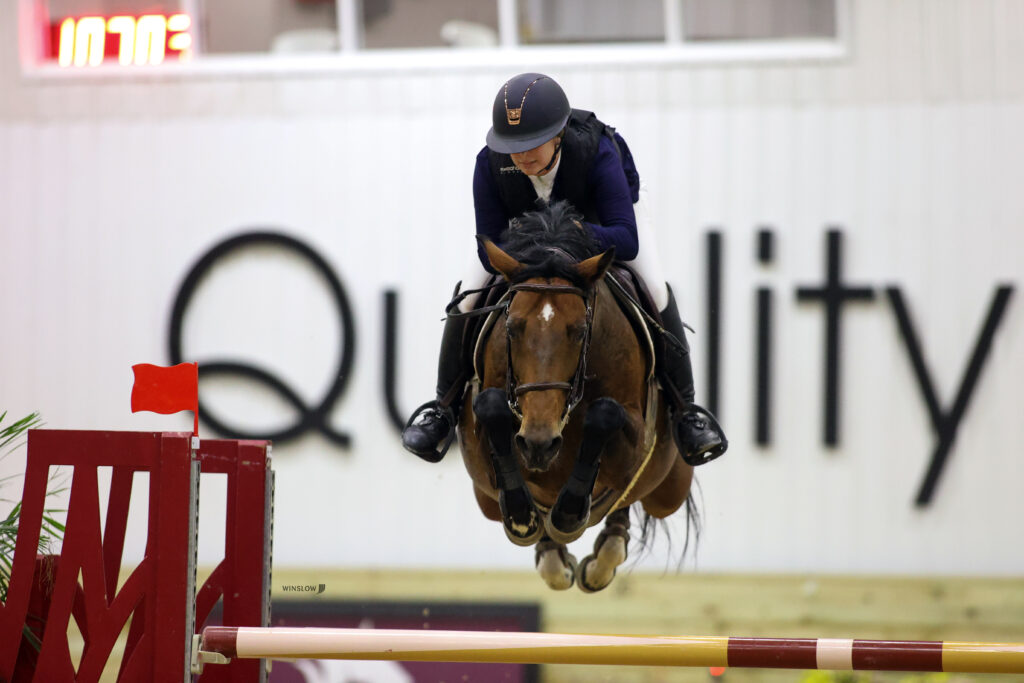 Next in the order of placings was Lisa Goldman-Smolen and Bengtsson VDL (Bubalu x Indoctro). This impressive team won Thursday's $15,000 WEC Welcome Prix. We were excited to see them return and they did not disappoint crowds. Goldman-Smolen and the ten-year-old KWPN gelding had spectators gripping their seats as they finished the short course only 0.31 seconds behind tonight's winner. Their first go-around was the fastest in the class and was fault-free in only 70.04 seconds. They crossed the timers clear in the jump-off at 29.667 seconds, earning Lisa second place.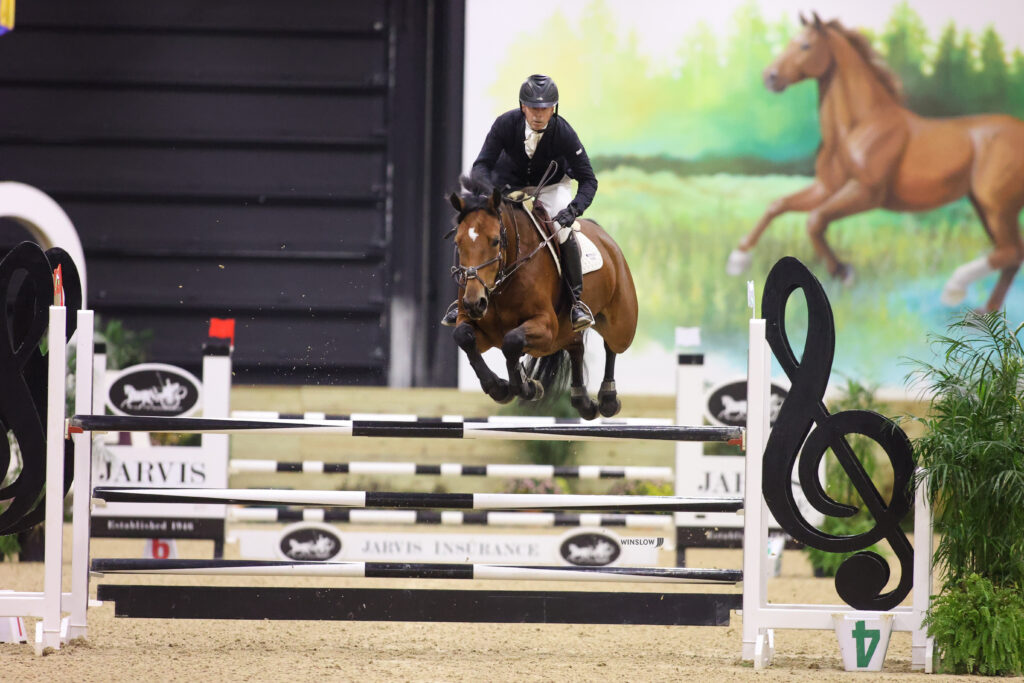 Rounding out the top three were Richard L. Rinehart and Vincent. The pair never touched a rail, delivering a clean first round in a time of 75.396 seconds. They continued into the jump-off, jumping a second clear round in a blazing fast 30.277 seconds.
$10,000 World Equestrian Center Futures Prix Results
Catch a Star HSS, Kevin McCarthy – 0 | 0 | 29.356
Bengtsson VDL, Lisa Goldman-Smolen – 0 | 0 | 29.667
Vincent, Richard Rinehart – 0 | 0 | 30.277
Ivaro N, Lisa Goldman-Smolen – 0 | 0 | 31.526
Ulysse Du Bourberg, Ella Mauritzson – 0 | 0 | 34.725
Galway Bay Pandora, Alliy Moyer – 0 | 4 | 31.903
Iconic, Lani Hutchison – 0 | 4 | 34.240
Emil Du Coeur D'or Z, Melissa M. Lesch – 1 | 78.194
Cicero's Electric, Alliy Moyer – 1 | 78.44
Eastpoint Jb, Hanna R. Egan – 1 | 78.84