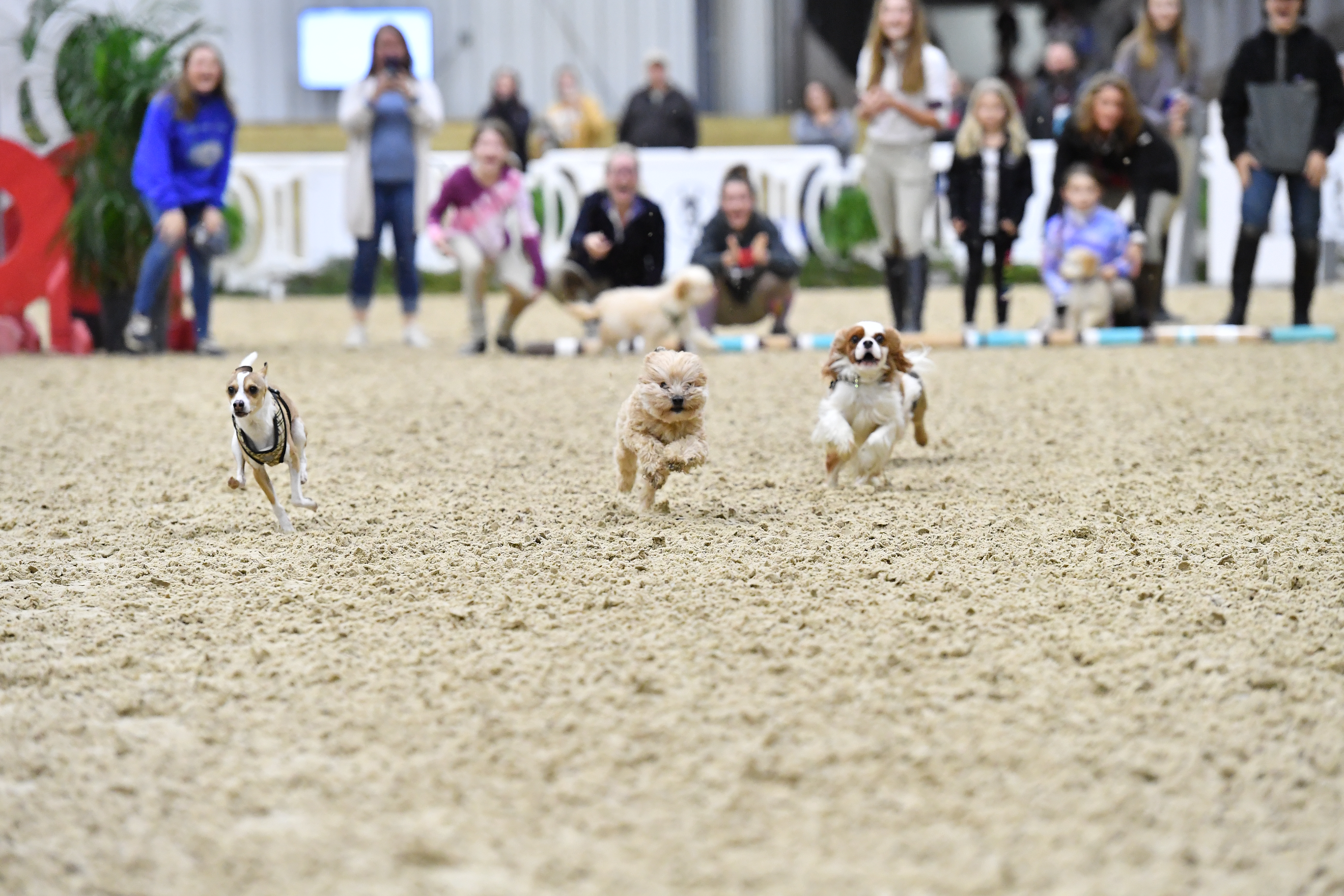 We kicked off the New Year last week with thrilling equestrian sport during week four of 'Winter in the Midwest 2020' at World Equestrian Center. Victories were celebrated by many entries as they checked their first win of the year off of their 2020 resolutions list. With great sport came great fun in the form of a dog race in the Sanctuary Arena after the $25,000 WEC Grand Prix. Participants cheered on their pups, then stuck around the ring for some post-race play time.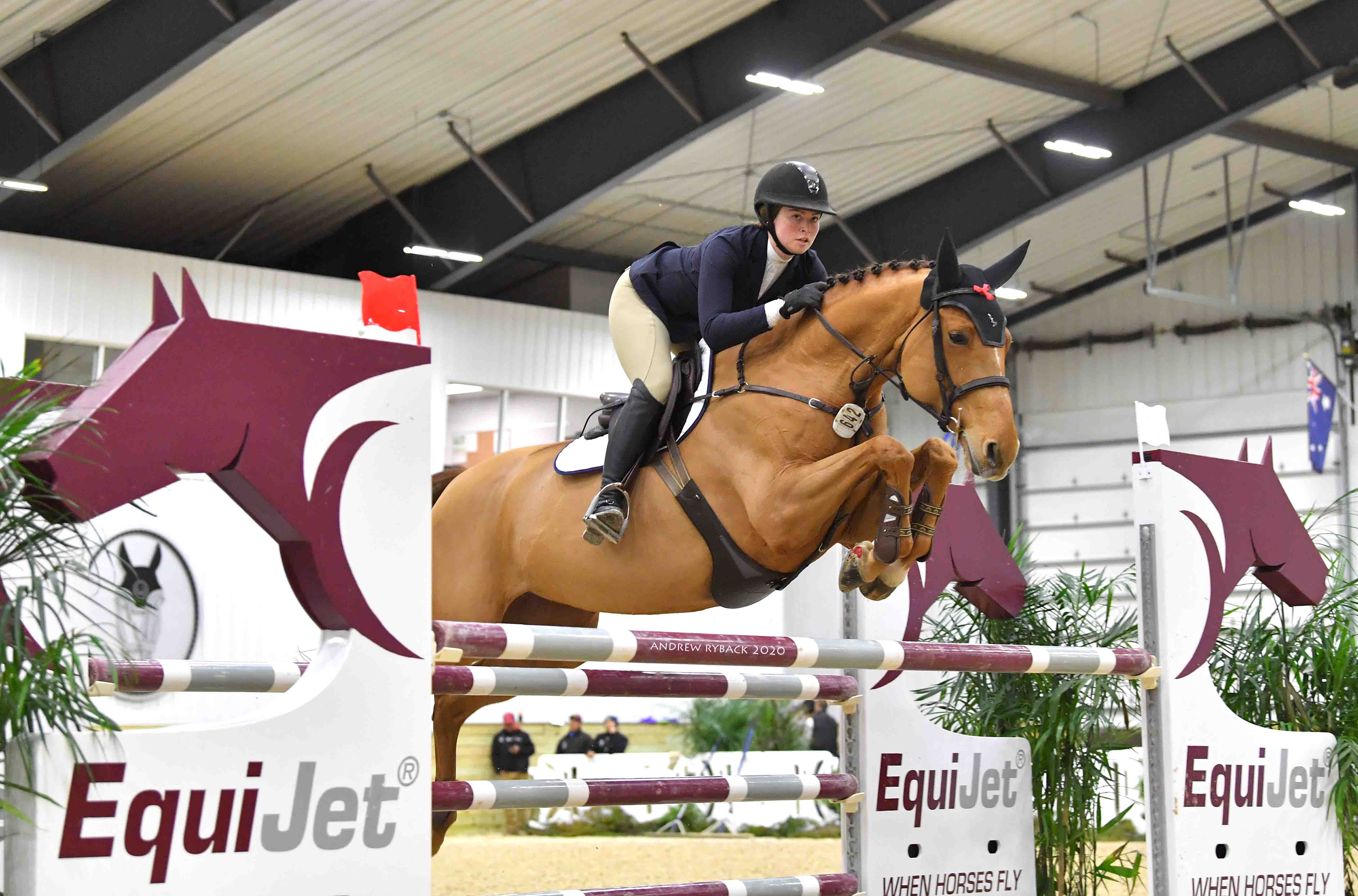 Thursday kicked off the week with a first-time win in the $5,000 Welcome Stake 1.35m sponsored by CWD Sellier for Charlotte Clark and her own Kinsella (Capitalist x Jerpoint Mist). Clark and Kinsella have built a fantastic rapport, having earned top honors in four $25,000 World Equestrian Center Grands Prix in 2019 alone, but had yet to win a Welcome Stake. The pair snagged the win near the end of the order on Thursday, jumping a clear first round in a time of 72.455 seconds and advancing straight to the jump off. Clark and the nine year old Irish Sport Horse mare opted for the inside track to shave crucial seconds off of their time, but truly won the class with a tidy inside turn to approach fence eleven. The pair clocked in at 39.157 seconds, besting second place by just over half of a second. Clark was thrilled with Kinsella's first Welcome win commenting, "The jump off actually didn't suit her so well because we're better at going fast and around. We actually did the inside turns on this course and she was really careful and quick across the ground. I did plan the inside turn to fence eleven, then I said I was not going to do it. I had been a little slow turning back to fence five in the jump off, so I decided I had to go inside to eleven. Actually, she was bright turning inside and it was a lot easier than I thought it would be."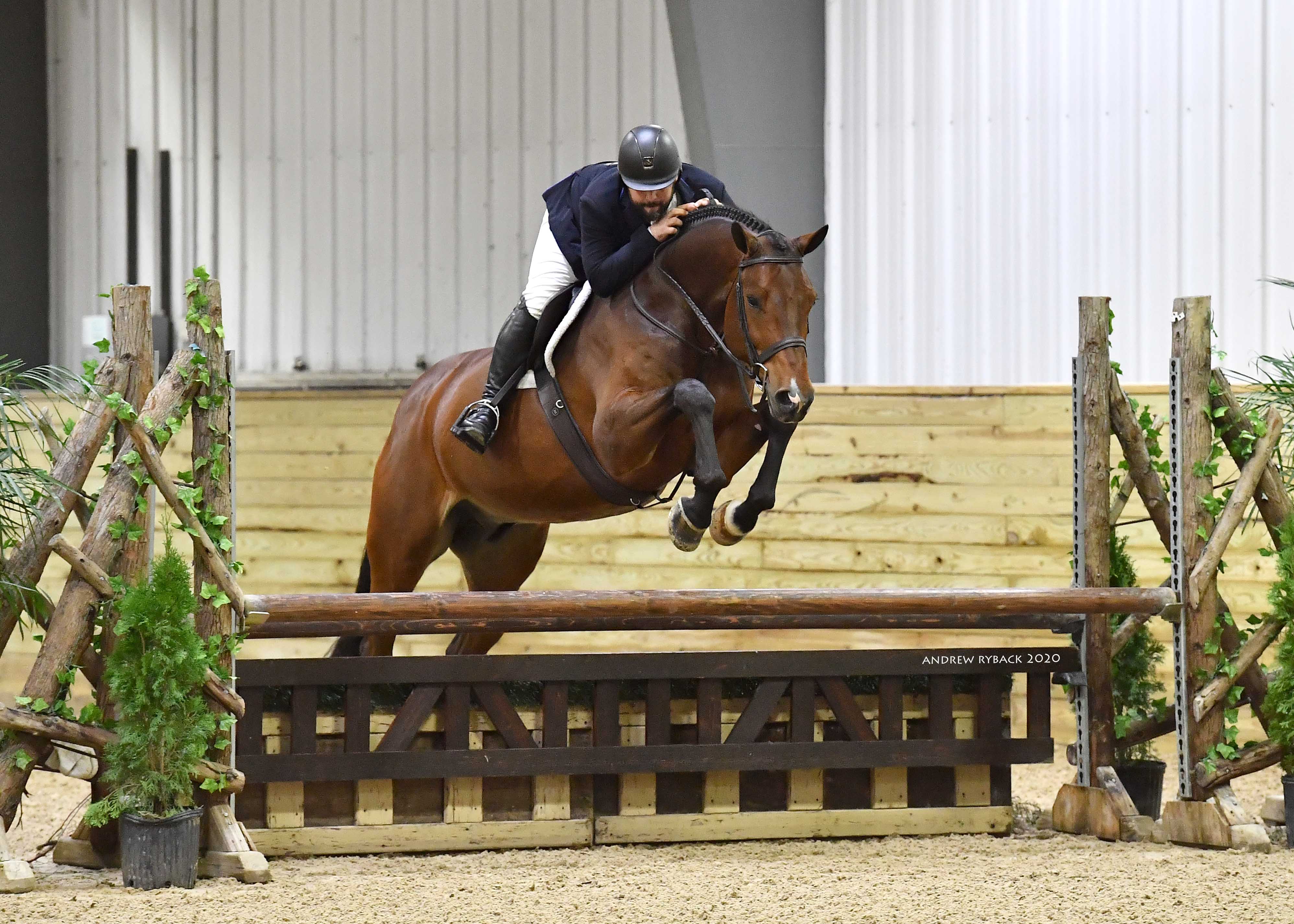 The hunters owned Friday night with twenty eight entries taking to the R+L Arena for the first $5,000 USHJA National Hunter Derby of 2020. Michael Britt-Leon was unstoppable in the class, taking first, second, third, fourth and eighth place aboard Kelly Sims' Private I (Corrado x Verdi), Bacchus (Bisquet Balou x Feliz V/D Donkhoeve), Eleventh Hour (Christ x Baloubette), True Enough (Catoki x Hauptstutbuch Chardas Fürstin) and Downtown (Dollar x Kornett), respectively. Britt-Leon earned scores ranging from 87-98 with his fleet of stunning mounts and could not have been happier with their performances saying, "All of my horses have been doing great all week. This is the beginning of the year for us so they all moved up divisions and are all jumping a bit brighter, which has been excellent. I think that followed through to this evening."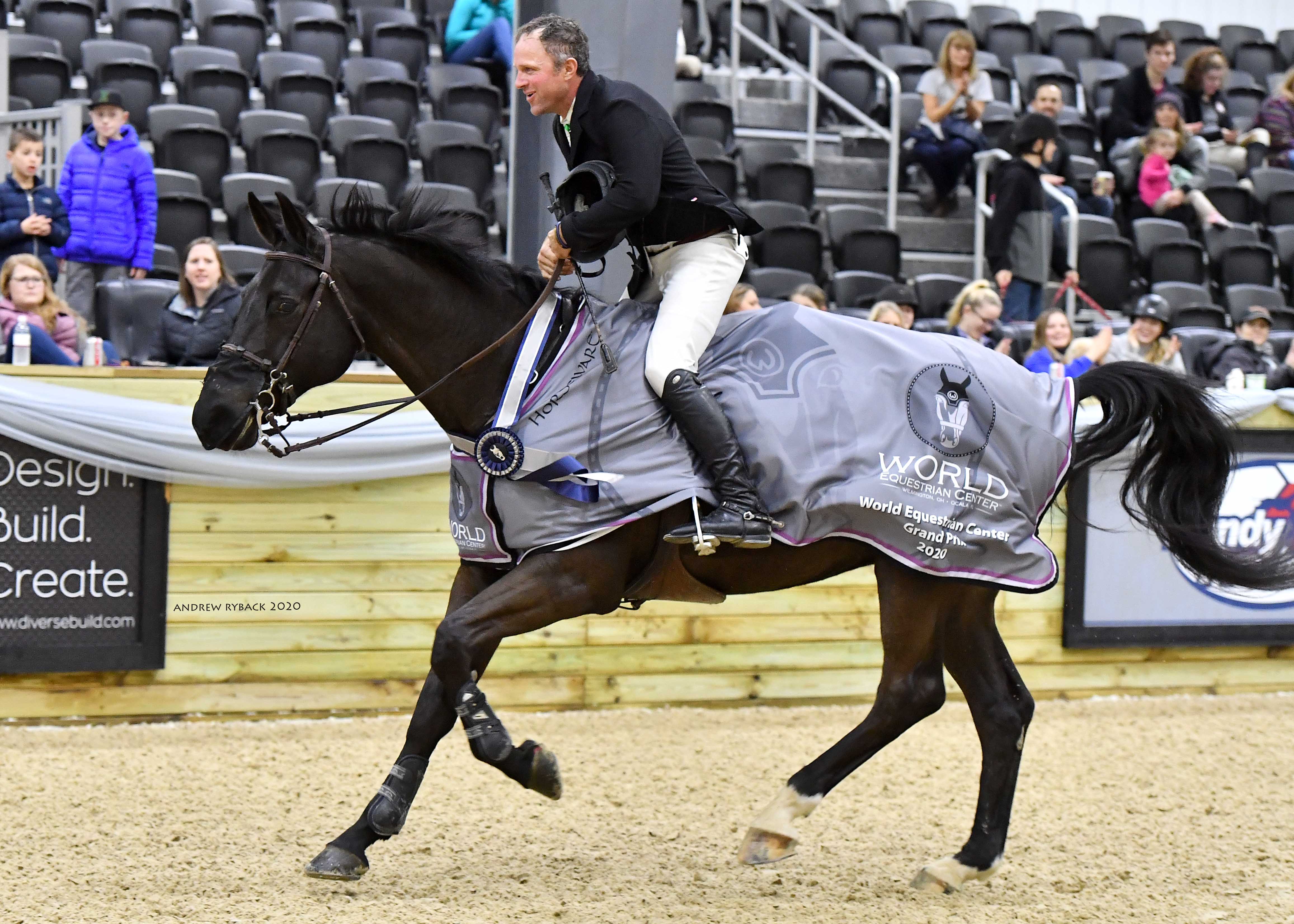 David Beisel found great success aboard his own Essince W (Chacco Blue x Rossan) in the $25,000 World Equestrian Center Grand Prix on Saturday. The pair stole the blue with a seemingly effortless clear round, bringing spectators in the Sanctuary Arena grandstands to their feet. Beisel and the ten year old KWPN gelding have taken countless top placings in Welcome Stakes and Grands Prix at World Equestrian Center and were hot on first place's trail in Thursday's Welcome Stake. The pair returned to the ring Saturday night ready to win, navigating the only clear first round of the class in 75.246 seconds and taking home the blue. Beisel noted a distinctive quality about his win, " It was funny because the last Grand Prix I won with him there were two or three of us in the jump off and I came back last and all I had to do to win was jump clear. It was the same thing tonight. I will say that it was nice that the time allowed was not so tight. I was able to take a little time. It was fun."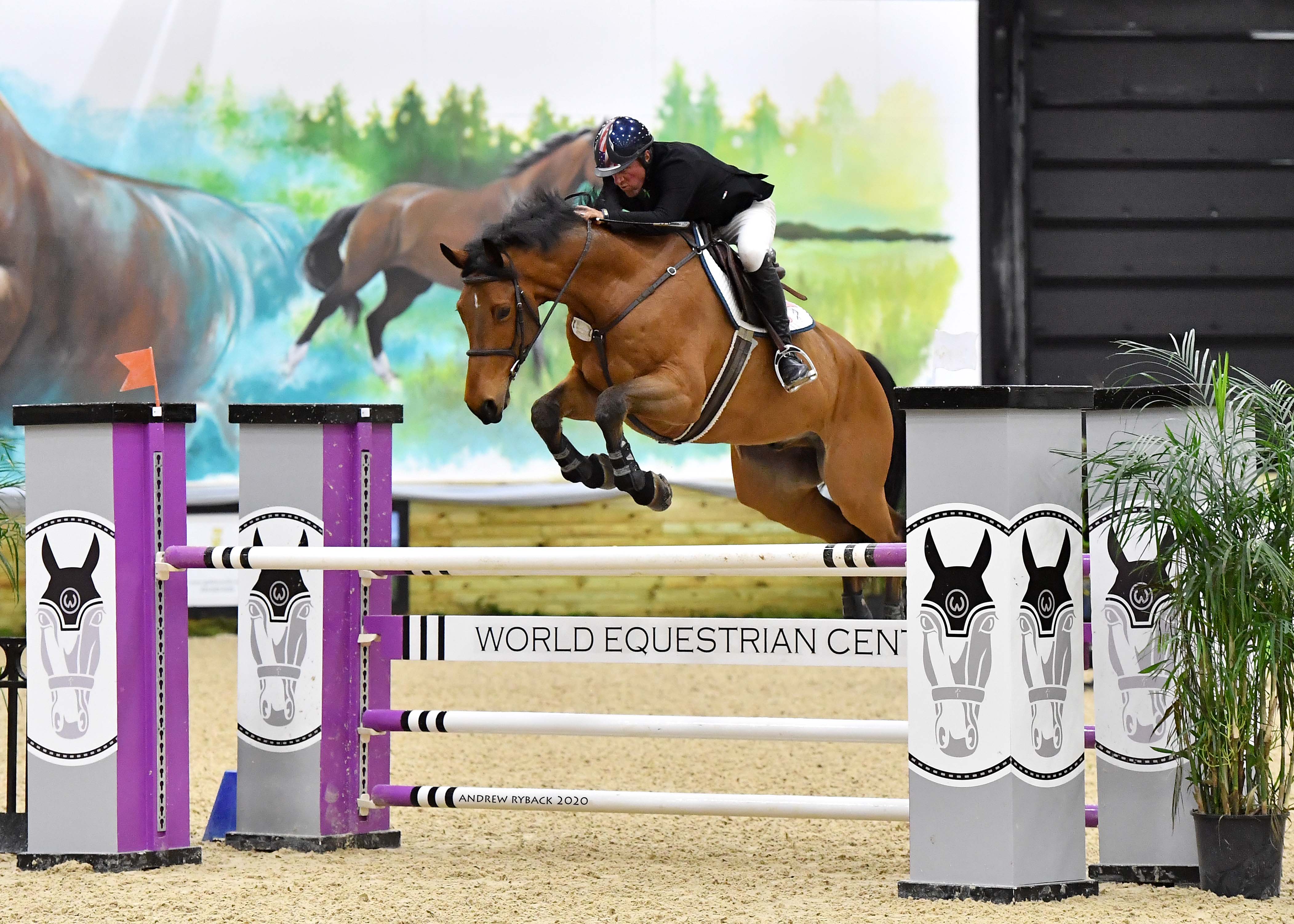 Beisel also found himself taking the top four placings in the $7,500 Futures Prix 1.30m sponsored by Voltaire Design on Saturday aboard his own Vegas H (Valentino x Cobrah), MTM Farm's MTM IBelieve (Indoctro x Grace), Harlow Investment Enterprises, LLC's Caius (Camaxl x Cuba Libre) and Equine Holdings, LLC's Ivana Jump (Lupicor x Donnaludine), respectively. Beisel described each horse, "he Vegas H horse is just coming seven years old. His first Futures Prix was two weeks ago and this was his second. He's super careful. "I just got the MTM I Believe horse from Mike and Tracy McCormick. He did a killer inside turn in the jump off. He turns right pretty hard anyway, but he was slick. This was Caius' and Ivana Jump's second Futures Prix, so it was a good day for them."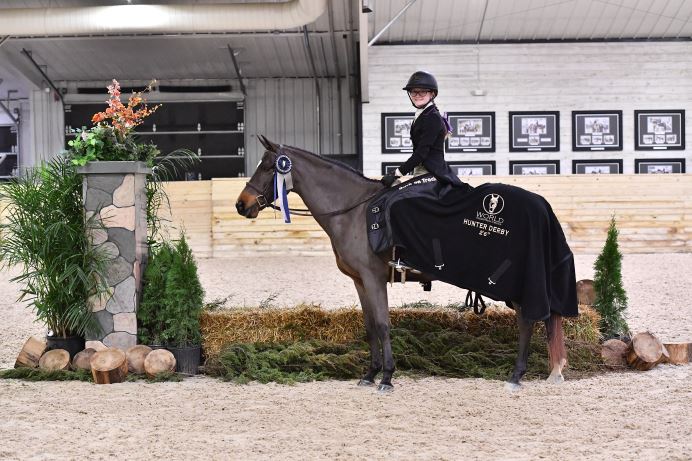 Saturday also saw fantastic hunter action in the Roberts Arena for the $2,000 Non Pro Derby 2'6″. Twenty entries contested the course, but it was Finley Scheffel and Nori Scheffel's Touched By An Angel that earned first place. The pair competed in both the hunters and the jumpers, taking top placings in both rings throughout the week.
Join us at World Equestrian Center for the remainder of the 'Winter in the Midwest' horse show circuit, encompassing 19 weeks of AA rated horse shows from December 4, 2019 to April 26, 2020. Highlights include the new WEC Premier Equitation Cup Qualifier Classes, two $10,000 USHJA National Hunter Derbies, a $10,000 USHJA International Hunter Derby and World Championship Hunter Rider (WCHR) Member Events (during WEC Winter Classic #5). The WEC Winter in the Midwest prize list is available now online at www.wec.net with entries being accepted via www.horseshowing.com. Print prize lists are available at our horse show office or by emailing info@wec.net. Reservations for stalls, hay and bedding as well as RV spaces may all be made online as well at www.horseshowing.com. Once again in 2020 we are pleased to offer stalls for showing horses at $100.00.
Watch all of the action from the Sanctuary and the R+L arena online via ShowNet.biz. Tune in to WEC.net for the livestream link.
Photos courtesy of Andrew Ryback Photography.