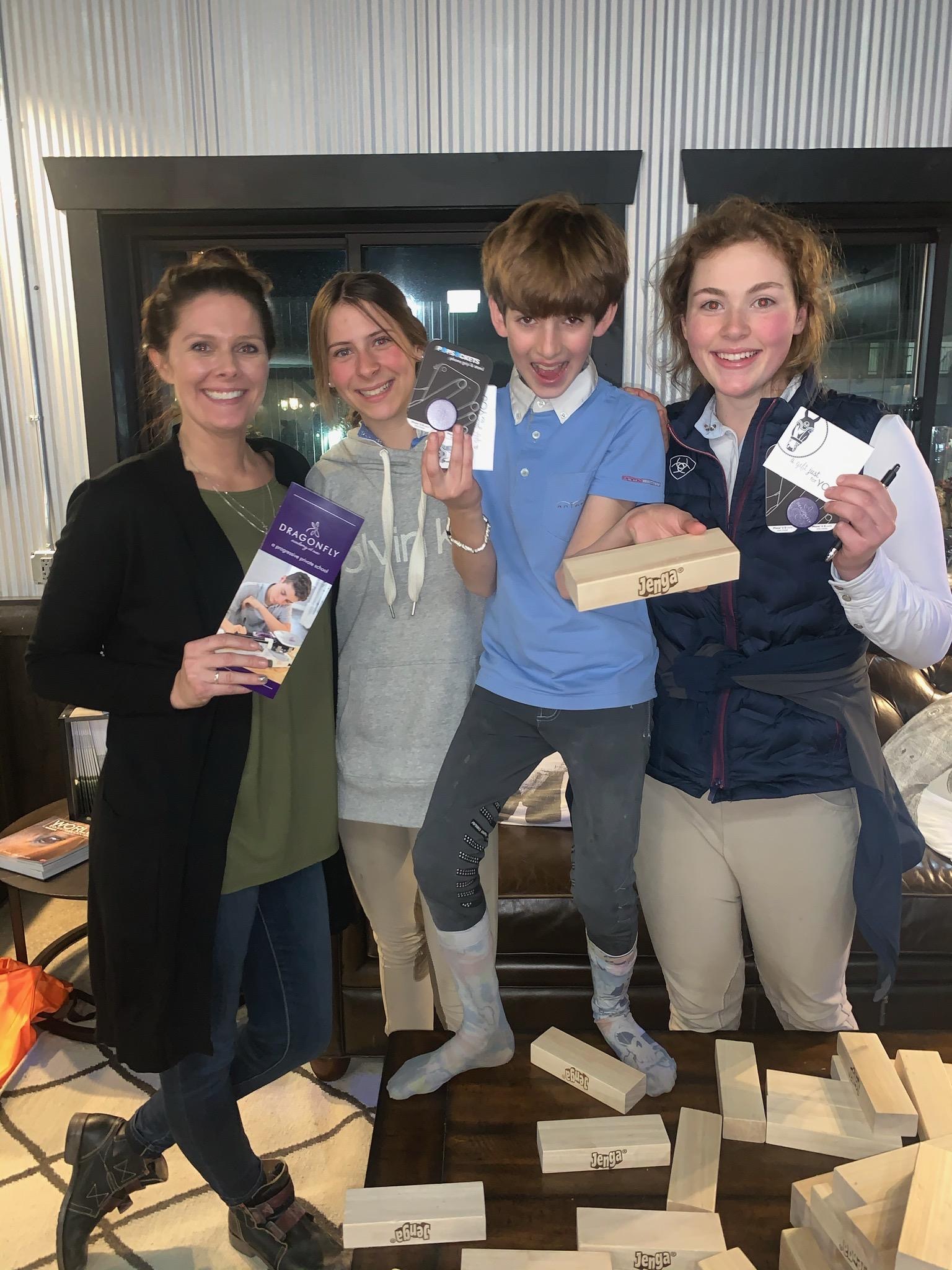 Week seven of 'Winter in the Midwest 2020' at World Equestrian Center saw thrilling equestrian sport throughout the week in both the hunter and jumper rings. Horse show action was accompanied by delicious eats including a sip and shop in Vendor Village on Friday, BBQ style buffet on Friday night in the Paddock Club, ringside hors d'oeuvres during Saturday's $25,000 World Equestrian Center Grand Prix and a "California Classic" style buffet on Saturday night in the Paddock Club. Dragonfly Academy hosted a Jenga tournament in the Paddock Club on Saturday night and one lucky winning team took home WEC gift cards. Featured class action filled the rings from Thursday through Saturday with everything from a $5,000 Welcome Stake 1.35m to a $2,000 Non Pro Derby 2'6″.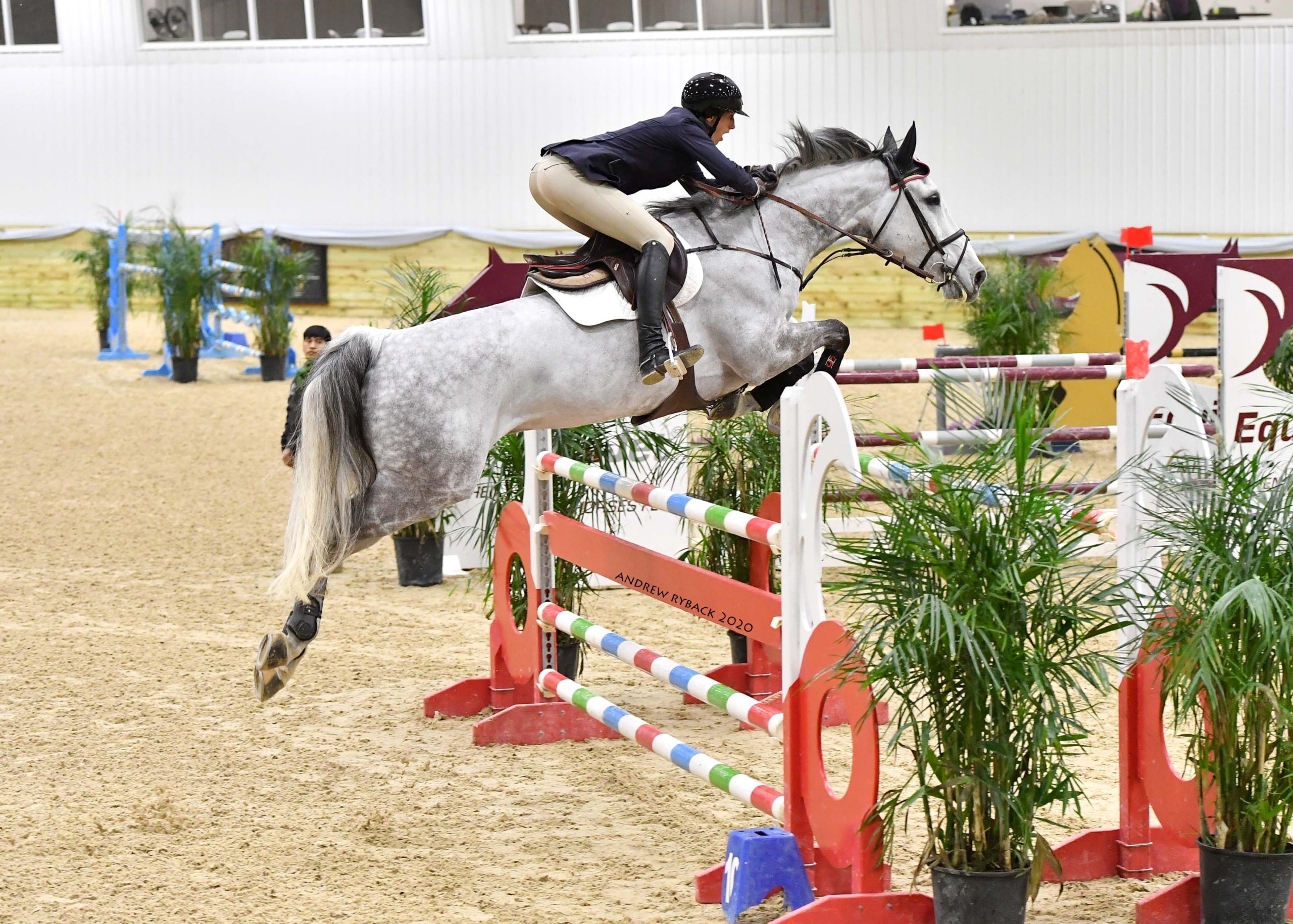 Thursday saw twenty entries representing four countries vying for the win in the $5,000 Welcome Stake 1.35m sponsored by CWD Sellier. The jump off offered just one inside turn after a combination making speed the determining factor. Five entries managed quick double clear rounds, but it was Shannon Hicks and Helen Gilbert's Al Pachini (Cheers Cassini x Lirbine) that stole the win by just a tenth of a second. Hicks and the eleven year old Warmblood gelding managed the fastest first round time of the class in 75.378 seconds, signaling that they would be strong competitors on the short course. The pair sped through the course, taking a sharp rollback turn after the combination and blazed through the timers at 32.117 seconds, about a tenth of a second quicker than the current leader, stealing the win. Hicks gave Al Pachini a well-deserved treat for his win and commented, "We went in there and went as fast as we could. He's kind of a funny horse. I have to ride every round – even the first round – like it's a jump off or a speed class because he doesn't go well otherwise. It's kind of all or nothing every single class. He jumped great tonight."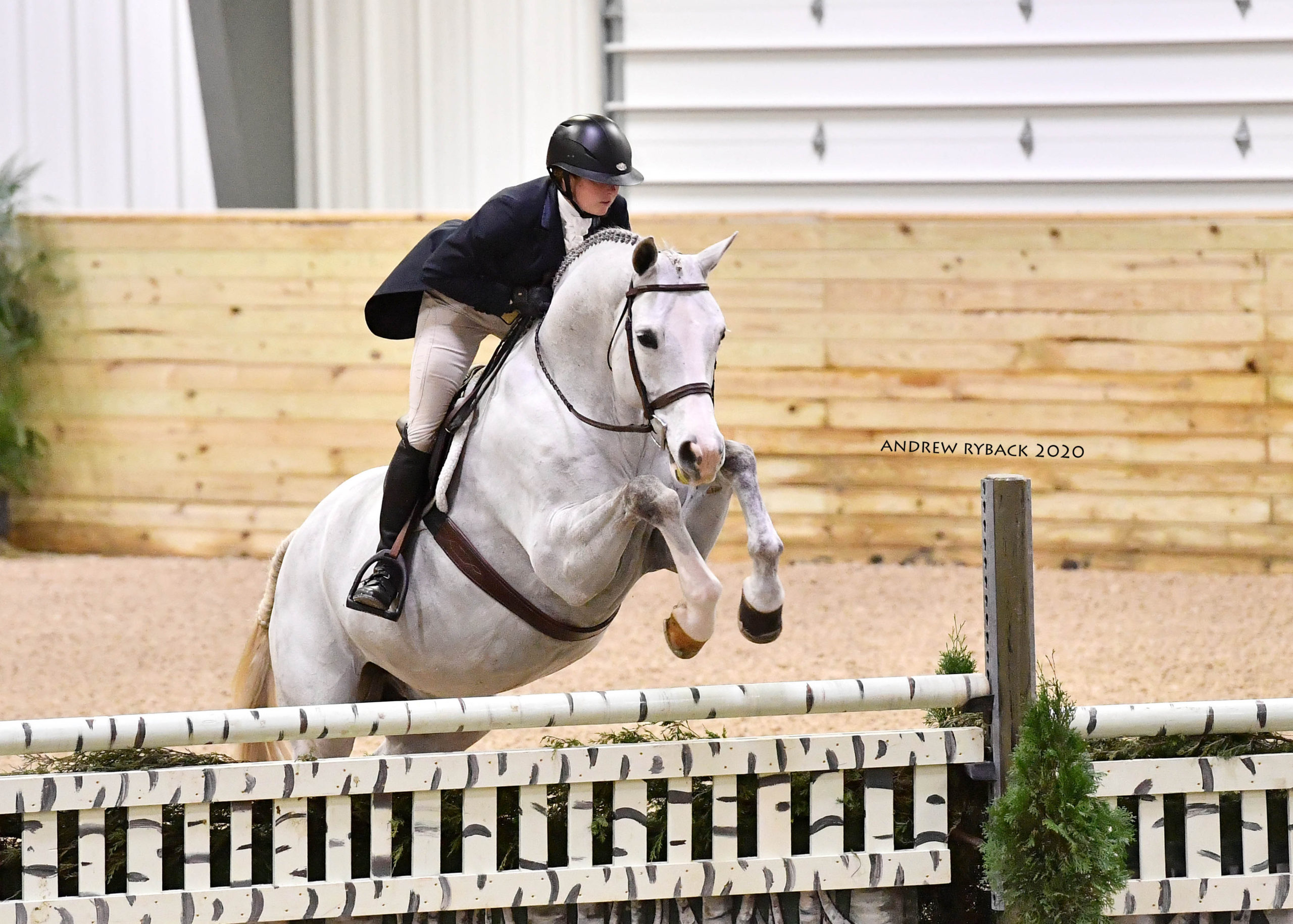 Twenty four stunning hunters took to the R+L arena for Friday's $5,000 USHJA National Hunter Derby. Competition was fierce with a cutoff score of 80 heading into the handy round, but it was Danielle Grice and Allison Reichenbach's High Life (Quarterback x Parma) that rose to the top of the class. Grice and the ten year old German Sport Horse gelding delivered a beautiful first round, taking all four high options for a score of 88.5. The pair returned for the handy round and flowed through the course with ease, taking all four high options perfectly in stride and navigating tidy inside turns. Grice and High Life earned a handy round score of 90, bringing their overall total to 178.5 and moving them in to first place. Grice took a moment to chat with us ringside about her win, "I've had High Life since he was six, he's eleven this year. He actually won his first derby here at World Equestrian Center, so it's fun to come back and be able to win again. He was just perfect today. It was really fun to cruise around on him."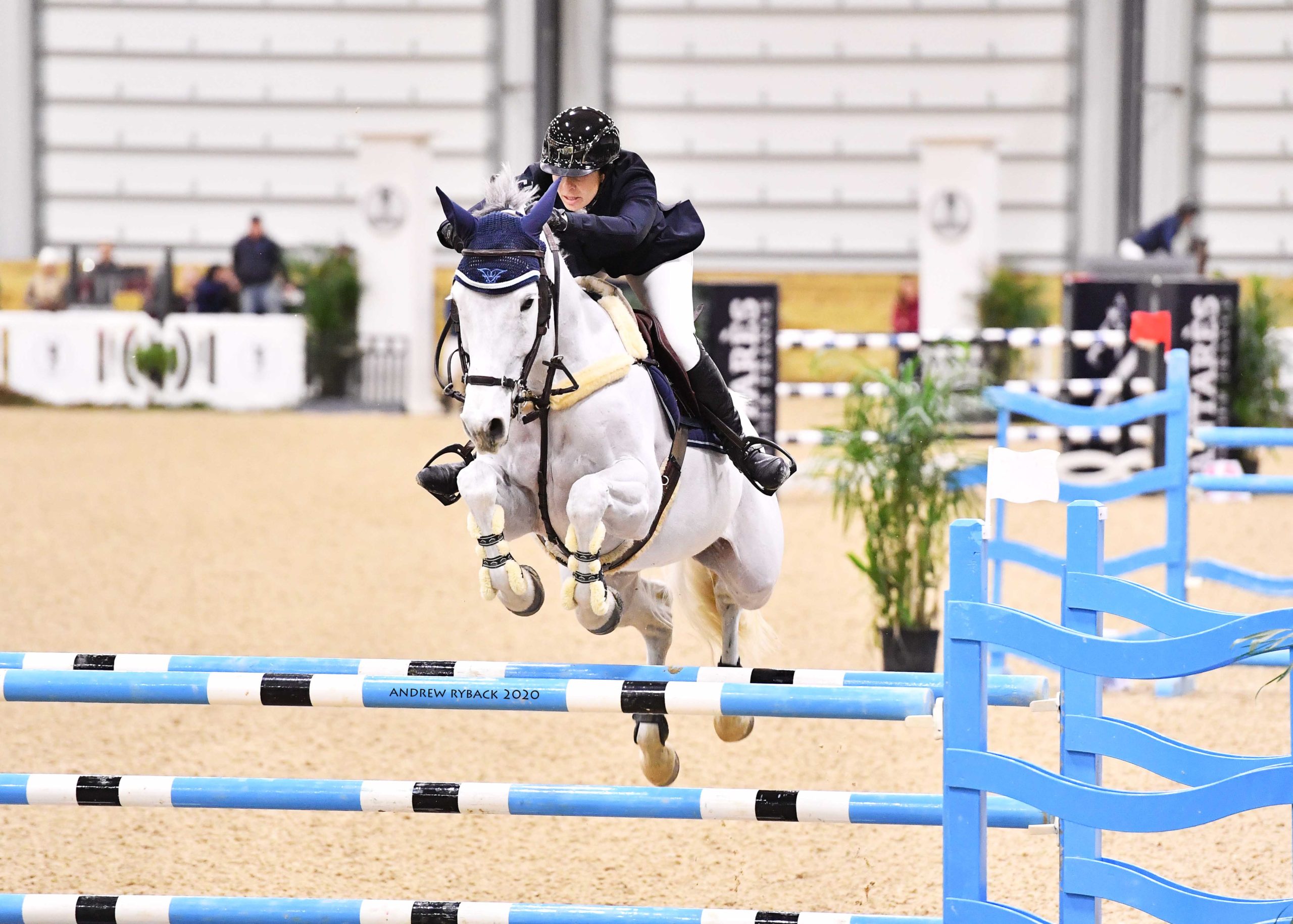 Saturday saw thrilling jumper action in the Sanctuary Arena for the $25,000 World Equestrian Center Grand Prix. The class drew seventeen entries to compete over a technical track that featured fifteen jumping efforts including a one-stride combination, a triple combination, rollback turns and several long approaches to single fences that allowed riders to really gallop. The jump off came down to just fractions of a second determining first and second place, but it was the always competitive Jill Gaffney and Freestyling Farms, LLC's Carlton Cafe (Carlton Clover x Moytura Spook) who snagged the win for the third time this Winter at WEC. Gaffney and the thirteen year old Irish Sport Horse mare were quick in the first round, jumping clear in a time of 67.902 seconds. The pair returned for the jump off, blazing through the first two jumps then picking up even more gallop on the long approach to fence eight. Gaffney and the athletic grey mare hugged the inside track to the next three fences, then galloped up the last line and through the timers at an incredible 38.397 seconds to take their third win of the Winter circuit.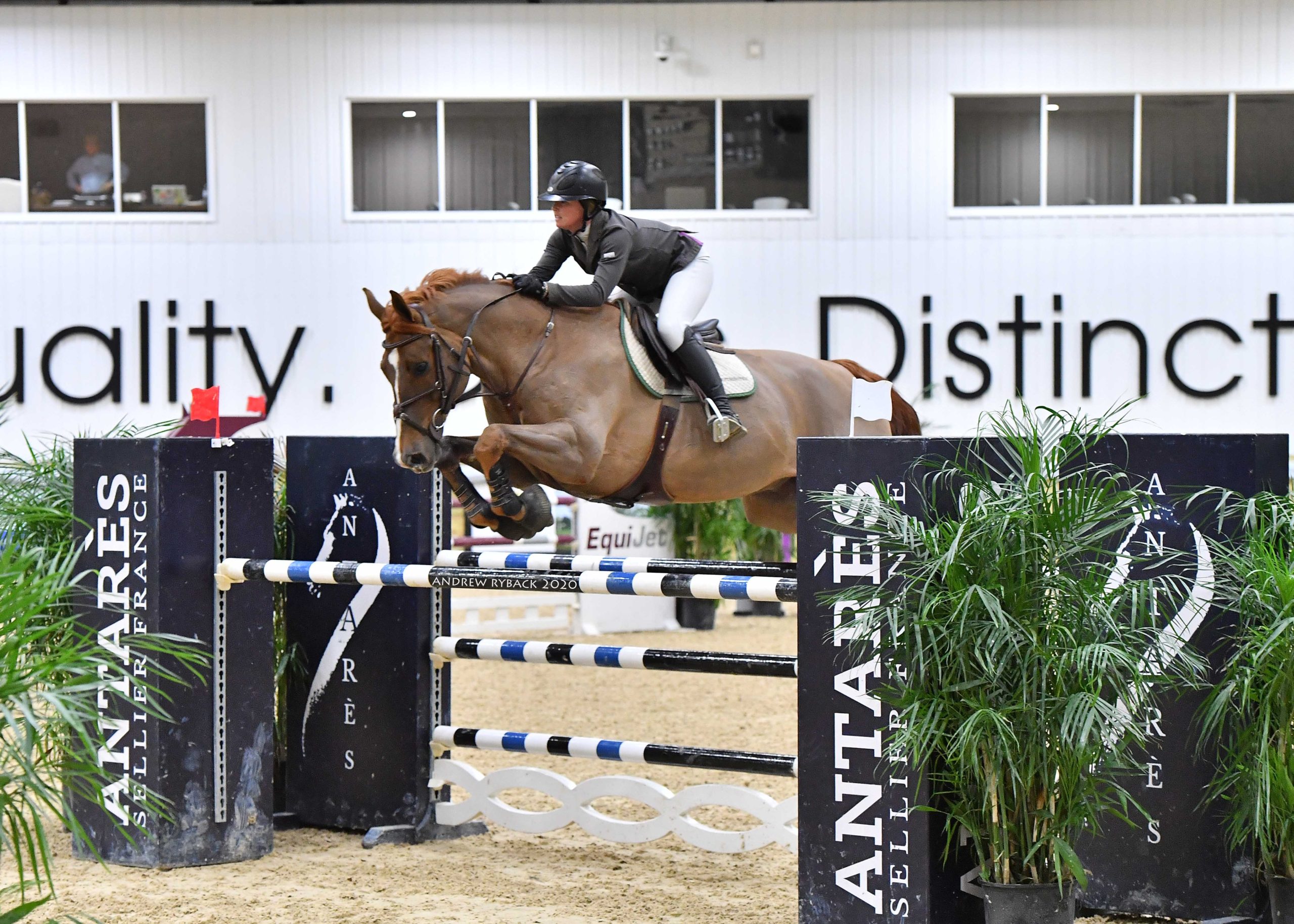 Saturday also saw the $7,500 Futures Prix 1.30m sponsored by Voltaire Design where twenty two entries vied for the win over a similar course to that of the Grand Prix. Reid Rickett held the top spot throughout the entire class aboard her own Banderas de Bornival (Converter x Poor Boy), earning her very first Futures Prix victory. Rickett and the twelve year old Belgian Warmblood gelding were quick in the first round, leaving all rails up in a time of 69.147 seconds, then continued straight to the jump off. The pair's speed and tidy inside turn to fence nine made up time and they galloped through the timers at 35.394 seconds, a time that would prove unbeatable for the remainder of the class. Rickett was thrilled with the win saying, "I'm so proud of him. This is the first Futures Prix I've ever won. I taught all day, so I was a little tired and just hoping to go clean and have a respectable, quick jump off. He felt really on his game, so after jump one in the jump off he took over and told me he wanted to keep going fast. Normally I'm one to pull around the corner and be really patient and be equitation-y, but I just kind of went for it today and he was game, too."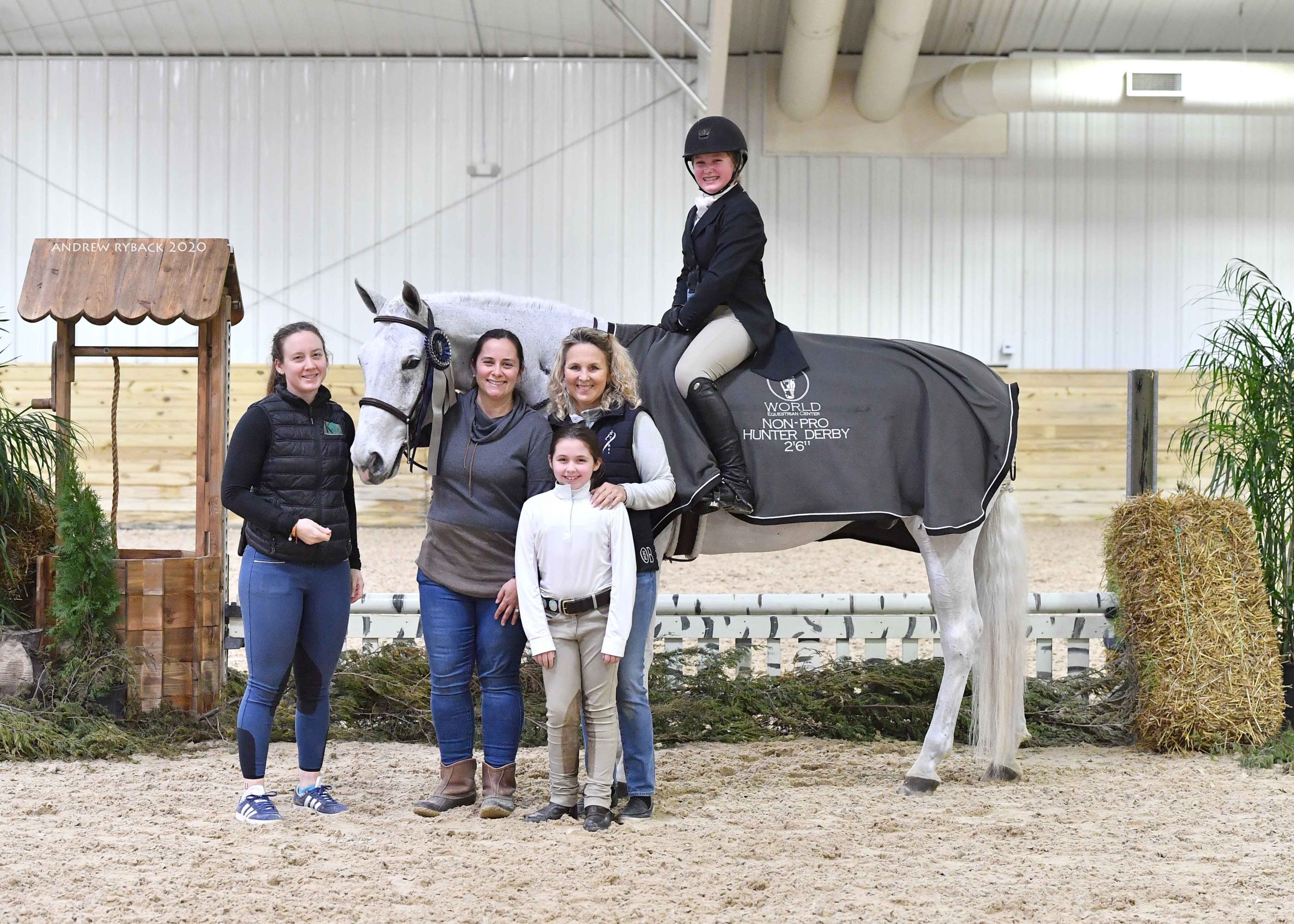 The Roberts Arena was the site of the $2,000 Non Pro Derby 2'6″ on Saturday. Twenty stunning entries contested the course, but it was Claire Giokas and Laura Giokas' In The No that took home the blue ribbon for the second week in a row. The pair also earned top ribbons throughout the week in the Intermediate Children's Hunters and Intermediate Children's Equitation.
Join us at World Equestrian Center for the remainder of the 'Winter in the Midwest' horse show circuit, encompassing 19 weeks of AA rated horse shows from December 4, 2019 to April 26, 2020. Highlights include the new WEC Premier Equitation Cup Qualifier Classes, two $10,000 USHJA National Hunter Derbies and a weekly $25,000 WEC Grand Prix. The WEC Winter in the Midwest prize list is available now online at www.wec.net with entries being accepted via www.horseshowing.com. Print prize lists are available at our horse show office or by emailing info@wec.net. Reservations for stalls, hay and bedding as well as RV spaces may all be made online as well at www.horseshowing.com. Once again in 2020 we are pleased to offer stalls for showing horses at $100.00.
Watch all of the action from the Sanctuary and the R+L arena online via ShowNet.biz. Tune in to WEC.net for the livestream link.
Photos courtesy of Andrew Ryback Photography.