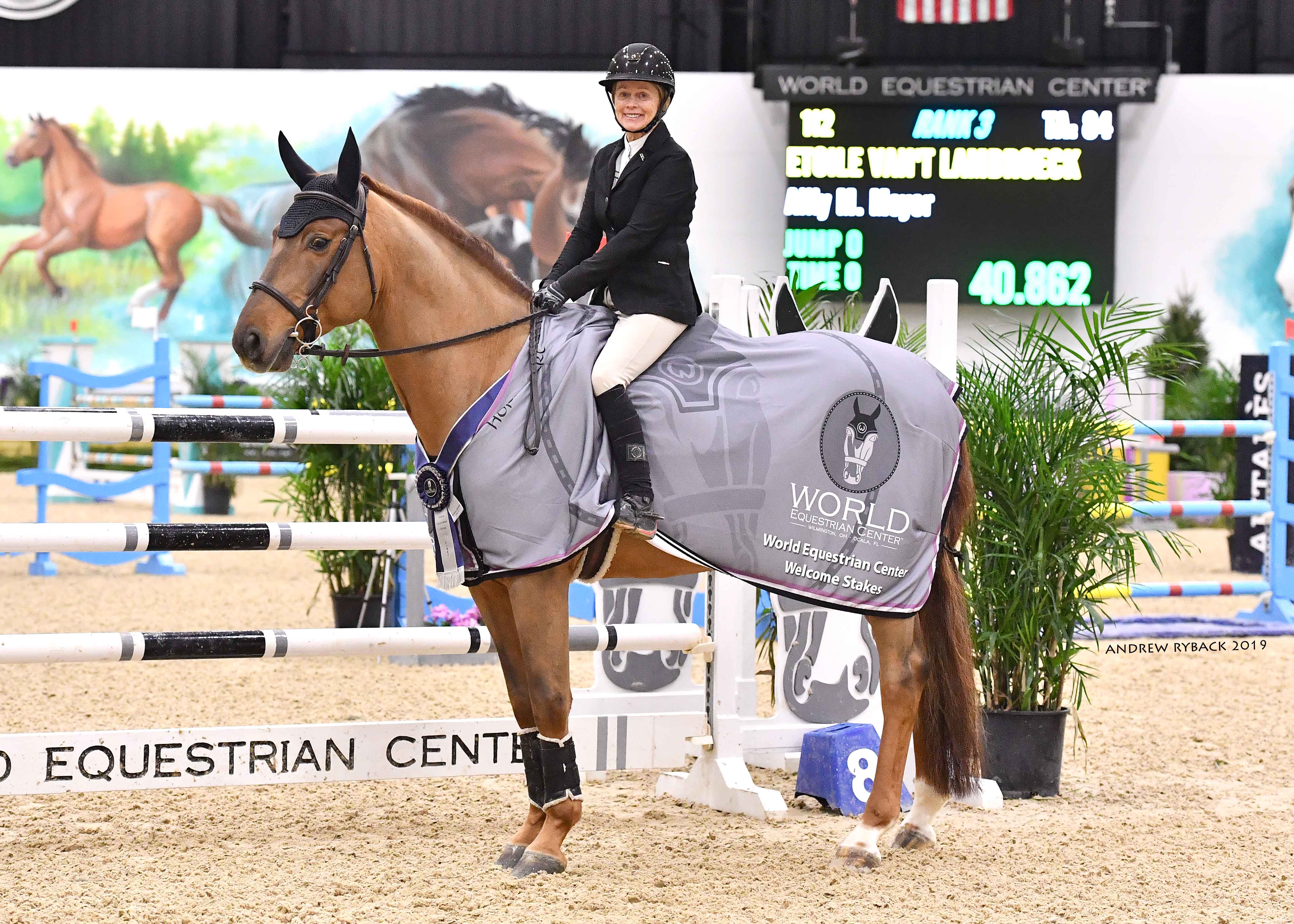 The World Equestrian Center has transformed from Autumn splendor to a Winter wonderland as we kick off our 19-week Winter in the Midwest circuit. Tonight twenty seven horses contested the $5,000 Welcome Stake 1.35m sponsored by CWD Sellier over a track designed by Thomas Hern Jr. of Plymouth, Massachusetts. Five entries managed double clear rounds but it was Karen Cudmore and Blair Cudmore's Coneja (Conejo) who emerged victorious, besting the second place finisher by just over half of a second.
The course for tonight's Welcome Stake featured multiple combinations, a liverpool and a triple bar. One of the first to take to the course was Alliy Moyer and Moyer Farm LLC's Etoile Van't Lambroeck (Kashmir Van Schuttershof x Stella). The pair have taken several top placings in Welcome Stakes and Grands Prix throughout the past few months, preparing them well for tonight's class. Moyer and the fifteen year old Belgian Warmblood mare took a steady approach to the first round, crossing the timers at 83.688 seconds just under the time allowed of 84 seconds. The pair continued straight to the jump off of the Table II 2b event, picking up speed and taking inside turns to fence two, five ab and seven, setting the time to beat with a clear round at 40.862 seconds.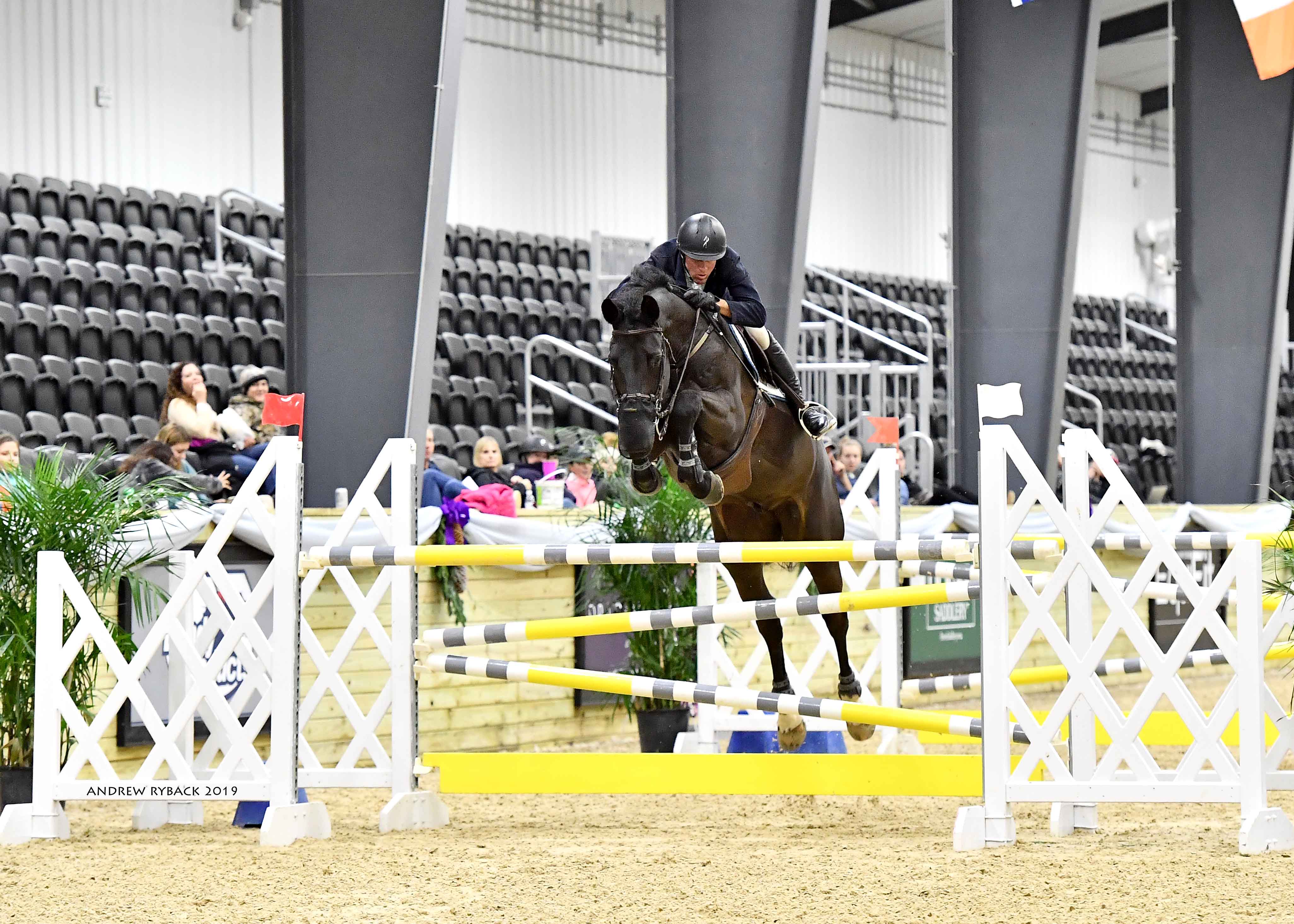 None were able to catch Moyer and Etoile Van't Lambroeck's quick jump off time until midway through the order when David Beisel and his own Essince W (Chacco Blue x Rossan) entered the ring. The pair were fresh off of a Welcome Stake win just three weeks ago at World Equestrian Center. Beisel and the ten year old KWPN gelding were determined to snag another win, jumping a faultless first round in their usual clear-the-standards style and crossing the timers at 78.268 seconds. The pair continued straight to the jump off, also opting for the inside track. Beisel and the scopey gelding soared over the final fence and through the timers, stopping the clock at 39.732 seconds to take the lead.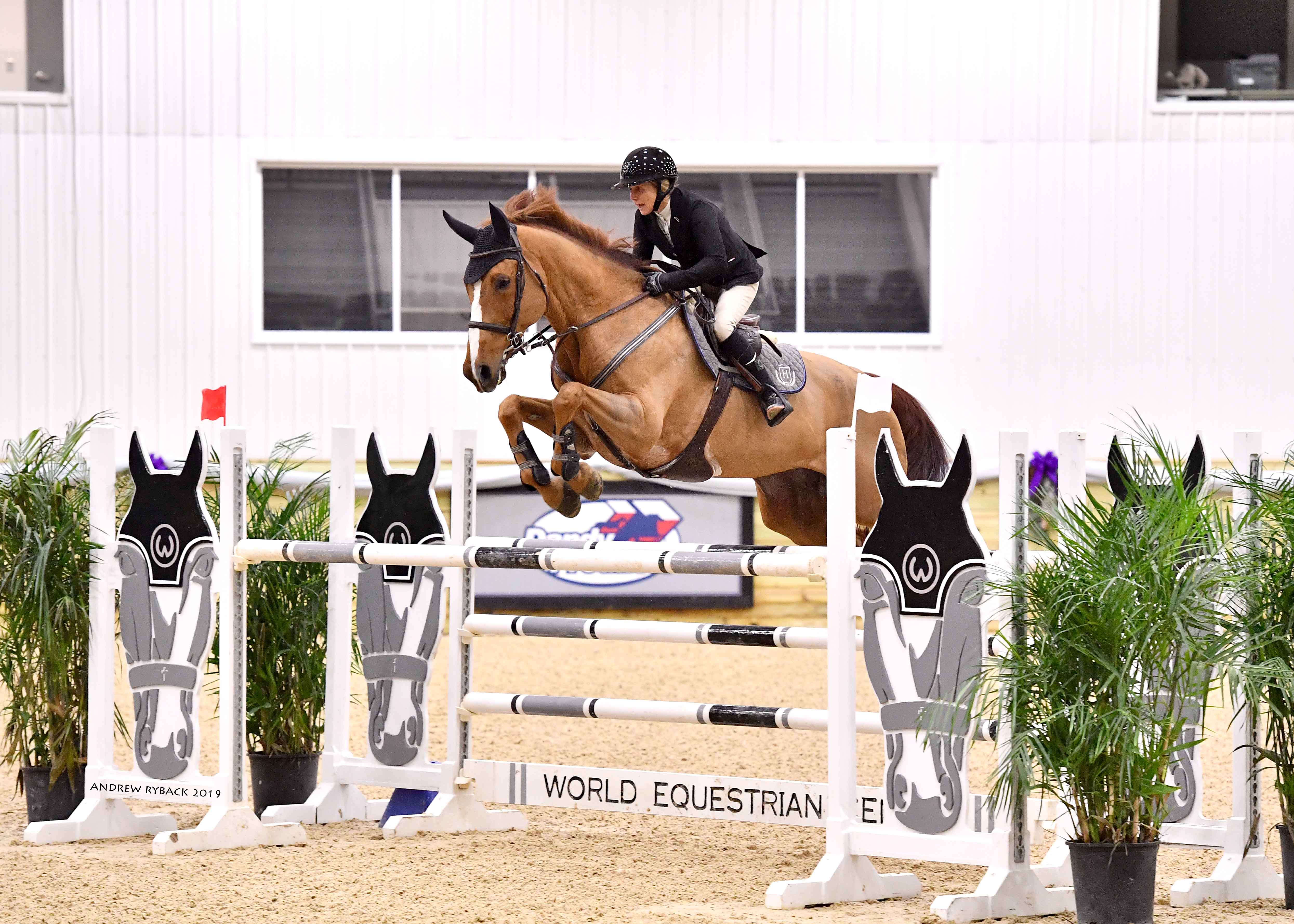 While their time seemed unbeatable, Beisel and Essince W did not hold their top spot for long. Karen Cudmore and Blair Cudmore's Coneja (Conejo) were next in the ring and were sure to challenge Beisel and Essince W's quick time. Cudmore and Coneja have traveled across the midwest over the past few months raking in top placings in Welcome Stakes and Grands Prix. Tonight Cudmore and the twelve year old Holsteiner mare were careful to leave all rails up in the first round, stopping the clock at 82.433 seconds. The pair continued straight to the jump off, knowing the time it would take to capture the lead and did just that in 39.165 seconds, moving Beisel to second place and Moyer and Etoile Van't Lambroeck to third place.
Cudmore took a minute to chat with us ringside about her win after the awards presentation, "I was eighteenth to go so I got to watch a few before we went, including my daughter who took fifth place. I was really happy with our rounds tonight. The time allowed was pretty tight and there were some difficult spots on the course, but I thought my horse was great. It's her first time in the ring since we've arrived this week and we haven't shown here since last year, but she does like this ring. She was fast and efficient in the first round, then in the jump off, there were a couple of tight turns and I think I got lucky in a few spots and had a good gallop at the end, which cinched the win. It was a fun course. There were a lot of good rides out there and I'm super pleased with how it went."
When asked about her background, Cudmore replied, "I'm a sixty year old Canadian who lives in Omaha, Nebraska with my husband and two kids who both ride. We're all into the horse business. We buy, breed and sell. We also do a lot of driving. We enjoy the sport a lot and just have fun jumping."
Cudmore also had a sense of humor about her mount in tonight's class, "Coneja is a home-bred horse. She definitely has a mind of her own. She's big and difficult. She's a lot of fun and has a lot of scope. A big ring like this really helps her because she's 17.2 hands and I'm all of 5'3″. A few numbers on me would help probably, but she rides okay and jumps fantastic, so it turned out to be a great class. We're looking forward to Saturday's Grand Prix."
$5,000 Welcome Stake 1.35m Results
Coneja, Karen Cudmore – 0 | 0 | 39.165
Essince W, David Beisel – 0 | 0 | 39.732
Etoile Van't Lambroeck – 0 | 0 | 40.862
Kennedy Vd Rechri, Julia Curtis – 0 | 0 | 42.588
Igor, Brooke Cudmore – 0 | 0 | 43.736
Erinus, Carly Campbell-Cooper – 0 | 1 | 47.541
Excentriek, Morgan Webster – 0 | 8 | 40.415
Clash II Heldenlaan Z, Lauren DiTallo – 0 | 8 | 42.262
Beorn, Tammy Provost – 0 | 16 | 58.651
Catch A Star HSS, Kevin McCarthy – 0 | – | –
Photos courtesy of Andrew Ryback Photography.