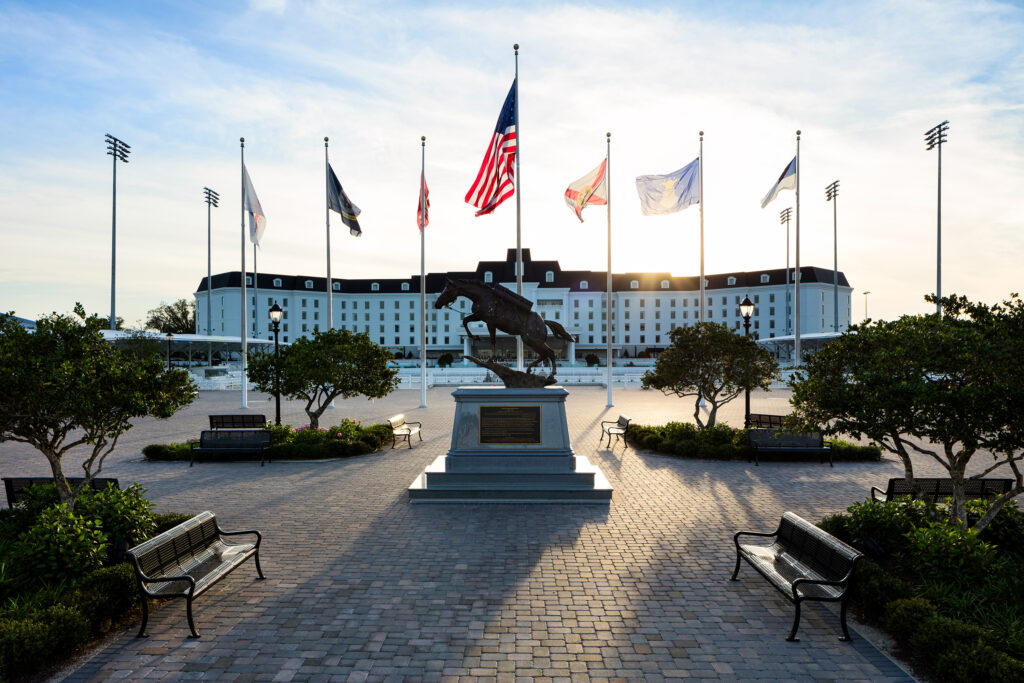 Ocala, FL – Ocala's largest Indoor Garage Sale is coming back to the World Equestrian Center – Ocala this weekend April 29-30, 2023 in Expo Center 2. The Super Gigantic Garage Sale has gathered more than 100 sellers for the event! Why waste time or gas driving all over town looking for garage sales – shop at one place and enjoy the cool air conditioning! Find hidden treasures galore including antiques, clothes, toys, jewelry, tools, collectibles, vintage items, furniture, horse equipment and so much more!
Advance tickets are $4 or $5 cash at the door. Kids 12 and under are Free.
Limited Early Bird Tickets are $10 each. Get in at 8:30am on Saturday to shop before the general public.
For more information regarding the Super Gigantic Garage Sale, click here.
Please be advised that World Equestrian Center's outlet restaurants, Ralph's Burger & Sandwich Shop, Filo's Mexican Cantina, Viola & Dot's Italian Kitchen & Pizzeria and Miss Tilly's Lollipops, will be closed April 24-28. We apologize for any inconvenience.
During this time, guests and visitors can still enjoy normal operating hours at all three restaurants within The Equestrian Hotel: Yellow Pony Pub & Garden, Stirrups and Emma's Patisserie and our on-site retailers. For more information on dining at WEC, click here. See our list of on-site retailers here.
Upcoming Events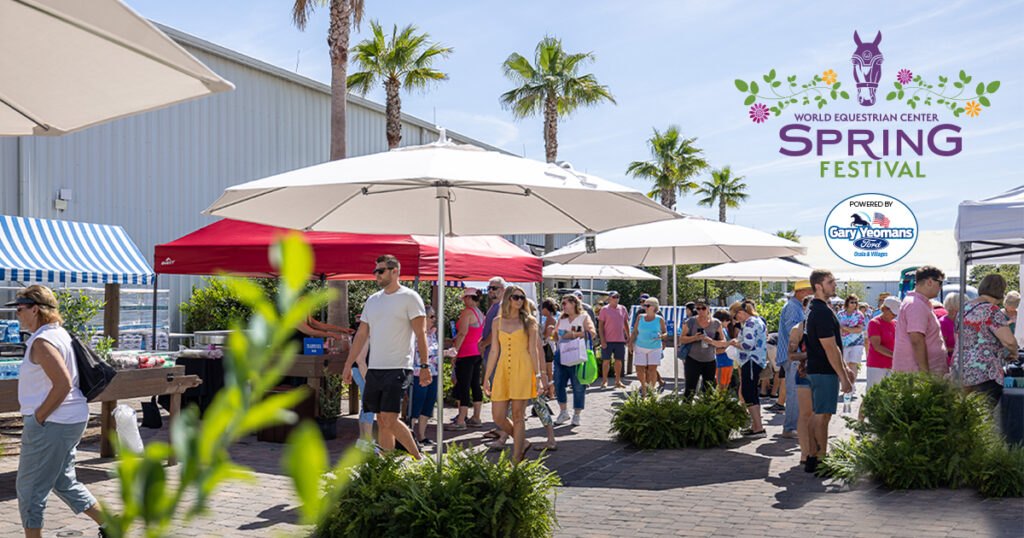 WEC Spring Festival powered by Gary Yeomans Ford
May 13, 2023
Bring the family to the WEC Grand Plaza as we roll out an outdoor celebration of spring with live music, yard games, a kid's zone and more at the WEC Spring Festival powered by Gary Yeomans Ford, formally known as WEC Blueberry Festival. Enjoy the freshest seasonal fare and shop at the artisanal farmer's market with a wide-ranging assortment of handmade goods from local vendors. Register separately for the 8am Daisy Dash 5K Run and purchase tickets for the 9am pancake breakfast at the links below.
8am to 4pm | WEC Spring Festival Live music, local vendors, children's activities. Free admission.
8am Start | Daisy Dash 5K Race Separate race registry required at runsignup.com
9am to 10:30am | Pancake Breakfast $20 per person (kids under 6 free with adult ticket); Pre-purchase online HERE.
If you are interested in being a vendor for this event please contact the exclusive event organizer, Kim Kent at kimberly.kent@wec.net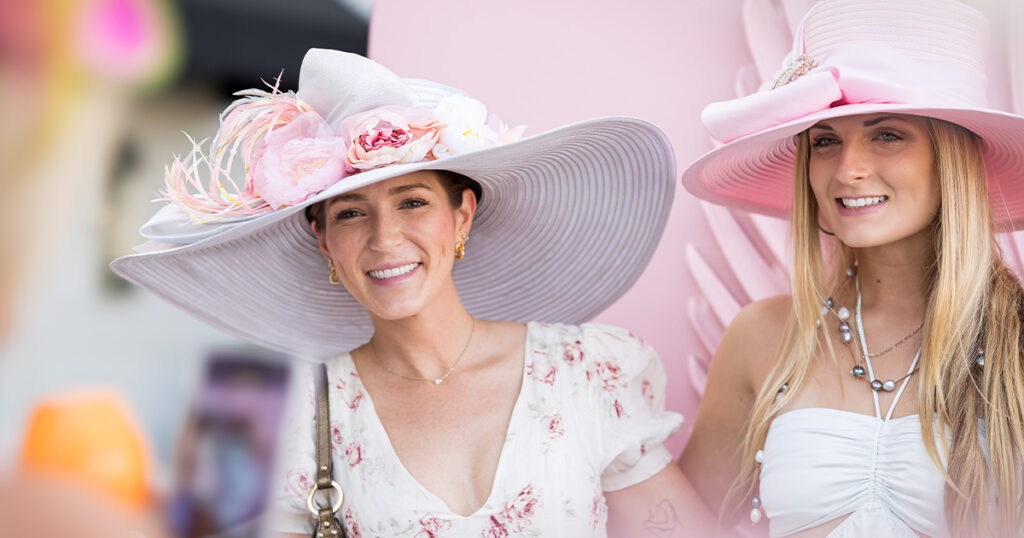 Kentucky Derby Hat Party
Don your biggest hats and your best derby attire and join us for juleps on the terrace! Saturday, May 6 from 5pm-7:30pm, your favorite Kentucky Derby Hat Party reception is back at The Equestrian Hotel. The Hat Party features a Jumbotron view of the race, small plates, live music and an included bar serving select derby-day cocktails. Tickets come with your choice of a derby hat or a Woodford bourbon bottle. Event is 21+. Secure your tickets for the event online at www.showclix.com/event/2023-kentucky-derby-hat-party.
Kentucky Derby Viewing Party
Starting after 5pm, join us for the Kentucky Derby FREE viewing in the Grand Outdoor Arena. Watch the 2023 Kentucky Derby unfold on the Jumbotrons. Come dressed in your derby best and dine with us at the many restaurants around the property or enjoy special offerings from the WEC food truck. Sip classic derby-day cocktails at the on-site cash bars. Bring the whole family and join us for this free event!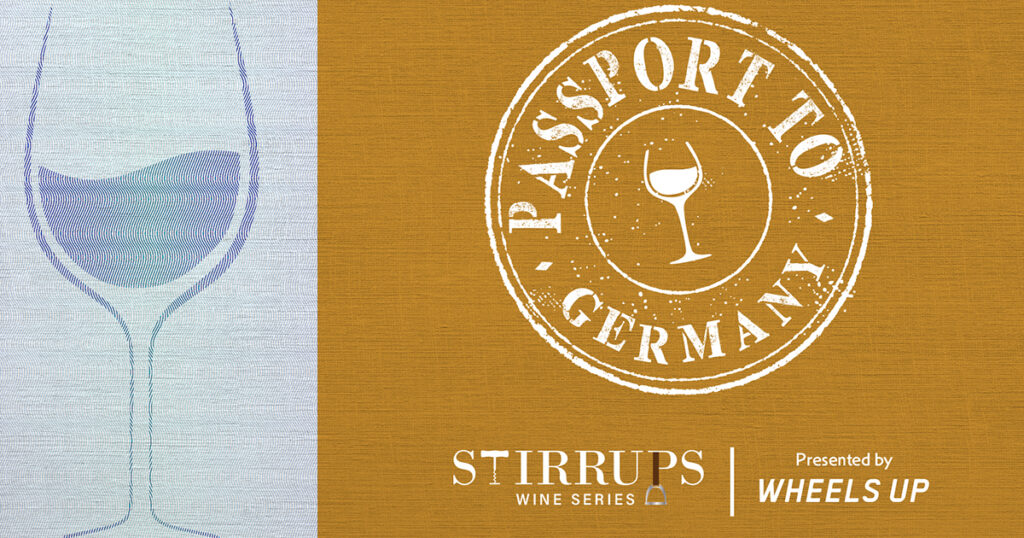 Passport to Germany
Journey with us to Germany by way of food and wine! Passport to Germany, the second event in our 2023 Wine Series presented by Wheels Up, will transport you across the sea in exploration of the flavors of German culture on Friday, June 16. Gather on the terrace from 6:30pm-9pm to explore German culture and taste over 100 selections from the country's unique wine-making regions. Small plates, wine samples and live music provided throughout the evening. Visit www.showclix.com/event/2023-stirrups-wine-series-germany to secure your ticket for the event and view the full menu. Event is 21+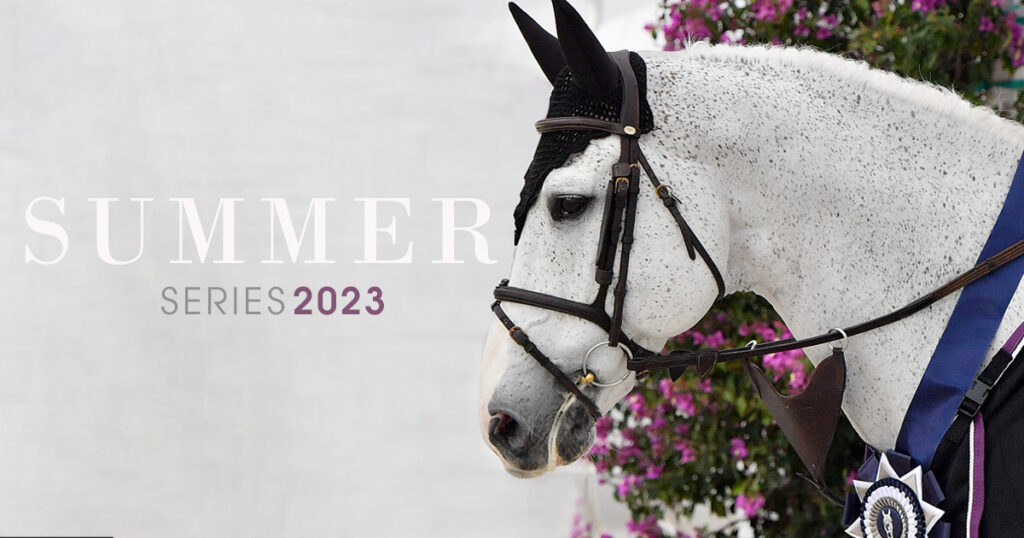 2023 Ocala Summer Series
Entries and stall reservations are now open for the 2023 Ocala Summer Series featuring nine-weeks of elite hunter/jumper competition sanctioned by US Equestrian (USEF) from June 13 through August 13, 2023. In appreciation for our exhibitors and acknowledgement of a successful winter circuit and current economic challenges, World Equestrian Center has waived stall deposits. Click here to place entries, reserve stalls and view the prize list.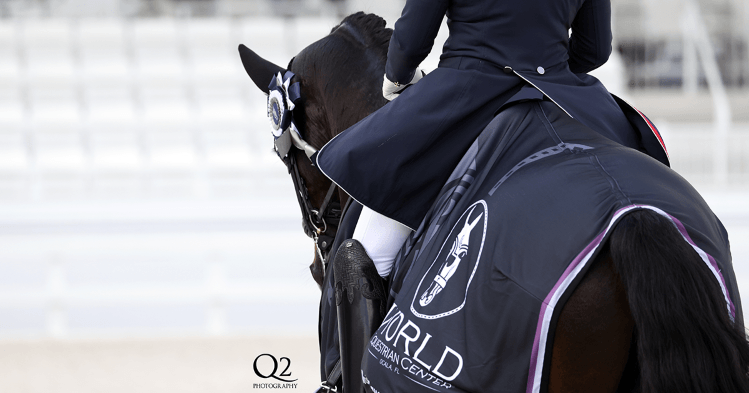 2023 World Equestrian Center – Ocala Dressage
Top caliber dressage will return to World Equestrian Center – Ocala in 2023 when the venue hosts ten dressage competitions, presented by Hampton Green Farm and Discover Dressage. The schedule includes three Fédération Equestre International (FEI) internationally rated CDI3* shows and two CDI-W (World Cup Qualifying) shows with concurrent US Equestrian (USEF)/United States Dressage Federation-rated (USDF) classes as well as five additional nationally rated events (Pending USEF & FEI Approval). Click here for prize lists and more information.
Worship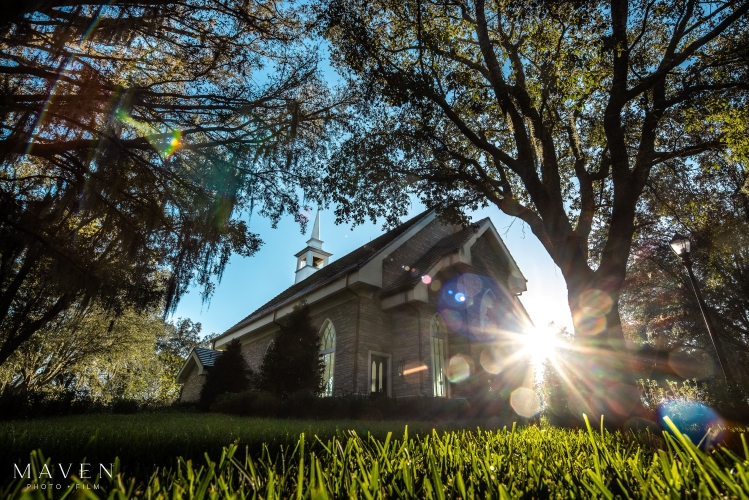 World Equestrian Center – Ocala is now hosting Sunday Services with Chaplain Edwin in The Chapel. The Sunday Services are 20 minutes long and open to all. Attendees can park by Barns E & F. See the weekly Chapel Service schedule below.
Sunday Services
7am – English
10am – English
11am – Spanish
Wednesday Service
6:30pm – English
What To Do
Shopping
Visit all of the vendors at World Equestrian Center – Ocala to finish your holiday shopping and pick up that special something for that special someone. Find a gift for everyone on your list at our amazing retailers, listed below along with their locations:
The Equestrian Hotel:
Lugano Diamonds
The Debonair Collection
Mr. Pickles & Sailor Bear Toy Shoppe
Calluna Spa
CaptiveOne Advisors Arena – Arena 1:
Ariat International
Arista Equestrian
Gordon Reiss Insurance
Firm Water Road
Walden Performance and Recovery
UF Health Arena – Arena 2:
Stellina LLC/Romitelli Boots
Haala Fashion LLC
Farmhouse Chiropractic
Hats Off Boutique
Kelsey's Rhinestones
The Farm House, Inc.
La Mundial Boots
Rough Cut Boutique
Arena 3:
Exceptional Equestrian, Inc
IDA Development, LLC
I Love My Horse
Basic Equine Health, LLC
Everleigh Collection LLC
Parlanti
Chi Rho Ranch
Arena 4:
The Farm House, Inc.
Odette, LLC
Sudden Impulse Boutique
AGM Beyond Leather
Exceptional Equestrian, Inc
Grey Fox Designs
UF Veterinary Hospital at World Equestrian Center – Ocala
The UF Veterinary Hospital at WEC offers leading-edge care to equine athletes on site as well as horses from the surrounding area. We offer personalized service as well as a range of treatments and aids to ensure your horse performs at its best.
We offer ACVSMR performance evaluations and provide several rehabilitation modalities as well as state-of-the art diagnostic imaging. Our sports medicine specialists are supported by on-site board-certified veterinary radiologists with specialty certification in equine diagnostic imaging who provide real-time feedback on imaging and perform complicated imaging during your horse's visit, ensuring that we provide the highest quality imaging for your horse. We offer standing CT scan, standing PET scan, standing MRI and high-powered X-ray equipment. To learn more about our offerings, visit hospitals.vetmed.ufl.edu/wec or contact us at (352) 414-3858 for information and appointments.
Hours of operation:
Equine Hospital
Mon-Sat, 8am-5pm
Small Animal Hospital
Mon-Sun, 8am-5pm
A Sudden Impulse Boutique
Stop by A Sudden Impulse Boutique for the latest and greatest World Equestrian Center branded merchandise. A Sudden Impulse is located in Arena 4, right behind Miss Tilly's Lollipops. The boutique features a collection of jewelry, beautiful apparel and perfect gifts for your family and friends. A Sudden Impulse is also the exclusive shop for custom embroidery, engraving and printing at World Equestrian Center – Ocala.
Use code BLOG for 10% off online of purchases.
Visit A Sudden Impulse at WEC or purchase your items online at suddenimpulse.com.
Entertainment
Each week The Yellow Pony Pub & Garden located within The Equestrian Hotel hosts live entertainment from 6pm-9:30pm. Here is the entertainment lineup for this week:
Wednesday, April 26 | Matt Capps
Thursday, April 27 | Mark Z
Friday, April 28 | Jaclyn Arnold
Saturday, April 29 | The Mudds
Day at the Spa
Spring Clean the Mind and Body
Head into spring with a fresh new look! For the month of April, receive 20% off all hair color services.
Rejuvenate the body, mind and spirit in our 7,000-square-foot, full-service Calluna Spa. Featuring multiple massage treatments, body wraps, facials, manicures, pedicures and a hair salon for men and women.
Hours:
Monday – Saturday, 9am-7pm
Sunday, 10am-5pm
Call 352.414.7862 to book your appointment or click here.
In Need of a Doctor Visit?
World Equestrian Center – Ocala would like to welcome LifeForce Healthcare, LLC as the facility's personal on-call primary care service. LifeForce Healthcare will be available to the venue's exhibitors, visitors, vendors and guests for on-call medical provider visits at and around the World Equestrian Center – Ocala facility. Call 352.873.3800 to book your on-call appointment today.
Where to Eat
Located Within The Equestrian Hotel:
Stirrups Restaurant
Prime steaks and chops, sustainable Florida seafood and southern inspired seasonal specialties, served in a refined dining room and terrace overlooking the Grand Outdoor Arena.
Breakfast: Monday-Friday: 6:30am-11am | Saturday-Sunday: 6:30am-1pm
Dinner: Sunday-Thursday, 5pm-9pm | Friday-Saturday, 5pm-10pm
352.414.7864
Yellow Pony Pub & Garden
Boasting an outdoor patio and fireplace, this lobby gastro lounge offers shareable starters, pub fare, traditional draft beers, bourbons and whiskeys.
Sunday-Thursday, 11am-12am | Friday-Saturday, 11am-1am
352.414.7865
Emma's Patisserie
A blissful, freshly baked array of authentic French macarons and European-inspired pastries are served within an ambiance of old-world elegance at this very special shop located within the Equestrian Hotel.
Open daily: 6am-8pm
352.414.7866
Restaurants throughout the facility:
Viola & Dot's Italian Kitchen & Pizzeria
Design your own salad or pasta masterpiece with an assortment of delicious meats and toppings. Viola & Dot's features pizzas and calzones crafted with homemade dough, classic Italian entrees and decadent sweet desserts.
Open Daily | 11am-8pm
Closed April 24-28
352.414.7877

Ralph's Burger & Sandwich Shop
A classic, diner-inspired menu with a few contemporary upgrades! Ralph's invites you to enjoy signature burgers, salads and sandwiches topped off with a homemade milkshake. Open for lunch and dinner, start your day with a breakfast sandwich or enjoy an evening slice of pie.

Breakfast 6am-11am | Lunch/Dinner 11am-8pm
Closed Mondays & Tuesdays
May 1 & 2 | Breakfast 6:30am-11am | Lunch/Dinner 11am-7pm
Closed April 24-28
352.414.7875
Miss Tilly's Lollipops
Indulging is strongly encouraged at this unique sweet shop where specialty ice cream flavors and homemade fudge are the stars. With an array of chocolates, confections and coffees, Miss Tilly's is the perfect place for a tasty treat.
Wednesday-Sunday | 11am – 8pm
Closed Monday & Tuesdays
Closed April 24-28
352.414.7878
Filo's Mexican Cantina
Traditional Mexican flavors coupled with custom-made convenience. Filo's serves up street tacos, burritos, quesadillas and much more in a vibrant dining room and open-air patio.
Open Daily | 11am-8pm
Closed April 24-28
352.414.7876