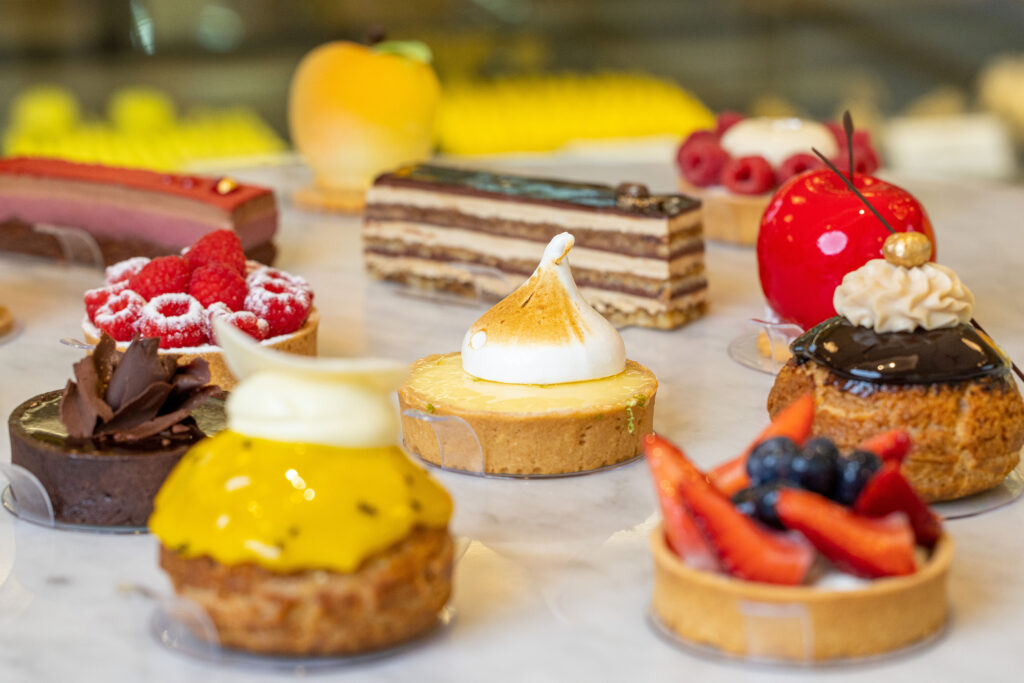 Ocala, FL – World Equestrian Center – Ocala is joining in the National Dessert Day celebration through October 15! Swing by Emma's Patisserie at The Equestrian Hotel and savor a delightful 10% discount on all desserts and macarons in honor of this sweet occasion. Act fast, as this offer is available for a limited time only!
With the arrival of autumn, the weather is turning just right for some outdoor dining at Yellow Pony Pub & Garden. Revel in the tunes of live music every Wednesday through Saturday, starting at 6pm and playing until 9:30pm. Be sure to consult the WEC Calendar to discover this week's featured performers.
Calling all hunter/jumper, dressage and western riders! Join World Equestrian Center – Ocala for the last two Fall Open Schooling Days on October 13-14. The venue will open five arenas with two designated for flat work, there will be two dressage rings located within the CaptiveOne Advisors Indoor Arena 1, hunter jumps will be set in UF Health Indoor Arena 2 and jumpers will take over Indoor Arena 3. Schooling is open from 9am-3pm on each schooling day.
Registration is required. $40/horse per day. Click here for important information and registration details.
Dates:
Friday, October 13
Saturday, October 14
Schooling Areas:
-CaptiveOne Advisors Indoor Arena 1 – Dressage
-UF Health Indoor Arena 2 – Hunters
9am-11am | 2'0"-2'3"
11am-1pm | 2'6"-3'0"
1pm-3pm | 3'3"-3'6"
-Indoor Arena 3 – Jumpers
9am-11am | .80m-1.0m
11am-1pm | 1.05m-1.15m
1pm-3pm | 1.20m-1.30m
-Indoor Arena 4 – Open Flat
-Indoor Arena 5 – Open Flat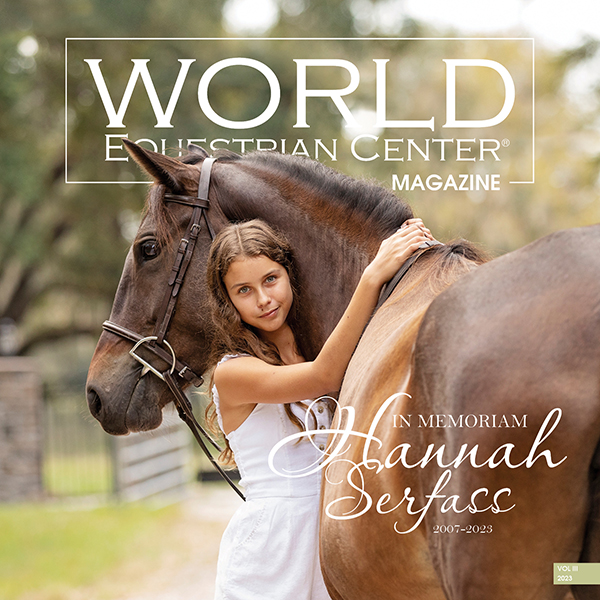 Grab a free copy of the World Equestrian Center VOL III 2023 Magazine in the CaptiveOne Advisors Arena 1 lobby or read the issue online here!
Upcoming Events!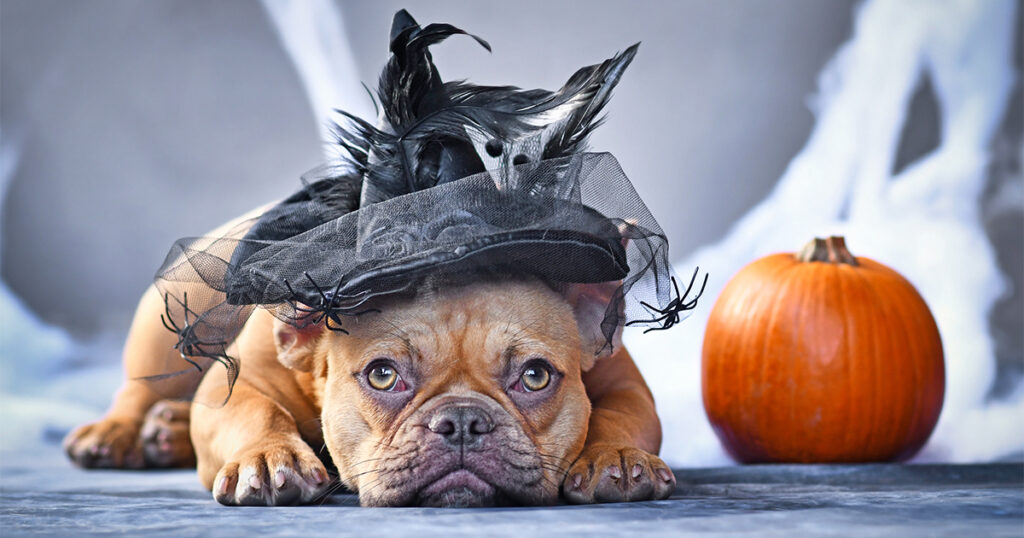 Calling all Ocala dog owners, join us for the first-ever Hocus Pawcus Canine Costume Contest Saturday, October 28 from 4pm to 6pm in Expo Center 2. This free social event is guaranteed to be a barking good time. Owners and pets alike are encouraged to dress in their Halloween best to compete for top-dog prizes in a selection of costume categories, including: 
Best-in-Show (Owner/Dog Combination)
Funniest Dog Costume
Most Original Dog Costume
Impressive prizes are on-the-line, including gift cards, WEC merchandise and more. Final selection for winners will take place live at 5:30pm. Don't miss the opportunity to spend the afternoon socializing with your furry friends, enjoying canine vendors and entertainment, as well as all your fall favorites for humans and pups from the WEC food truck and cash bars. Ocala animal welfare non-profit Voices of Change Animal League (VOCAL) will showcase several of their adorable, adoptable dogs at the event.
Please be advised:
Dogs must wear a collar with ID tags and remain leashed and attended to at all times
Dogs must be current on all required vaccinations
Please refrain from bringing in-tact male dogs, female dogs in heat or puppies less than 8-weeks old
Owners will be responsible for all actions and any damages caused by their dogs
Owners must clean up after their dogs

Calling all ghosts, super heroes, princesses and monsters, too! They're all invited and so are you to celebrate Halloween in the WEC Grand Plaza from 1pm-3pm on Sunday, October 29.
Bring the family to trick-or-treat at retailers and restaurants throughout the Grand Plaza. Decorate cookies and pumpkins courtesy of Signature Brands and pose for a photo of the family all dressed up. A spirited balloon artist will be on the plaza creating spooky balloon creatures for the kids.
Free event, leashed dogs welcome.
Please note: all pumpkins, cookies and candy will be first-come, first-served and available as supplies last.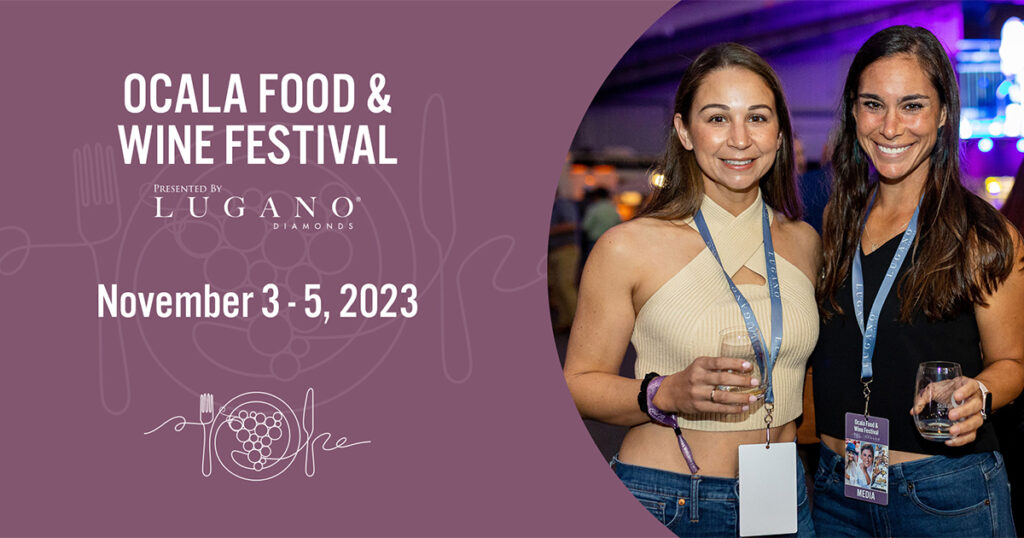 Third Annual Ocala Food & Wine Festival presented by Lugano Diamonds | November 3-5
The third annual Ocala Food & Wine Festival presented by Lugano Diamonds returns to World Equestrian Center November 3-5. The 2023 event is a celebrity-chef-led celebration featuring three days of culinary competition, beer, wine and spirits education and samples of extraordinary cuisine. Tickets are now on sale!
The 2023 Ocala Food & Wine Festival is a 21+ event.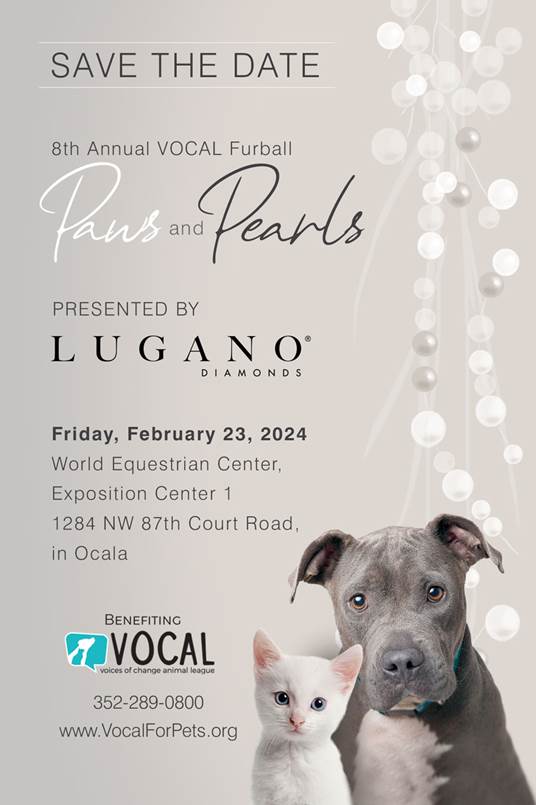 8th Annual VOCAL Furball, Paws and Pearls presented by Lugano Diamonds
Save the date for the 8th Annual VOCAL Furball, Paws and Pearls presented by Lugano Diamonds on Friday, February 23, 2024. Visit https://vocalforpets.org to learn more about the organization and event.
Upcoming Horse Shows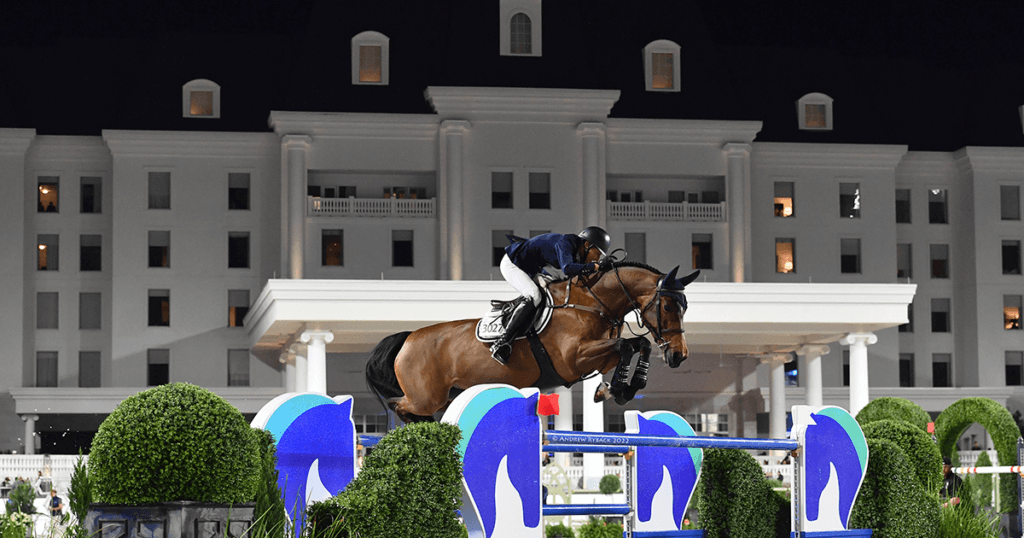 2023 November & December Show Series
Entries and stall reservations are now open for the World Equestrian Center – Ocala 2023 November & December Show Series featuring four-weeks of Premier Hunter/Level 6 Jumper competition sanctioned by US Equestrian (USEF).
The series consists of two-weeks of national level hunter/jumper competition from November 8-19 and new for 2023, the December Series will host two weeks of Fédération Equestre International (FEI) CSI3* from December 5-17 amid WEC – Ocala's enchanted Winter Wonderland, a captivating festival with more than a million twinkling lights for the holiday season on full display from November 24-December 23, 2023.
Catch the thrilling action on Saturday Nights from the terrace of The Equestrian Hotel while enjoying a three-course chef's dinner with complimentary beer and wine during The Grand Prix Dining Experience presented by Wheels Up.

2024 Winter Spectacular Show Series
World Equestrian Center – Ocala (WEC) presents the 2024 Winter Spectacular Show Series sanctioned by US Equestrian (USEF) held from January 2-March 24, 2024. WEC – Ocala is pleased to announce circuit stalls/paddocks and entries are now OPEN for the 12-week hunter/jumper circuit featuring Premier Hunter/Level 6 Jumper competition and five-weeks of Fédération Equestre International (FEI) competition.
The circuit is slated to be the best yet with exciting additions to the schedule and facility, including a sixth climate-controlled indoor arena and seven additional outdoor arenas for schooling and exhibition. The five-weeks of FEI international show jumping competition will include three weeks of CSI3* competition from February 13-March 3, 2024 and a week of CSI2* and CSI4* competition during week X from March 5-10, 2024. The circuit will come to an exhilarating close with the Longines League of Nations™ qualifying event on March 20-24, 2024.
Mark your calendars for the remaining WEC Dressage events in 2023
October 21-22, 2023 – USEF/USDF
November 16-19, 2023 – CDI3* and USEF/USDF competition
December 7-10, 2023 – CDI-W and USEF/USDF competition
To view the Prize Lists and place entries click HERE.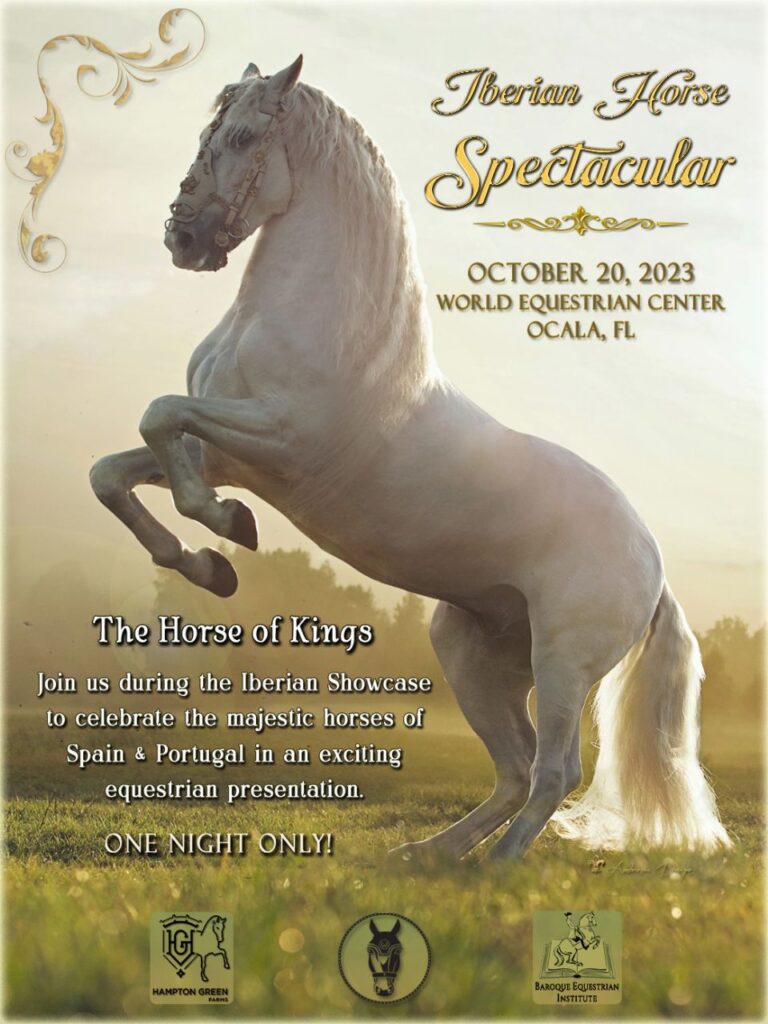 The October Dressage competition from October 20-22 will showcase the Iberian Horse Spectacular. Iberian breeds are invited to compete at all FEI levels from Young Horse through Grand Prix for special prizes. A highlight of the weekend is a one-night-only event on Friday, October 20, celebrating the majestic horses of Spain and Portugal in an exciting equestrian presentation. Brought to you by Hampton Green Farm and the Baroque Equestrian Institute, the IBERICON reception and exhibition will include PRE, Andalusian and Lusitano horses showing their signature movements in traditional dressage as well as costumes of the region.
Doors open at 6pm for the IBERICON reception, immediately followed by the Iberian Horse Spectacular, which begins at 8pm in Arena 1. The event is free and open to the public and free parking is available, while VIP seating is available for ad sponsors. CLICK HERE for information about the competition, or visit the Hampton Green Farm Facebook page and Baroque Equestrian Institute Facebook page for display and advertising information.
Worship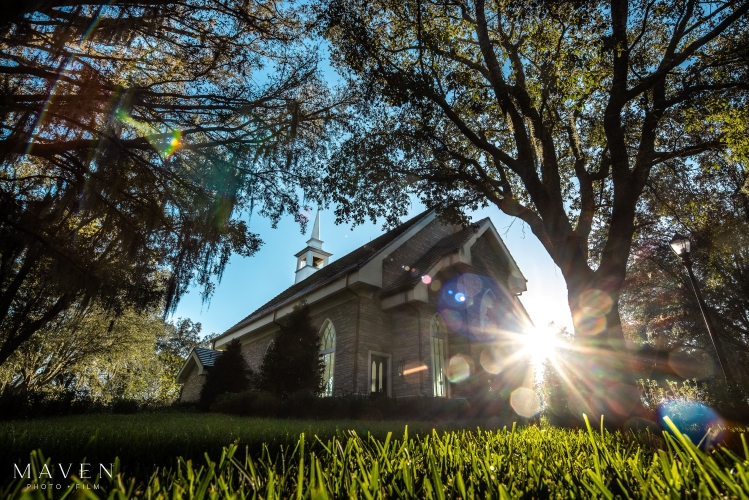 World Equestrian Center – Ocala is now hosting Sunday Services with Chaplain Edwin in The Chapel. The Sunday Services are 20 minutes long and open to all. Attendees can park by Barns E & F. See the weekly Chapel Service schedule below.
Sunday Services
7am – English
10am – English
11am – Spanish
Wednesday Service
6:30pm – English
What To Do
Shopping
Visit all of the vendors at World Equestrian Center – Ocala to finish your holiday shopping and pick up that special something for that special someone. Find a gift for everyone on your list at our amazing retailers, listed below along with their locations:
The Equestrian Hotel:
Lugano Diamonds
The Debonair Collection
Mr. Pickles & Sailor Bear Toy Shoppe
Calluna Spa
John Craig – Coming Soon!
CaptiveOne Advisors Arena – Arena 1:
Ariat International
Gordon Reiss Insurance
Walden Performance and Recovery
Upper Echelon Academy
La Mundial Boots
UF Health Arena – Arena 2:
Stellina LLC/Romitelli Boots
Haala Fashion LLC
Farmhouse Chiropractic
Hats Off Boutique
Main Street Travel
Rough Cut Boutique
Arena 3:
Exceptional Equestrian, Inc
IDA Development, LLC
I Love My Horse
Le Mieux
Parlanti
Chi Rho Ranch
Arena 4:
The Farm House, Inc.
Odette, LLC
Sudden Impulse Boutique
AGM Beyond Leather
Exceptional Equestrian, Inc
Grey Fox Designs
UF Veterinary Hospital at World Equestrian Center – Ocala
The UF Veterinary Hospital at WEC offers leading-edge care to equine athletes on site as well as horses from the surrounding area. We offer personalized service as well as a range of treatments and aids to ensure your horse performs at its best.
We offer ACVSMR performance evaluations and provide several rehabilitation modalities as well as state-of-the art diagnostic imaging. Our sports medicine specialists are supported by on-site board-certified veterinary radiologists with specialty certification in equine diagnostic imaging who provide real-time feedback on imaging and perform complicated imaging during your horse's visit, ensuring that we provide the highest quality imaging for your horse. We offer standing CT scan, standing PET scan, standing MRI and high-powered X-ray equipment. To learn more about our offerings, visit hospitals.vetmed.ufl.edu/wec or contact us at (352) 414-3858 for information and appointments.
Hours of operation:
Equine Hospital
Mon-Sat, 8am-5pm
Small Animal Hospital
Mon-Sun, 8am-5pm
A Sudden Impulse Boutique
Stop by A Sudden Impulse Boutique for the latest and greatest World Equestrian Center branded merchandise. A Sudden Impulse is located in Arena 4, right behind Miss Tilly's Lollipops. The boutique features a collection of jewelry, beautiful apparel and perfect gifts for your family and friends. A Sudden Impulse is also the exclusive shop for custom embroidery, engraving and printing at World Equestrian Center – Ocala.
Use code BLOG for 10% off online of purchases.
Visit A Sudden Impulse at WEC or purchase your items online at suddenimpulse.com.
Entertainment
Each week The Yellow Pony Pub & Garden located within The Equestrian Hotel hosts live entertainment from 6pm-9:30pm. Here is the entertainment lineup for this week:
Wednesday, October 11 | Sophie Noelle
Thursday, October 12 | Chris McNeal
Friday, October 13 | Mark Z
Saturday, October 14 | The Big Bad Duo
Calluna Spa
Indulge in our Autumn-inspired spa treatments, featuring our Butter Rum Wrap, Spiced Bourbon Pedicure and The Revived Rider massage. Available from October 1-November 20, 2023.
Hours:
Monday – Saturday, 9am-7pm
Sunday, 10am-5pm
Call 352.414.7862 to book your appointment or click here.
In Need of a Doctor Visit?
World Equestrian Center – Ocala would like to welcome LifeForce Healthcare, LLC as the facility's personal on-call primary care service. LifeForce Healthcare will be available to the venue's exhibitors, visitors, vendors and guests for on-call medical provider visits at and around the World Equestrian Center – Ocala facility. Call 352.873.3800 to book your on-call appointment today.
Where to Eat
Located Within The Equestrian Hotel:
Stirrups Restaurant
Prime steaks and chops, sustainable Florida seafood and southern inspired seasonal specialties, served in a refined dining room and terrace overlooking the Grand Outdoor Arena.
Breakfast: Monday-Friday: 6:30am-11am | Saturday-Sunday: 6:30am-1pm
Dinner: Sunday-Thursday, 5pm-9pm | Friday-Saturday, 5pm-10pm
352.414.7864
Yellow Pony Pub & Garden
Boasting an outdoor patio and fireplace, this lobby gastro lounge offers shareable starters, pub fare, traditional draft beers, bourbons and whiskeys.
Sunday-Thursday, 11am-12am | Friday-Saturday, 11am-1am
352.414.7865
Emma's Patisserie
A blissful, freshly baked array of authentic French macarons and European-inspired pastries are served within an ambiance of old-world elegance at this very special shop located within the Equestrian Hotel.
Open daily: 6am-8pm
352.414.7866
Restaurants throughout the facility:
Viola & Dot's Italian Kitchen & Pizzeria
Design your own salad or pasta masterpiece with an assortment of delicious meats and toppings. Viola & Dot's features pizzas and calzones crafted with homemade dough, classic Italian entrees and decadent sweet desserts.
Closed October 12, 2023
Closed Monday
Tuesday – Sunday | 11am-8pm
352.414.7877

Ralph's Burger & Sandwich Shop
A classic, diner-inspired menu with a few contemporary upgrades! Ralph's invites you to enjoy signature burgers, salads and sandwiches topped off with a homemade milkshake. Open for lunch and dinner, start your day with a breakfast sandwich or enjoy an evening slice of pie.

Closed October 12, 2023
Closed Mondays & Tuesdays
Wednesday – Sunday: Breakfast 6:30am-11am | Lunch/Dinner 11am-6pm
352.414.7875
Miss Tilly's Lollipops
Indulging is strongly encouraged at this unique sweet shop where specialty ice cream flavors and homemade fudge are the stars. With an array of chocolates, confections and coffees, Miss Tilly's is the perfect place for a tasty treat.
Closed October 12, 2023
Closed Mondays & Tuesdays
Wednesday-Sunday | 11am – 8pm
352.414.7878
Filo's Mexican Cantina
Traditional Mexican flavors coupled with custom-made convenience. Filo's serves up street tacos, burritos, quesadillas and much more in a vibrant dining room and open-air patio.
Closed October 12, 2023
Closed Monday
Tuesday – Sunday: 11am-8pm
352.414.7876
Skip the Line:
Want to save time and skip the line? Online ordering is now available from select property locations! Simply place your desired order online and customize the date and time you'd like to pick it up on-site. Receive 10% off your first online order when you enter the code "FIRST" at checkout. Learn more at orders.wec.net