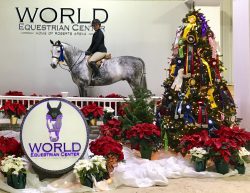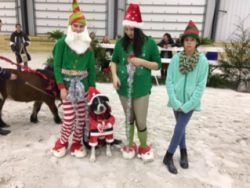 We have a great week planned here at WEC for our Winter Classic I. Each day we'll be spinning the Wheel of Prizes for $250 – lucky winners drawn at random will receive a $250.00 credit toward their show bills.
Our vendors are getting festive with their holiday décor and have lots of terrific gift ideas for everyone on your list – from a new set of jumps to a saddle, an original artwork, or clothing and accessories for in and out of the show ring – you can find it all here this week! Be sure to in visit Chagrin Saddlery, Custom Fox, Dandy Products, EQsclusive, Excel Supplements, FarmVet, Kristi's Canvas, Rider's Boutique, Sarah Lockwood-Taylor and Skiffington's Boutique on site here this week. Representatives from our Sponsors Coughlin Shadow, Hagyard Pharmacy, CWD and Voltaire are on site as well.
Shop our Sudden Impulse boutique featuring an eclectic selection of elegant gifts, jewelry, whimsical home goods, fun stuff for kids & dogs and a whole lot of beautiful WEC-branded clothing and merchandise.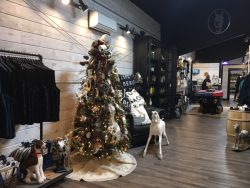 If you want to give the gift of horse showing we have that too! Gift Certificates are now available for purchase in the horse show office in amounts of $25.00 or greater.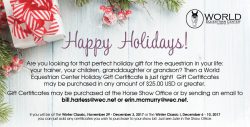 In addition to fantastic AA Hunter / Jumper horse showing in our climate controlled indoor arenas, our week's highlights include:*
FRIDAY
The Rider's Boutique will host a Cavalleria Toscana trunk show from 3:00p.m. to 5:00 p.m. The Rider's Boutique is located by the R+L ring – all are welcome to enjoy wine & cheese and shop this extraordinary collection.
On Friday evening come watch the Futures Prix in the Sanctuary – we'll be serving holiday treats and festive beverages at the in-gate. One half hour after the Futures Prix we'll have an Ugly Dog Sweater Contest – prizes will be awarded for ugliest small dog sweater, ugliest large dog sweater and overall ugliest sweater! Sign up sheets will be posted in the Rider's Lounge and at the Sanctuary in-gate.
SATURDAY
The Cadets Horsemanship Clinic will meet on Saturday morning at 7:00 a.m. upstairs in the Sanctuary. This week's clinician is Elise Zuidema, an equine physical therapy specialist. Don't forget to sign up beforehand – class 2000 on www.horseshowing.com.
We'll be hosting a Gingerbread House contest on Saturday evening during the Exhibitor's Party in the Paddock Club. Gingerbread houses can be picked up in the Paddock Club Thursday and Friday from 4:00 – 9:00 p.m. and should be dropped off between 4:00 – 6:30 p.m. on Saturday in time for judging. Winners decided by popular vote – prizes for Most Festive, Most Creative and Most Edible.
SUNDAY
Worship services are at 8-8:15 a.m. in the Sanctuary – all are welcome.
Please consider donating to our two charities this week – Wilmington Hope House is collecting clothing for women and children; while unwrapped toys are being accepted for Dayton Children's Hospital in honor of Brooklyn Sims. There are two donation boxes set up outside the ribbon room by the R+L ring.
We are grateful for the support of our wonderful Winter in the Midwest Series sponsors: Antarès, Coughlin Shadow, CWD, Devoucoux, Dietrich Insurance, Diverse Builders, Equestrian Connect, EquiJet, Hagyard Pharmacy, Kentucky Performance Prouducts, Osphos, Perfect Products, Pyranha, Neue Schule, Tribute Equine Nutrition and Voltaire.
*for more detailed information see the WEC Newsletter.