The World Equestrian Center Winter Classic horse show kicked off this week. It's the first show in our 18-week Winter Series of the Midwest circuit and proved to be a week full of great sport and good fun.
Ryan Michael Genn and Wilhelm Genn's 'Dante's Inferno' lit up the Sanctuary and captured the $25,000 WEC Grand Prix.
David Q. Beisel went three out of four in our Feature classes this week, bringing home top honors with Harlow Investment Enterprises LLC's 'Call Me Hannes' in the $5,000 Welcome Stake,
and with Harlow Investment Enterprises LLC's For Sunday in the $7,500 Futures Prix;
and with Margaret L. Hackstedde's 'Jetson' in Sunday's $2,500 USHJA Hunter Derby.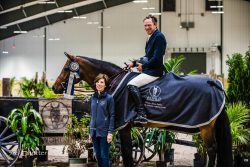 On Saturday morning, Dr. Jamie Klements of JW Holistic Veterinary Care hosted the Cadets Horsemanship clinic on Saturday morning. Forty-three Cadets attended the clinic where they learned about equine skeletal structure and chiropractic treatment for horses. Dr. Klements also demonstrated her cool thermography machine on Eloise the puppy.
After hours on Friday night, riders returned on foot to the Sanctuary for the People Puissance and hot chocolate, Christmas Cookies and carols. On Saturday, the Sanctuary was hopping with the very competitive Pony Hoppers races! And although there were plenty of spills, bumps and full scale wipe outs – all ponies and riders were unharmed!
Special thanks to all of our exhibitors who donated to the 'Two Ways to Give' clothing and toy drives this week. Donation boxes are set up outside the ribbon room by the R+L arena through December 10 and we will continue to accept women and children's clothing, boots and outwear for Hope House; as well as unwrapped toys for Dayton Children's Hospital in honor of Brooklyn Sims.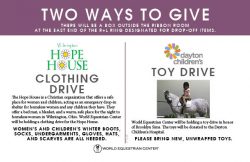 Our vendors and our very own Sudden Impulse Boutique are decked out for the holidays and have lots of great gift ideas for your two legged and four legged friends and family.
Any rider would thank Santa for this outfit or these cozy pom-pom hats from Piker available at the Custom Fox.
Chagrin Saddlery is all decked out for the Holidays in their new store by the Winner's Circle.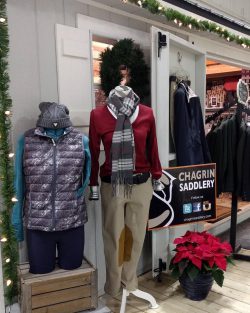 We're looking forward to another super week of horse showing at the World Equestrian Winter Classic 1, Dec. 6-10, see you there! Don't forget to sign up for WEC Points on www.WEC.net – it's free and will make you eligible to win year end awards and prizes.