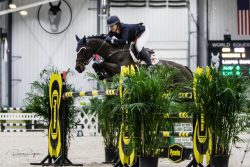 Happy New Year!
On January 3rd our Winter Series of the Midwest resumes with the Winter Classic 2 horse show. We are excited to usher in the first week of 2018 by extending a warm WEC welcome to all!
All WEC exhibitors are encouraged to register themselves and their horses for WEC POINTS, which make them eligible for circuit and year-end awards. Register for FREE and track your points online at www.WEC.net.
Here's a roundup of the week's activities – check out our WEC Newsletter in the horse show office and posted throughout the facility – it includes all of the details. You can also find our helpful Restaurant Guide and 'Where to Go After the Show' brochure there to help familiarize yourself with what is available in and around Wilmington.
Friday
We're GAGA about GAGA!
Join us on Friday night after the Futures Prix for GAGA – a fast paced, high-energy sport played in an octagonal pit. The game is played with a soft foam ball and combines the skills of dodging, striking, running and jumping – while trying to hit opponents with the ball below the knees. Players need to keep moving to avoid being hit by the ball – the more players the better! Last Player standing wins! It's easy, fun and gives players a great workout!
Saturday
Junior riders are encouraged to attend our Cadets Horsemanship Program clinic on Saturday morning at 7:30 a.m. upstairs in the Sanctuary. Dr. Brittany Koethe will discuss equine teeth and dentistry. Don't forget to register for the clinic either by entering class 2000 on horseshowing.com or by filling out an ad slip in the horse show office before 5pm on Friday evening. Junior riders who enter and attend the clinic will be eligible for one of the 39 randomly drawn horse show bill credits of $250 – or the one draw of a $500 credit.
EXHIBITOR PARTY
Disco is back! Break out your platform shows, bell-bottoms and sequins – we are bringing back the 70s for our Saturday night exhibitor party! Join us in the Paddock Club after the Grand Prix for an evening of great food and fun Disco dancing.
Bring your best dance moves because we're having a single elimination Dance Off with a $250.00 prize for the winner.
Shopping at WEC
On site shopping has never been better at the World Equestrian Center! We have a collection of carefully curated vendors on site offering a selection of equipment, horse care products, saddles and tack, horse clothing and boots, supplements and treats, clothing for in and out of the show ring, monogramming, accessories, tack trunks, jumps, specialty foods and equestrian inspired home goods. Our vendors also offer onsite services such as chiropractic and spa/massage treatments, blanket cleaning and repairs, and auto detailing.
Please be sure to visit our vendors while you are here this week – Chagrin Saddlery, The Custom Fox, Riders Boutique, Dandy Products, EQsclusive, FarmVet, NQ Personalized Products, Saek's Chiropractic and Skiffington's Boutique.
A Sudden Impulse Boutique
A Sudden Impulse boutique features a broad range of carefully curated items from fanciful artwork, fine jewelry and equestrian inspired antiques, to whimsical overstuffed pillows and cozy throws; as well as travel bags, scented soaps and candles.
Our co-branded logo merchandise comes from popular brands like Vineyard Vines and J. Crew and includes WEC-branded vests, elegant embroidered V-neck sweaters, fleece wear, polo shirts, spirit shirts, jackets, belts and ¾ zip pullovers as well as WEC T-shirts, ball caps, campfire mugs, tumblers and insulated Swell water bottles.
At Sudden Impulse you can shop the jewelry collection from Lisa Welch designs, an American jewelry designer who has combined her passion and talent of art and design with her love for animals. Her unique and distinctive jewelry styles are perfect for the fashion savvy and discriminating pet owner.
We also have a huge collection of unique items for kids like coloring books, stickers, popular WEC pop-sockets, colorful WEC branded InkStables socks, Fluff Monkeys and Melissa & Doug stuffed animals. For that furry friend in your life we have dog collars, leashes, travel bowls and treats.
There's something for everyone at A Sudden Impulse boutique. Conveniently located by the Roberts Arena – open during horse show hours or by chance.
Thank you to our Winter Series Sponsors
As always, we want to say a special thank you to our sponsors: Antares Sellier, Coughlin Shadow, CWD, Devoucoux, Dietrich Equine Insurance, Diverse Building Solutions, Equestrian Connect, EquiJet, Golden Ocala, Hagyard Pharmacy, Kentucky Performance Products, Perfect Products, Neue Schule, Pyranha, R+L Carriers, Taylor Harris Insurance, Tribute Equine Nutrition and Voltaire Design. Please look for their booths and pay them a visit while you are here.
pc 3rd Shutter from the Sun