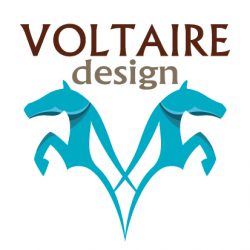 Voltaire Design is delighted to announce a landmark sponsorship with World Equestrian Center, a premier horse show organizer with a world-class facility in Wilmington, OH and a soon-to-be-opened facility in Ocala, FL.
The sponsorship is part of Voltaire Design's ongoing commitment to support the development of equestrian sport all over the world. President Brice Goguet states, "Since the very beginning, the mission of Voltaire has been to help everyone reach their potential as a rider. It is the very reason why we exist. We wake up every day to help people and their horses reach their full potential." Goguet continues, "That is why we are proud to be part of the World Equestrian Center adventure. We have been impressed by the vision and the professionalism of the team at WEC. Equestrian sport in the US will benefit greatly from their show series."
Innovative and decidedly chic, Voltaire Design specializes in upscale custom saddles. Recognizable by their blue striped gullet, Voltaire Design saddles are handmade in France with love and passion. Created in 2010 in the idyllic French town of Espelette, the brand has quickly became one of the leading saddle makers in the world. Beezie Madden, Shane Sweetnam and Jen Alfano are some of the world class riders representing the brand in the show ring.
About WEC
Located in Wilmington, Ohio, the World Equestrian Center features more than 200,000 square feet of climate-controlled riding space, making it one of the largest indoor/outdoor equestrian sport venues in the world. The state of the art facility features premium footing, permanent stabling and onsite accommodations as well as more than 26 weeks of AA rated Hunter / Jumper competition.
Dedicated to offering great sport and good fun in a family friendly environment, the World Equestrian Center promises their exhibitors an experience built on three core values: Quality. Class. Distinction.
Coming soon, the World Equestrian Center will debut a brand new location, providing world-class equestrian competition and equestrian-inspired country club living, all adjacent to the fabulous Golden Ocala Golf & Equestrian Club in Ocala, Florida. For more information on both facilities, please visit www.WEC.net.