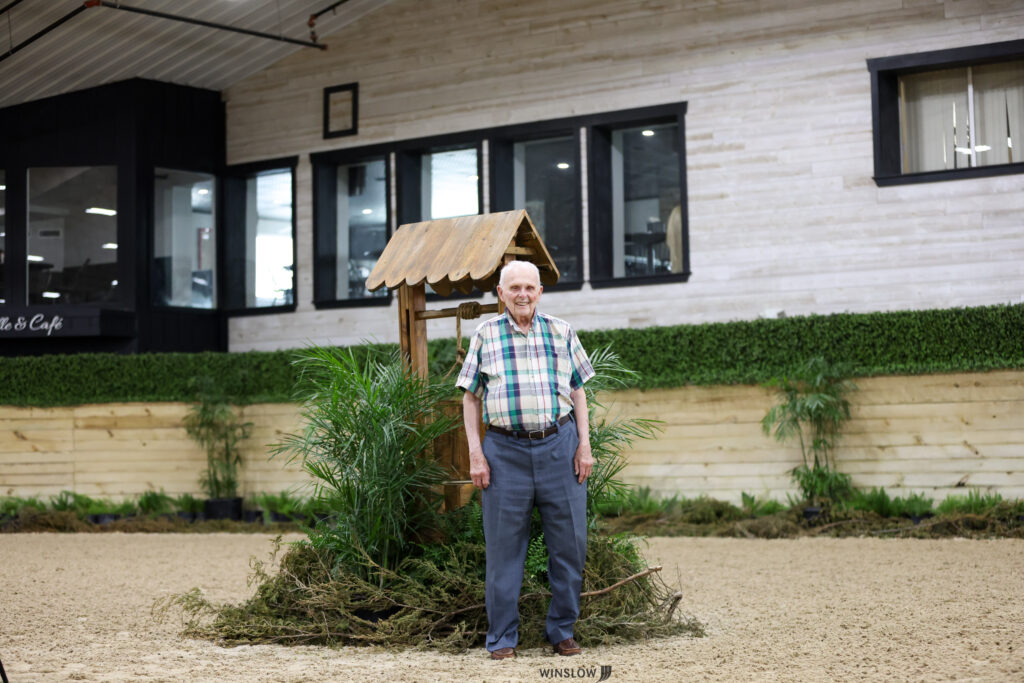 Wilmington, Ohio – This week's Wilmington Sunday Spotlight shines on World Equestrian Center's longtime announcer, Dan McCarthy. Dan has been an equestrian for more than 63 years and has spent the past ten years supporting WEC Ohio and announcing at the facility. Infamous for his encouraging words in the Roberts Arena, Dan has continued to grow his love for equestrian sport and implement what it means to be a true horseman. After spending the week of his 90th birthday at WEC Ohio Spring II, we met up with Dan to learn more about his riding career, his background in the industry, his love for announcing, and his passion for World Equestrian Center.
WEC: How did you get started in the horse industry?
After I got out of college, I was sent by Ford Motor Company to Ireland. While I was in Ireland, the national sport of Ireland is horses, and everybody loves them. My wife was taking lessons and I would watch her. The man that was giving her lessons told me that he thought I was afraid to ride. I said, afraid to ride? And he said, yes, you are. I said, "I'll get on right now," and I did! He was giving me a lesson and he was so insulting to me. I asked him how much the horse was worth and he said 300 and I said, sold! My wife had left the farm in my car so I rode that horse 12 miles to the area where I was living, and I passed a farm, and I asked if they would take care of this horse for me until I could get it situated. That is how I got into horses! I own racehorses now. One of my fillies just ran yesterday!
When I came back to this country, I looked for a place to continue that, and I found it in Waterloo Hunt Club in Michigan, at the time I lived in Ann Arbor, just a few miles away. I got involved through hunter paces and fox hunting in the area. I started helping people with horse shows and I would volunteer. I have been working at horse shows ever since then. So that's about 63 years.
WEC: How did you get into announcing at shows?
I volunteered at shows and did all the different jobs including managing the shows. One day the announcer did not show up at the show that I was at, so I did it and I kept doing it. I continued fox hunting and riding, but I retired about 20 years ago. Then I started getting more jobs in other places like Detroit, Kentucky, Tennessee, and Chicago for a long time. So, I have just been announcing ever since.
WEC: How long have you been working here at WEC and how did you get introduced to it?
At least 10 years. Originally I was announcing for Frankie Stark when the Country Heir shows were at Roberts Arena. Once it became World Equestrian Center I stayed on and I have worked for the Roberts family here ever since.
WEC: What do you think makes WEC a special horse show?
What I think is special about working here is the concern for family and for children, and for horses and pets. There is activity here for all generations and everyone can participate here. The Roberts family is inspirational in their dedication to family and horses. I love being able to make people comfortable here. They do so many incredible things for people. It is so inspirational, the human involvement and respect for everyone. There is a saying that states "if it is worth doing, it is worth doing well." WEC never varies from that.
WEC: What keeps you going every day?
What keeps me going now is the friendship at this place, no one is a stranger for very long; grooms trainers, and everyone else. They provide for every human need and every horse's need. The kind of thing that keeps me going is that I feel that I can contribute to that, and it makes me feel worthy.
WEC: What is your fondest moment in your career announcing?
I received a handwritten letter in the mail from a rider and her mother. They wrote to me to thank me for the encouraging words that I had said after the rider had a hard trip in the ring. The rider's mother told me that her daughter had been struggling in the ring and that my words really helped her through the weekend. That was really special.
WEC: What is a quote or saying that you are known for as an announcer?
When I work in the Robert's Ring each morning, I start my sentences with small fry, I preface my comments with and "now children." I try to get their attention and find some way to make them listen and to make them all feel noticed.
WEC: What advice do you have to someone looking to get into the industry?
Be on time and respect others!
WEC: Do you have a message for exhibitors?
Appreciate the gifts that the Roberts family share.