World Equestrian Center is proud to announce that Brook Ledge Horse Transportation is now the official horse transportation company for World Equestrian Center. Brook Ledge is a trusted industry leader known for providing the most reliable, safe, and efficient transportation on the roads, and now in the skies. Brook Ledge added "wings" to their menu of services to fulfill the obvious gap in comprehensive horse transit. With its dedication to client satisfaction in the continuously evolving equine industry, Brook Ledge offers domestic flights and facilitates all international flights through their wholly-owned subsidiary, Horse America.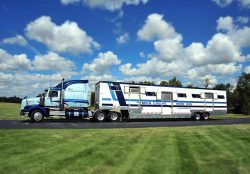 Brad Gotwals, President of Brook Ledge, said, "Our partnership with World Equestrian Center is optimal as many of our customers show at WEC and will also look to show at the future facility in Ocala where we've based an office and trucks for over 22 years. The equestrians who choose to show their horses at a World Class facility like WEC take into consideration the same details when choosing a commercial horse transporter. We consistently excel in our respective fields, it's a natural fit."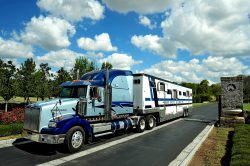 At Brook Ledge Horse Transportation it does not matter whether your horse is a companion or a champion, they are all seen as equally important and treated with the utmost care and attention. The people behind the name are dedicated and passionate equestrians. Their firm began in 1955 and is a family owned and operated business with 3 generations working at their offices daily.
World Equestrian Center is proud to partner with Brook Ledge Horse Transportation and looks forward to a productive partnership.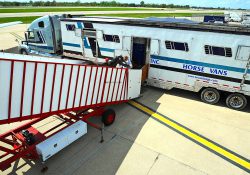 About Brook Ledge Horse Transportation
Brook Ledge is broadly recognized as the Nation's Leading Horse Carrier offering both ground and air transportation services in the United States and international travel provided via their wholly owned subsidiary, Horse America. They are a completely comprehensive horse transportation solution for both domestic and international travel. Brook Ledge is dedicated to providing the most elite services to their clients who range from Triple Crown and Grand Prix horses to beloved family companions.
About World Equestrian Center
Located in Wilmington, Ohio, the World Equestrian Center features more than 200,000 square feet of climate-controlled riding space, making it one of the largest indoor/outdoor equestrian sport venues in the world. The state of the art facility features premium footing, permanent stabling and onsite accommodations as well as more than 26 weeks of AA rated Hunter / Jumper competition.
Dedicated to offering great sport and good fun in a family friendly environment, the World Equestrian Center promises their exhibitors an experience built on three core values: Quality. Class. Distinction.
In 2018, the World Equestrian Center will debut a brand new location, providing world-class equestrian competition and equestrian-inspired country club living, all adjacent to the fabulous olden Ocala Golf & Equestrian Club in Ocala, Florida. For more information please visit http://www.wec.net.