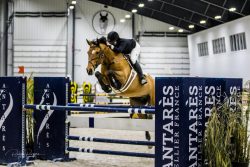 WILMINGTON, Ohio – January 22, 2018 – With the conclusion of the recent World Equestrian Center Winter Classic 4, the Winter Series of the Midwest is one quarter of the way through its 16 week AA Hunter / Jumper horse show circuit and attendance is soaring. Now in its second year, the World Equestrian Center's Winter in the Midwest Series has become an established Winter circuit drawing equestrians from forty one states and a large contingency from Canada.
With several of the Winter circuit shows achieving sold out status, exhibitors have been booking their reservations two weeks prior to the start of each horse show to take advantage of the $75.00 pre-paid stall pricing.
All of our barns at World Equestrian Center are equipped with surveillance cameras. Our full-time security team patrols the WEC grounds 24-hours a day, 7 days a week, in addition to providing a Night Watch service. The no smoking rule is strictly enforced in our facility and each barn is equipped with fire extinguishers.
On Sunday evenings in preparation for the weekly show turnover, the World Equestrian Center maintenance strips and disinfects stalls, aisles and wash racks.
The World Equestrian Center strongly encourages exhibitors to adhere to health requirements
and we strictly enforce all health certifications and protocols as stated by the federation and governing bodies of our sport.
As a general reminder:
All horses entering the World Equestrian Center grounds must have a valid proof of current negative Coggins test (within 12 months) and proof of mandatory vaccinations as required per US Equestrian rules.
A 30-day certificate of veterinary inspection is required for all horses arriving from outside the state of Ohio. Horses who fail to arrive with appropriate paperwork will not be allowed to unload on to the show grounds. Please have your paperwork and bring it to the show office upon arrival.
It is strongly recommended that all horses be vaccinated for Equine-EHV-1 (either modified live or killed vaccine) no sooner than 7 days prior to and no later than 180 days prior to entering the show grounds. Most EHV-1 vaccines are only considered effective for 180 days.
Current vaccinations against WNV, EEE, WEE, Tetanus and Rabies is strongly recommended. We encourage our exhibitors to confer with their veterinarians to see which vaccinations are right for their horses.
The World Equestrian Center is dedicated to providing an excellent horse show experience for our exhibitors and a safe, healthy environment for their horses. Effective health measures are a combined responsibility and make our sport safer when taken by all.
About World Equestrian Center
Located in Wilmington, Ohio, the World Equestrian Center features more than 200,000 square feet of climate-controlled riding space, making it one of the largest indoor/outdoor equestrian sport venues in the world. The state of the art facility features premium footing, permanent stabling and onsite accommodations as well as more than 26 weeks of AA rated Hunter / Jumper competition.
Dedicated to offering great sport and good fun in a family friendly environment, the World Equestrian Center promises their exhibitors an experience built on three core values: Quality. Class. Distinction.
In 2018, the World Equestrian Center will debut a brand new location, providing world-class equestrian competition and equestrian-inspired country club living, all adjacent to the fabulous Golden Ocala Golf & Equestrian Club in Ocala, Florida. For more information please visit http://www.wec.net.
Media Contact:
Candace FitzGerald
603-738-2788