WEC Visitors Can Book 2019 Ohio Lodging Online Today!
WILMINGTON, Ohio – January 7, 2019 – The World Equestrian Center today launched a new, expanded Web site rich with information, imagery and functionality to create the best possible experience for our users. Located at www.WEC.net the site encompasses content focused on the World Equestrian Center facilities in both of our Wilmington, Ohio and Ocala, Florida, locations. In addition, the expanded functionality includes online reservations and booking for our Ohio facility Cabin Village and Home Away From Home Park accommodations.
Exhibitors can access the World Equestrian Center online calendar, which includes a complete listing of the multidiscipline events taking place at both of our facilities. They can access detailed event information, prize lists, stabling forms and entry instructions. Exhibitors can register online at WEC.net for WEC Points, making them eligible for circuit prizes and awards.
Those interested in holding their own events at the World Equestrian Center can glean key information about the facility including ring dimensions, amenities, reservation requirements and facility availability for their planning purposes. They can also connect with World Equestrian Center representatives who can help them plan their special event.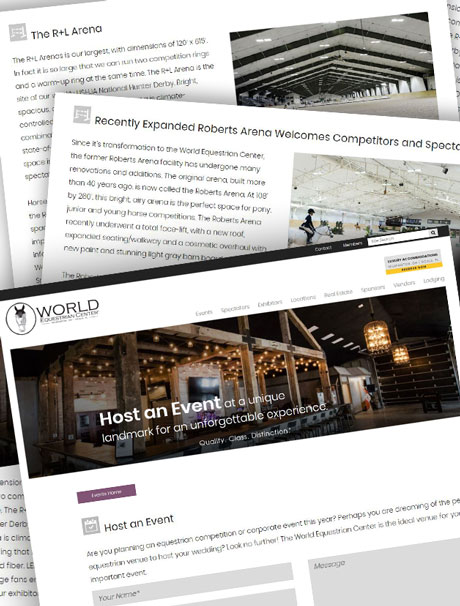 Exhibitors can find information about our convenient onsite lodging options including our quaint Cabin Village and Home Away From Home Park in Wilmington, Ohio, and our luxury World Equestrian Center Hotel in Ocala, Florida. They can view images of the accommodations, review amenities and research occupancy details to help them plan and choose the best option for their needs. Once they've decided, they can experience the convenience of online reservations and booking.
Our exhibitors and spectators will appreciate the in-depth event and facility information, maps and FAQs. Easily accessible information from directions, to parking, to event viewing, dining and shopping will help them plan their perfect experience at the World Equestrian Center.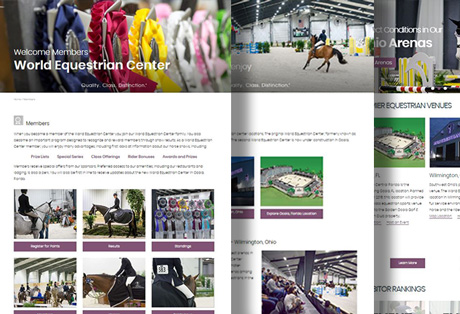 Exhibitors and spectators interested in shopping can learn about our A Sudden Impulse Boutique and the collection of carefully curated vendors at World Equestrian Center who offer a selection of equipment, horse care products, saddles and tack, horse clothing and boots, supplements and treats, clothing for in and out of the show ring, accessories, tack trunks, jumps, specialty foods, fine art and equestrian inspired home goods.
Those interested in the development of our exciting new Ocala, Florida facility can learn about our plans for the facility and it's many new features and amenities. They can follow construction updates, and add themselves to our email list to be included in up to the minute news about the amazing new facility.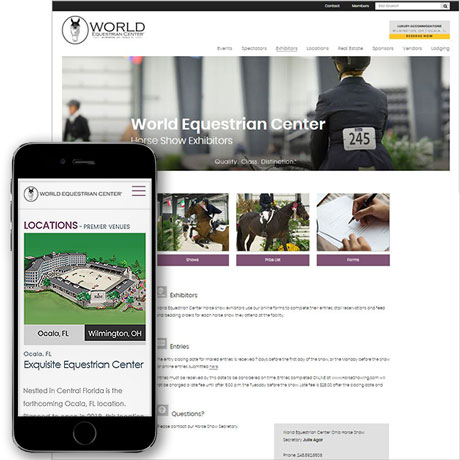 Real estate is a key component of our Ocala, Florida World Equestrian Center resort and users will find that the site is their go-to resource for information on what is available at the facility, as well as contact information for our Equestrian Estates representatives from Royal Shell, our official World Equestrian Center realtor.
The site is rich with galleries full of imagery evocative of the World Equestrian Center – from events we manage to those we host, our many amenities and after hours events and of the equestrian competitors, trainers, owners, support staff and enthusiasts that make up our World Equestrian Center family.
Sponsors are represented in their own section of the site that includes recognition and an appreciation of our current sponsors, and a downloadable Sponsor brochure and Media Kit which include details of our advertising and sponsor packages and pricing.
Vendors can view the incredible new permanent Vendor Village, recently built at our Wilmington, Ohio location. They can access important information about becoming a vendor at World Equestrian Center and download our Vendor Application.
Navigate through the new World Equestrian Center Web site today to learn about upcoming events, show results, or learn more about show facility rental, arena rentals, on-site accommodations, amenities and other updates.
About World Equestrian Center
Located in Wilmington, Ohio, the World Equestrian Center features more than 200,000 square feet of climate-controlled riding space, making it one of the largest indoor/outdoor equestrian sport venues in the world. The state of the art facility features premium footing, permanent stabling and onsite accommodations as well as more than 26 weeks of AA rated Hunter / Jumper competition.
Dedicated to offering great sport and good fun in a family friendly environment, the World Equestrian Center promises their exhibitors an experience built on three core values: Quality. Class. Distinction.
In 2021, the World Equestrian Center will debut a brand new location, providing world-class equestrian competition and equestrian-inspired country club living, all adjacent to the fabulous Golden Ocala Golf & Equestrian Club in Ocala, Florida. For more information please visit http://www.wec.net.
Make sure to connect with us on Facebook, Twitter, Instagram and subscribe to our YouTube channel to stay in touch with happenings at the World Equestrian Center.
Media Contact:
Candace FitzGerald
603-738-2788
candace.fitzgerald@wec.net