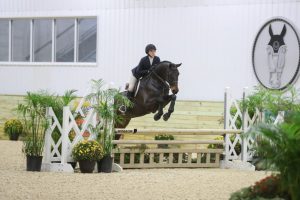 WILMINGTON, Ohio – September 11, 2019 – Attention trainers and exhibitors, please take note that the World Equestrian Center has adjusted its horse show schedule for the month of November as follows:
The November 6-10, 2019 horse show has been cancelled.
Midwest Indoors I will instead take place November 13-17, 2019.
Midwest Indoors II will take place November 20-24, 2019.
Please check horseshowing.com for schedule updates, to post entries and reserve stalls. We look forward to seeing you at World Equestrian Center in November!
Please reach out to Horse Show Secretary Julie Agar at 248-892-6806 or TJ Campbell at 937-382-0985 option 1 with any questions.
About World Equestrian Center
Located in Wilmington, Ohio, the World Equestrian Center features more than 200,000 square feet of climate-controlled riding space, making it one of the largest indoor/outdoor equestrian sport venues in the world. The state of the art facility features premium footing, permanent stabling and onsite accommodations as well as more than 32 weeks of AA rated Hunter / Jumper competition.
Dedicated to offering great sport and good fun in a family friendly environment, the World Equestrian Center promises their exhibitors an experience built on three core values: Quality. Class. Distinction.
In 2021, the World Equestrian Center will debut a brand new location, providing world-class equestrian competition and equestrian-inspired country club living, all adjacent to the fabulous Golden Ocala Golf & Equestrian Club in Ocala, Florida. For more information please visit http://www.wec.net.