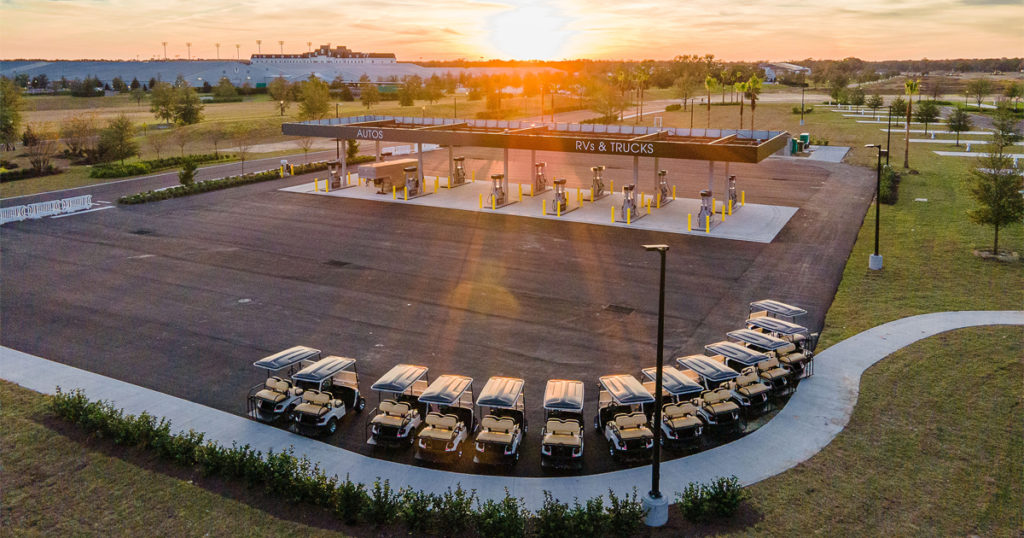 OCALA, Florida – February 19, 2021 – World Equestrian Center — Ocala has added E-Z-GO to its family of official sponsors at the new competition and multipurpose facility. As the Official Supplier, E-Z-GO will provide a fleet of the industry's top golf carts for the venue's staff, exhibitors and guests.
"We are tremendously honored and excited to be the official sponsor and golf cart supplier to World Equestrian Center. E-Z-GO has the best products on the market. I am confident in the ability of the fleet we provided and excited to see this partnership grow," said John Collins, Vice President of E-Z-GO.
World Equestrian Center — Ocala features facilities for year-round, multidisciplinary equestrian and sports events. The venue also offers indoor arenas and multipurpose buildings for vendor displays. Finally, the expo centers are perfect for tradeshows and conventions, as well as automobile, art and antique shows and weddings. The expansive facility sits on 378 acres with another 300 in reserve for future expansion.
"Given the size and scope of World Equestrian Center — Ocala, the venue requires a reliable transportation solution. Partnering with E-Z-GO was the right choice and we are happy to have them as an official sponsor and golf cart supplier," said Roby Roberts.
About E-Z-GO
During a hot summer in 1954, in a cramped, one-room machine shop in Augusta, Georgia, E‑Z‑GO was born. Two brothers started with a simple belief that they could build a better golf cart that better met the needs of the customer, than any other vehicle that's on the market.
E‑Z‑GO, a proud partner to World Equestrian Center, is a world leader in transportation and a leading global manufacturer of golf cars, utility vehicles and personal transportation vehicles. From their headquarters in Augusta, they build tens of thousands of vehicles each year, many of which feature game-changing technology and innovations to improve vehicle efficiency and enhance the user experience.
About World Equestrian Center
World Equestrian Center features two premiere equestrian and multidisciplinary venues in Ocala, Florida, and Wilmington, Ohio.
These exclusive facilities comprise state-of-the-art arenas, expansive stadiums, versatile outdoor space, sporting fields and well-appointed exposition centers. An abundance of lodging options and luxury accommodations are conveniently located on-site, along with shopping and dining throughout each property.
Dedicated to offering great sport and fun in a family-friendly environment, World Equestrian Center promises an unparalleled experience for exhibitors, spectators, vendors, sponsors and retailers built on three core values: Quality. Class. Distinction.
Learn more at wec.net
Media Contact:
Candace FitzGerald
candace.fitzgerald@wec.net
603.738.2788