Ocala, FL – May 11, 2022 – Entries are now open for the 2022 World Equestrian Center – Ocala Summer USEF Hunter/Jumper Horse Show Series, which begins June 15 and runs consecutively for nine weeks. The Ocala Summer Series offers exciting new class additions with nearly $3.5 million in total money and prizes with US Equestrian (USEF) national and Fédération Equestre Internationale (FEI) CSI3* international competition. VIP viewing and dining opportunities are available during the Saturday night under the lights grand prix to allow guests to watch and dine in luxury.
For the first time at the venue, FEI show jumping competition will be held during Weeks III and IV on June 21-26 and June 28-July 3. International show jumpers are incredibly enthused for the chance to compete for FEI ranking points and increased prize money during the FEI competitions.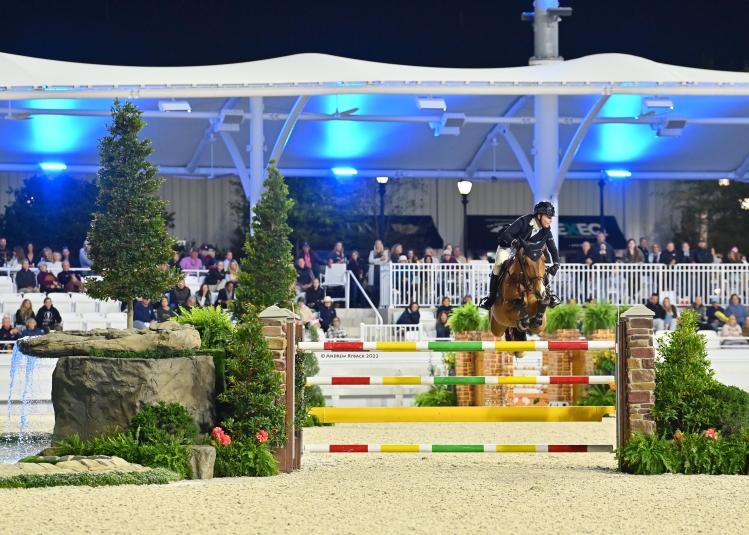 Olympian Sharn Wordley, originally from New Zealand and a resident of Ocala since 2006, noted that the opportunity to compete in FEI classes close to home is "an amazing plus."
"In my opinion, the best facility in the world needs to have high-profile FEI shows," he noted of the schedule, which includes two CSI3*-rated shows. "It's fitting for such a venue. It's a good move for the horse show to be in that space with FEI. It's great that we're getting extra prize money too."
He added, "My favorite aspects of WEC – Ocala are their choice of course designers, the atmosphere during the Saturday night grand prix classes and the footing. I look forward to competing there this summer."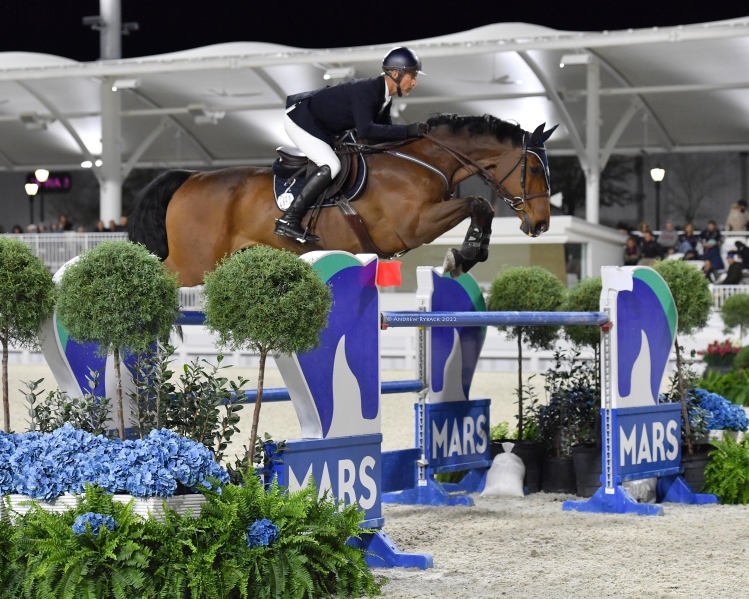 Top U.S. show jumper Richard Spooner, who moved his entire business from California to Ocala last December, will also compete in the FEI shows at WEC.
"It's the nicest facility in North America," he said. "I like the hotel, the food, the footing, the stabling and the attitude. How can you complain when you get to 'go to the office' at a facility like that every day? The place is spectacular."
In addition to the new FEI competitions, several new classes and divisions will enhance the 2022 Ocala Summer USEF Hunter/Jumper Horse Show Series schedule, including two $7,500 1.45m Jumper Classes during weeks III and IV. The Intermediate Adult division will be broken into three groups rather than one: Intermediate Adult Hunter 18-35, Intermediate Adult Hunter 36-49 and Intermediate Adult Hunter 50+. Lastly, the popular Crossrails division will now be split between Children and Adults, serving a broader group of exhibitors.

2022 Ocala Summer Series Prize List
Please note, the 2022 Summer USEF Hunter/Jumper Horse Show Series begins with Week II. There is no Week I.
Entries can be placed through Show Management System. USEF/USHJA Membership is required.
Stall Reservations
To book your weekly stalls/paddocks and place entries use Show Management System.
2022 Ocala Summer Horse Show Series Stabling Pricing
Weekly Stall: $300
Weekly Paddock: $350
View Lodging Options
View Entries and Stall Reservations
View Stabling Location, Feed/Bedding Orders and Emergency Contact Forms
For Adds/Scratches click here: SHOW MANAGEMENT SYSTEM™ HORSE SHOW ENTRY PLATFORM
View Add/Scratch Cheat Sheet
View Guide to Copying Current Entries for Future Weeks Through Show Management System
Summer Series VIP Viewing & Dining Experience
On Saturday nights, enjoy all the action of the Grand Prix from the terrace of The Equestrian Hotel with an exclusive VIP viewing and dining experience courtesy of Stirrups Restaurant. The VIP private table overlooking the Grand Arena will include a three-course Chef's dinner, along with complimentary beer and wine. Cash bar available for spirits and bottles of wine from sommelier's selections. Doors open at 6pm, Grand Prix begins at 7pm.
A VIP viewing and dining experience is also available on Thursday, June 23, and Thursday, June 30, for the $50,000 FEI 1.50m Welcome Prix. These two additional dates are not included in the full series pricing. Please book separately.
Guests may purchase tables for the full nine-week circuit until Sunday, May 15; remaining tables will then become available for individual-week purchases.
Click HERE to purchase your 2022 Summer Series Grand Prix Table.
2022 Ocala Summer Horse Show Series Dates
Summer Series II: June 15-19 – USEF Premier Hunters/ Level 6 Jumpers
Summer Series III: June 21-26 – FEI CSI 3*/ USEF Premier Hunters/ Level 6 Jumpers
Summer Series IV: June 28-July 3 – FEI CSI 3*/ USEF Premier Hunters/ Level 6 Jumpers
Summer Series V: July 6-10 – USEF Premier Hunters/ Level 6 Jumpers
Summer Series VI: July 13-17 – USEF Premier Hunters/ Level 6 Jumpers
Summer Series VII: July 20-24 – USEF Premier Hunters/ Level 6 Jumpers
Summer Series VIII: July 27-31 – USEF Premier Hunters/ Level 6 Jumpers
Summer Series IX: August 3-7 – USEF Premier Hunters/ Level 6 Jumpers
Summer Series X: August 10-14 – USEF Premier Hunters/ Level 6 Jumpers
Lodging at World Equestrian Center – Ocala
Make lodging reservations now at The Equestrian Hotel, featuring 248 stylishly appointed rooms, restaurants, luxury shopping and a day spa. Exhibitors may choose to reserve a charming Home Away from Home unit, or reserve an RV space in the convenient park that includes a General Store, Starbucks and Laundromat, just steps away. For all lodging reservations, please visit wec.net.
Advertising and Sponsorship
For corporate advertising and sponsorship opportunities, please contact Jim Wolf jwolf@wolfsportsgroup.com or Karla Campbell karla.campbell@wec.net.
Official Show Photographer
Andrew Ryback Photography is the official 2022 Ocala Summer Hunter/ Jumper Horse Show Series photographer. Visit Andrew Ryback Photography in vendor courtyard or view proofs online at andrewryback.com.
About World Equestrian Center
World Equestrian Center features two premiere equestrian and multidisciplinary venues in Ocala, Florida, and Wilmington, Ohio.
These exclusive facilities comprise state-of-the-art arenas, expansive stadiums, versatile outdoor space, sporting fields and well-appointed exposition centers. An abundance of lodging options and luxury accommodations are conveniently located on-site, along with shopping and dining throughout each property.
Dedicated to offering great sport and fun in a family-friendly environment, World Equestrian Center promises an unparalleled experience for exhibitors, spectators, vendors, sponsors and retailers built on three core values: Quality. Class. Distinction.