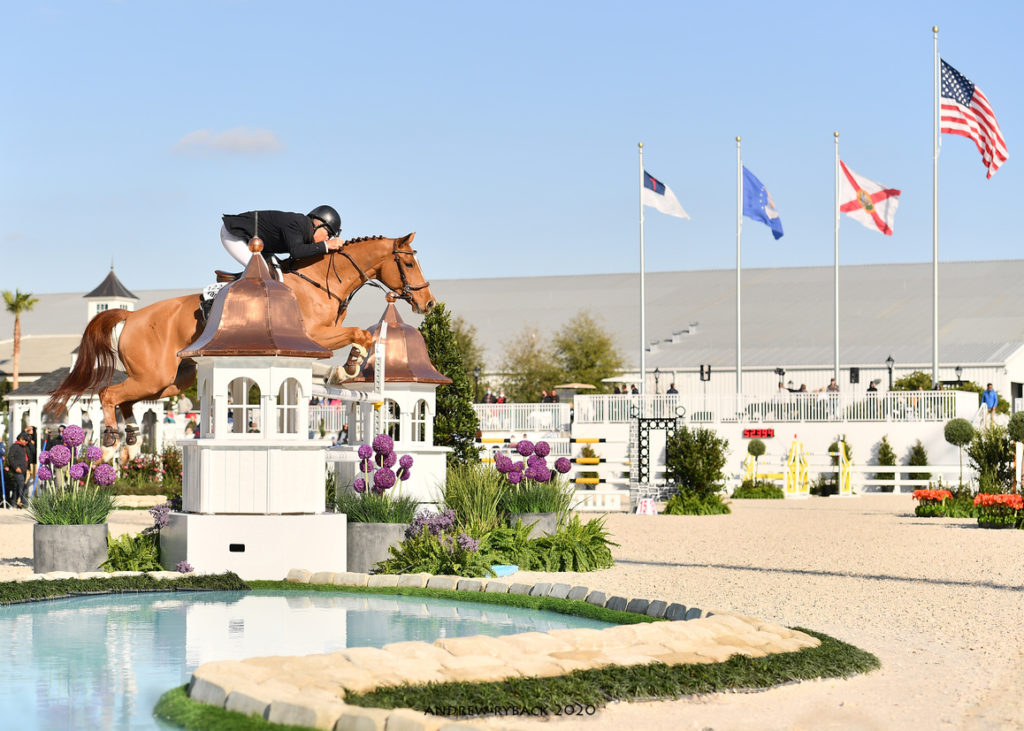 For Immediate Release
OCALA, Florida – Jan. 20, 2021 – The World Equestrian Center — Ocala Winter welcomes the world's top course designers to build tracks during the inaugural 2021 season of competition at the new venue. The international roster of course designers includes Manuel Esparza of Mexico, Peter Grant and Joey Rycroft, both of Canada; Bernardo Costa Cabral of Portugal; Leopoldo Palacios of Venezuela; Alan Wade of Ireland and Anderson Lima of Brazil.
Anderson Lima takes over this week from Bobby Murphy of the United States, who designed tracks for Weeks 1 and 2. Lima is an FEI Level 3 course designer whose experience includes work at the 2003 Pan American Games in Santo Domingo, Dominican Republic; the South American Games in Sao Paulo, Brazil; Spruce Meadows in Calgary, Canada; multiple FEI World Cup Finals in Las Vegas, Nevada; and competitions in Brazil, Canada, Costa Rica, Dominican Republic, Germany, Guatemala, Mexico, Peru, Spain, Venezuela, and the United States. Lima will also act as course designer during Week 12 to close out the Winter Spectacular.
For Week 4, World Equestrian Center — Ocala welcomes Esparza, an FEI Level 3 course designer who has assisted with courses at five Olympic Games including Atlanta, GA, in 1996; Sydney, Australia in 2000; Athens, Greece in 2004; Beijing, China in 2008 and Rio de Janeiro, Brazil in 2016.
Grant is an internationally recognized FEI Level 3 course designer who will take over course design duties in Week 5. Grant is best known for being a part of the build team at Spruce Meadows in Calgary, Canada, since 2004, where he has designed at four CSI5* tournaments. He has assisted at such championships as the 2007 and 2017 FEI Jumping World Cup™ Finals and the 2010 and 2018 FEI World Equestrian Games. This summer, Grant will assist in his first Olympic Games in Tokyo, Japan.
In Week 7, Costa Cabral, a respected FEI Level 4 designer who assisted with courses at the Beijing Olympic Games in 2008 and again at the 2012 Olympic Games in London, Great Britain, will act as course designer. Cabral builds at venues around the world including in Belgium, Canada, Great Britain, Poland, Portugal, Saudi Arabia, Spain, the United Arab Emirates and the United States.
The courses of two-time Olympic course designer Palacios will be featured during Week 8 at World Equestrian Center — Ocala. An FEI Level 4 course designer, Palacios has set tracks at the biggest and best venues the world over including at two Olympic Games, Sydney and Beijing. He is the resident course designer for the annual Spruce Meadows 'Masters' tournament in Canada. Palacios was also the course designer for the 1997 FEI World Cup Final in Gothenburg, Sweden; and the 1991 and 1995 Pan American Games in Havana, Cuba, and Buenos Aires, Argentina, respectively.
Wade, an FEI Level 4 course designer, joins the World Equestrian Center — Ocala for Week 11. Highly respected by the world's top riders, Wade has designed courses at some of the most prestigious competitions and championships including the 2017 FEI Jumping World Cup™ Final in Omaha, Nebraska; the 2018 FEI World Equestrian Games™ (WEG) at Tryon, North Carolina; and the Palm Beach Masters CSI4*-W featuring the Longines FEI Jumping World Cup™ as well as the Longines FEI Jumping Nations Cup™ in Wellington, Florida.
The World Equestrian Center — Ocala Winter Spectacular 2021 features more than $4 million in prize money. Featured jumper classes include a weekly $20,000 Welcome Stake; a $7,500 Futures Prix 1.35; and $75,000 WEC Grand Prix. The Week 12 finale features the $200,000 WEC Grand Prix.
About World Equestrian Center
World Equestrian Center features two premiere equestrian and multidisciplinary venues in Ocala, Florida, and Wilmington, Ohio.
These exclusive facilities comprise state-of-the-art arenas, expansive stadiums, versatile outdoor space, sporting fields and well-appointed exposition centers. An abundance of lodging options and luxury accommodations are conveniently located on-site, along with shopping and dining throughout each property.
Dedicated to offering great sport and fun in a family-friendly environment, World Equestrian Center promises an unparalleled experience for exhibitors, spectators, vendors, sponsors and retailers built on three core values: Quality. Class. Distinction.
Learn more at wec.net.
Media Contact
Candace FitzGerald
603-738-2788