Please join us on Saturday, October 20 at 3:00 p.m. for a ribbon cutting ceremony and celebration at the NEW! World Equestrian Center Vendor Village. Come enjoy a champagne toast, hors d'oeuvres and a cash bar. Visit with vendors, grab a punch card and be eligible to win a WEC gift certificate.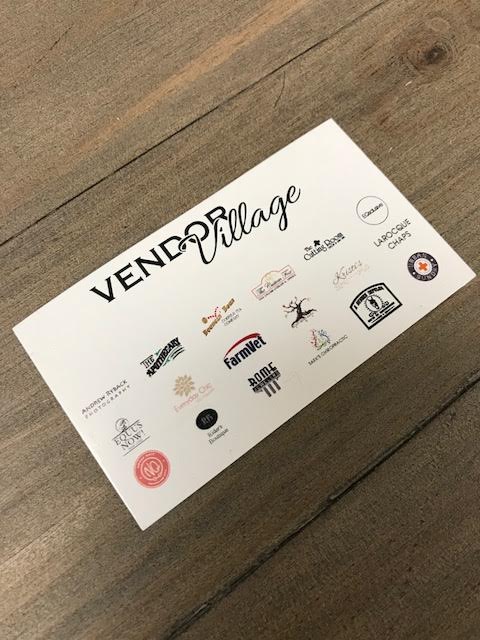 Participating vendors include Rome Jewelry, Everyday Chic Boutique, Urban Sundry, EQUUS Now!, Rider's Boutique, Kristi's Canvas, NQ Personalized Products, The Apothecary Veterinary Pharmacy, The Cutting Room, Equitex, Glass Roots Studio, Andrew Ryback Photography, Larocque Chaps, FarmVet, Saeks Chiropractic, A Sudden Impulse, The Bouncing Bean and The Custom Fox.
Discover Vendor Village
The Vendor Village at World Equestrian Center is a shopping and dining destination featuring everything you could want at a horse show in a quaint, village square style setting. Complete with charming storefronts, paved walkways and sumptuous seating areas, the Vendor Village transports visitors to another place and time. Exclusive shopping, dining and day spa experiences are all conveniently located in the center of the horse show complex. All of these upscale amenities are within a minute's walk of the horse show action in each of the competition arenas or within a short walk to the barns and onsite accommodations.
Shopping at Vendor Village
Imagine a welcoming town square, with permanent stores where exhibitors and spectators alike can take advantage of shopping for equestrian clothing, tack, equipment and accessories, watch fine artists at work and see their gallery spaces; or perhaps browse through a clothing boutique with rich cashmere sweaters and fine silk scarves and jewelry.
Dining at Vendor Village
Visitors can take a seat on the patio at the Dark Horse Coffee Co. (Coming Soon!) overlooking the Vendor Village town square. Sip a latte or enjoy a breakfast smoothie while watching the stunning show horses travel back and forth on the walkway between the schooling area and the show ring.
The World Equestrian Center's free WiFi makes it easy to bring a laptop or tablet to work or stay on top of your emails while enjoying the bustle of the busy horse show scene.
Visit our Day Spa
Visitors to the World Equestrian Center Vendor Village can enjoy a single treatment or day of pampering at The Cutting Room Aveda Day Spa. They can step away from the horse show hustle and bustle to revel in the soothing atmosphere of the day spa – with quiet music, air transfused with essential oils and a complete listing of spa services including massages, manicures and pedicures, skin treatments and haircuts / coloring. Whether visitors are at World Equestrian Center to compete or to spectate, they'll be relaxed, rejuvenated and looking their best after a trip to The Cutting Room.
Even your four-legged friends can have a day at the spa at the new 'Shaggy Chic Pet Parlor', a self-service dog grooming shop located in the Vendor Village.
Visitors are encouraged to visit the World Equestrian Center Chapel, located in the heart of the Vendor Village. The Chapel is always open, and available to all.
Become Part of World Equestrian Center
World Equestrian Center vendors can secure permanent space at the Vendor Village in various dimensions with built in slat walls for displays and hardware packages available. Vendors who lease the spaces at Vendor Village are welcome to customize their stores to reflect their own brands.
Vendors interested in applying for space in the Vendor Village or our larger horse show complex, should contact Erin McMurry at erin.mcmurry@wec.net.