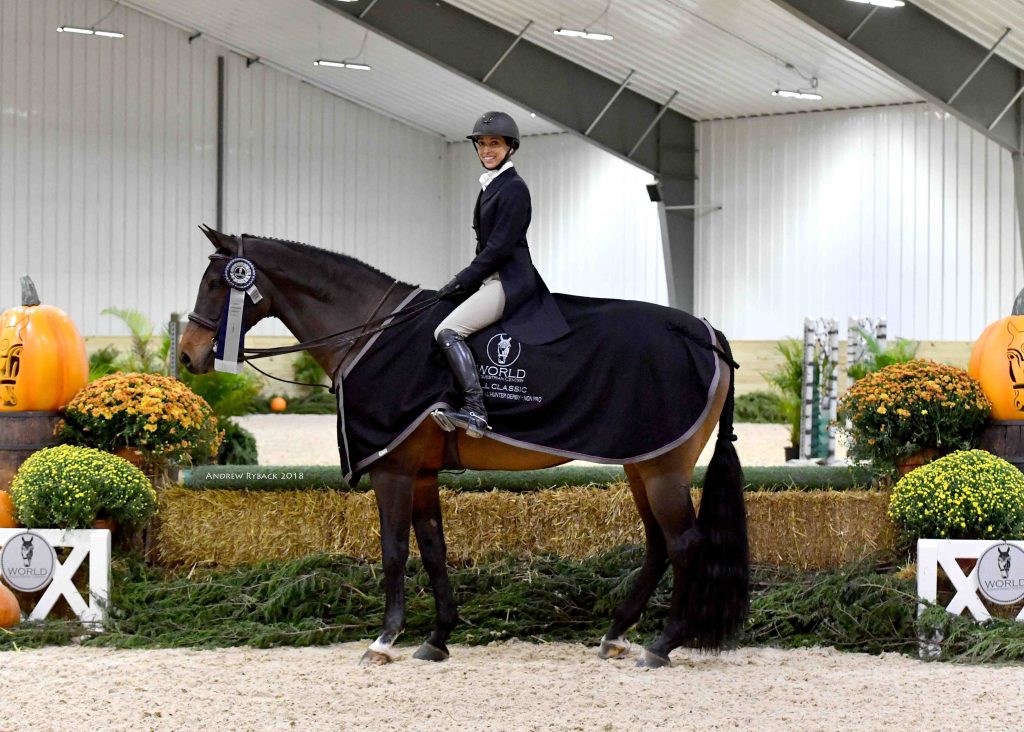 The hustle and bustle of the sold out WEC Fall Classic horse show kept the arenas at full capacity today as we headed into a weekend filled with fun events and thrilling equestrian sport. Wrapping up the day in the R+L Arena were both the Open and Non Pro $2500 USHJA National Hunter Derbies. The classes ran simultaneously with 31 combined entries navigating a stunningly decorated course of natural Fall-inspired obstacles designed by Bobby Murphy of Lexington, Kentucky. Beautifully appointed with Fall decor, the course encouraged forward riding and offered riders a total of four high options.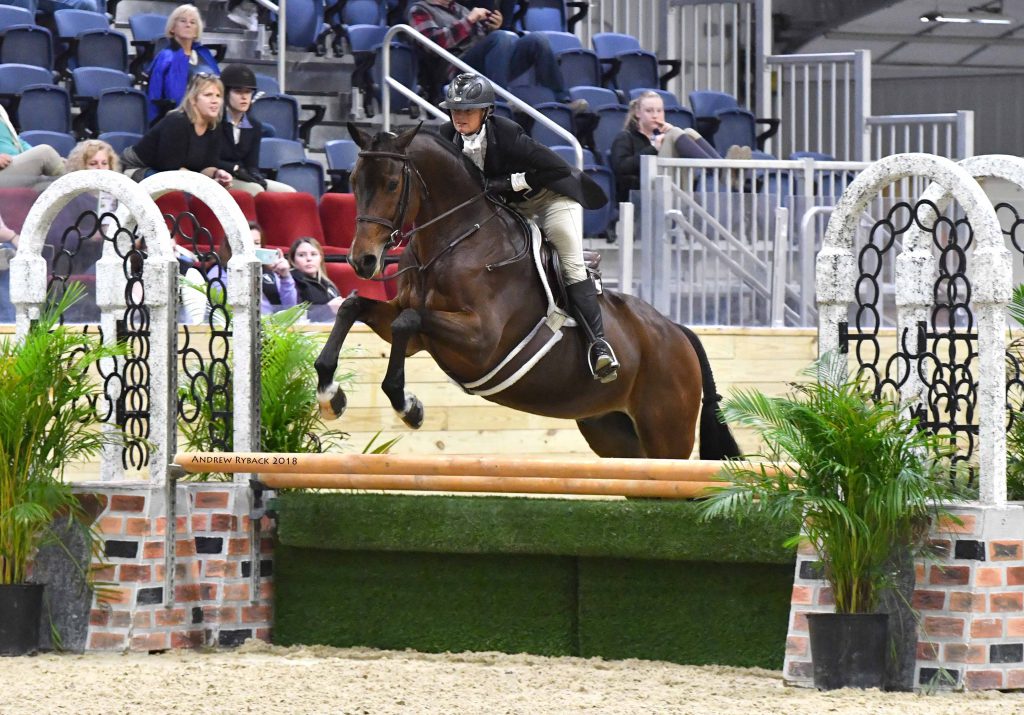 The Open Derby saw several high-scoring rounds, but none higher than 'Round Midnight and Canada's Erynn L. Ballard. The pair delivered two near-perfect rounds, scoring a 92 in the first round and a 91 in the handy round, bringing their overall total to 183. Erynn was ecstatic with 'Round Midnight's performance, "He won all week. He was champion in the Green Hunter 3'6″; he's won a lot this year. We're Canadian so our big indoor coming up is Toranto Winter Fair, and in the past we've never had a place to prepare. We looked at the schedule and thought that this fit in nicely. He likes the ring, he likes the footing, he likes the jumps!" The 8-year-old bay Oldenburg gelding is owned by Knightwood Stables out of Ontario, Canada. 'Round Midnight has been on a winning streak, and Erynn hopes to take it right through the rest of their indoor season.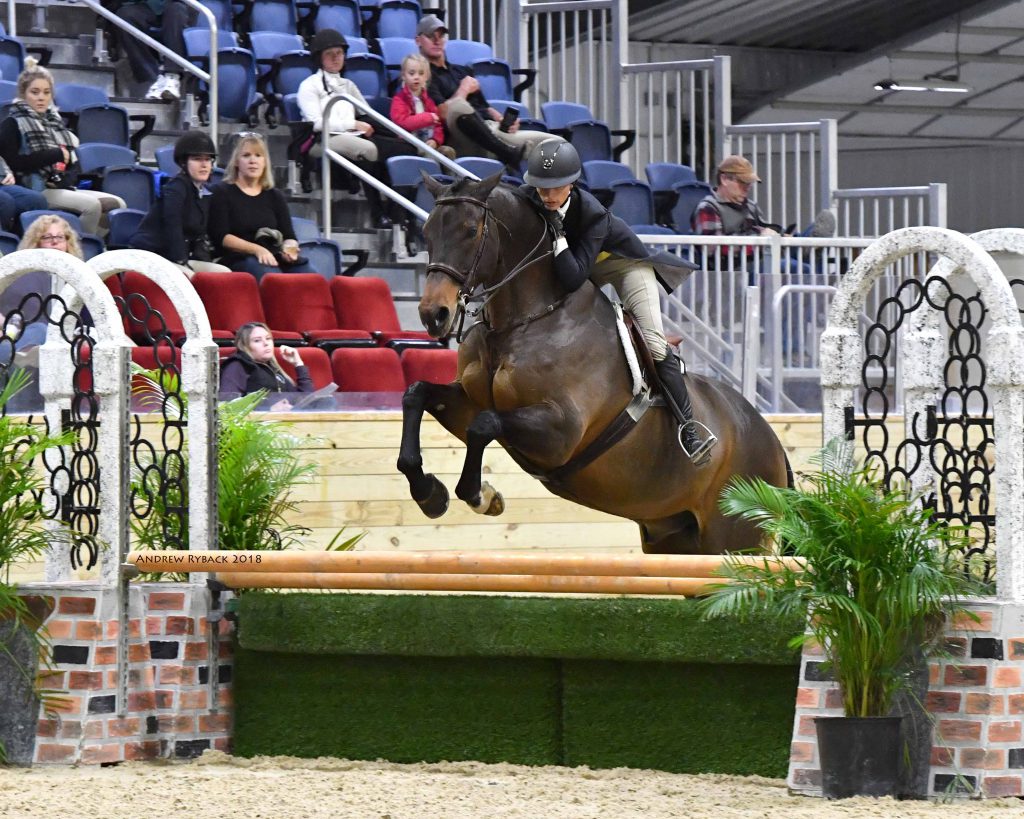 The Non Pro Derby hosted a very competitive field of amateurs, but it was Full Count and Shaunnah Anderson that bested the group to take the win. The pair received scores that rivaled those of the Pros, earning an 89 in the first round and an 84 in the handy round for a total score of 173. Shaunnah was overcome with joy, as she exclaimed on her way out of the ring, "I love my horse!" She later told us, "In round one he was excellent, I was very, very happy with that. In round two, we were still working on our softness, and I was able to do all of the inside turns I planned and he stayed soft the whole ride. I was really pleased with both rounds together." The 13-year-old Holsteiner imported from Belgium seemed equally as pleased with his performance, repeatedly wrapping his head around Shaunnah.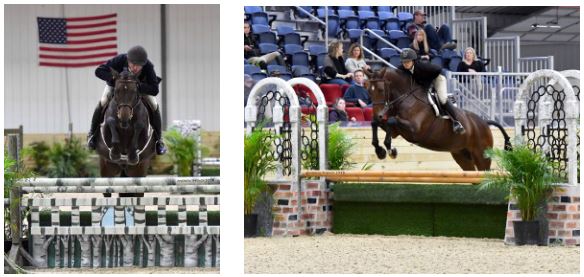 We would like to congratulate the second and third place finishers of the $2500 USHJA National Hunter Derby – Open, Lavish and David Beisel and Rehy Wonder Boy and Linda Radigan.

We would also like to congratulate the second and third place finishers of the $2500 USHJA National Hunter Derby – Non Pro, Firestone II and Emily Caldon and Lex Toccino and Gabriella Lewis.
Photos courtesy of Andrew Ryback Photography.