We kicked off May at World Equestrian Center in Wilmington, Ohio, by hosting the Nutrena East AQHA Level 1 Championship show for the second year. Approximately 1,000 horses competed, all in hopes of being named the American Quarter Horse Association's (AQHA) "Rookie" or "Level 1" Champion in their respective classes. The show welcomed 300 new exhibitors this year which helped make up the nearly 2,600 total entries from more than 30 states. Several classes showed more than 80 entries. Competition was stiff with entries preparing year-round for the event and, by the end of the week, Champions were named in almost 100 separate classes.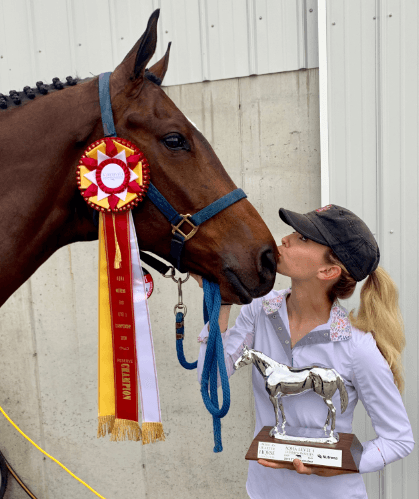 Countless horses and riders excelled at the Nutrena East AQHA Level 1 Championships, but Reaghan Griffin of North Carolina stood out from the crowd. 2019 marked Reaghan's third trip to the Novice Championships, first year as an Amateur and first Novice Championships with her new horse Ironized (Diesel). Reaghan and Diesel had quite a successful show, placing Reserve Champion out of almost eighty entries in the Level 1 Amateur Hunter Under Saddle and thirteenth in the Level 1 Amateur Hunt Seat Equitation out of about sixty entries.
Reaghan's love for horses began at an early age, but she did not get the opportunity to ride until she was about six years old. "A family friend had Clydesdales," explains Reaghan, "I was horse obsessed, so I kept asking to ride them. These Clydesdales had never done anything but pull a cart, but they threw me up there and off I went!"
Growing up, Reagan catch rode anything she could to gain experience and progress as a rider. Reaghan's friend owned a large Hunter / Jumper barn and would let her ride the horses at the barn. "I was having the time of my life. I was doing whatever I could just to get in the saddle," she shared.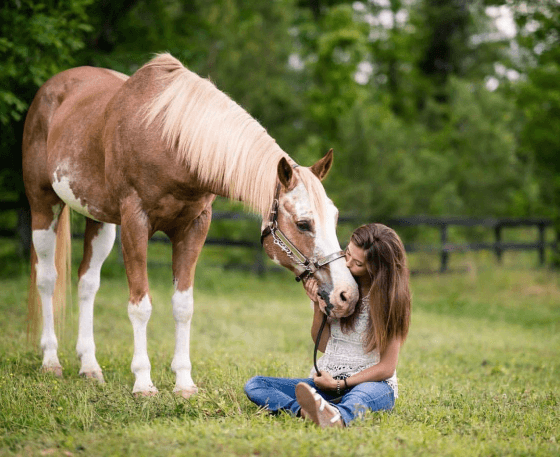 In 2012, Reaghan got a horse of her own, an OTTB mare. She spent some time working with her mare before she sold her about a year later and purchased a Paint gelding, Heza Foxy Heathen (Foxy). Foxy and Reaghan did the All Around, meaning that they showed in English classes, Western classes and in-hand classes. Foxy was Regahan's first venture in the All Around and she found that she really enjoyed showing in all three disciplines. Foxy is now 19 years old and still lives with Reaghan. She says, "Foxy is the best horse in the world. He's the easiest horse to ride, you just point him and he goes and does his job. I can throw anybody on him. He's perfect."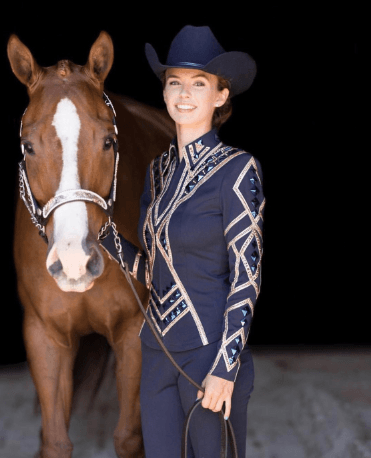 Reaghan got her first Quarter Horse in 2014. HD Vintage Investor (Elliot) was purchased as a two year old and Reaghan broke him and showed him for a few years. The pair had great success, showing at the Novice Championships and placing Top Ten twice. "He definitely taught me how to ride," says Reaghan, "He was a really cool horse." Due to medical issues, Elliot needed to retire, but still lives a comfortable life with Reaghan at her home.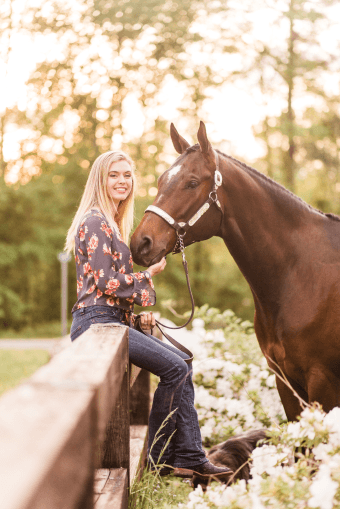 Reaghan found herself in the market for a horse again in late 2017. Her trainer, Joy Bunn of Mountain Refined Equestrian Center, had a Quarter Horse gelding horse named Ironized (Diesel) in training for sale. Diesel turned out to be an excelent mount for Reaghan, so she purchased the 17.3 hand bay gelding. Behind Diesel's massive presence was a sweet, kind, puppy-like horse who, while still green, had the desire to do well. "He's just the best. I love him," Reaghan raves about Diesel. Diesel lives at Reaghan's house along with Foxy and Elliot, and Reaghan hauls to lessons.
After just a little over a year together, Reaghan and Diesel set their sights on the 2019 Nutrena East AQHA Level 1 Championships. Reaghan's trainer Joy Bunn unfortunately could not attend, so she sent Reaghan and Diesel with another trainer, but was sure to FaceTime Reaghan during each of her classes. Reaghan notes that, even with a different trainer, she felt like part of a family, which is something she greatly values when showing.
The 2019 Nutrena East AQHA Level 1 Championships was both Reaghan and Diesel's first trip to World Equestrian Center. With Diesel still being fairly green, Reaghan was not sure how he might handle the hustle and bustle of the Novice Championships. "I was sure he was going to spook here or lose his mind there, but he was surprisingly fantastic," says Reaghan, "I thought there was going to be way too much going on atmosphere-wise, but the way it was laid out made it less stressful. It was really easy to go from the barns to the rings because everything was connected. It wasn't the stressful experience that I thought it might be."
Reaghan and Diesel excelled at the 2019 Nutrena East AQHA Level 1 Championships, taking Reserve Champion in the Level 1 Amateur Hunter Under Saddle and thirteenth in the Level 1 Amateur Hunt Seat Equitation. Reaghan tells about her experience receiving Reserve Champion: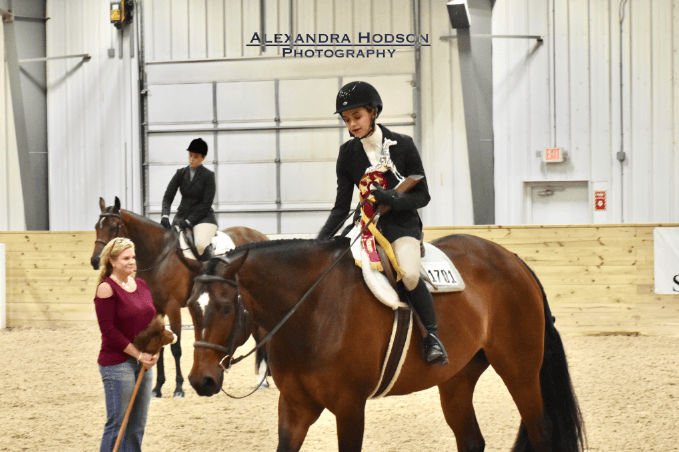 "I bought Diesel thinking that he wasn't an Under Saddle horse, which was fine because my favorite events are Equitation and Showmanship. We entered for fun, not expecting too much. The Carolinas are small Associations, so this was by far the biggest show we've been to. We haven't shown against this level of competition.
There were 78 entries in the class. He was great; he went into his, what I call, airplane mode where his ears stick out to either side and flop while we go down the rail. It's his cruise control. They were calling placings (from last to first) and there were only five of us left in the ring, so I thought we didn't win anything. Then they called us as Reserve Champion. I was bawling. It was really cool."
With such a large accomplishment under her belt, Reaghan only feels more motivated to keep progressing. While she had not originally planned to attend the 2019 Lucas Oil AQHA World Championship Show held in November at the State Fair Park in Oklahoma City, Oklahoma. Reaghan is also aiming to show Diesel at the All American Quarter Horse Congress in October, hosted by the Ohio Quarter Horse Association at the Ohio Expo center in Columbus, Ohio. Reaghan says, for the time being, she is just trying to learn from as many people as she can and keep growing as a rider.
We wish Reghan the best of luck as she pursues her goals!
Photos courtesy of Reaghan Griffin.