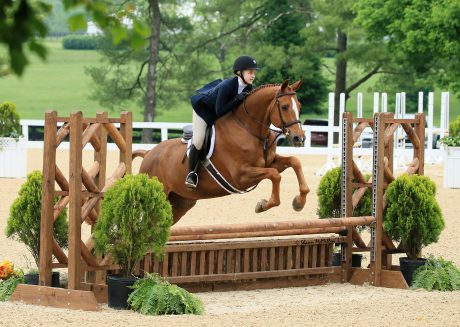 Riley Ritter rode Susan Baginski's 'Ascot' to the win in the inaugural 2'6" World Equestrian Center Hunter Derby (Non-Pro) at the Kentucky Horse Shows LLC Kentucky Spring Horse Show. The pair took top honors in the first Hunter Derby of the 16-show Series which kicked off in May and runs through October for a total of 16 shows held between the two venues. The 2'6″ Hunter Derby Series will be awarding $1,000 at all Kentucky Horse Shows and $2,000 at all World Equestrian Center horse shows.
The Series will conclude at World Equestrian Center in October with a $10,000 2'6" Hunter Derby, along with $10,000 in Leading Rider Awards among other prizes. For more information, visit the World Equestrian Center Spring / Summer Prize List.
Riley graciously took the time to speak with us about her ride, the class and her horse, Ascot.
What barn do you ride with?
Baskin Farm
What is your trainer's name?
Susan Baginski and Patti Boland
Do you own/lease Ascot?
I lease Ascot or "Scotty" from my trainer, Susan Baginski.
How did you prepare for the 2'6" Non Pro Derby?
At the barn, I made sure to keep working on my problem areas and the things I struggle with when I ride. Out of the ring, though, I made sure to stay relaxed, calm, and confident as to keep my nerves down.
Is this your first Derby win?
This is my first A circuit derby and derby win and my first derby and derby win with Scotty.
Tell us about Ascot.
Ascot (Scotty) just turned ten this year! He is such an amazing horse both in and out of the ring and he has the biggest personality! He is such an incredible horse and I am so lucky to be able to ride him. He is a very honest horse in the ring and he's really helped teach me that I need to make decisions and let him know whats happening. And though I still do make a lot of mistakes, Scotty is extremely forgiving and always excited to do his job no matter what. He really reminds me of a big puppy, he's just so happy and curious about everything. He's always trying to get someone to love on him and pet him and he's always trying to make new friends, whether it's a human friend or a new animal friend. Scotty is really silly too and constantly making these really cute and silly faces at everyone!
What was your favorite part of the course?
I really loved the bending line, to the trot jump rollback in the handy round!
What are your future riding goals?
I would really love to keep moving up in hunter classes and start doing some more derbies. I also really want to compete more in the equitation classes as well. For the rest of my future though, I really just want to continue riding and even possibly riding for a college one day.
What other classes do you show in?
Scotty and I have been starting to show in the children's hunters, but because it was our first outdoor show together, my trainers and I thought it would be a good idea to compete in the intermediate classes.
Have you shown at World Equestrian Center or do you plan to?
Sadly, I haven't shown at the World Equestrian Center yet, but I really hope to in the future!! I tried a few horses a the WEC last year and it is such a beautiful show facility.
Do you plan on showing consistently in the 2'6" Non Pro Derby Series this Summer to accrue points for the $10,000 2'6" Non Pro Derby in October at World Equestrian Center?
I would really like to, but I will have to see where everything takes Scotty and I.
I would also really love to take a second to thank my trainers, Patti Boland, Susan Baginski,and Kelsey Henry, for everything they have done for me over these past couple of years and to thank all of my friends, the workers, and everyone else at Baskin Farm for the constant love and support everywhere we go! I also want to thank my parents, Karla and William Ritter, for helping me every step of the way. And a final thank you to the wonderful horse who continues to help me overcome every obstacle, thank you Scotty!