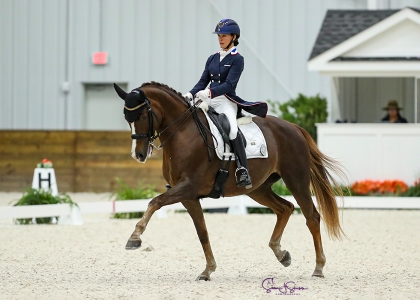 World Equestrian Center – Ocala is excited to announce nine dates for dressage competition in 2022 presented by Hampton Green Farm and Discover Dressage. The events will span the year from January through December and include USEF/USDF nationally-rated competition.
Dressage dates serving as an official qualifying competition for the 2022 Great American/USDF Regional Championships include:
Dressage VI | 01/07/22 – 01/09/22 | Prize List | Ride Times | Results
Dressage VIII | 01/21/22 – 01/23/22 | Prize List | Ride Times | Results
Dressage XIII | 02/25/22 – 02/27/22 | Prize List
Dressage I | 03/11/22 – 3/13/22 | Prize List
Dressage III | 04/15/22 – 04/17/22 | Prize List
Dressage XIV | 08/26/22
Dressage XV | 08/27/22 – 08/28/22
Dressage IV | 10/21/22 – 10/23/22 *pending approval
Dressage V | 12/09/22 – 12/11/22 *pending approval
Dressage competition held in February, March and April will serve as qualifiers for the following,
2022 FEI North American Youth Championships
2022 USEF Children Dressage National Championship
2022 USEF Pony Rider Dressage National Championship
2022 Adequan/USEF Junior Dressage National Championship
2022 Horseware Ireland/USEF Youth Rider National Championship
2022 Adequan/USEF Youth Adult 'Brentina Cup' Dressage National Championship
2022 Markel/USEF Youth and Developing Horse Dressage National Championships
2022 FEI World Breeding Championships for Youth Horses in Dressage (Five, Six and Seven Year Olds)
2022 USEF Intermediaire I Dressage National Championship
2022 Great American/USDF Regional Championship
Entries, Stalls & Feed/ Bedding
View EquestrianEntries.com to place entries, book stalls and order feed/bedding.
Official Show Photographer
Susan J. Stickle is the official horse show photographer for the 2022 World Equestrian Center – Ocala Dressage Shows.
STAY AT WORLD EQUESTRIAN CENTER – OCALA
Exhibitors should make your reservations now at our elegant Equestrian Hotel, with 248 stylishly appointed rooms, restaurants, luxury shopping and day spa.
Choose to reserve a charming HomeAway from Home unit, or an RV space in our conveniently located park which includes a General Store, Starbucks and laundry facilities, just steps away.
About World Equestrian Center
World Equestrian Center features two premier equestrian and multidisciplinary venues in Ocala, Florida, and Wilmington, Ohio.
These exclusive facilities comprise state-of-the-art arenas, expansive stadiums, versatile outdoor space, sporting fields and well-appointed exposition centers. An abundance of lodging options and luxury accommodations are conveniently located on-site, along with shopping and dining throughout each property.
Dedicated to offering great sport and fun in a family-friendly environment, World Equestrian Center promises an unparalleled experience for exhibitors, spectators, vendors, sponsors and retailers built on three core values: Quality. Class. Distinction.
Learn more at wec.net.