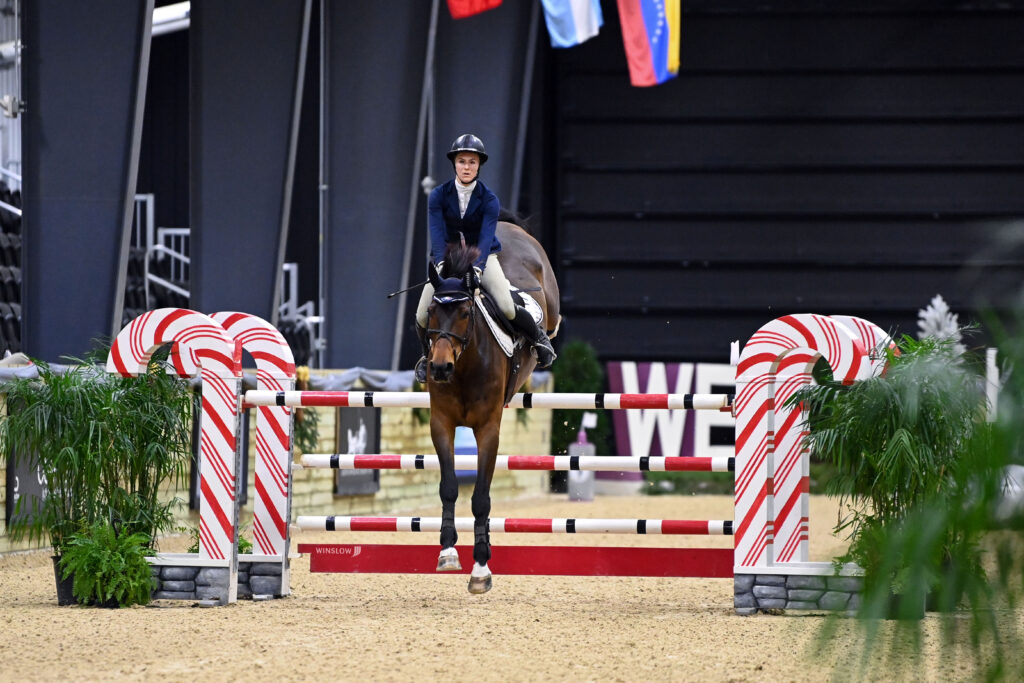 An international field of seventeen horse-and-rider combinations took to the Sanctuary Arena for tonight's $10,000 WEC – Wilmington Welcome Stake 1.35. Four of the seventeen riders managed a fault-free first round, with just two jumping double clear over the track designed by Bobby Murphy of Lexington, Kentucky. Genevieve Munson, 17, of Rogers, Arkansas, and her own Contendro Star (Contendro I x Gloria) prevailed to take the win.
Munson and Contendro Star blazed the track, leaving all rails up in the first round to cross the timers in 73.895 seconds. The crowd came alive during their jump off as Munson piloted the Hanoverian gelding through the last effort in an untouchable 44.418 seconds to ultimately win the class. Munson showcased three different horses in the Welcome Stake class, two jumping double clear and all managing top ten placings.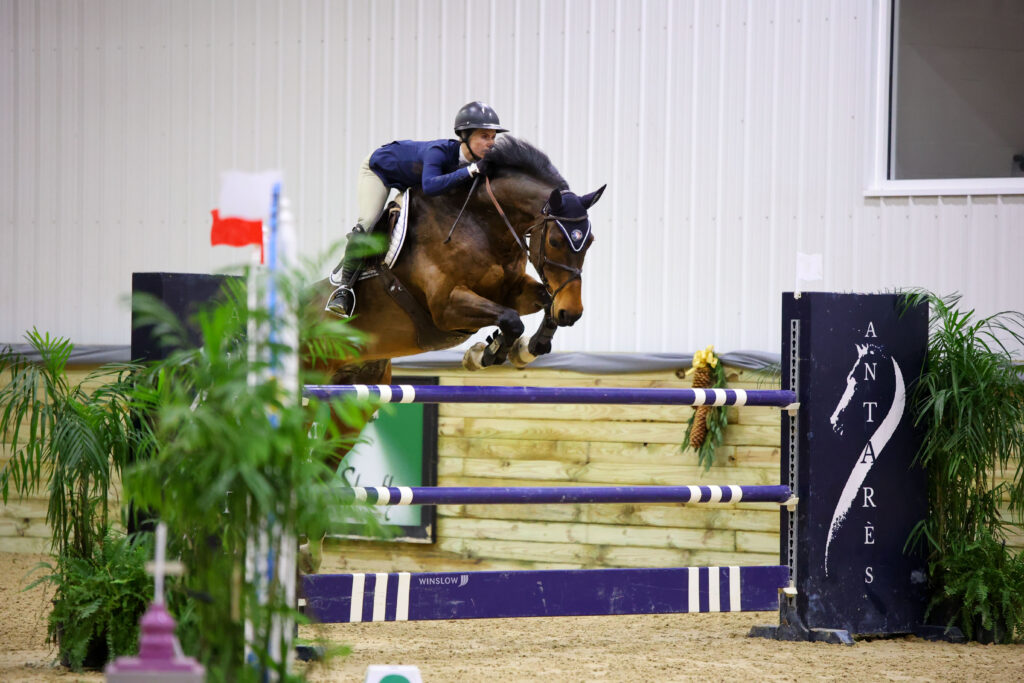 We caught up with Munson after the class to chat about her scopey horse Contendro Star. "Nigel, as we call him in the barn, was imported from England a few years ago and he has been a little bit of a project. He jumped some really big classes over in Europe, but he is quite spooky so we have done a lot of flatwork on him. We call him the 'Welcome Stake King' because he always has great luck in the Welcome classes and has won many of them, but he is just not quite there in the Prix's yet."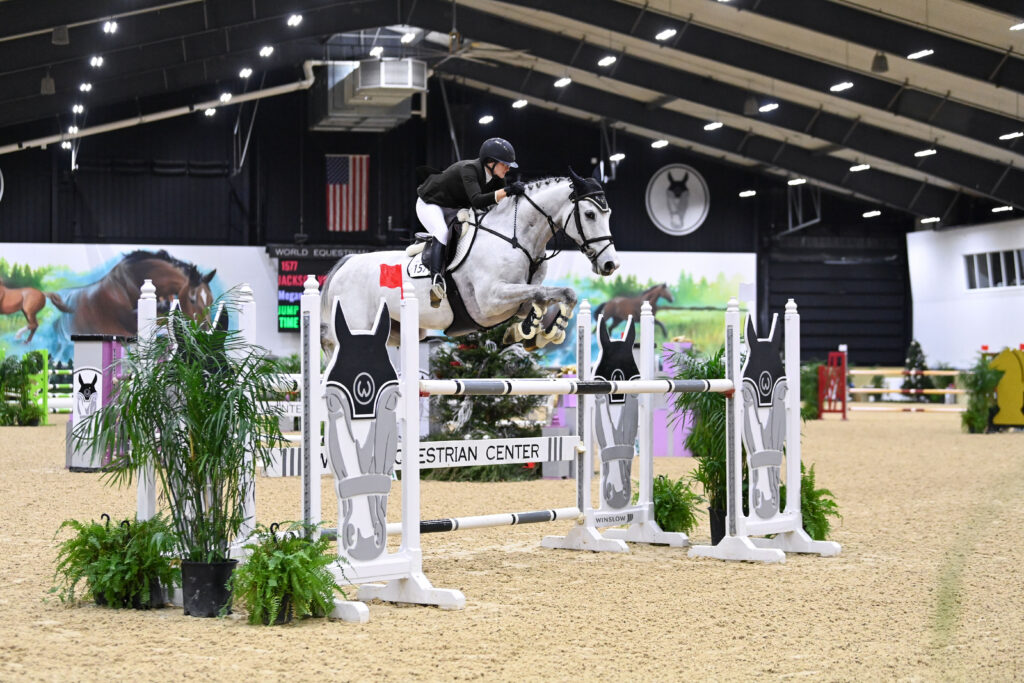 Moving up one spot from last week's class was Megan Bash and her own Jackson VDL (Zirocco Blue VDL x Design O). Tonight Bash of Cleveland Equestrian and the stunning gray gelding earned second place in the $10,000 WEC Welcome Stake 1.35m. Bash and the 7-year-old Dutch Warmblood gelding finished round one in 71.413 seconds with no jumping or time faults to land them a spot in the jump off. They caught their breath and galloped off for a shot in the short course finishing fault-free in 45.351 seconds to take second place honors.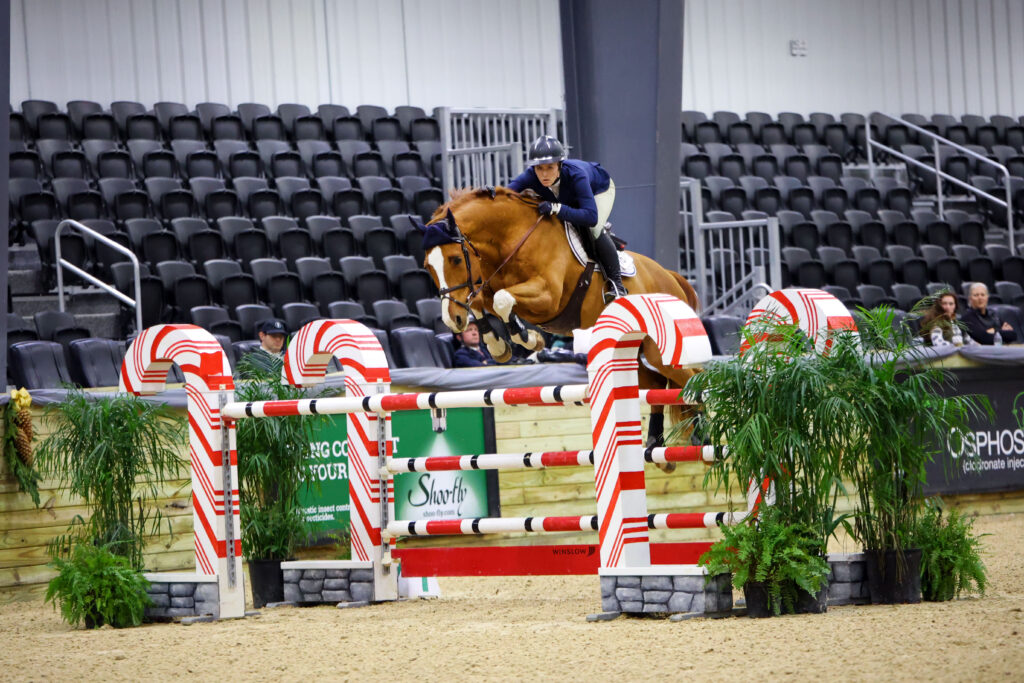 Rounding out the top three was Genevieve Munson aboard Mark Holden's Zonderling (Escudo I x Or-animo). The seventeen-year-old chestnut gelding and Munson jumped clean and clear in the first round, crossing the timers in 71.248 seconds to immediately advance them into the jump off. Munson and Zonderling finished the jump off 45.574 seconds, just a hair behind Bash to take the yellow ribbon.
$10,000 Welcome Stake 1.35m Results
Contendro Star, Genevieve Munson – 0 | 0 | 44.418
Jackson VDL, Megan Bash – 0 | 0 | 45.351
Zonderling, Genevieve Munson – 0 | 0 | 45.574
Z Diamanty, Megan Bash – 0 | 4 | 46.378
Chaccomo 11, Drew Arnold – 2 | 77.737
Charlene, Genevieve Munson – 4 | 69.523
Kinsella, Charlotte Clark –4 | 70.932
Catch a Star HSS, Kevin McCarthy – 4 | 71.972
Costa Quanta 5, Charlotte Clark – 4 | 75.192
Gallup Sarah R. Meier – 5 | 76.364
Congratulations to all entries on a successful day of equestrian sport!
Photos courtesy of Winslow Photography