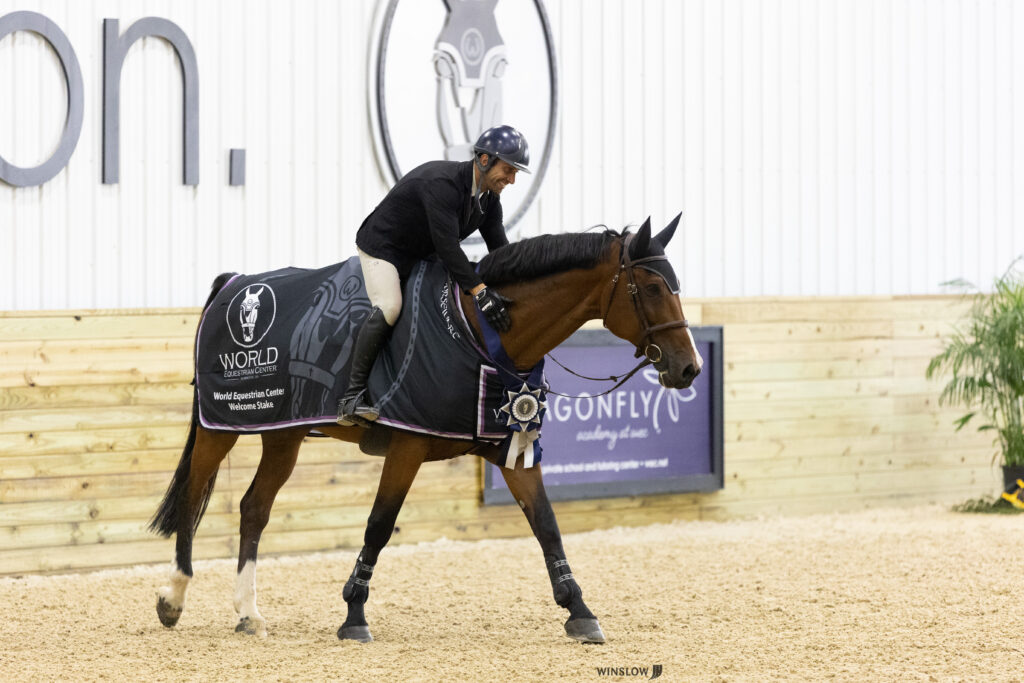 WEC Summer 1 Wilmington feature classes kicked off with an exciting $10,000 Welcome Stake, hosted Thursday evening in the Sanctuary arena. A crowd gathered to watch as twenty three talented riders contested the course designed by Bobby Murphy of Lexington, KY. Thirteen entries managed a clear first round with just seven jumping double clear, but it was California PJ and Agustin Rosales that captured the win.
Spectators, family and fans roared as Rosales of Caliburn Farm in Marshall, Virginia and Ocala, Florida, and Gail Dady's California PJ (Chacco Blue x Evita) made easy work of the complex courses. Rosales and California PJ moved to the jump off course after a clean first round effort. The pair crossed the timers at just 39.701 seconds with all rails up over the short course, moving into the top spot and ultimately winning the class.
Roasales was enthusiastic about his mount's performance. "She is super special, she is quick, careful and brave brave brave!"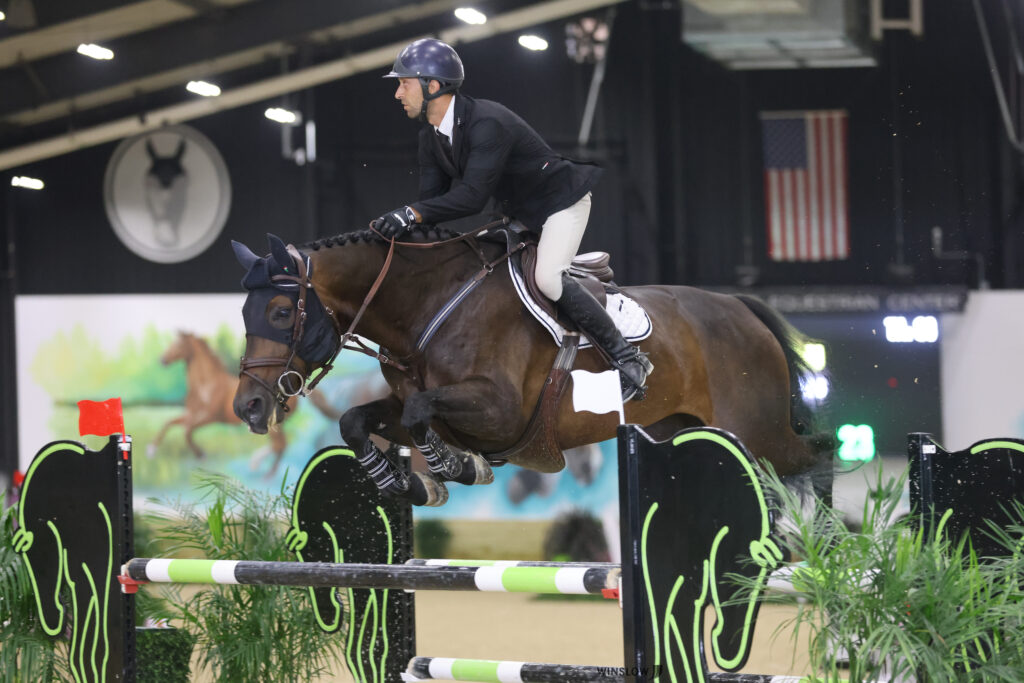 Friends and family celebrated California PJ's win, especially Agustin's wife Bree Rosales who usually pilots the 10-year-old Hanoverian mare.
"The feeling I get from this mare is she normally is shy over an oxer, but today she gave it 100% her all. I ran her for the first time in the jump-off, she was ready and had her game face on."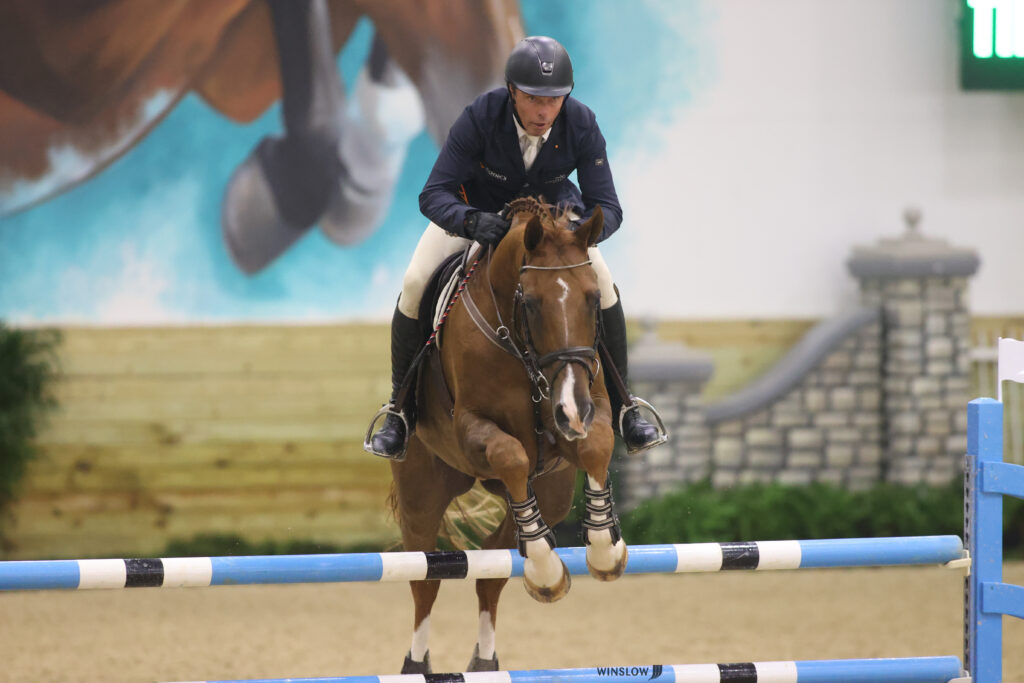 The second place finisher in the $10,000 WEC Welcome Stake was Wilhelm Genn of Rheinland Farm, Lebanon, OH, and longtime partner Van Gogh (Valentino x Calina Z). The 13-year-old Oldenburg gelding jumped a clean and fast jump-off round of 39.853 seconds, just tenths of a second behind Rosales.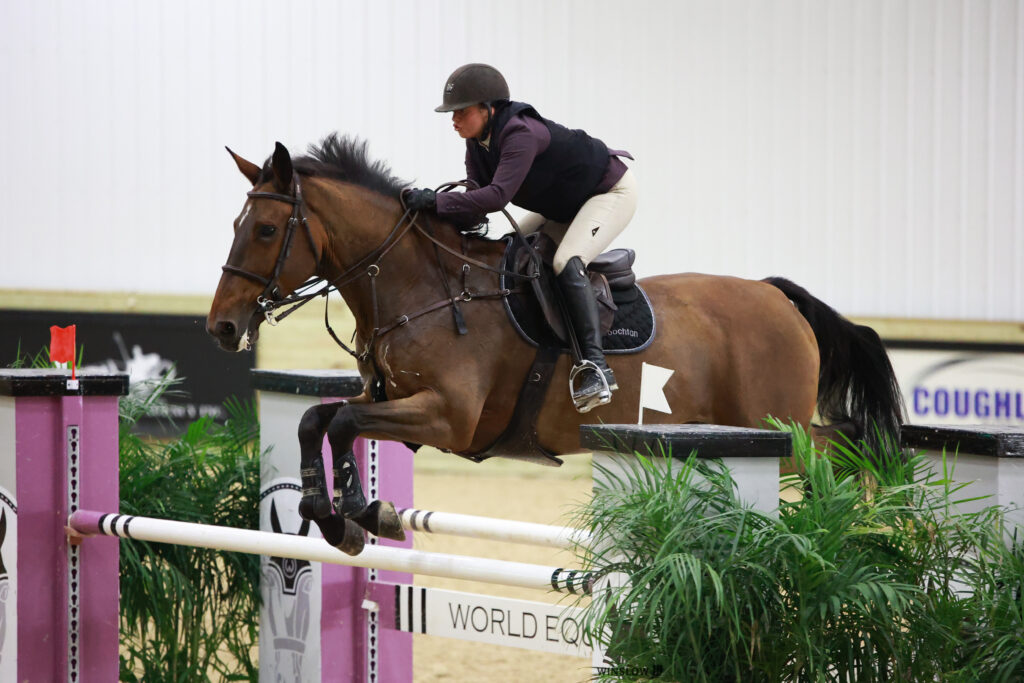 Rounding the top three placings were Nicole Loochtan and Caiman Des Sequoias (Radco D'houtveld x Sublime De La Cour). Loochtan of Stone Creek Stables, Georgetown, Kentucky and the thirteen-year-old bay gelding were not far behind the other top two, with a fast time of 40.673 in the jump-off.
$10,000 WEC Wilmington Welcome Stake Results
1. California PJ, Agustin Rosales: 0 | 0 | 39.701
2. Van Gogh, Wilhelm Genn: 0 | 0 | 39.853
3. Caiman Des Sequoias, Nicole Loochtan: 0 | 0 | 40.673
4. Quantofino, Sarah R. Meier: 0 | 0 | 41.485
5.Bugatti, Wilhelm Genn: 0 | 0 | 42.593
6. Vigo Du Levant, Jaelynn Downing: 0 | 0 | 42.979
7. Balugata, Liz Hutchinson: 0 | 0 | 43.595
8. Fergie, Patricio Rodriguez: 0 | 4 | 43.185
9. Essince W, David Q. Beisel: 0 | 8 | 39.535
10. Billionaire, Sarah R. Meier : 4 | 71.337
Congratulations to all on a great evening of equestrian sport. Competition continues at World Equestrian Center – Ohio through Sunday.
Photos courtesy of Winslow Photography.