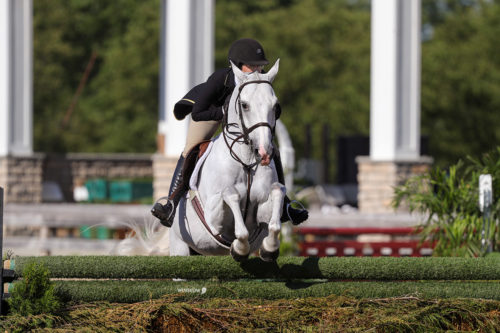 This afternoon brought more derby action to the World Equestrian Center Summer II show with a $5,000 Open Hunter Derby. A field of 24 entries vied for the win in the class over a beautifully decorated course designed by Bobby Murphy of Lexington, Kentucky. The course featured bending lines, a two-stride in-and-out, lush brush jumps and a flower-covered island that acted as the centerpiece for a pinwheel of three fences. Competition was stiff with scores into the high 80s and low 90s, but it was amateur Hannah Eddlemon of Wilmington, Ohio, and Roberts Stables, LLC's Snowbird (Vingino x Vegannie) who took the win with a pair of 88 scores.
Melissa Donnelly and Elizabeth Becker's Corlando 49 (Cartani x Olanda I) were first to try their hand at Bobby Murphy's course. The pair topped the $5,000 USHJA National Hunter Derby earlier this year during World Equestrian Center's Winter in the Midwest series and were determined to try for a repeat victory this afternoon. Donnelly and the 14-year-old Holsteiner gelding set a high standard in the first round for the remaining 23 entries, taking all four high options for a score of 85.
Hannah Eddlemon and Snowbird took to the course shortly after. The pair won the inaugural Child/Adult World Equestrian Center Premier Cup Classic this past fall at World Equestrian Center, taking home a 2019 Chevrolet Blazer for the win. They demonstrated the same poise from that victory in this afternoon's class. Eddlemon and the 12-year-old Dutch Warmblood gelding navigated a foot-perfect first round, taking all four high options for a score of 88.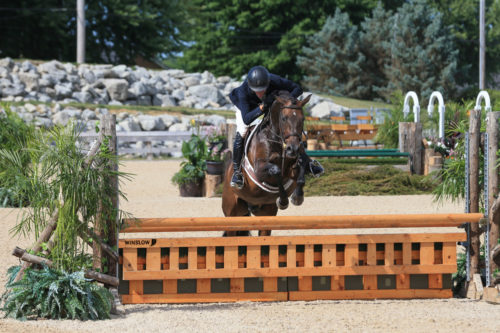 David Beisel switched up his mounts for this afternoon's derby after winning last week's $10,000 USHJA National Hunter Derby and yesterday's 3'0″-3'3″ $2,000 Green Hunter Derby with Lori Taylor's MTM Bentley (Bonaparte Z x Hot Cherie P). Beisel's choice for today's derby was Phyllis Harlow's Lavish (Don Bedo x Hauptstutbuch). The pair took third place in last summer's $2,500 USHJA National Hunter Derby at World Equestrian Center and were ready to compete this afternoon. Beisel and the 15-year-old Westphalian gelding earned the highest score of the first round, taking three high options for an 89.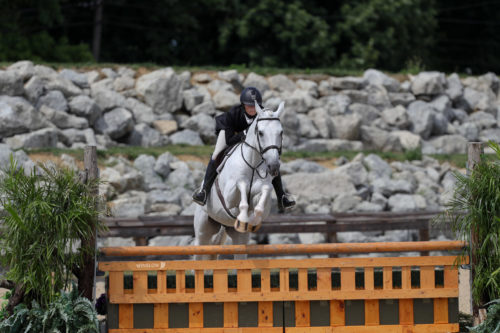 The course was adjusted and the top twelve entries returned for the handy round. Donnelly and Corlando 49 were the first of the three highest first round scores to return. The duo managed a tight rollback turn to fence 2 that no other entries attempted, and also took the inside track to fences 5 and 8, wowing the judges for a score of 90. This brought their overall score to 175, making them the new class leaders.
Eddlemon and Snowbird were next in the handy round. The pair took a slightly different approach, still taking inside turns, but utilizing wide arches to approach each fence. The result was a flawless flowing round and Eddlemon and the handsome gray gelding were rewarded for their efforts with a second 88 score, bringing their total score to 176, topping Donnelly by just one point and ultimately taking the win.
Beisel and Lavish were last to return. In his signature fashion, Beisel chose to keep his inside turns tidy, but opted against the snug rollback turn inside the island to fence 2. Though his turns left about two strides before each fence, Beisel and the striking bay gelding's pace never wavered. The duo chose to take just three high options, earning a score of 85.5 for a two-round total of 167.5, sliding neatly into third place.
Eddlemon took a moment to chat with us ringside after the class, "We weren't going to show this week, but Snowbird felt really good, so we figured that we should do the derby. I did one class with him earlier today, but that's all we've done this week, other than this class. He was really rideable and easy to navigate the course on today. It was fun!"
She also commented on her plan for the handy round, "Snowbird is super handy, so I was just going to do as many turns as possible, but make them as smooth as possible by keeping them a little wider."
When asked what she and Snowbird have been up to since winning the Child/Adult World Equestrian Center Premier Cup Classic this past fall, Eddlemon replied, "This is basically our first show back since we won the World Equestrian Center Premier Cup Classic in the fall of 2019. I think we may have done one more show, but not too much. It was a more laid-back winter for him. I'm really enjoying my Chevrolet Blazer!"
$5,000 Open Hunter Derby Results
Snowbird, Hannah Eddlemon – 88 | 88 | 176
Corlando 49, Melissa Donnelly – 85 | 90 | 175
Lavish, David Beisel – 89 | 85.5 | 174.5
Hilton II, Keely McIntosh – 82 | 87 | 169
Odyssey, Eleese Shillingford – 78.5 | 89 | 167.5
Cayman, Renee Lenkart – 81 | 86 | 167
Cesar de Lison Z, Lily Rupinski – 84 | 82 | 166
Dreamgirl's Legacy, Madison Orr – 79 | 81 | 160
De Novo, Michael Britt-Leon – 84.5 | 74 | 158.5
Lex Toccino, Gabriella Lewis – 78 | 76 | 154
Photos courtesy of Winslow Photography.