April 17, 2022 – Ocala, Fla. – Nine pairs battled it out in the day's headline class, the Intermediate 1 Freestyle CDI3* on Sunday, April 17. But it was Anna Marek (USA) who led the charge, claiming her third straight victory of the week at the World Equestrian Center Dressage III show, sponsored by Hampton Green Farm and Discover Dressage.
Marek rode Cynthia Davila's 14-year-old gelding Duvel, who is by Florencio out of a Metall dam, to 74.050% in the pair's first ever freestyle together. Not only did they win all three small tour CDI classes, but they posted personal bests throughout, framed by the spectacular backdrop of the World Equestrian Center – Ocala.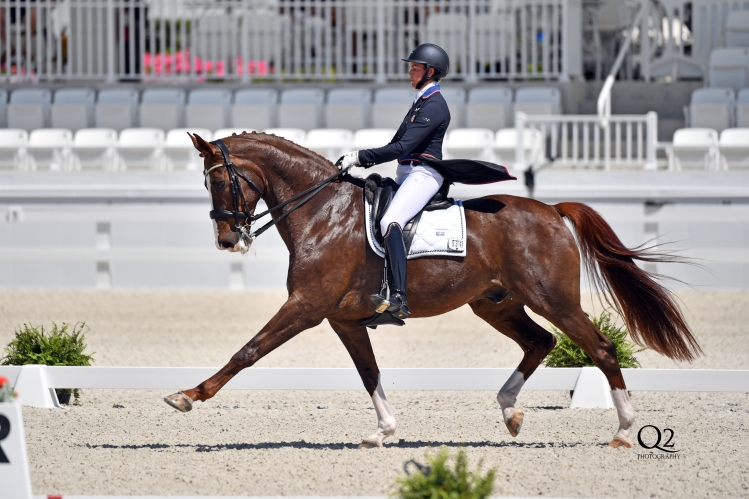 The adult amateur rider Kyle McIver (USA) finished second by just 0.14 percentage points, riding her own 10-year-old Lusitano mare Gigi to 73.910%. More Lusitano blood rounded out the podium, with Lauren Knopp (USA) partnering her own part-bred gelding by Fürst Romancier into third with 68.810%.
Marek said, "We practiced the freestyle a few times at home, and I was a little worried because the music really pumps him up. I wasn't used to riding this really pumped up horse, so I wasn't sure what to expect. Even though it was the last day of the show and everybody's tired, the music amped him up a bit — but he still stayed listening to me. We had a clean test; and I was really happy with it; somehow I nailed the music cues when I needed to."
Owner Cynthia Davila chose the music, while Karen Robinson of Applause Dressage made the freestyle, using dramatic music with a lot of light and shade.
"I love how the music quiets down and it's really pretty for the pirouettes, which are such a highlight for him," continued Marek, who is 33. "Then the music gets pretty intense during his changes, which are really big and expressive. The freestyle really shows him off very well.
"When we were practicing, the biggest thing was wanting to follow the music but know where I'm going well enough to be able to ride the horse really well," she continued. "My coach Anne Gribbons barks at me right before the freestyle that the technical is the most important [rather than the artistic]. She's drilled it into my head. Having not done this one before, I had her in my mind."
Marek has been riding Duvel for two years, but she had a baby in November, so the two have competed together very little. They won two small tour classes at the World Equestrian Center Dressage I national show in March, but otherwise had not competed for a year. This week marked their first international wins.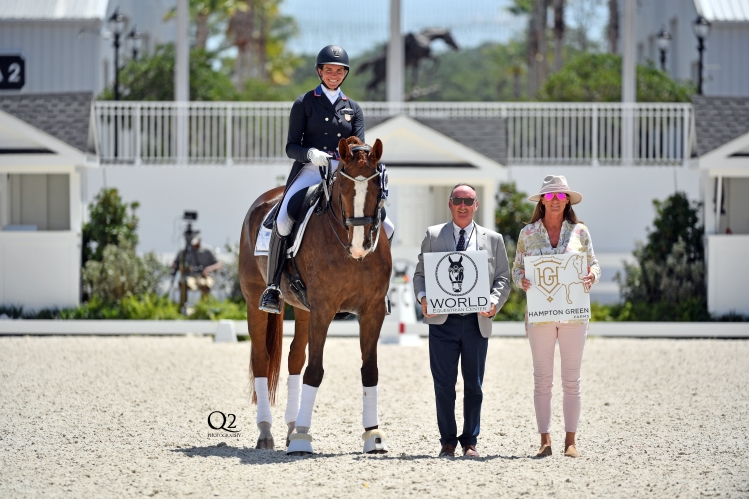 "While I was really pregnant, his owner Cynthia rode him and I just taught her on him," added Marek, who says that the 14-year-old Duvel is not quite yet ready to show at grand prix, though he knows the moves. "Having a little bit of an older horse that's physically very strong and so comfortable with the [small tour] movements, he's a blast to ride in there because you can push everything to the limit and trust that he's going to do it."
In the FEI Young Rider Freestyle class, Spanish competitor Natalia Bacariza Danguillecourt, 21, claimed an emphatic and unanimous victory from the five judges. She rode Yeguada de Ymas's 15-year-old Don Crusador gelding Dhannie Ymas to 74.475%. The pair won all three classes they contested this week.
Personal best performances came from the two American riders who filled out the podium on Sunday: Ever Robak rode Danilo — formerly ridden by Shelley Francis at international grand prix — to 72.315% and Jessica Beck logged 70.385% on Elewaard.
The venue also hosted a packed schedule of national dressage classes this week, with Marek extending her winning streak. She won the FEI Grand Prix classes on Friday and Saturday with Alise Carrico's Felissirana, by Bellissimo M, with plus-71% scores. Sunday's class at the level was claimed by Sarah Tubman (USA) riding First Apple to a massive 75.978%.
Intermediate 1 Freestyle CDI3* Class Results
Show Results
National dressage competition at World Equestrian Center – Ocala continues with Dressage XIV on August 26, with Dressage XV following on August 27-28, presented by Hampton Green Farm and Discover Dressage. Dressage XIV is an official qualifying competition for the 2022 Great American/USDF Regional Championships. The full schedule of events can be found here.  For more information, visit www.wec.net.
Photos courtesy of Q2 Photography.
Videos available at ClipMyHorse.TV.