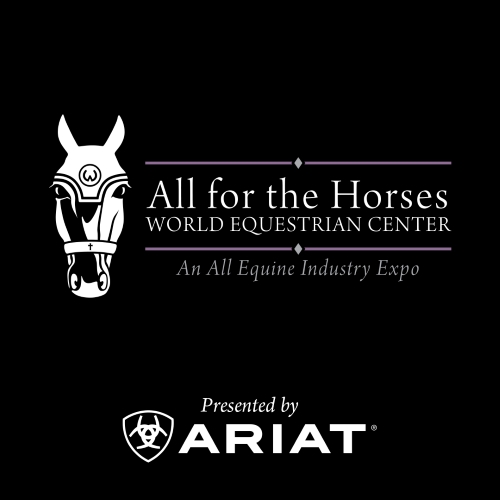 OCALA, Florida – July 26, 2022 – World Equestrian Center – Ocala welcomes Ariat International, Inc. as presenting partner for the inaugural All for the Horses Expo, an all-equine industry tradeshow. All For The Horses Equine Expo that was calendared for October 7-9, will be rescheduled to March 3-5, 2023. The expo will be held concurrently with the ninth week of the 2023 Winter Spectacular Show Series and will feature a carefully curated collection of vendors from across the equine industry. As presenting partner of this event, Ariat will host a specially merchandised pop-up store at the expo site in conjunction with the company's existing brand shop located in Arena 1 at World Equestrian Center – Ocala.
Ariat was the first company to bring athletic shoe technology to equestrian sports and is the leading equestrian brand in the world. The company operates across the U.S., Europe, Australia, Mexico and Japan. Ariat also sponsors top athletes from a variety of equestrian disciplines including Beezie Madden, Will Simpson, Boyd Martin, Phillip Dutton, and John French.
"Ariat's partnership with World Equestrian Center represents a continued collaboration between two organizations committed to equestrian excellence," said Susan Alcala, Vice President, Partnership Marketing at Ariat. "Having an on-site presence at WEC with our Ariat brand shop was just the beginning, and we could not be more excited about this opportunity as presenting partner of the All for the Horses Expo to expand our partnership."
World Equestrian Center encourages vendors from all aspects of the equine industry to apply to be part of this exciting event. . For pre-registration, vendor application or additional information, contact Christy Baxter: christy.baxter@wec.net / 561-252-4510
About Ariat International, Inc.
Ariat was founded in 1993 to reimagine the boot for modern riders, ranchers, and farmers. Our pursuit of functional innovation has raised the bar for performance, fit and craftsmanship all in service to Ariat's global community of world-class athletes, Olympians and people like you. Our products are designed to outperform in the most demanding of environments. Ariat is now one of the top equestrian, western, outdoor and work brands in the world. The company takes its name from Secretariat, the greatest racehorse of all time.
About World Equestrian Center
World Equestrian Center features two premiere equestrian and multidisciplinary venues in Ocala, Florida, and Wilmington, Ohio.
These exclusive facilities comprise state-of-the-art arenas, expansive stadiums, versatile outdoor space, sporting fields and well-appointed exposition centers. An abundance of lodging options and luxury accommodations are conveniently located on-site, along with shopping and dining throughout each property.
Dedicated to offering great sport and fun in a family-friendly environment, World Equestrian Center promises an unparalleled experience for exhibitors, spectators, vendors, sponsors and retailers built on three core values: Quality. Class. Distinction.
Learn more at wec.net
Media Contact:
Candace FitzGerald
candace.fitzgerald@wec.net