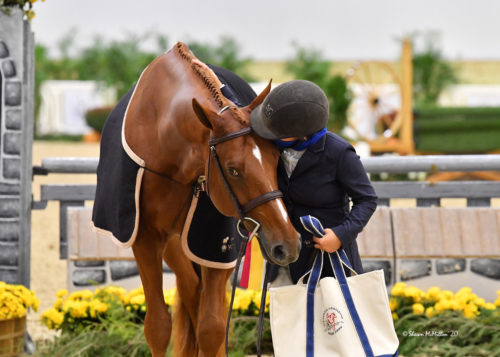 Three weeks ago, Augusta Iwasaki traveled across the country to Wilmington, Ohio, for the Capital Challenge Horse Show at World Equestrian Center where she found success aboard all of her talented mounts. The accomplished fifteen-year-old junior rider of Calabasas, California, took time this week to chat with us about her experience at Capital Challenge and some special moments she shared with fellow riders during the show.
WEC: How did you get into riding?
Augusta: My parents are trainers, so I was born into the sport. I started riding when I was four years old at Elvenstar Farm in California and I haven't stopped since then. I started out doing Crossrails when I was about five years old on one of Elvenstar's ponies named Harry Potter. I did more of the ponies, then moved up from there. I ride with both Makoto Farms and Ashland Farms.
WEC: What do you show in currently?
Augusta: Currently I do the Small and Large 15 and under Junior Hunters. I do all of the equitation stuff as well, and I occasionally do the jumpers.
WEC: Tell us about your experience at Capital Challenge.
Augusta: Capital Challenge was my first show at World Equestrian Center. I really loved it. My friends and I shared a Home Away from Home, which we thought was so nice. It was really convenient being right across the street from the horse show. We loved the show, too. The horses really liked it and we had a great time.
WEC: Which horses did you show at Capital Challenge?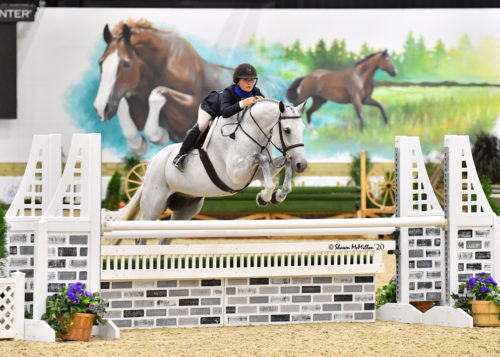 Augusta: During equitation week I showed a few different horses. I won the 3'6″ Open Equitation on Nick Of Time, who is an Ashland Farms horse. I was 3rd in the North American Junior Equitation Championships on Vanderpump, who is my equitation horse. I've been riding Vanderpump for a long time. In the hunters I showed Heaven's Dream and Carluca in the Small Junior Hunters, and I showed Lion and Seaside in the Large Junior Hunters.
WEC: Tell us about the their personalities.
Augusta: I haven't been riding Nick Of Time for very long, but he is so sweet and he will always do whatever you ask. He's just a really kind, reliable horse.
Vanderpump has been my equitation horse for about four years. I love him to death. I can trust him with anything. I can put anyone on him anytime and he will take anyone around. He steps up to everything I ask him to do, which I think is really special.
Carluca is owned by Don Stewart. I have only showed him twice: once in Michigan and at Capital Challenge. He was amazing, he's so fun. I really enjoyed showing him.
I've been showing Heaven's Dream for almost a year, now. He's owned by Isabella Griffin. I've been getting him ready for her to show him. I'm so grateful to the Griffins for allowing me to ride him. He's so cool, he's an amazing horse.
Seaside is my personal horse. I've been riding him for about a year and a half. I don't want to say that I have favorites, but he's my baby. I love him so much. In the beginning he didn't really trust me and we've gotten to work together to build something, so he's really special to me.
Lion is owned by Davlyn Farms. I started showing him at the Winter Equestrian Festival this year and he is incredible. I feel so lucky to be able to ride a horse like him. He's definitely a horse that knows when things are important and he always tries his hardest.
WEC: What is your favorite memory from this year's Capital Challenge?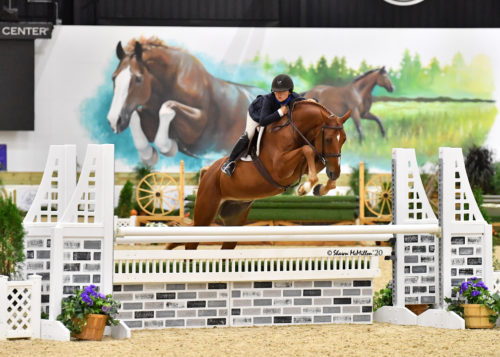 Augusta: Julia Rossow, who was helping us at Capital Challenge, won the Developing Pro Challenge and that was so cool. She's been coming with us for a few years trying to win that class and she finally won, and it was really special getting to celebrate that with her.
Getting to show Lion was really special, as well. We won two classes in our division.
Congratulations on a great show, Augusta!
Photos by Shawn McMillen Photography.