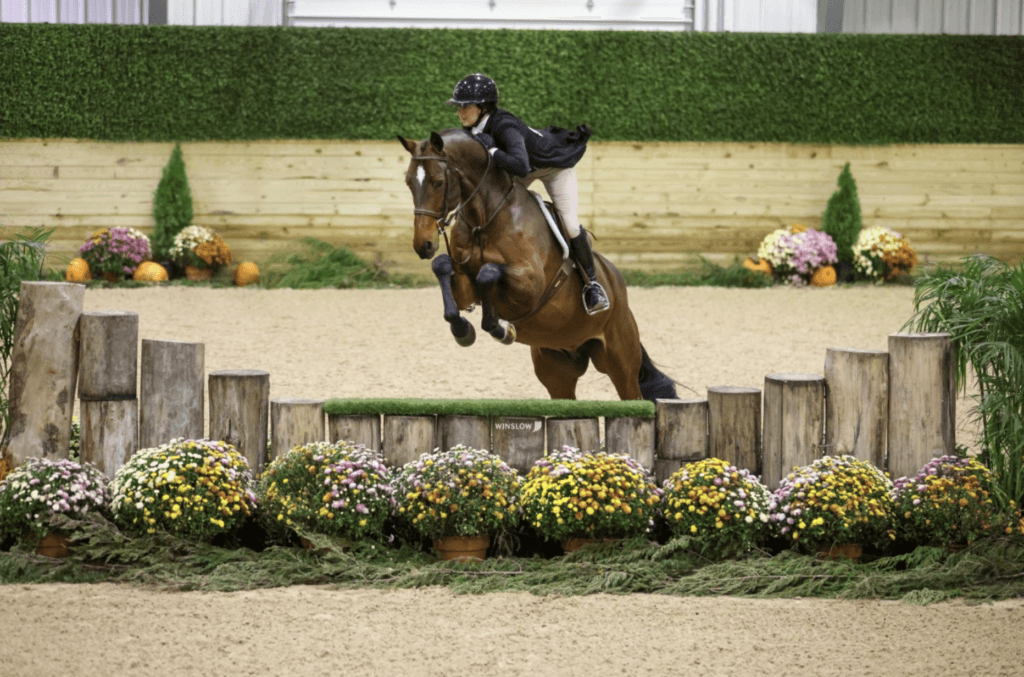 Fall Classic week 4 Derby Friday welcomed fifty-six distinguished derby contenders into the R+L arena to negotiate courses designed by Bobby Murphey of Lexington, Kentucky. Aged whiskey barrels, colorful mums in full bloom, natural logs, and a rustic waterwheel were a few of the many autumnal decorations that adorned the natural fences.
A field of twenty-eight horse-and-rider combinations challenged the $20,000 WEC Hunter Derby 3' Open course, all hoping for the big win. Many pairs accomplished beautiful first rounds earning top scores, some soaring well into the high 80's and low 90's. Twelve riders were invited to return to the handy round, where Quincy Hayes and Paisley Park jumped to victory.
Hayes of Toronto, Canada and Paisley Park, World Equestrian Center first-timers, radiated class and style with both their performances. The duo delivered a near-perfect first round taking all four high options for a score of 90. Hayes and Paisley Park returned last in the handy round, laying down a second foot-perfect round. They finished their last trip with a score of 94, bringing their two-round total to 184 to top the class.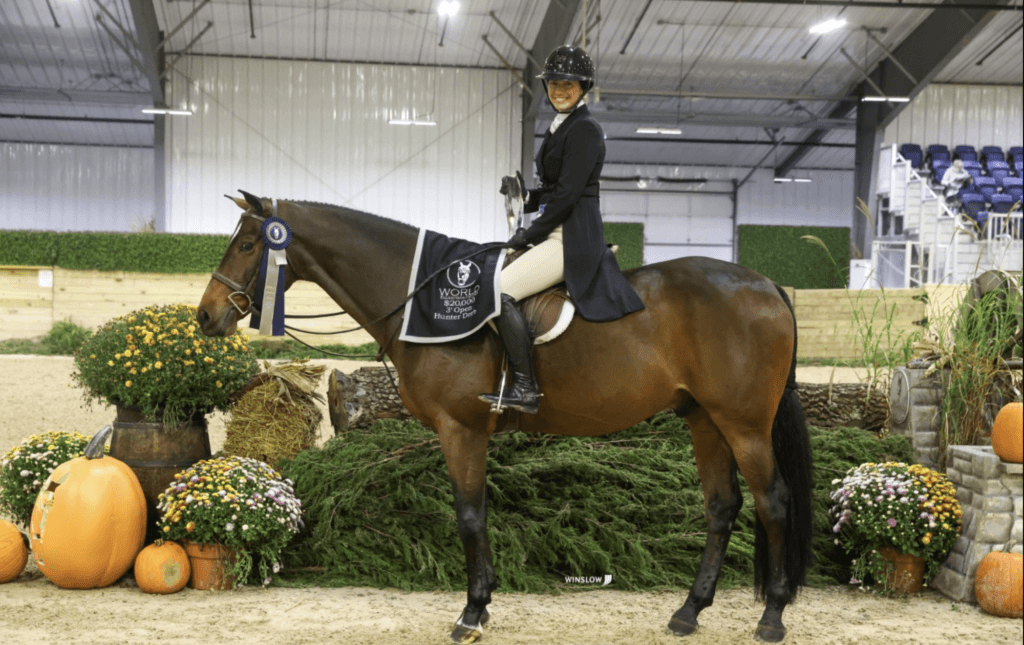 Quincy, beaming with joy, stopped to chat with us after her class. "This is our fifth year with Paisley Park. This horse's owner, Danielle Baran, and I are beyond grateful for this horse and the opportunity for us to show him. She's allowed me to bring him here and enter him in the Derby. We haven't gotten to travel and show much for nearly two years because of COVID-19 and the border shutdown in Canada. I didn't bring any customers with me because I wanted to let the horses get a good feel for being back in the swing of things. This is our first visit to WEC and our plan has gone perfectly so far!"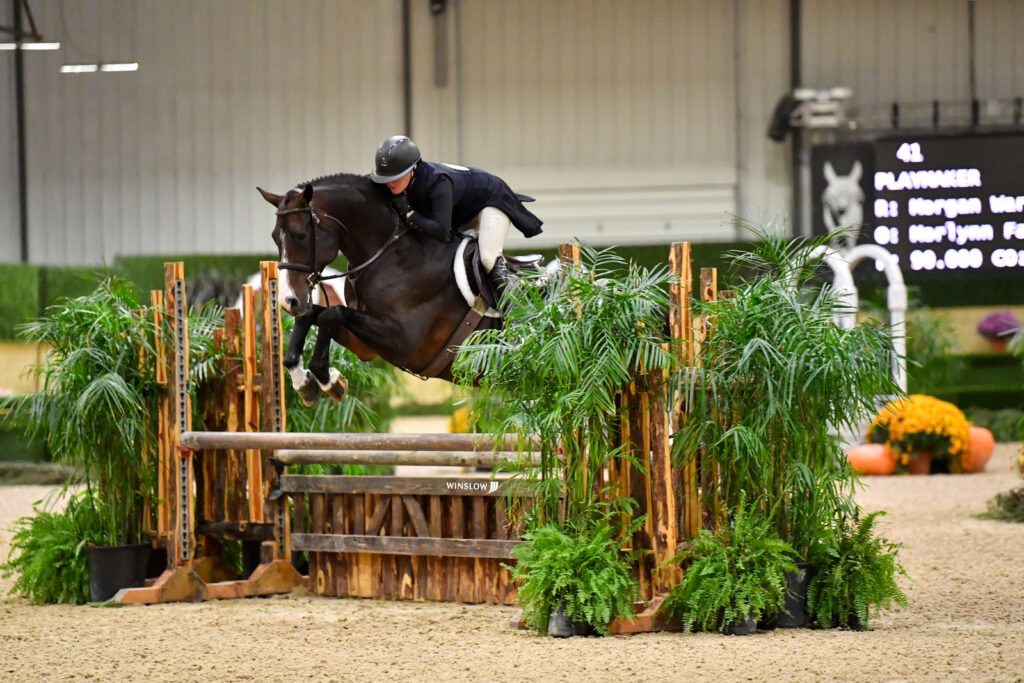 Morgan Ward of Morlynn Farm, Ocala, Florida also delivered fantastic rounds in the class aboard Playmaker (Cassini 1 x Gipsy Lady 11). Ward and the eleven-year-old Holsteiner gelding are top competitors in the Open Derby division, as they have previously earned three consecutive wins in the $20,000 WEC Hunter Derby Open during Fall Classic week's 1-3. Today the pair earned scores of 91.5 and 89, totaling 180.5 for second place.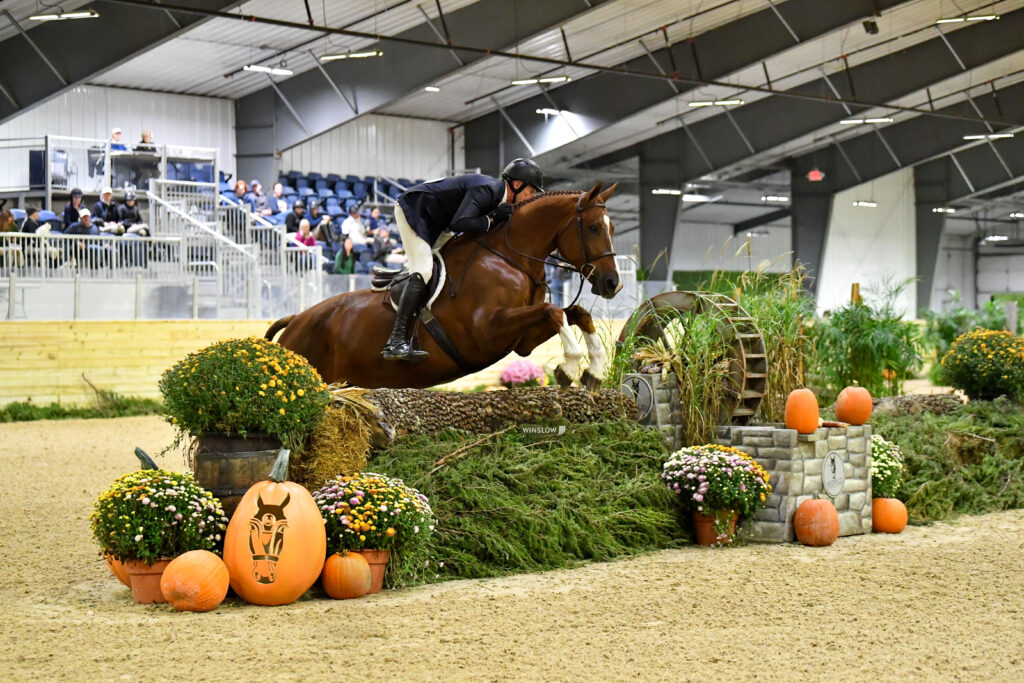 eff Gogul of Flagship, Wilmington, Ohio and Hip Hop (Popeye K x Poptown) were also impressive this afternoon. The 9-year-old Dutch Warmblood gelding and Gogul had two strong rounds where they earned scores of 88 and 90, totaling 178 to take third place.
$20,000 WEC Hunter Derby Open Results
Paisley Park, Quincy Hayes – 90 | 94 | 184
Playmaker, Morgan Ward – 91.5 | 89 | 180.5
Hip Hop, Jeff J. Gogul – 88 | 90 | 178
Calisandro, Michaella T. Gerlacher – 89.5 | 88 | 177.5
Santana, Belynda S. Bond – 86 | 90 | 176
Corlando 49, Melissa P. Donnelly – 86.5 | 87 | 173.5
Cinda, Melissa P. Donnelly – 89 | 84 | 173
Shutterbug, Belynda S. Bond – 82 | 82 | 164
Dante's Inferno, Ryan Michael Genn – 82.5 | 86 | 168.5
Spotlight, Payton Beerbower – 84 | 78 | 162
Rinehart and Chablis 162 Capture $20,000 WEC Derby 3′ Non-Pro Win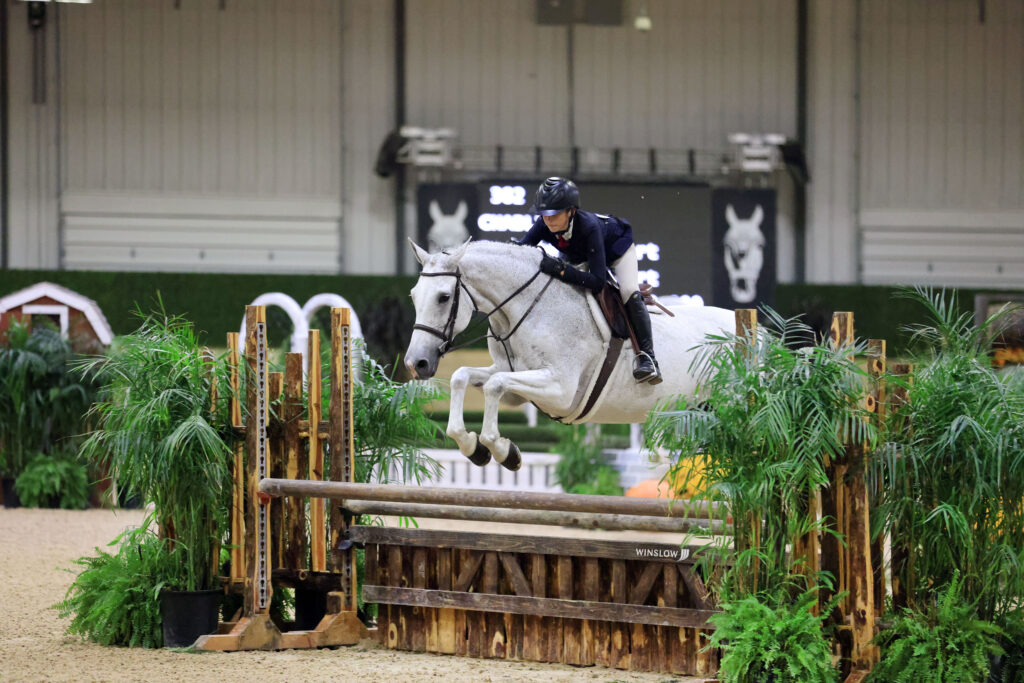 Talented Junior rider, Luke Rinehart of Rinehart Farm, Carmel, Indiana and Chablis 162 (Cancara Z x Untreue) nabbed the blue ribbon in the $20,000 WEC Derby 3′ Non-Pro. Rinehart and the eleven-year-old Holsteiner mare earned the two great scores, finding each fence perfectly in stride and jumping to a first round score of 85. They returned for the handy round, flowing seamlessly through tidy inside turns and were rewarded for their efforts with a second score of 89.5, totaling 174.5 for 1st place.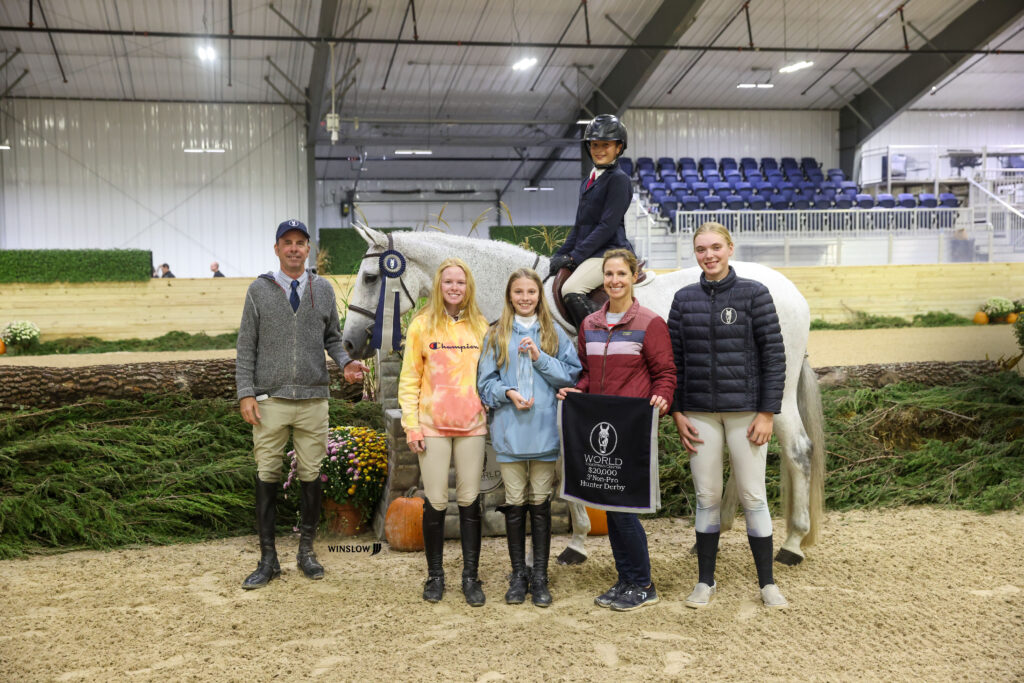 We caught up with Luke after his winning ride. "Chablis is a new horse that my mom and dad bought for me. I have only shown her a handful of times and so far-so-good! She is really fun and I was happy with how she rode the course. I was a little nervous going into round one because of all the tight turns, but I thought the handy round was really fun! I want to thank my friends and parents for supporting me tonight!"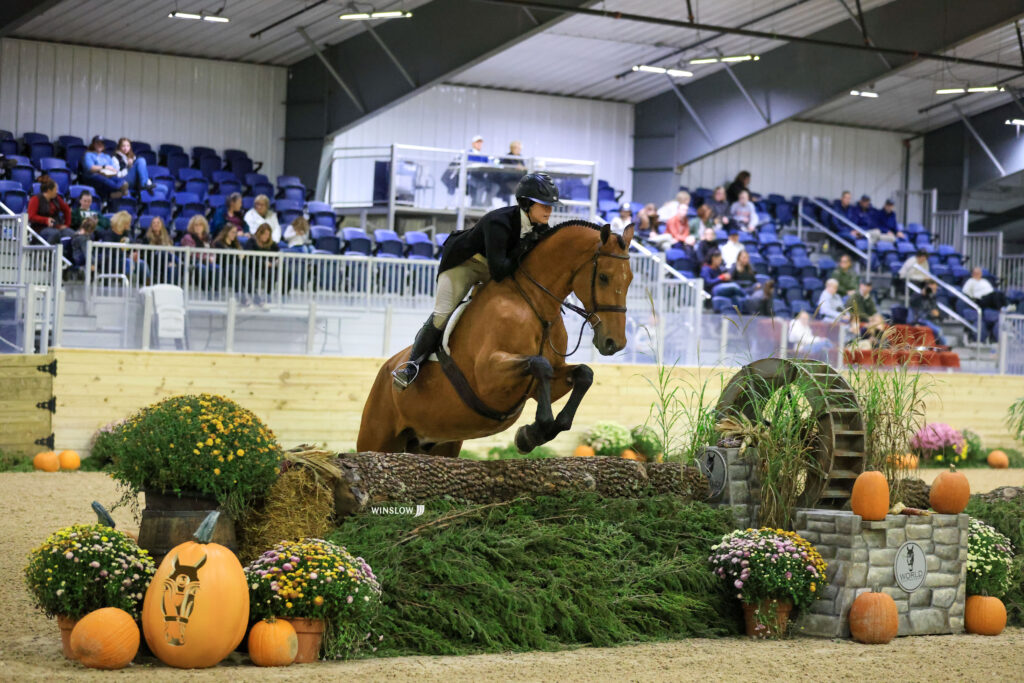 Just one-half of a point behind Rinehart was Isabel Harbour and Fitz (Numero Uno x Kootje). This pair is well accomplished in the hunter ring earning a win in the $20,000 WEC Non-Pro Derby during week 1 of the WEC Fall Show Series. Tonight they performed beautifully, delivering the highest awarded score of 90 in round one. The pair were awarded a score of 84 in the handy round, giving them a combined 174 to take the second place position.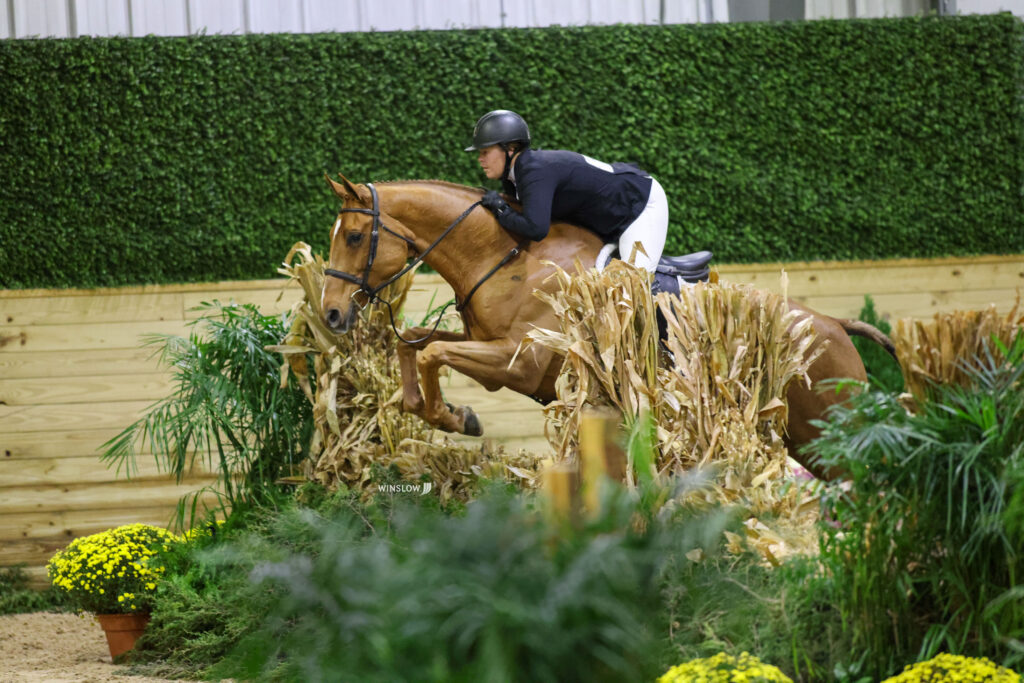 Kiera Phlipot and Red Roc (Roc USA x Rhea) secured the third place spot. This pair have been tough to beat the fall, returning each week for the $20,000 Non-Pro Derby. Tonight the duo earned scores of 84.5 and 87, totaling 171.5 for third place.
$20,000 WEC Hunter Derby Non Pro Results
Chablis 162, Luke Rinehart – 85 | 89.5 | 174.5
Fitz, Isabel M. Harbour – 90 | 84 | 174
Red Roc, Kiera Plipot – 84.5 | 87 | 171.5
Vaillero. Nicole C. Lyvere – 79 | 91 | 170
Empress, Wyette Felton – 76 | 90 | 166
Condor, Wyette Felton – 81 | 81 | 162
Fraziskaner, Monica Samuels, – 84 | 75 | 159
Cavalli, Luke Rinehart – 82 | 76 | 158
Incredible, Pamella Kissman – 78 | 71 | 149
Capitol Hill, Vanessa McCaughley – 74 | 74 | 148
Thank you to all exhibitors, trainers and spectators for another great day of equestrian sport at World Equestrian Center – Wilmington.
Our fall horse show series continues next week with the Fall Classic V. This Fall show series features NSBA sanctioned hunter/jumper competition and nearly $1.2 million in prize money total. Submit your entries at www.horseshowing.com.
Join us in November for two weeks of horse showing! Entries and stall reservations are now open for Midwest Indoors I (Nov. 10-14) and II (Nov. 17-21) featuring top NSBA sanctioned hunter/jumper competition. The two weeks of consecutive indoor hunter/jumper shows offer a perfect opportunity to prepare for finals and winter circuits in our beautiful climate-controlled venue along with $275,000 in prize money. Entries and stall reservations can be submitted at www.horseshowing.com.For more information regarding competing with the National Snaffle Bit Association please visit https://www.nsba.com/Photos courtesy of Winslow Photography.