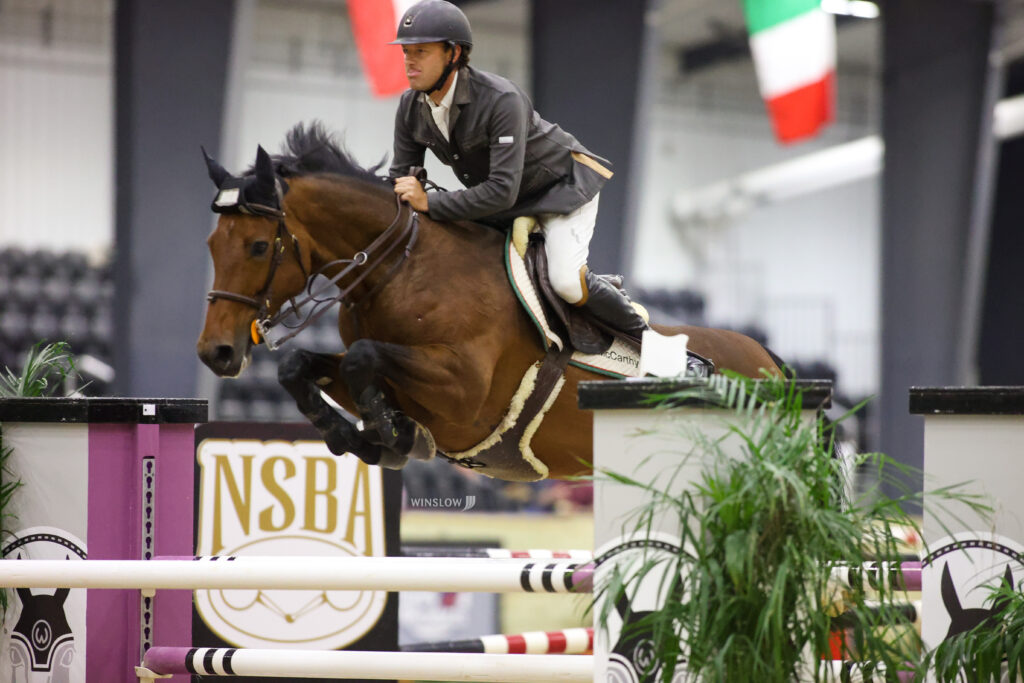 Yesterday kicked off week four of the World Equestrian Center Fall Classic horse show series. Feature jumper action began today with the $15,000 WEC Welcome Prix. The class saw a field of twenty-two elite exhibitors contest the technical course designed by FEI Level IV course designer Guilherme Jorge of Brazil.
Seven of the twenty-two horse-and-rider combinations delivered a fault-free first round. The riders who advanced to the short course gave it their all, but only four managed a double clear. Ultimately Ireland's Kevin McCarthy and his own Catch a Star HSS (Sheraton x Tolinda) topped the class with two impressive double-clear rounds.
This dynamic duo has excited crowds every time they have entered the ring during this show series. McCarthy brought his A-game once again tonight, piloting the 11-year-old Swedish Warmblood mare through a clear first round in 78.174 seconds and then stopping the clock at just 34.273 seconds – the fastest time of the jump-off rounds.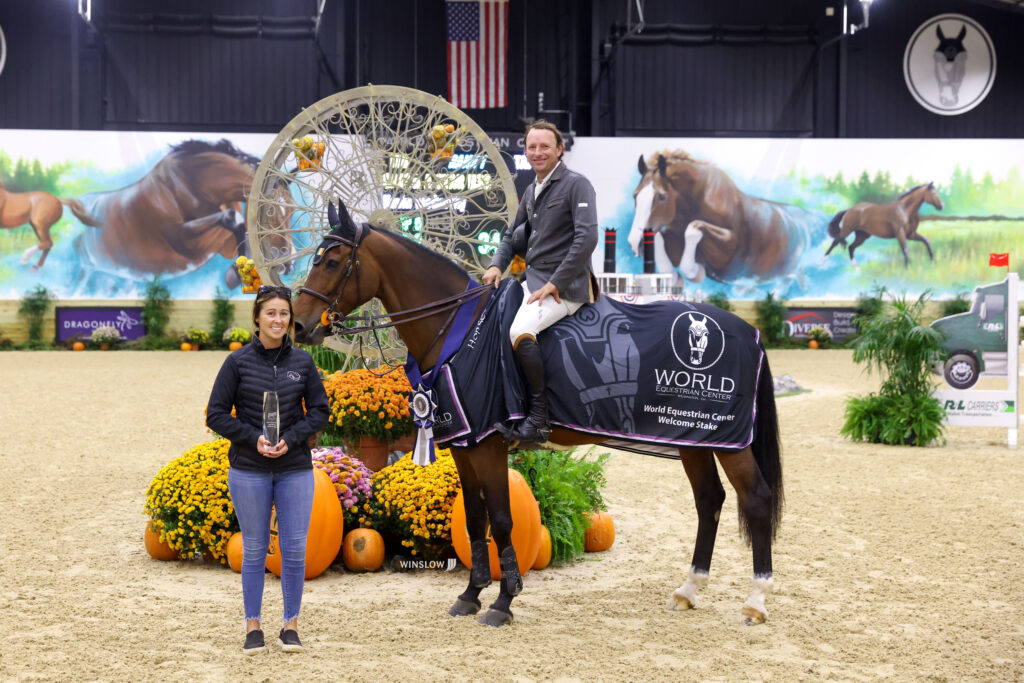 McCarthy praised his partner, "Yet again, my mare was great! The course was a nice testing track. The designer introduced a liverpool, which is always a little scary for me! I went early in the order, and honestly, I was lucky to get the win. There were many great riders and horses in my class that were right on our tail, but some of them caught a rail. We just have to keep them all up!" McCarthy of K&K Sporthorses in Lexington, Kentucky, and Catch a Star HSS have won many WEC feature classes throughout the years. During this series they have accomplished two $10,000 Futures Prix 1.30m wins along with tonight's $15,000 Welcome Prix win.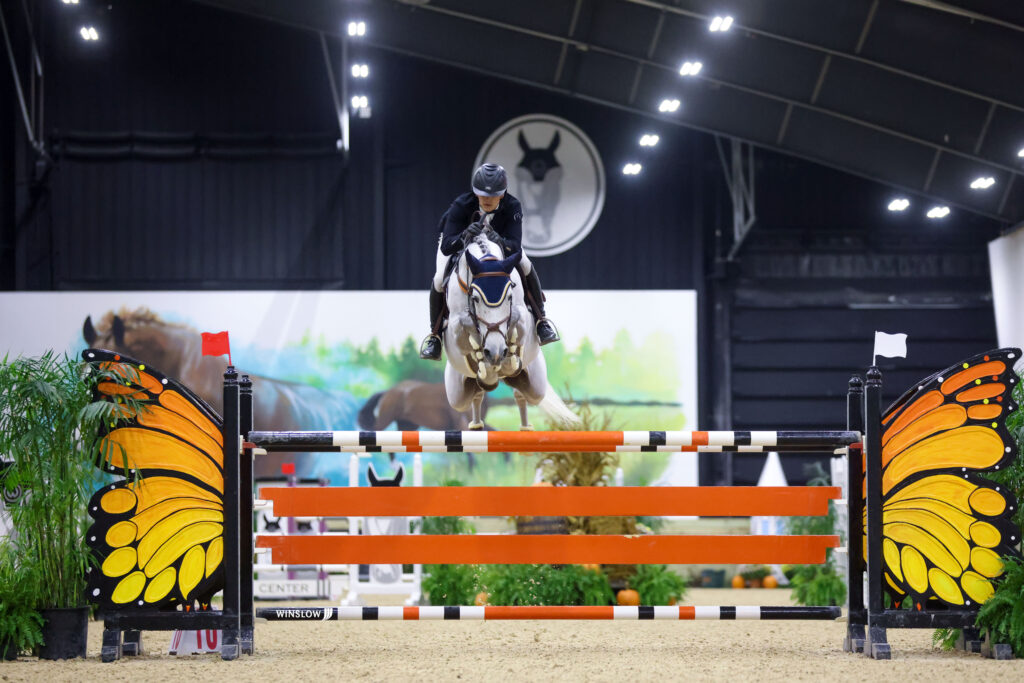 Sean Jobin and Coquelicot VH Heuvelland Z (Catoki x Cybelle V't Heuvelland Z) started off strong, producing a clean first round in 77.707 seconds. Sean of Double Clear LLC in Ocala, Florida and the careful nine-year-old Zangersheide stallion advanced straight to the jump-off, to stop the clock at 36.219 seconds with all the rails up. This performance landed the duo in the second place spot in the $15,000 Welcome Stake 1.35m.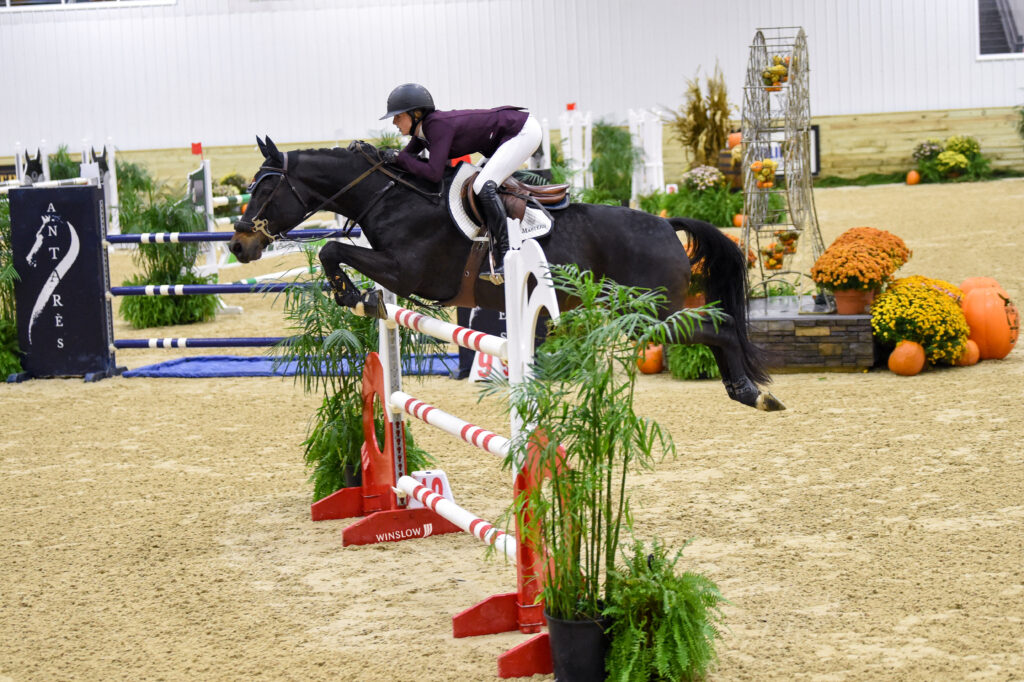 Claiming third place honors was Lani Hutchison of Columbus, Ohio, and Lightshow (Quasimodo Z x Predente) a 13-year-old bay Dutch Warmblood gelding. This afternoon they managed a first clear round of 78.588 seconds earning a spot in the jump-off where they jumped clear again, crossing the timers in only 36.377 seconds.
$15,000 World Equestrian Center Welcome Prix 1.35m Results
Catch a Star HSS, Kevin McCarthy – 0 | 0 | 34.273
Coquelicot VH Heuvelland Z, Sean Jobin – 0 | 0 | 36.219
Light Show, Lani Hutchison – 0 | 0 | 36.377
Alfie Z, Payton Beerbower – 0 | 0 | 39.021
A D Reed, Kevin Mealiff – 0 | 4 | 34.103
Aristot, Kevin Mealiff – 0 | 8 | 32.876
Helios VD Nosahoeve, Gustavo Prato – 0 | 8 | 34.150
Cesar De B'neville, Kevin Mealiff – 2 | 82.162
Boleybawn Rolo, Alexa Lowe – 4 | 76.297
Orage Z, F. Peter Jordan – 4 | 79.406
Attention exhibitors – Be sure to pick up your complimentary gift bags, courtesy of Alltech in Vendor Village, Friday October 22 from 10am-2pm. One special bag contains a valuable Golden Ticket! The Golden Ticket holder wins a beautiful WEC Gift Basket overflowing with items from A Sudden Impulse!
*Each exhibitor bag is unique and may contain different items. Clothing items cannot be exchanged.
Thank you to all exhibitors, trainers and spectators for another great day of equestrian sport at World Equestrian Center – Wilmington.
Our fall horse show series continues next week with the Fall Classic V. This Fall show series features NSBA sanctioned hunter/jumper competition and nearly $1.2 million in prize money total. Submit your entries at www.horseshowing.com.
Join us in November for two weeks of horse showing! Entries and stall reservations are now open for Midwest Indoors I (Nov. 10-14) and II (Nov. 17-21) featuring top NSBA sanctioned hunter/jumper competition. The two weeks of consecutive indoor hunter/jumper shows offer a perfect opportunity to prepare for finals and winter circuits in our beautiful climate-controlled venue along with $275,000 in prize money. Entires and stall reservations can be submitted at www.horseshowing.com.
For more information regarding competing with the National Snaffle Bit Association please visit https://www.nsba.com/Photos courtesy of Winslow Photography.