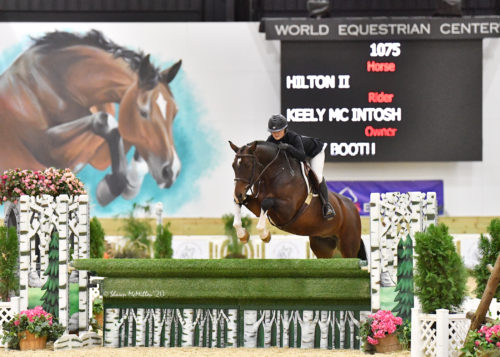 We at World Equestrian Center – Ohio have gotten to know Keely McIntosh well for her all-in, no-hold-back style in the grand prix ring, but Keely flipped the script on us this week by bringing her stunning jumper-turned-hunter Hilton II to the Capital Challenge Horse Show. We had seen Keely ride Hilton II in a few derbies at WEC and fell in love with his sweet expression and stylish way of going, so we had to catch up with her to hear how the show went, and get all of the details of her equestrian background.
WEC: How did you get into riding?
Keely: Riding has been around for a long time in my family. My mother was a professional, so she would put on a baby carrier, put me in it and go riding. I guess you could say that I could ride before I could walk. I used to have "nap time" when I was young on our old mare named Fanny, whom my mom bred. She would ride Fanny's daughter, Beavers, and she would lead Fanny and we would go trail riding. I would always fall asleep on Fanny.
I got my first pony at six years old after riding my mom's horses and working with a therapeutic riding program called SIRE, who let me school their horses. She was a Welsh pony. She was amazing, but she wasn't anything fancy like the ponies are now. I did everything with her. We did cross country, Pony Club, Pony Finals and always dressed up for Halloween. That seems like the beginning of my riding career.
After a while my mom decided that I needed to pick a discipline, so we went the hunter/jumper route. I rode ponies up until I was about 12 years old. We didn't have the money for a horse at the time, so I pulled Beavers out of the pasture. She was a little bit crazy, but I did the Children's Jumpers on her. That's how my jumper career started.
WEC: Tell us about the horses you have now.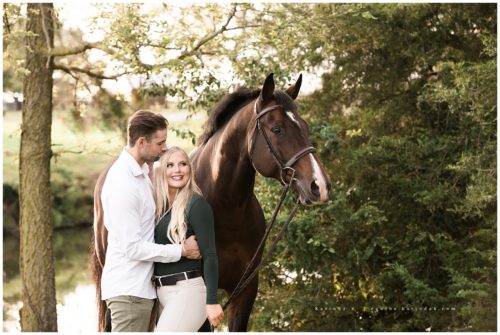 Keely: The ones that I have now make up an amazing crew. Hilton II, my hunter that I'm showing this week, is my child. He's an angel. I got him from McLain Ward in 2016. He was a jumper, but I only got to show him that first year. He did a grand prix with me and did the Highs, then he rolled under a fence and got hurt. He was off for two years because of the injury, then a bone bruise. I just brought him back in January of 2019. I put him in the hunters because I had a few jumpers going and I wasn't sure what to do with him coming off of the injury. I thought the hunters were a good route because I didn't want to hurt him again. Apparently he was born for the hunters, and he's still a hunter.
I got my grand prix horse So Live Helau from McLain Ward a couple of months before I got Hilton. I've had him forever. He's been such a blessing in my life. He's won more than any other horse of mine and I just love him.
I also have Inne Van De Plataan, a gray mare that I do the grand prix on. I got her in 2017. She was originally Emanuel Andrade's horse, but he bought one of my grand prix horses and I got her. She was a little hard to ride at first. The guy who was helping me at the time told me I was never going to be able to ride her, but now she's jumping clean grands prix for me. She's jumped some big tracks with me, she's a really cool horse.
I have two horses that are up-and-coming that I'm really excited about. I got a 10-year-old from Geoff Case a year ago, but I haven't gotten to show him much due to COVID. I showed him a little bit in the fall and he was incredible. I did show him in a grand prix at WEC this summer and he was 8th. He's a cool horse. I got a 9-year-old from Andy Kocher as well. He's quirky, but I love his personality and he's really coming along nicely. He can jump a house.
WEC: Tell us about your experience at Capital Challenge.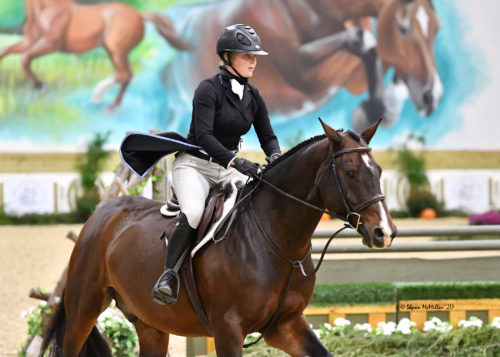 Keely: This is my first time at Capital Challenge. The only indoors I've ever done was Harrisburg with So Live Helau back in 2016. It was awesome, he was 6th in the grand prix that we did. It was funny showing up this year with a hunter, because I'm a jumper rider at heart. Doing the hunters is a little bit like winging it for me, for lack of a better term. Hilton has kind of turned out to be one of my favorite horses to ride because he goes in the ring and is so consistent and fun.
I hadn't really planned on coming to this show, but I saw Hilton was sitting 10th in the nation in the Amateur Owner hunters. I really had no clue that he was doing so well, I was just showing him because it's fun. I've never chased points, but I thought it might be worth coming. I saw that WEC announced that they were holding Capital Challenge, so it was a no-brainer to come support the show at WEC.
It was amazing bringing him to this show because these horses are the top in the country. He was 5th in his first round in the Amateur Owner Hunters, which was great. The top eight in that class were amazing. The competition is really tough, so you have to be at the top of your game. It's more fun that way, though, and you become a better rider.
He was great in the Amateur Owner Hunters again on Thursday. We did the handy, and being an old jumper that class is one of his stronger suits. We did the WCHR Amateur Owner Challenge on Thursday, too. He was fantastic and had a great round. He spooked a little, but I was super happy with him overall. Every jump he jumped was spectacular. We ended up 9th, so I was really happy.
WEC: What are some of your riding goals?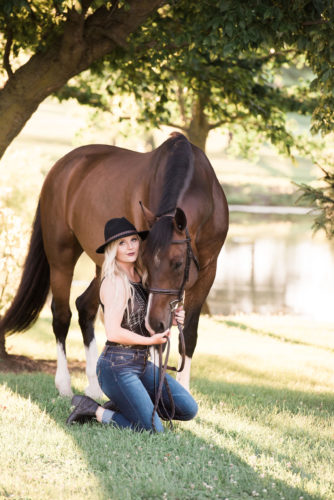 Keely: I would love to have a horse that I can ride on teams with. I do have two fantastic 1.45m horses that are my whole world. We also bred a mare that we got in 2018 to Tobago Z, and that baby is on the ground. We just bred her to Emerald, and that baby is due in the spring. The babies have the breeding to jump 1.60m, but if not a 1.45m horse is always great. I'm hoping that we can breed great jumpers instead of having to buy them.
At the end of the day, though, I just love the horses that I have. I don't dream of having 30 horses in my barn. I dream of having my four or six horses who I give my heart to. If they can be the very best versions of themselves, then I'm happy.
Keely also added:
WEC did such a great job hosting Capital Challenge. I really hope that WEC gets it again next year! I'm from Texas and my Texas people were at this show, and they told me how much they loved it at WEC. It's great as it is, but it's even better when WEC puts their touch on it
Thank you, Keely, and congratulations on a fantastic show! Look for another story about the Booth/McIntosh family and their generations of horsewomen in the next World Equestrian Center Magazine.